Short Supply, Not Middle East Tensions, Push up Oil Prices
"Right now the key thing that is driving higher gas prices is actually the world's oil markets and uncertainty about what's going on in Iran and the Middle East, and that's adding a $20 or $30 premium to oil prices," President Obama said March 23. It's complete and utter nonsense. Oil is trading in lockstep with expectations for economic growth, as reflected in stock prices. There's not a shred of evidence that geopolitical uncertainty has added a penny to the oil price. Obama's $20 to $30 per barrel risk premium is a number pulled out of a hat, without a shred of empirical support. In effect, the President is blaming Israel for high oil prices.
On April, 3, Vice-President Biden blamed higher oil prices on "talk about war with Iran"; fear that Iran might "take out the Saudi oil fields and Bahraini oil fields"; the Arab Spring movement; "war in Libya"; the rise of the Muslim Brotherhood; and a potential for unforeseen political unrest, such as "chaos in Russia." It's all complete and utter nonsense. Oil prices are going up because the world economy is consuming more oil and supply has not increased to meet the demand – in part because the Obama administration discourages North American energy development, most recently by stopping the proposed Keystone pipeline from Canada. It's easier to blame foreign phantoms for high gas prices at the pump than the administration's business-killing politics
One might argue that the market should price strategic risk into the oil price, but the fact is that markets are not especially good at assigning prices to possible events whose probability can't be measured.
Chart 1: Oil Price vs. S&P 500, Past Three Years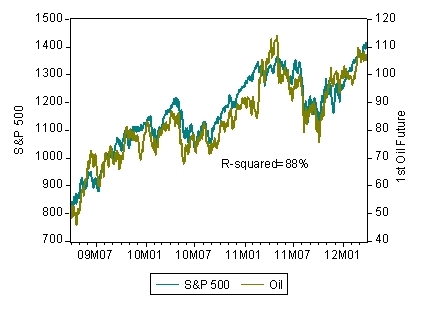 Source: Bloomberg
During the past three years, oil prices have tracked equity prices almost perfectly, with a regression coefficient of nearly 90%. (For statisticians, the correlation of daily percentage changes in the two markets is 51%). Equity prices embody expectations of future economic growth, and higher growth means more demand for oil. If oil supply cannot keep up with demand—because the Obama administration has restricted development, among other factors—the oil price goes up.
If it walks like a duck, flies like a duck, quacks like a duck and correlates in first differences, we can say with confidence that it is a duck. The price of oil tracks economic growth expectations. Growth expectations, moreover, provide such a complete explanation of oil prices that it is statistically absurd to seek for another reason.
There are even stronger grounds to reject Obama's unsubstantiated, self-serving claims about a supposed risk premium in the oil price. Oil price risk is traded every day, in the form of options on the oil price. A hedger or speculator can buy the right to purchase oil at a fixed price over a specified time period. The price of oil options expresses the market's perception of risk of a big move in the cost of oil.
Traders express option prices in terms of "implied volatility," that is, the probability of a big move—the more likely the price is to move, the costlier the option. An implied volatility of 20% for a 12-month option, for example, means the market assigns a probability of about two-thirds that the price will move by 20% in either direction.
Chart 2: S&P 500 Risk vs. Oil Risk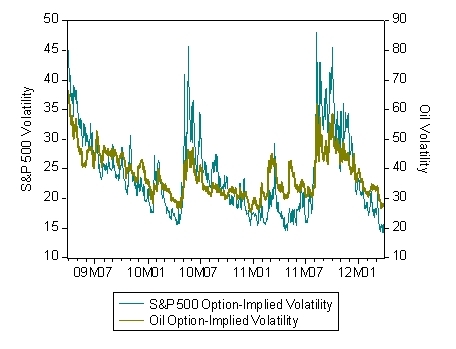 Source: Bloomberg
The cost of hedging against changes in the oil price tracks the cost of hedging the S&P 500 just as closely as oil prices track stock prices. What's more, the cost of hedging against an oil price spike is trading at a three-year low.
The problem is not risk, but supply. When demand increases, we observe in Chart 3, prices trend to rise faster than demand, because supply is relative inelastic (it can't quickly expand to meet additional consumption). The only way to reduce gas prices is to drill for more oil.
Chart 3: Oil Price vs. Global Oil Demand, 2011 to 2012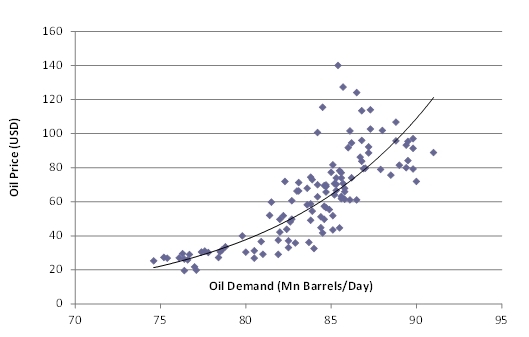 Related Topics: David P. Goldman receive the latest by email: subscribe to the free gatestone institute mailing list
Reader comments on this item
Comment on this item
Subscribe To Mailing List
Tweets by @GatestoneInst
Subscribe To Mailing List
Latest Articles
by Bassam Tawil
What is sad is that the Gazans have not yet been able to free themselves from the yoke of Hamas.
The world seems not to understand that Hamas, like ISIS and the Muslim Brotherhood, does not exist in a vacuum. It is one cog in the radical Islamist wheel that threatens the Arab and Muslim world and the major cities of Europe.
The Western world also seems not to understand that it has to incapacitate or totally neutralize the countries funding terrorism, such as Iran, Qatar and Turkey, for whom the Palestinian problem is only a pretext on the way to destroying the Western world as we know it and replacing it with only Islam.
by Burak Bekdil
Hamas spokesman Sami Abu-Zuhri said: "All Israelis are legitimate targets." What would the Palestinian death toll have been if Mr. Netanyahu's spokesman declared all Palestinians as legitimate targets?
Underdog-nation romanticism tells us Israel should not respond when under rocket attack because it is capable of intercepting the rockets.
That there are fewer Israeli casualties does not mean Hamas does not want to kill; it just means, for the moment, Hamas cannot kill.
by Soeren Kern
Austria figures prominently in a map produced by the IS that outlines the group's five-year plan for expanding its caliphate into Europe, and has emerged as a central hub for jihadists seeking to fight in Syria.
"The spectrum of recruits for the conflict in Syria is ethnically diverse. The motivation, however, appears to be uniformly jihadist." — Austrian intelligence agency BVT.
"Allah also gives you the opportunity to wage jihad in Austria." — Austrian jihadist Firas Houidi.
"We are proud that Allah has chosen us. We feel like lions." — Austrian jihadist Abu Hamza al-Austria.
by Khaled Abu Toameh
What Khaled Mashaal forgot to mention was that Hamas and the Islamic State do have at least one thing in common: they both carry out extrajudicial executions as a means of terrorizing and intimidating those who stand in their way or who dare to challenge their terrorism.
According to Hamas's logic, all members of the Palestinian Authority government are "traitors" who should be dragged to public squares to be shot by firing squads. According to the same logic, Mahmoud Abbas himself should be executed for maintaining security coordination with and talking to Israelis.
As for the two executed women, the sources said that their only fault was that they had been observed asking too many questions about Palestinians who were killed in airstrikes.
by Stephen Blank and Peter Huessy
It now appears that the plan was for these terrorists to shoot down a Russian passenger flight over the Ukraine in order to create a casus belli [cause for war].
Putin repeatedly claims that Russia reserves the right to use nuclear weapons as a "de-escalatory measure" even against non-nuclear states.
The evidence that this war was preplanned is overwhelming. The planning for this Ukrainian operation started in 2006, when Putin offered to "guarantee Crimea's territory."
The forces fighting in Kiev consist not mainly of "separatists" or rebels, but of trained Russian army, intelligence and paramilitary officers, as well as Russian and some Ukrainian "volunteers" recruited by Moscow.
Putin would incite disturbances in Crimea, then graciously offer to take over Crimea to solve the problems.
For the Russians, and particularly for Putin, Ukraine can have no future other than as a Russian colony. This is indeed a phased invasion of Ukraine. The U.S. did not accept Russian aggression before; it should not accept it now.
Most Shared
Most Viewed