Short Supply, Not Middle East Tensions, Push up Oil Prices
"Right now the key thing that is driving higher gas prices is actually the world's oil markets and uncertainty about what's going on in Iran and the Middle East, and that's adding a $20 or $30 premium to oil prices," President Obama said March 23. It's complete and utter nonsense. Oil is trading in lockstep with expectations for economic growth, as reflected in stock prices. There's not a shred of evidence that geopolitical uncertainty has added a penny to the oil price. Obama's $20 to $30 per barrel risk premium is a number pulled out of a hat, without a shred of empirical support. In effect, the President is blaming Israel for high oil prices.
On April, 3, Vice-President Biden blamed higher oil prices on "talk about war with Iran"; fear that Iran might "take out the Saudi oil fields and Bahraini oil fields"; the Arab Spring movement; "war in Libya"; the rise of the Muslim Brotherhood; and a potential for unforeseen political unrest, such as "chaos in Russia." It's all complete and utter nonsense. Oil prices are going up because the world economy is consuming more oil and supply has not increased to meet the demand – in part because the Obama administration discourages North American energy development, most recently by stopping the proposed Keystone pipeline from Canada. It's easier to blame foreign phantoms for high gas prices at the pump than the administration's business-killing politics
One might argue that the market should price strategic risk into the oil price, but the fact is that markets are not especially good at assigning prices to possible events whose probability can't be measured.
Chart 1: Oil Price vs. S&P 500, Past Three Years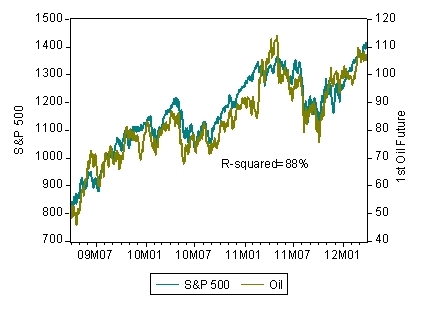 Source: Bloomberg
During the past three years, oil prices have tracked equity prices almost perfectly, with a regression coefficient of nearly 90%. (For statisticians, the correlation of daily percentage changes in the two markets is 51%). Equity prices embody expectations of future economic growth, and higher growth means more demand for oil. If oil supply cannot keep up with demand—because the Obama administration has restricted development, among other factors—the oil price goes up.
If it walks like a duck, flies like a duck, quacks like a duck and correlates in first differences, we can say with confidence that it is a duck. The price of oil tracks economic growth expectations. Growth expectations, moreover, provide such a complete explanation of oil prices that it is statistically absurd to seek for another reason.
There are even stronger grounds to reject Obama's unsubstantiated, self-serving claims about a supposed risk premium in the oil price. Oil price risk is traded every day, in the form of options on the oil price. A hedger or speculator can buy the right to purchase oil at a fixed price over a specified time period. The price of oil options expresses the market's perception of risk of a big move in the cost of oil.
Traders express option prices in terms of "implied volatility," that is, the probability of a big move—the more likely the price is to move, the costlier the option. An implied volatility of 20% for a 12-month option, for example, means the market assigns a probability of about two-thirds that the price will move by 20% in either direction.
Chart 2: S&P 500 Risk vs. Oil Risk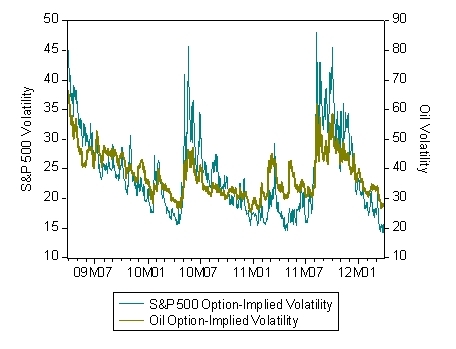 Source: Bloomberg
The cost of hedging against changes in the oil price tracks the cost of hedging the S&P 500 just as closely as oil prices track stock prices. What's more, the cost of hedging against an oil price spike is trading at a three-year low.
The problem is not risk, but supply. When demand increases, we observe in Chart 3, prices trend to rise faster than demand, because supply is relative inelastic (it can't quickly expand to meet additional consumption). The only way to reduce gas prices is to drill for more oil.
Chart 3: Oil Price vs. Global Oil Demand, 2011 to 2012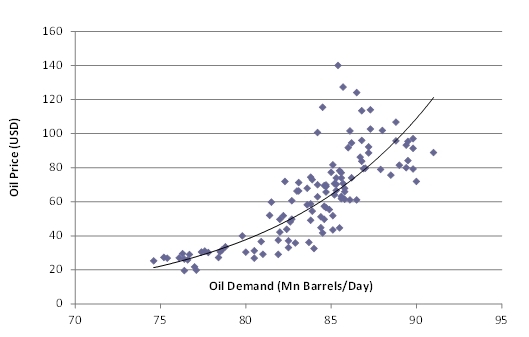 Related Topics: David P. Goldman receive the latest by email: subscribe to the free gatestone institute mailing list
Reader comments on this item
Comment on this item
Subscribe To Mailing List
Tweets by @GatestoneInst
Subscribe To Mailing List
Latest Articles
by Raymond Ibrahim
Why is the U.S. downplaying or denying attacks against Christians?
"What about the churches which were desecrated? Is this not blasphemy? Where is justice?" — Fr. James Channan OP, Director of The Peace Center, Lahore, Pakistan.
Members of the Islamic group al-Shabaab publicly beheaded the mother of two girls, ages 8 and 15, and her cousin after discovering they were Christians. The girls "were witnesses to the slaughter." — Somalia.
"Christian teaching is extremely harmful to the mental health of the people." — Kazakhstan.
Five years' imprisonment and up to $20,000 in fines for educators if they…speak to a Muslim child of religions other than Islam. — Brunei
by Khaled Abu Toameh
Over the past week there are voices coming out of Egypt and some Arab countries -- voices that publicly support the Israeli military operation against Hamas in the Gaza Strip.
They see the atrocities and massacres committed by Islamists on a daily basis in Iraq and Syria and are beginning to ask themselves if these serve the interests of the Arabs and Muslims.
"Thank you Netanyahu and may God give us more [people] like you to destroy Hamas!" — Azza Sami of the Egyptian newspaper Al-Ahram.
Isolated and under attack, Hamas now realizes that it has lost the sympathy of many Egyptians and Arabs.
by Soeren Kern
"I believe that adulterers should be stoned to death. I believe that we should cut the hands off of thieves. I believe the Sharia should be implemented in Denmark. Maybe we should change the Christiansborg Palace [the Danish Parliament building] to Muslimsborg to have the flag of Islam flying over the parliament in Denmark. I think this would be very nice." — Anjem Choudary, while in Denmark to establish Islam4dk in June 2014.
"[Choudary's network] has now been proscribed as a terrorist organization operating under 11 different names, but neither he nor any one of his associates has so far been prosecuted for membership of an illegal group." — Times of London.
"The cure for depression is jihad." — Abdul Raqib Amin (aka Abu Bara al-Hindi), Scottish jihadist.
by Christine Williams
Israel's targets have been militants, military facilities, rocket launchers, tunnels and command centers. Israel has taken extraordinary measures to protect Palestinian civilian life.
Meanwhile, Hamas violates international law both by targeting Israel's civilians and by using its own people as human shields -- and then blaming Israel for the casualties.
The BDS movement covers up its ties with the terrorist group Hamas.
by Oliver Williams
In the politically correct attempt to avoid "stereotyping" and be safe from discomfort, have we been blocking out reality?
Hollywood has been indulging in a sort of reverse racial profiling: cinematic terrorists could be anybody other than Muslims.
Muslim terrorists? As in the movie Non-Stop, Hollywood would rather cast the family members of 9/11 victims as terrorists rather than reflect that such a thing exists.
Most Shared
Most Viewed