Short Supply, Not Middle East Tensions, Push up Oil Prices
"Right now the key thing that is driving higher gas prices is actually the world's oil markets and uncertainty about what's going on in Iran and the Middle East, and that's adding a $20 or $30 premium to oil prices," President Obama said March 23. It's complete and utter nonsense. Oil is trading in lockstep with expectations for economic growth, as reflected in stock prices. There's not a shred of evidence that geopolitical uncertainty has added a penny to the oil price. Obama's $20 to $30 per barrel risk premium is a number pulled out of a hat, without a shred of empirical support. In effect, the President is blaming Israel for high oil prices.
On April, 3, Vice-President Biden blamed higher oil prices on "talk about war with Iran"; fear that Iran might "take out the Saudi oil fields and Bahraini oil fields"; the Arab Spring movement; "war in Libya"; the rise of the Muslim Brotherhood; and a potential for unforeseen political unrest, such as "chaos in Russia." It's all complete and utter nonsense. Oil prices are going up because the world economy is consuming more oil and supply has not increased to meet the demand – in part because the Obama administration discourages North American energy development, most recently by stopping the proposed Keystone pipeline from Canada. It's easier to blame foreign phantoms for high gas prices at the pump than the administration's business-killing politics
One might argue that the market should price strategic risk into the oil price, but the fact is that markets are not especially good at assigning prices to possible events whose probability can't be measured.
Chart 1: Oil Price vs. S&P 500, Past Three Years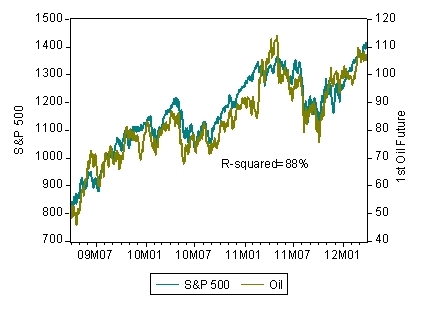 Source: Bloomberg
During the past three years, oil prices have tracked equity prices almost perfectly, with a regression coefficient of nearly 90%. (For statisticians, the correlation of daily percentage changes in the two markets is 51%). Equity prices embody expectations of future economic growth, and higher growth means more demand for oil. If oil supply cannot keep up with demand—because the Obama administration has restricted development, among other factors—the oil price goes up.
If it walks like a duck, flies like a duck, quacks like a duck and correlates in first differences, we can say with confidence that it is a duck. The price of oil tracks economic growth expectations. Growth expectations, moreover, provide such a complete explanation of oil prices that it is statistically absurd to seek for another reason.
There are even stronger grounds to reject Obama's unsubstantiated, self-serving claims about a supposed risk premium in the oil price. Oil price risk is traded every day, in the form of options on the oil price. A hedger or speculator can buy the right to purchase oil at a fixed price over a specified time period. The price of oil options expresses the market's perception of risk of a big move in the cost of oil.
Traders express option prices in terms of "implied volatility," that is, the probability of a big move—the more likely the price is to move, the costlier the option. An implied volatility of 20% for a 12-month option, for example, means the market assigns a probability of about two-thirds that the price will move by 20% in either direction.
Chart 2: S&P 500 Risk vs. Oil Risk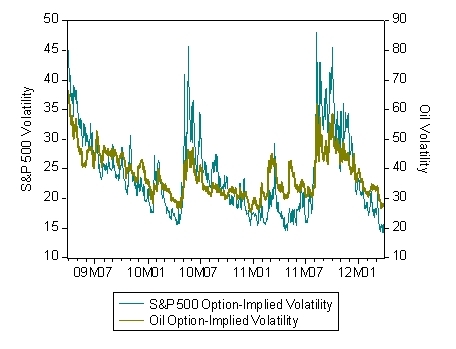 Source: Bloomberg
The cost of hedging against changes in the oil price tracks the cost of hedging the S&P 500 just as closely as oil prices track stock prices. What's more, the cost of hedging against an oil price spike is trading at a three-year low.
The problem is not risk, but supply. When demand increases, we observe in Chart 3, prices trend to rise faster than demand, because supply is relative inelastic (it can't quickly expand to meet additional consumption). The only way to reduce gas prices is to drill for more oil.
Chart 3: Oil Price vs. Global Oil Demand, 2011 to 2012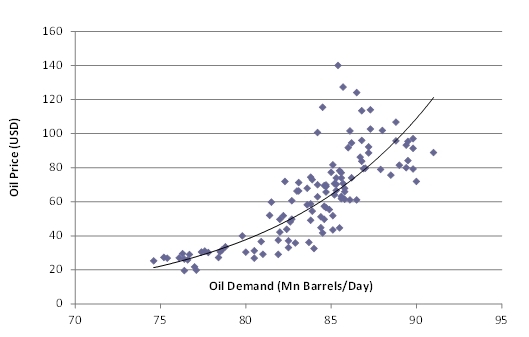 Related Topics: David P. Goldman receive the latest by email: subscribe to the free gatestone institute mailing list
Reader comments on this item
Comment on this item
Tweets by @GatestoneInst
Subscribe To Mailing List
Latest Articles
by Stephen Bryen and Shoshana Bryen
The administration's position is that the nuclear deal is separate from any other conversation with Iran including the fate of the Americans imprisoned there: retired FBI agent Robert Levinson, former U.S. Marine Amir Hekmati, and Iranian-American Pastor Saeed Abedini, who is currently housed in a "violent offenders" prison.
We get, essentially, nothing. But it is worse than that. Whatever the P5+1 believes it achieved pales in comparison to what the deal cost.
by Samuel Westrop
"Al Fatiha Global has a strict vetting policy ... We have certain people who actually go out and check people's social networking profiles, like Facebook and Twitter. If somebody has something on there which may seem a bit radical, then that's it, they're not accepted." — Kas Jameel, Aid Convoy Driver
Jameel, however, apparently forgot to vet his own social media postings.
by Khaled Abu Toameh
The Geneva accord and Washington's failed policies in Egypt and other Muslim countries have taught the Palestinians that it would be better to wait until the U.S. completely loses its influence so that other players such as Russia, China and the EU will step in and impose a solution on Israel.
The way the Palestinian Authority sees it, "If it worked with Iran, why shouldn't it work also with Israel?"
by Veli Sirin
"We will not allow boys and girls to live together in state-owed student residences. The values I hold do not allow such a thing. Anything can happen when it is mixed....All kinds of messy things are happening." — Turkish Prime Minister Recep Tayyip Erdogan, AKP Party.
"They have revoked women's rights step by step. Women should liberate themselves from a mentality that aims to lock them in the house." — Kemal Kilicdaroglu, leader, CHP Party.
"In a democracy, the state cannot play the voyeur. Stick to your own business." — Haluk Koc, CHP Party Spokesman.
by Rafael L. Bardají
In terms of nuclear infrastructure Iran will be as close to getting the bomb in six months as it is today. Geneva leaves Iran with something it was never granted before: the right to enrich uranium. It decouples technologies from the activities of a regime that has sponsored terrorism, deceived IAEA inspectors, and systematically refused to meet the requirements imposed by the United Nations. And we all know how selective sanctions work: Nobody complies. Far from concessions, Westerners can expect more intransigence.
The idea, according to the U.S. administration, is to stimulate the Iranian leaders' appetite to lead them into more concessions in exchange for improving Iran's economy.
Most Shared
Most Viewed