Short Supply, Not Middle East Tensions, Push up Oil Prices
"Right now the key thing that is driving higher gas prices is actually the world's oil markets and uncertainty about what's going on in Iran and the Middle East, and that's adding a $20 or $30 premium to oil prices," President Obama said March 23. It's complete and utter nonsense. Oil is trading in lockstep with expectations for economic growth, as reflected in stock prices. There's not a shred of evidence that geopolitical uncertainty has added a penny to the oil price. Obama's $20 to $30 per barrel risk premium is a number pulled out of a hat, without a shred of empirical support. In effect, the President is blaming Israel for high oil prices.
On April, 3, Vice-President Biden blamed higher oil prices on "talk about war with Iran"; fear that Iran might "take out the Saudi oil fields and Bahraini oil fields"; the Arab Spring movement; "war in Libya"; the rise of the Muslim Brotherhood; and a potential for unforeseen political unrest, such as "chaos in Russia." It's all complete and utter nonsense. Oil prices are going up because the world economy is consuming more oil and supply has not increased to meet the demand – in part because the Obama administration discourages North American energy development, most recently by stopping the proposed Keystone pipeline from Canada. It's easier to blame foreign phantoms for high gas prices at the pump than the administration's business-killing politics
One might argue that the market should price strategic risk into the oil price, but the fact is that markets are not especially good at assigning prices to possible events whose probability can't be measured.
Chart 1: Oil Price vs. S&P 500, Past Three Years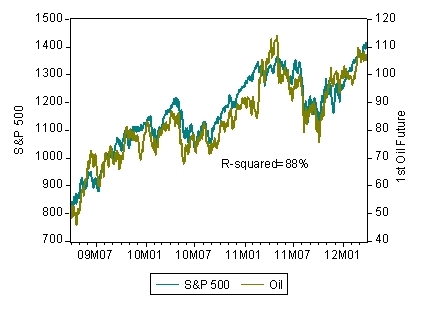 Source: Bloomberg
During the past three years, oil prices have tracked equity prices almost perfectly, with a regression coefficient of nearly 90%. (For statisticians, the correlation of daily percentage changes in the two markets is 51%). Equity prices embody expectations of future economic growth, and higher growth means more demand for oil. If oil supply cannot keep up with demand—because the Obama administration has restricted development, among other factors—the oil price goes up.
If it walks like a duck, flies like a duck, quacks like a duck and correlates in first differences, we can say with confidence that it is a duck. The price of oil tracks economic growth expectations. Growth expectations, moreover, provide such a complete explanation of oil prices that it is statistically absurd to seek for another reason.
There are even stronger grounds to reject Obama's unsubstantiated, self-serving claims about a supposed risk premium in the oil price. Oil price risk is traded every day, in the form of options on the oil price. A hedger or speculator can buy the right to purchase oil at a fixed price over a specified time period. The price of oil options expresses the market's perception of risk of a big move in the cost of oil.
Traders express option prices in terms of "implied volatility," that is, the probability of a big move—the more likely the price is to move, the costlier the option. An implied volatility of 20% for a 12-month option, for example, means the market assigns a probability of about two-thirds that the price will move by 20% in either direction.
Chart 2: S&P 500 Risk vs. Oil Risk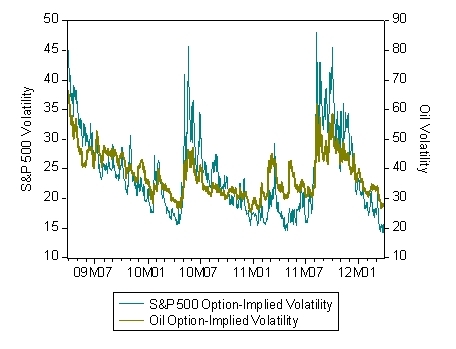 Source: Bloomberg
The cost of hedging against changes in the oil price tracks the cost of hedging the S&P 500 just as closely as oil prices track stock prices. What's more, the cost of hedging against an oil price spike is trading at a three-year low.
The problem is not risk, but supply. When demand increases, we observe in Chart 3, prices trend to rise faster than demand, because supply is relative inelastic (it can't quickly expand to meet additional consumption). The only way to reduce gas prices is to drill for more oil.
Chart 3: Oil Price vs. Global Oil Demand, 2011 to 2012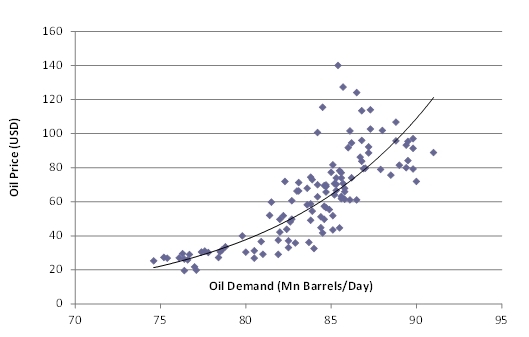 Related Topics: David P. Goldman receive the latest by email: subscribe to the free gatestone institute mailing list
Reader comments on this item
Comment on this item
Tweets by @GatestoneInst
Subscribe To Mailing List
Latest Articles
by Douglas Murray
One year after the bombs went off at the Boston marathon, Brandeis authorities were so intent on avoiding the issues those bombs had raised, that they would rather point the finger at a critic of the radical ideology than do anything to criticize the ideology.
Is not the Palestinian leadership a viable negotiating partner with whom peace is just about to be achieved? How do you protest if the protesters are Muslims? Who are the victims and who are the victimizers? After all, "victims" cannot victimize, can they?
When we see a global bigotry and hatred such as this, we should identify it as such and demand, in the name of all that is decent, that it stop.
by Anna Mahjar-Barducci
Libya is the new jihadist front on the Mediterranean -- and just a few hours away from the centers of Europe.
Several security sources have confirmed that Belmokhtar is still alive and has moved, along with his troops, from Mali to a new base in the Libyan desert.
by Timon Dias
"If Lady Justice is truly blind, she will prosecute all of us or none of us. I hope none of us." — Geert Wilders, MP and Leader of the Party for Freedom, the Netherlands.
A more recent development is the pending Dutch Moroccan takeover of the drugs and human trafficking businesses.
by Shabnam Assadollahi
It is now being said that Morteza Sarbandi, instead of assaulting Reyhaneh Jabbari, was stabbed while performing Muslim prayers.
by Khaled Abu Toameh
"We reject all forms of violence... Palestinian blood is like Israeli blood. It is human blood and precious and no one wants anyone killed." — Mahmoud al-Habbash, Palestinian Minister of Religious Affairs
"If your blood is like the blood of Zionists, our blood is not." — Zakariya Zubeidi, former leader of the Al-Aqsa Martyrs' Brigade.
"We call for lifting his [al-Habbash's] diplomatic immunity and for prosecuting him immediately for his administrative, financial, and political corruption. We also call on President Abbas to fire him immediately from the Palestinian cabinet." — Mansour al-Sa'di, Fatah leader.
The angry reactions show that there are many Palestinians who see no problem with a terrorist attack against a Jewish family. Palestinian leaders can blame only themselves.
Most Shared
Most Viewed