Short Supply, Not Middle East Tensions, Push up Oil Prices
"Right now the key thing that is driving higher gas prices is actually the world's oil markets and uncertainty about what's going on in Iran and the Middle East, and that's adding a $20 or $30 premium to oil prices," President Obama said March 23. It's complete and utter nonsense. Oil is trading in lockstep with expectations for economic growth, as reflected in stock prices. There's not a shred of evidence that geopolitical uncertainty has added a penny to the oil price. Obama's $20 to $30 per barrel risk premium is a number pulled out of a hat, without a shred of empirical support. In effect, the President is blaming Israel for high oil prices.
On April, 3, Vice-President Biden blamed higher oil prices on "talk about war with Iran"; fear that Iran might "take out the Saudi oil fields and Bahraini oil fields"; the Arab Spring movement; "war in Libya"; the rise of the Muslim Brotherhood; and a potential for unforeseen political unrest, such as "chaos in Russia." It's all complete and utter nonsense. Oil prices are going up because the world economy is consuming more oil and supply has not increased to meet the demand – in part because the Obama administration discourages North American energy development, most recently by stopping the proposed Keystone pipeline from Canada. It's easier to blame foreign phantoms for high gas prices at the pump than the administration's business-killing politics
One might argue that the market should price strategic risk into the oil price, but the fact is that markets are not especially good at assigning prices to possible events whose probability can't be measured.
Chart 1: Oil Price vs. S&P 500, Past Three Years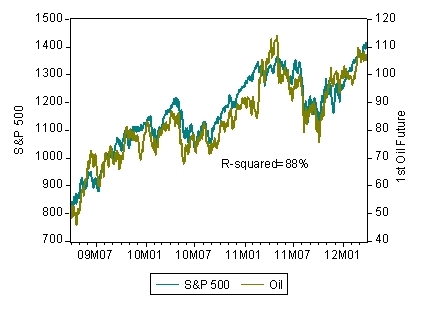 Source: Bloomberg
During the past three years, oil prices have tracked equity prices almost perfectly, with a regression coefficient of nearly 90%. (For statisticians, the correlation of daily percentage changes in the two markets is 51%). Equity prices embody expectations of future economic growth, and higher growth means more demand for oil. If oil supply cannot keep up with demand—because the Obama administration has restricted development, among other factors—the oil price goes up.
If it walks like a duck, flies like a duck, quacks like a duck and correlates in first differences, we can say with confidence that it is a duck. The price of oil tracks economic growth expectations. Growth expectations, moreover, provide such a complete explanation of oil prices that it is statistically absurd to seek for another reason.
There are even stronger grounds to reject Obama's unsubstantiated, self-serving claims about a supposed risk premium in the oil price. Oil price risk is traded every day, in the form of options on the oil price. A hedger or speculator can buy the right to purchase oil at a fixed price over a specified time period. The price of oil options expresses the market's perception of risk of a big move in the cost of oil.
Traders express option prices in terms of "implied volatility," that is, the probability of a big move—the more likely the price is to move, the costlier the option. An implied volatility of 20% for a 12-month option, for example, means the market assigns a probability of about two-thirds that the price will move by 20% in either direction.
Chart 2: S&P 500 Risk vs. Oil Risk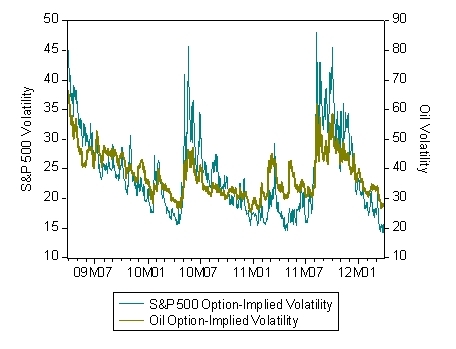 Source: Bloomberg
The cost of hedging against changes in the oil price tracks the cost of hedging the S&P 500 just as closely as oil prices track stock prices. What's more, the cost of hedging against an oil price spike is trading at a three-year low.
The problem is not risk, but supply. When demand increases, we observe in Chart 3, prices trend to rise faster than demand, because supply is relative inelastic (it can't quickly expand to meet additional consumption). The only way to reduce gas prices is to drill for more oil.
Chart 3: Oil Price vs. Global Oil Demand, 2011 to 2012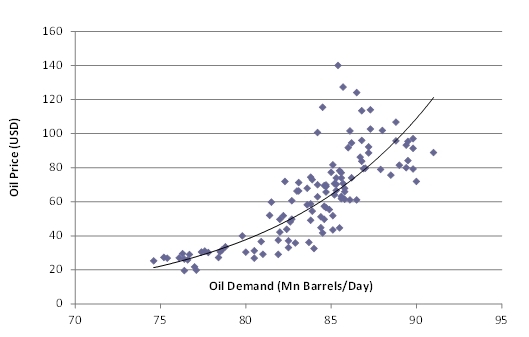 Related Topics: David P. Goldman receive the latest by email: subscribe to the free gatestone institute mailing list
Reader comments on this item
Comment on this item
Subscribe To Mailing List
Tweets by @GatestoneInst
Latest Articles
by Soeren Kern
Austria has emerged as a major base for radical Islam and as a central hub for European jihadists to fight in Syria.
The proposed revisions would, among other changes, regulate the training and hiring of Muslim clerics, prohibit the foreign funding of mosques, and establish an official German-language version of the Koran to prevent its "misinterpretation" by Islamic extremists.
Muslims would be prohibited from citing Islamic sharia law as legal justification for ignoring or disobeying Austrian civil laws.
Leaders of Austria's Muslim community counter that the contemplated new law amounts to "institutionalized Islamophobia."
Official statistics show that nearly 60% of the inhabitants of Vienna are immigrants or foreigners. The massive demographic and religious shift underway in Austria, traditionally a Roman Catholic country, appears irreversible.
by Samuel Westrop
Over 800 Iranians were executed during President Rouhani's first year in office.
Leading politicians, British government officials and businessmen nevertheless seemed happy to attend and speak at the Europe-Iran Forum.
by Khaled Abu Toameh
The "Arab Spring" did not erupt as a result of the Israeli-Palestinian conflict. Rather, it was the outcome of decades of tyranny and corruption in the Arab world. The Tunisians, Egyptians, Libyans and Yemenis who removed their dictators from power did not do so because of the lack of a "two-state solution." This is the last thing they had in mind.
The thousands of Muslims who are volunteering to join the Islamic State [IS] are not doing so because they are frustrated with the lack of progress in the Israeli-Palestinian peace talks.
The only solution the Islamic State believes in is a Sunni Islamic Caliphate where the surviving non-Muslims who are not massacred would be subject to sharia law.
What Kerry perhaps does not know is that the Islamic State is not interested in the Israeli-Palestinian conflict at all. Unlike Kerry, Sunni scholars fully understand that the Islamic State has more to do with Islam and terrorism than with any other conflict.
by Steven J. Rosen
Palestinian officials have generally been silent about security cooperation with Israel. They are loath to acknowledge how important it is for the survival of the Palestinian Authority [PA], and fear that critics, especially Hamas, will consider it "collaboration with the enemy."
"You smuggle weapons, explosives and cash to the West Bank, not for the fight with Israel, but for a coup against the Palestinian Authority. The Israeli intelligence chief visited me two weeks ago and told me about the [Hamas] group they arrested that was planning for a coup... We have a national unity government and you are thinking about a coup against me." — Mahmoud Abbas, PA President, to Khaled Mashaal, Hamas leader.
According to Israeli Defense Minister Moshe Ya'alon, if the IDF leaves the West Bank, Hamas will take over, and other terrorists groups such as the Islamic Jihad, Al-Qaeda and Islamic State would operate there.
In recent months, Abbas has been making a series of threats against Israel. If Abbas becomes another Arafat, it could be the Israeli side that loses interest in security cooperation.
Most Shared
Most Viewed