Short Supply, Not Middle East Tensions, Push up Oil Prices
"Right now the key thing that is driving higher gas prices is actually the world's oil markets and uncertainty about what's going on in Iran and the Middle East, and that's adding a $20 or $30 premium to oil prices," President Obama said March 23. It's complete and utter nonsense. Oil is trading in lockstep with expectations for economic growth, as reflected in stock prices. There's not a shred of evidence that geopolitical uncertainty has added a penny to the oil price. Obama's $20 to $30 per barrel risk premium is a number pulled out of a hat, without a shred of empirical support. In effect, the President is blaming Israel for high oil prices.
On April, 3, Vice-President Biden blamed higher oil prices on "talk about war with Iran"; fear that Iran might "take out the Saudi oil fields and Bahraini oil fields"; the Arab Spring movement; "war in Libya"; the rise of the Muslim Brotherhood; and a potential for unforeseen political unrest, such as "chaos in Russia." It's all complete and utter nonsense. Oil prices are going up because the world economy is consuming more oil and supply has not increased to meet the demand – in part because the Obama administration discourages North American energy development, most recently by stopping the proposed Keystone pipeline from Canada. It's easier to blame foreign phantoms for high gas prices at the pump than the administration's business-killing politics
One might argue that the market should price strategic risk into the oil price, but the fact is that markets are not especially good at assigning prices to possible events whose probability can't be measured.
Chart 1: Oil Price vs. S&P 500, Past Three Years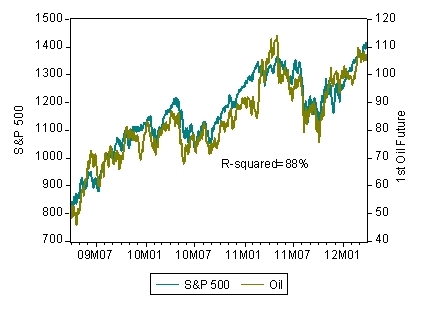 Source: Bloomberg
During the past three years, oil prices have tracked equity prices almost perfectly, with a regression coefficient of nearly 90%. (For statisticians, the correlation of daily percentage changes in the two markets is 51%). Equity prices embody expectations of future economic growth, and higher growth means more demand for oil. If oil supply cannot keep up with demand—because the Obama administration has restricted development, among other factors—the oil price goes up.
If it walks like a duck, flies like a duck, quacks like a duck and correlates in first differences, we can say with confidence that it is a duck. The price of oil tracks economic growth expectations. Growth expectations, moreover, provide such a complete explanation of oil prices that it is statistically absurd to seek for another reason.
There are even stronger grounds to reject Obama's unsubstantiated, self-serving claims about a supposed risk premium in the oil price. Oil price risk is traded every day, in the form of options on the oil price. A hedger or speculator can buy the right to purchase oil at a fixed price over a specified time period. The price of oil options expresses the market's perception of risk of a big move in the cost of oil.
Traders express option prices in terms of "implied volatility," that is, the probability of a big move—the more likely the price is to move, the costlier the option. An implied volatility of 20% for a 12-month option, for example, means the market assigns a probability of about two-thirds that the price will move by 20% in either direction.
Chart 2: S&P 500 Risk vs. Oil Risk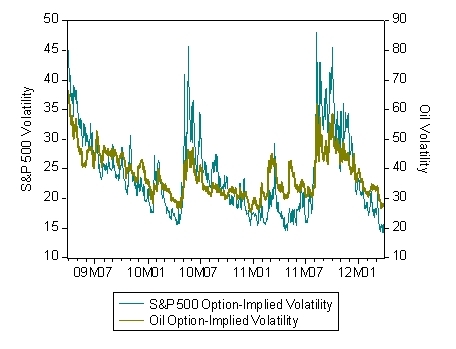 Source: Bloomberg
The cost of hedging against changes in the oil price tracks the cost of hedging the S&P 500 just as closely as oil prices track stock prices. What's more, the cost of hedging against an oil price spike is trading at a three-year low.
The problem is not risk, but supply. When demand increases, we observe in Chart 3, prices trend to rise faster than demand, because supply is relative inelastic (it can't quickly expand to meet additional consumption). The only way to reduce gas prices is to drill for more oil.
Chart 3: Oil Price vs. Global Oil Demand, 2011 to 2012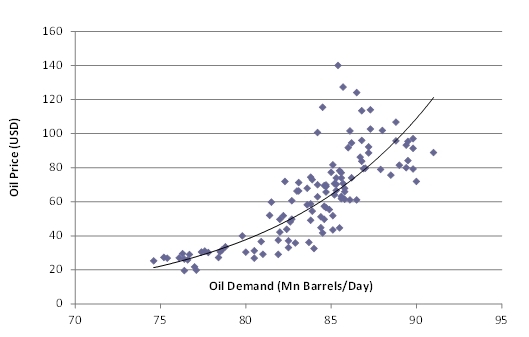 Related Topics: David P. Goldman receive the latest by email: subscribe to the free gatestone institute mailing list
Reader comments on this item
Comment on this item
Subscribe To Mailing List
Tweets by @GatestoneInst
Latest Articles
by Khaled Abu Toameh
To understand what drives a young Palestinian to carry out such a deadly attack, one needs to look at the statements of Palestinian Authority leaders during the past few weeks.
The anti-Israel campaign of incitement reached its peak with Abbas's speech at the UN a few weeks ago, when he accused Israel of waging a "war of genocide" in the Gaza Strip. Abbas made no reference to Hamas's crimes against both Israelis and Palestinians.
Whatever his motives, it is clear that the man who carried out the most recent attack, was influenced by the messages that Abbas and the Palestinian Authority leadership have been sending their people.
by Richard Kemp
Would General Allen -- or any other general today -- recommend contracting out his country's defenses if it were his country at stake? Of course not.
The Iranian regime remains dedicated to undermining and ultimately destroying the State of Israel. The Islamic State also has Israel in its sights and would certainly use the West Bank as a point from which to attack, if it were open to them.
There can be no two-state solution and no sovereign Palestinian Arab state west of the Jordan, however desirable those things might be. The stark military reality is that Israel cannot withdraw its forces from the West Bank.
Fatah leaders ally themselves with the terrorists of Hamas, and, like Hamas, they continue to reject the every existence of the State of Israel.
If Western leaders actually want to help, they should use all diplomatic and economic means to make it clear to the Palestinians that they will never achieve an independent and sovereign state while they remain set on the destruction of the State of Israel.
by Louis René Beres
The Palestine Liberation Organization [PLO], forerunner of today's Palestinian Authority, was founded in 1964, three years before Israel came into the unintended control of the West Bank and Gaza. What therefore was the PLO planning to "liberate"?
Why does no one expect the Palestinians to cease all deliberate and random violence against Israeli civilians before being considered for admission to statehood?
On June 30, 1922, a joint resolution of both Houses of Congress of the United States endorsed a "Mandate for Palestine," confirming the right of Jews to settle anywhere they chose between the Jordan River and the Mediterranean Sea. This is the core American legacy of support for a Jewish State that President Obama now somehow fails to recall.
A sovereign state of Palestine, as identified by the Arabs -- a Muslim land occupied by "Palestinian" Arabs -- has never existed; not before 1948, and not before 1967. From the start, it was, and continues to be, the Arab states -- not Israel -- that became the core impediment to Palestinian sovereignty.
by Timon Dias
It looks as if this new law is meant to serve as a severe roadblock to parties that would like to dismantle the EU in a democratic and peaceful way from within.
A rather dull semantic trick pro-EU figures usually apply, is calling their opponents "anti-Europe."
Most Shared
Most Viewed