Short Supply, Not Middle East Tensions, Push up Oil Prices
"Right now the key thing that is driving higher gas prices is actually the world's oil markets and uncertainty about what's going on in Iran and the Middle East, and that's adding a $20 or $30 premium to oil prices," President Obama said March 23. It's complete and utter nonsense. Oil is trading in lockstep with expectations for economic growth, as reflected in stock prices. There's not a shred of evidence that geopolitical uncertainty has added a penny to the oil price. Obama's $20 to $30 per barrel risk premium is a number pulled out of a hat, without a shred of empirical support. In effect, the President is blaming Israel for high oil prices.
On April, 3, Vice-President Biden blamed higher oil prices on "talk about war with Iran"; fear that Iran might "take out the Saudi oil fields and Bahraini oil fields"; the Arab Spring movement; "war in Libya"; the rise of the Muslim Brotherhood; and a potential for unforeseen political unrest, such as "chaos in Russia." It's all complete and utter nonsense. Oil prices are going up because the world economy is consuming more oil and supply has not increased to meet the demand – in part because the Obama administration discourages North American energy development, most recently by stopping the proposed Keystone pipeline from Canada. It's easier to blame foreign phantoms for high gas prices at the pump than the administration's business-killing politics
One might argue that the market should price strategic risk into the oil price, but the fact is that markets are not especially good at assigning prices to possible events whose probability can't be measured.
Chart 1: Oil Price vs. S&P 500, Past Three Years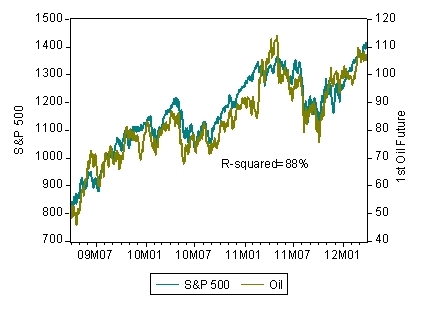 Source: Bloomberg
During the past three years, oil prices have tracked equity prices almost perfectly, with a regression coefficient of nearly 90%. (For statisticians, the correlation of daily percentage changes in the two markets is 51%). Equity prices embody expectations of future economic growth, and higher growth means more demand for oil. If oil supply cannot keep up with demand—because the Obama administration has restricted development, among other factors—the oil price goes up.
If it walks like a duck, flies like a duck, quacks like a duck and correlates in first differences, we can say with confidence that it is a duck. The price of oil tracks economic growth expectations. Growth expectations, moreover, provide such a complete explanation of oil prices that it is statistically absurd to seek for another reason.
There are even stronger grounds to reject Obama's unsubstantiated, self-serving claims about a supposed risk premium in the oil price. Oil price risk is traded every day, in the form of options on the oil price. A hedger or speculator can buy the right to purchase oil at a fixed price over a specified time period. The price of oil options expresses the market's perception of risk of a big move in the cost of oil.
Traders express option prices in terms of "implied volatility," that is, the probability of a big move—the more likely the price is to move, the costlier the option. An implied volatility of 20% for a 12-month option, for example, means the market assigns a probability of about two-thirds that the price will move by 20% in either direction.
Chart 2: S&P 500 Risk vs. Oil Risk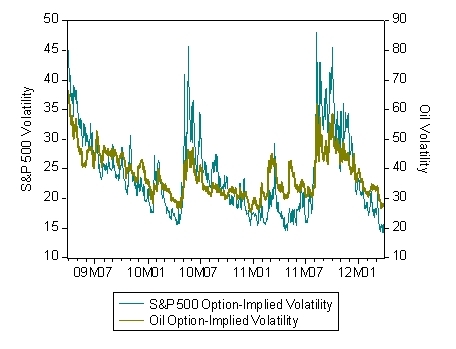 Source: Bloomberg
The cost of hedging against changes in the oil price tracks the cost of hedging the S&P 500 just as closely as oil prices track stock prices. What's more, the cost of hedging against an oil price spike is trading at a three-year low.
The problem is not risk, but supply. When demand increases, we observe in Chart 3, prices trend to rise faster than demand, because supply is relative inelastic (it can't quickly expand to meet additional consumption). The only way to reduce gas prices is to drill for more oil.
Chart 3: Oil Price vs. Global Oil Demand, 2011 to 2012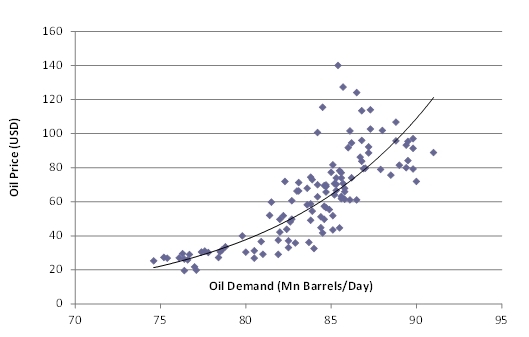 Related Topics: David P. Goldman receive the latest by email: subscribe to the free gatestone institute mailing list
Reader comments on this item
Comment on this item
Subscribe To Mailing List
Tweets by @GatestoneInst
Latest Articles
by Douglas Murray
If Ayaan Hirsi Ali is not qualified to speak about Islam, then who is? The answer is that the only figure they might accept is someone who does not make any criticisms of Islam.
Her criticisms are often raw because they are true. Able to do nothing about the truth, they try to silence the truth-teller.
by Nir Boms and Shayan Arya
Acknowledging the new ISIS danger while ignoring Iran's role in fomenting sectarian conflict in Syria and Iraq is not only shortsighted but dangerous. ISIS is not about to acquire nuclear capability, at least yet. Iran is.
If ISIS, a 25,000-strong militia, poses a serious threat, how can one disregard the 550,000-strong military of the soon-to-be nuclear Iranian regime?
The International Atomic Energy Agency issued a confidential report, which states that "little progress is being made," and that the Iran has implemented only three out of five nuclear transparency steps to which it had committed to completing before August 25. Does the West actually no longer view a nuclear Iran as a pressing threat?
by Burak Bekdil
"Why are you running away, you sperm of Israel?" — President Recep Tayyip Erdogan, to a Muslim protestor.
"Being a sperm of Israel in Turkey means... to get used to living on hate speech, insults and curses every day; held accountable for every act of the Israeli government although you may never even have stepped foot in Israel; treated as a 'foreigner' in the country where you were born, served in the military and you pay taxes." — Vedat Haymi Behar, digital marketing solutions coordinator, in Radikal.
by Malcolm Lowe
The losers are declaring war on all who disagree with them. They have adopted Salmond's attempts to pit one part of the population against another: not just young against old, but manual workers against the middle classes, city slum dwellers against country people, men against women, any section of the population that preferred Yes against another section that did the opposite.
The foolish devotion of Labour councilors to Palestinian militancy paved the way for nationalist mania.
Most Shared
Most Viewed