by Amir Taheri • January 16, 2022 at 4:00 am
The United States gradual isolationism, starting with President Barack Obama and the closure of US bases in Uzbekistan and Kyrgyzstan, whetted the appetites of both China and Russia for greater influence in Central Asia as a whole.

Under President Vladimir Putin, Russia has launched a long-term geostrategic campaign to regain its zone of influence in Europe, the Middle East and Central Asia, where Kazakhstan is the biggest prize.

[T]he Russian campaign has caused unease among Kazakhs who suddenly realize that their ethnic-Russian fellow citizens hold a much higher percentage of plum positions in civil service and the military than their actual numbers would warrant.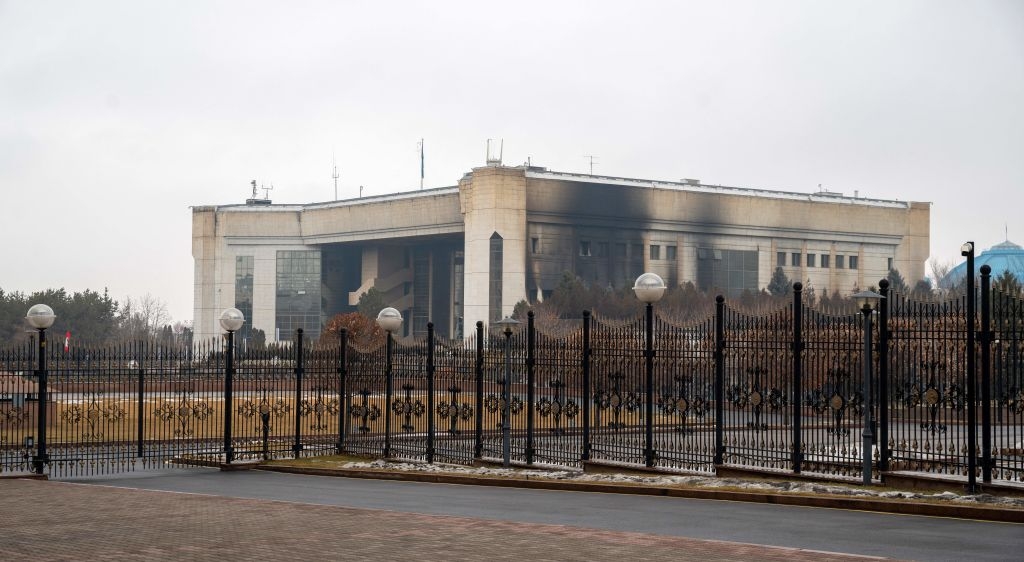 The latest riots in Kazakhstan, which may be the opening salvos in a long fight over the country's future, could mean that the factors that nurtured three decades of stability are now all in question. Pictured: A burnt-out government building in Almaty, Kazakhstan on January 7, 2022, which was torched by rioters.. (Photo by Alexandr Bogdanov/AFP via Getty Images)
Until earlier this month, Kazakhstan, the largest of Central Asian republics to become independent after the dissolution of the Soviet Empire 30 years ago, appeared the most stable entity in the region.
Under President Nursultan Nazarbayev's iron-fist leadership, it had avoided the religious feuds, civil wars, coups and counter-coups that had shaken kindred former Soviet republics, such as neighboring Kyrgyzstan, Uzbekistan, Tajikistan and Turkmenistan.
However, Nazarbayev's autocratic rule was not the sole reason for the new republic's stability. There were at least three other contributory factors.
The first was the boom created by the opening of Kazakhstan's vast energy resources, including more than 3 percent of global oil reserves, to foreign, mostly Western, capital. That, in turn, helped the newly independent republic to offer its citizens living standards they could not have imagined under Soviet rule.
Continue Reading Article