Kidnapped Israeli Teenagers - A Palestinian View
You cannot be running TV, social media and newspapers encouraging terror and the murdering of Jews and then claim you are innocent when acts of terror happen.

The PA is now officially united with Hamas, a terror organization that pledges to destroy a sovereign nation and establish a Muslim caliphate. Financing the PA is therefore financing terrorism. PA terror has become a major industry. Is this what the West is so breathless to support?

Would the U.S. or Europe agree to give its cities and parts of its soil for a terrorist organization to establish a country the way U.S. Secretary of State John Kerry has been pushing Israel to give up most of the West Bank and return to pre-1967 borders?

Can we Palestinians blame Israel when the wall never existed before Hamas and the PLO started launching terror attacks on Israel on a daily basis?

Instead of financing the PA leaders' lavish lifestyles, the world should start questioning the PA's institutionalized incitement of terror and hatred to my people which they do every day through media, education and religious institutions. For the sake of both Israel and the Palestinians, it is not Israel but the PA that should be boycotted.

"Most people are mad at those who kidnapped the kids. When they commit such acts, we rejoice, celebrate for Israel's suffering, then sit down and worry if we will be allowed into Israel for work and medical treatment. This has to stop, for our own sake." Palestinian businessman
While Israel prays for the safe return of three Israel teenagers kidnapped by terrorists last week, although Palestinian Authority [PA] President Mahmoud Abbas tepidly defended the search for the teens -- comments for which many Palestinians attacked him -- the official PA daily wrote that "Israel itself is behind the 'kidnapping'," alleging that the three boys were soldiers when in fact they were students, two in high school, and the kidnappings were celebrated by people, glorifying the kidnappers and passing out sweets. The Fatah Facebook page then published a cartoon showing the three kidnapped teenagers as rats bearing the star of David with the caption "The Master Stroke".
Keep in mind that the PA exerts extreme monitoring and control over social media used by Palestinians in the West Bank. A Palestinian man was jailed for six months for "liking" an anti-PA post on Facebook. The PA, therefore, is fully responsible for encouraging the celebrations of the kidnappings over Palestinian social media.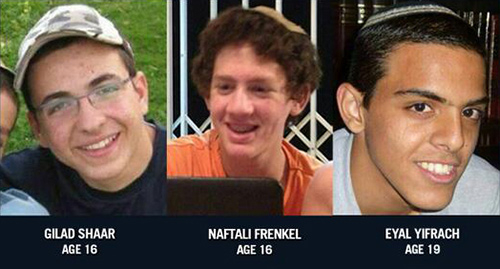 The three Israeli teenagers abducted June 12: Gilad Shaar, Naftali Frenkel, and Eyal Yifrach.
Responses such as these should help the world -- which has been trying to force a peace agreement with the PA down Israel's throat -- wake up to the reality that the PA is a terrorist organization that has been inciting acts of violence and radicalism, and should be treated as such. Its leaders should be recognized as terrorists who deserve jail rather than a red carpet treatment in Western capitals.
While some argue that freedom of speech is sacred, it seems the only freedom of speech the PA allows is the one that incites terrorism.
The first thing the world should remember is that the PA is now officially united with Hamas, a terrorist organization that pledges to destroy a sovereign nation, Israel, and establish a Muslim caliphate. Financing the PA now is therefore financing terrorism.
Yet, despite uniting with Hamas, the PA will still apparently be receiving generous financing from the U.S., Canada and Europe.
The UK, with the best of intentions, offers an average of $135 million a year to the PA for development; nonetheless, the Guardian newspaper reported that the money, always fungible, was instead being used by the PA to finance terrorist imprisoned in Israeli jails -- thus inadvertently financing more terrorism.
In addition, it is no secret that the PA officials have been stealing hundreds of millions of dollars of the aid money intended to improve the livelihoods of my people, the Palestinians, with no sign that Western aid to the PA ever filters down to the Palestinian public.
Instead of financing the PA leaders' lavish lifestyles, the world might finally start questioning the PA's institutionalized incitement of terror and hatred to my people which they relay daily through media, education and the religious institutions.
Ever since the PA came into existence, it has been keen to mass-produce and institutionalize the hatred of Jews and also the West. With their government-controlled TV shows that teach children how to kill Jews, and textbooks that preach hatred for Israel, the PA and Hamas are directly and fully responsible for each and every terror act committed by Palestinians, including the kidnapping of the three teenagers.
Is this what the West is so breathless to support?
Ironically, the PA is claiming no responsibility for the kidnappings, however you cannot be running TV, newspapers and social media encouraging terror and the murdering of Jews and then claim that you are innocent when acts of terror happen.
Another reason for kidnapping the three teenagers, of course, is also the regular prisoner-release agreements forced on Israel. Gilad Shalit was kidnapped and held for five years then released in a prisoner exchange agreement for more than 1,000 terrorist prisoners who were let out of jail. Such deals have been openly encouraged and blessed by the PA leader. In other words, the PA encourages the kidnappings of Israelis to exchange them with terror prisoners.
The world should therefore understand Israel's position when it recently called off releasing yet more terror prisoners in a deal promoted by U.S. Secretary of State John Kerry. These releases just encourage the kidnapping of more Israelis.
As a Palestinian, I do not wish for any of my people to be in jail; nonetheless, I cannot sympathize with those who kill children and innocent civilians. I also know that releasing those prisoners in "swaps" sets a bad example, and even encourages more of my people to commit acts of terror: they see they can be released in a few years in a prisoner exchange brokered by the West.
Would the U.S. or Europe agree to give its cities and parts of its soil to a terrorist organization to establish a country the way Secretary Kerry has been pushing Israel to give up most of the West Bank and return to pre-1967 borders?
Also, if the US or any European country were facing terror attacks from any neighboring country, wouldn't it seek to build a barrier to protect itself from that country? The U.S. already has a fortified wall along parts of its border with Mexico to stop illegal immigration -- an offense not by any means close to any of the terrorist acts that have claimed the lives of thousands of Israeli civilians over the years. Therefore, can the world keep blaming Israel for having a security barrier?
Can we Palestinians blame Israel when the barrier never existed before Hamas and the PLO started launching terror attacks on Israel on a daily basis? Yes, the wall looks sad and ugly and depressing, but if Israel's neighbors proclaim every day that their sole desire is to displace Israel, what else -- apart from surrender -- can Israel do?
We Palestinians know that Israel welcomed us with open arms before the PA came and brought terror-preaching with it. And yes, there have always been constant acts of Palestinian terrorism. But PA terror has became a major industry -- in which terrorists are pampered, protected, financed, employed, and glorified by the PA -- with streets, soccer stadiums and summer camps named after them. And Europe breathlessly joins in.
Israeli measures towards securing the safety of its citizens as well as that of the Palestinians, have been demonized by the world and the so-called Palestinian sympathizers, who choose to ignore the fact that Palestinians' lives have become harder because of the terrorists and not because of Israel. A Palestinian businessman, for instance, who frequently passes illegally into Israel to buy his products, said: "Most people are mad at those who kidnapped the kids…[because] When they commit such acts, we rejoice, celebrate for Israel's suffering, then sit down and worry if we will be allowed into Israel for work and medical treatment. To me, such a kidnapping only destroys the livelihood of my four children. This has to stop, for our own sake."
The Palestinian Authority is a terrorist organization, and its leaders are terrorists who deserve international arrest warrants rather than the red-carpet treatment in Western capitals. The PA has been an inciter of terror; it jeopardizes the safety and livelihoods of Israelis and Palestinians alike.
This tragedy should remind the world that the PA -- and organizations like it -- is a threat to all of us and should not be rewarded with still more funds for terrorist behavior. For the sake of both Israel and the Palestinians, it is not Israel but the PA that should be boycotted, excluded and even dissolved.
Related Topics: Israel, Palestinian Authority | Mudar Zahran receive the latest by email: subscribe to the free gatestone institute mailing list
Reader comments on this item
| | | |
| --- | --- | --- |
| Title | By | Date |
| Democracy [79 words] | James Darcy | Jul 1, 2014 13:29 |
| A True Patriot [52 words] | Avi | Jun 28, 2014 12:33 |
| Faith in Mankind [39 words] | Leon Kushner | Jun 26, 2014 14:23 |
| ↔ Great Article / Media Shame [34 words] | J Glueck | Jun 28, 2014 16:39 |
| Palestinians and the PLO [366 words] | Daniel | Jun 26, 2014 10:02 |
| Finally someone in the Palestinian community is brave enough to speak the truth [23 words] | Stacy Gittleman | Jun 26, 2014 08:16 |
| Wow [48 words] | Joyce | Jun 26, 2014 07:39 |
| A Palestinian with Understanding [146 words] | Paula R | Jun 25, 2014 22:21 |
| refreshing [32 words] | Zipora Herzberg | Jun 25, 2014 20:34 |
| Minority voice [93 words] | George Weiss | Jun 25, 2014 14:24 |
| Preaching the Obvious [102 words] | Brian Lux | Jun 25, 2014 13:21 |
| ↔ Reply to Brian [60 words] | Ora | Jun 26, 2014 16:41 |
| ↔ Truth WILL Out [77 words] | Brian Lux | Jun 28, 2014 10:35 |
| ↔ A second reply to Brian [69 words] | Ora | Jun 29, 2014 16:43 |
| ↔ Wow! [50 words] | Brian | Jun 30, 2014 16:49 |
| ↔ A further reply to Brian [190 words] | Ora | Jul 1, 2014 07:59 |
| ↔ Response to Ora [166 words] | Brian | Jul 1, 2014 11:04 |
| This Guy Has it Right [63 words] | American | Jun 25, 2014 12:22 |
| European tolerance of Arab misdeads... [30 words] | Boris D'Juran | Jun 25, 2014 11:49 |
| I Totally Agree [140 words] | Elisheva14 | Jun 25, 2014 11:42 |
| Only Peace with Israel will help the Palestinians [91 words] | millie silberman | Jun 25, 2014 11:33 |
| The truth will out... [36 words] | Steven Buckley | Jun 25, 2014 10:48 |
| Politicians are the ones who encourage terrorism [23 words] | United we Stand | Jun 25, 2014 10:41 |
| Clearheaded [24 words] | Robert Haymond | Jun 25, 2014 10:37 |
| The world doesn't want to know [191 words] | Ora | Jun 25, 2014 09:59 |
| Thank you [58 words] | Batya Casper | Jun 25, 2014 09:50 |
| There is Hope [64 words] | June Grant | Jun 25, 2014 09:10 |
| Kidnapped Israel youngsters [54 words] | montlaskly | Jun 25, 2014 07:42 |
| A Palestinian view [20 words] | Norman | Jun 25, 2014 07:04 |
| ↔ Heard it before [208 words] | Jim Briggs | Jun 26, 2014 18:46 |
| A Palestinian View [35 words] | Danny S | Jun 25, 2014 06:22 |
| Politicians are the one who encourage terrorism [37 words] | United we Stand | Jun 25, 2014 05:51 |
| Sane article [47 words] | Shelly Leibowitz | Jun 25, 2014 05:43 |
| At last an person with honesty is telling the truth [135 words] | Des | Jun 25, 2014 05:41 |
Comment on this item
Subscribe To Mailing List
Tweets by @GatestoneInst
Subscribe To Mailing List
Latest Articles
by Soeren Kern
"There is no territory more occupied than the body of a Palestinian woman, or a strip... severed by the violent imposition of the superstitions of Allah and the followers of Mohammed. We had better not even mention the situation of Palestinian homosexuals. This selective outrage by top progressives when it involves Israel is indeed anti-Semitism." — Alberto Moyano, Spanish newspaper editor.
"It is possible legitimately to criticize Israel. But it smells fishy when all of the blame is attributed to Israel, without even mentioning the small detail that a terrorist and jihadist group that rules Gaza has infringed on every conceivable humanitarian principle, by using civilians as human shields, and launching missiles from apartment blocks, while their leaders are living comfortable in Qatar, guests of a sheik." — Ángel Mas, Spanish analyst.
There has been virtually no public outcry whatsoever in Spain over the deaths of more than 160,000 people during three years of fighting in Syria; the decimation of ancient Christian communities at the hands of Islamists in Iraq; the kidnapping of 300 girls by Islamists in Nigeria; or the downing of a civilian passenger plane in Ukraine.
"The most anti-Semitic people are supposedly the most educated and well-informed." — Spanish Ministry of Foreign Affairs report on anti-Semitism in Spain.
by Khaled Abu Toameh
There is growing concern in Ramallah, Cairo, Riyadh and Dubai that the U.S. Administration is working to prevent the collapse of Hamas.
"The Americans mistakenly think that moderate political Islam, which is represented by the Muslim Brotherhood, will be able to combat radical Islam. The Americans are trying to bring the Muslim Brotherhood back to the region." — Palestinian official, Ramallah.
The Iranians, with whom the U.S. is now negotiating on nuclear weapons -- amid fears in the Middle East that the U.S. will capitulate to Tehran's demands if it has not effectively capitulated to them already -- have now joined Qatar and Turkey in opposing any attempt to confiscate Hamas's weapons.
The Paris conference was actually a spit in the face to the anti-Hamas forces in the Arab world. By failing to invite the Palestinian Authority to the conference, Kerry indicated that he does not see any role for Abbas and his loyalists in a post-Hamas Gaza Strip.
Most Shared
Most Viewed