Dutch Official Calls ISIS "A Zionist Plot"
The charge of "Islamophobia" is being used to silence people, so that any opposition will be neutralized before it can even start.
On Tuesday last week, Yasmina Haifi, an official at the National Coordinator for Security and Counterterrorism in the Netherlands, tweeted: "ISIS has nothing to do with Islam. It is a preconceived plan of Zionists who want to deliberately make Islam look bad."
For the past ten years, Ms. Haifi has been a senior staff member at the human resources department of the Ministry of Security and Justice. For the past two years she has also worked as a project leader at two of the Ministry's subsidiaries, the National Coordinator for Security and Counterterrorism and the National Cyber Security Center.
The outcry from the general public that followed her remarks initially did little to make her take back her words. The next day, however, she deleted the tweet, saying: "Realise the political sensitivity in relation to my work. This was never my intention." The same day, Haifi told national broadcast Radio 1 that she had no idea her comments would cause such an upheaval. "I assumed I was living in a democratic country," she said. "Apparently freedom of speech in the Netherlands applies to particular groups and not to others."
Haifi said she had based the information on "multiple sources from the internet." These consisted of a supposed statement by Edward Snowden, that the Mossad and the U.S. created ISIS. A simple background search would have shown this to be a firmly debunked hoax which was created by Iranian authorities. Even Snowden himself vehemently denies ever having said anything about ISIS.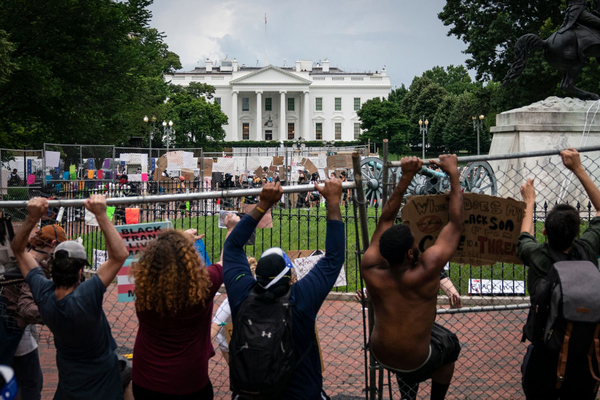 The black flag of jihad -- the flag of ISIS -- is displayed by demonstrators in the Netherlands.
Nevertheless, when confronted by journalists with the true nature of the spurious Snowden report, Haifi persisted and maintained that there was ample evidence to prove that the link between ISIS and Zionists did exist.
Haifi was suspended on Wednesday. "She will not be coming back to this job. Never," Dutch Security and Justice Minister Opstelten said on Friday, adding he was shocked by the content of the tweet. 'What someone's personal opinion is, is not my business," the minister told Dutch media. "It is about what you make public when you are a civil servant." Opstelten said that, "the ministry is looking into other measures."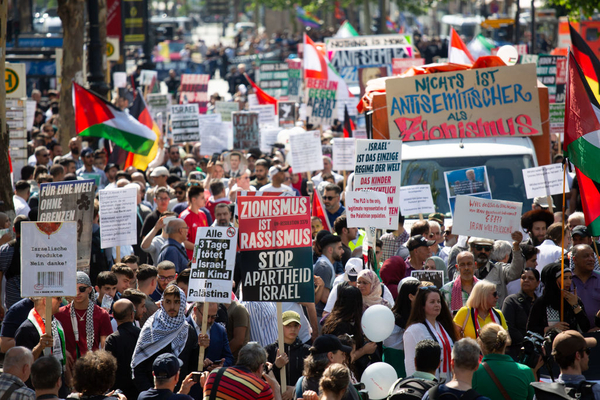 Yasmina Haifi
No firm statement, however, was made that Haifi would be excluded from all government positions. Vice Premier Asscher (from Haifi's own Labor Party) said: "When I heard it, it made me sick to my stomach." Asscher called the conspiracy theory "classically anti-Semitic" and "extremely shocking." He added that "the stupidity of the comment was immeasurable." Prime Minister Mark Rutte called her remarks "asinine".
The truly shocking part of this story is not that Ms. Haifi faithfully regurgitates all too familiar Islamist anti-Semitic conspiracy theories, but that someone with such radical, conspiratorial and anti-Semitic views can be employed by the National Coordinator for Security and Counterterrorism. Something is evidently seriously wrong there with the screening of employees. There is widespread concern that many others with equally radical views were employed there and elsewhere in the security apparatus.
The defiant and self-assured tone of Haifi suggests that she was in no way apprehensive about the backlash from her words and the effect that could have on her career, and that she felt comfortable in her decision to utter them.
What is worrisome is what remarks such as those reveal about the social and professional climate at the Ministry. It is hard to believe that Haifi's conspiratorial and anti-Semitic views were not to some degree common knowledge among her co-workers, and possibly shared by many.
In addition to her career within the executive, Haifi is also a prominent member of the Labor Party. She was a member of the city council of The Hague from 1994 to 1998, and since 2011 has served as a talent recruiter and talent coach for the party's branch at The Hague. The city, which is also the seat of government in the Netherlands, has the country's most sizeable population of immigrants from Islamic countries; and Haifi functioned as one of its most vocal representatives. It is not clear how many people of a similar mindset she recruited into the Dutch Labor Party.
As co-founder of the action committee "Herstel het Vertrouwen" ["Restore Trust"] against "ethnic profiling" by the police in The Hague, Haifi enjoys sizeable backing from the Islamic immigrant community there: within a matter of days 5,600 people "liked" a Facebook page supporting Haifi. Not surprisingly, this page too is filled with conspiratorial and anti-Semitic views while at the same time bemoaning the unfair and discriminatory treatment meted out to Haifi for speaking "the truth."
Haifi's comments come at a time when widespread anti-Semitism among Muslims has become painfully visible. In the past months in The Hague, three pro-Gaza rallies have taken place, all of which have featuring ISIS flags, along with signs in Arabic calling to "Kill all Jews," and a quote from the hadith [the acts and sayings of Muhammad] that, "There is a Jew behind me, come and kill him." The police were remarkably reluctant to arrest the protesters.
Despite the discriminatory and conspiratorial nature of Haifi's statements, the leadership of the Labor party, which has always presented itself as the champion of the victims of discrimination, has not ousted or suspended her. They have only announced they will "talk with Ms. Haifi" about her tweet.
The reluctance thoroughly to screen Muslim security officials, the reluctance of the Dutch authorities to see the genocidal terrorist group ISIS for what it is, and the reluctance to fire Ms. Haifi from all her government and party positions, all illustrate how the charge of "Islamophobia" is being used as a political weapon -- to silence people so that any opposition will be neutralized before it can even start.
Dr. Evelyn Markus, who emigrated from the Netherlands to the United States in 2006, is frequently published in newspapers throughout the Netherlands.
Related Topics: Evelyn Markus receive the latest by email: subscribe to the free gatestone institute mailing list
Reader comments on this item
| | | |
| --- | --- | --- |
| Title | By | Date |
| Islam must condemn ISIS [14 words] | Michael Davidson | Sep 4, 2014 04:11 |
| Magical Thinking and Denial [92 words] | El Cid | Aug 29, 2014 16:10 |
| is she Muslim? [48 words] | dcdoc | Aug 26, 2014 11:03 |
| ↔ Tried and tested [137 words] | Terence Curry | Aug 28, 2014 04:09 |
| craziness [100 words] | Rob B | Aug 25, 2014 20:14 |
| Why the surprise? [363 words] | Don Krausz | Aug 25, 2014 15:26 |
| Common Sense Lacking [172 words] | Interested Reader | Aug 25, 2014 13:25 |
| Dutch Fear [73 words] | Lorraine Fox | Aug 25, 2014 01:51 |
| ↔ If you permit it, you promote it [68 words] | Suzanne Stier | Aug 25, 2014 17:41 |
| Jews wake up. The Left=NOT your friends, part 1,204 [54 words] | New Class Traitor | Aug 24, 2014 12:36 |
| Zionist plots... [98 words] | John | Aug 24, 2014 12:04 |
| Democracy??? [70 words] | Don McHardy | Aug 24, 2014 07:12 |
| Europe is under seige [38 words] | Miriam | Aug 24, 2014 04:48 |
| Someone call her caseworker! [11 words] | Miss Mouse | Aug 24, 2014 01:20 |
| Sad for Holland [18 words] | Ilana Goldstein | Aug 24, 2014 01:14 |
| Harvey the big white rabbit [108 words] | Beatrix139 | Aug 24, 2014 01:01 |
| The Dutch govt accepts insanity in its major organizations. [44 words] | steven L | Aug 24, 2014 00:28 |
| A second look is warranted [56 words] | Jane | Aug 23, 2014 21:04 |
| "good fit" in the Netherlands government [76 words] | Stan Lee | Aug 23, 2014 21:03 |
| Freedom of speech. [11 words] | Kevin Turvey | Aug 23, 2014 20:21 |
| SHOCKING Ms. Haifi [39 words] | Abot Bensussen | Aug 23, 2014 18:58 |
| The Dutch are afraid [71 words] | Diane Hermiston | Aug 23, 2014 18:02 |
| Ms. Haifi's remarks about ISIS [66 words] | Aterg | Aug 23, 2014 17:35 |
| Blaming the Jewish victim in Europe [95 words] | Janet Pickel | Aug 23, 2014 17:18 |
| Alas Anti-Semitism trumps all [115 words] | Brenda Reiss | Aug 23, 2014 15:06 |
| Ms. Haifi's sources [89 words] | ingeborg oppenheimer | Aug 23, 2014 13:33 |
| looking the other way [80 words] | arthur | Aug 23, 2014 13:31 |
| Birds of a feather don't make waves. They just go along. [430 words] | Doug Mayfield | Aug 23, 2014 11:27 |
| I knew it would happen.....! [123 words] | David Most | Aug 23, 2014 11:23 |
| Reaction [12 words] | Captain Neal J. Schneider | Aug 23, 2014 10:52 |
| Haifi [43 words] | John | Aug 23, 2014 10:35 |
| Biases and Prejudices Deceive [153 words] | Elisheva | Aug 23, 2014 10:10 |
| ISIS [24 words] | Sam | Aug 23, 2014 10:07 |
| ↔ How did they do that? [34 words] | Laura | Aug 23, 2014 17:19 |
| Where Have All the intelegent, Educated And Decent Leaders Gone? [90 words] | Hanna | Aug 23, 2014 10:06 |
| "Jewish conspiracy theories" truly laughable [171 words] | Steven Buckley | Aug 23, 2014 09:59 |
| Very serious problem in the Netherlands [164 words] | DockyWocky | Aug 23, 2014 09:50 |
| Islamists in Holland [139 words] | ninetyninepct | Aug 23, 2014 09:49 |
| Liars [33 words] | LARZ GUSTAFSSON | Aug 23, 2014 09:03 |
| ↔ So if it's a Zionist plot... [17 words] | JS | Aug 23, 2014 20:19 |
| ↔ Dutch [37 words] | jim | Aug 23, 2014 20:54 |
| Dutch statement [46 words] | mike | Aug 23, 2014 08:41 |
| Haifi [17 words] | Basil Gunn | Aug 23, 2014 07:40 |
| a mad, mad, mad, mad world [26 words] | jane | Aug 23, 2014 06:59 |
| Dutch 'Justice' has a long history of being on the nose [141 words] | Bart Benschop | Aug 23, 2014 06:38 |
| Soft liberal capitulation [176 words] | Sir Algy | Aug 23, 2014 06:25 |
| Asylum instead of Official Seat [68 words] | Jim42 | Aug 23, 2014 06:08 |
| She is surprised by the reaction [50 words] | The snail | Aug 23, 2014 06:04 |
| European Tolerance [72 words] | Paul renan | Aug 23, 2014 05:45 |
Comment on this item
Subscribe To Mailing List
Tweets by @GatestoneInst
Latest Articles
by Burak Bekdil
The Turkish government "frankly worked" with the al-Nusrah Front, the al-Qaeda affiliate in Syria, along with other terrorist groups.
The Financial Task Force, an international body setting the standards for combating terrorist financing, ruled that Turkey should remain in its "gray list."
While NATO wishes to reinforce its outreach to democracies such as Australia and Japan, Turkey is trying to forge wider partnerships with the Arab world, Russia, China, Central Asia, China, Africa and -- and with a bunch of terrorist organizations, including Hamas, Muslim Brotherhood, Ahrar al-Sham and the al-Nusrah Front.
Being NATO's only Muslim member was fine. Being NATO's only Islamist member ideologically attached to the Muslim Brotherhood is quite another thing.
by Samuel Westrop
British politicians seem to be trapped in an endless debate over how to curb both violent and non-violent extremism within the Muslim community.
A truly useful measure might be to end the provision of state funding and legitimacy to terror-linked extremist charities.
by Soeren Kern
"My son and I love life with the beheaders." — British jihadist Sally Jones.
Mujahidah Bint Usama published pictures of herself on Twitter holding a severed head while wearing a white doctor's jacket; alongside it, the message: "Dream job, a terrorist doc."
British female jihadists are now in charge of guarding as many as 3,000 non-Muslim Iraqi women and girls held captive as sex slaves.
"The British women are some of the most zealous in imposing the IS laws in the region. I believe that's why at least four of them have been chosen to join the women police force." — British terrorism analyst Melanie Smith.
by Khaled Abu Toameh
"Armed robbery in broad daylight." — Palestinians, after Hamas "seized" $750,000 from Gaza bank.
Fatah accused Hamas of "squandering" $700 million of financial aid earmarked for the Palestinian victims of war. Fatah wants to ensure that the millions of dollars intended for the Gaza Strip will pass through its hands and not end up in Hamas's bank accounts. Relying on Fatah in this regard is like asking a cat to guard the milk.
The head of the Palestinian Authority's Anti-Corruption Commission revealed that his group has retrieved $70 million of public funds fund embezzled by Palestinian officials. Arab and Western donors need to make sure that their money does not end up (once again) in the wrong hands. Without a proper mechanism of accountability and transparency, hundreds of millions of dollars are likely to find their way into the bank accounts of both Hamas and Fatah leaders.
by Mudar Zahran
"If Hamas does not like you for any reason all they have to do now is say you are a Mossad agent and kill you." — A., a Fatah member in Gaza.
"Hamas wanted us butchered so it could win the media war against Israel showing our dead children on TV and then get money from Qatar." — T., former Hamas Ministry officer.
"They would fire rockets and then run away quickly, leaving us to face Israeli bombs for what they did." — D., Gazan journalist.
"Hamas imposed a curfew: anyone walking out in the street was shot. That way people had to stay in their homes, even if they were about to get bombed. Hamas held the whole Gazan population as a human shield." — K., graduate student
"The Israeli army allows supplies to come in and Hamas steals them. It seems even the Israelis care for us more than Hamas." — E., first-aid volunteer.
"We are under Hamas occupation, and if you ask most of us, we would rather be under Israeli occupation… We miss the days when we were able to work inside Israel and make good money. We miss the security and calm Israel provided when it was here." — S., graduate of an American university, former Hamas sympathizer.
Most Shared
Most Viewed