by Khaled Abu Toameh • May 29, 2015 at 5:00 am
Since the beginning of this year, the Egyptians have opened the Rafah border crossing for five days only. The international community and media often talk about Israel's responsibility for the ongoing blockade of the Hamas-controlled Gaza Strip, while ignoring that the Egyptians have been imposing severe travel restrictions on the 1.7 million Palestinians living there.

"We understand Egypt's security concerns in Sinai, but it's time for the Egyptians to reopen the border crossing on a permanent basis, especially in light of the historic relations between Egypt and Palestine." — Salah Abdel Ati, Palestinian human rights activist

It is shameful for the Egyptians and other Arabs that, while they are imposing various restrictions on Palestinians, Israel is helping patients from the Gaza Strip undergo surgery in Jerusalem. Ironically, the frustration and bitterness eventually translate into violence against Israel, not Egypt. The Palestinians are well aware that attacking Egypt would draw a very strong response from the Egyptian military.

Instead of pointing the finger of blame at Israel, it is time for the international media and community to put pressure on Egypt and other Arab countries to help their Palestinian brethren and to stop torturing and humiliating them.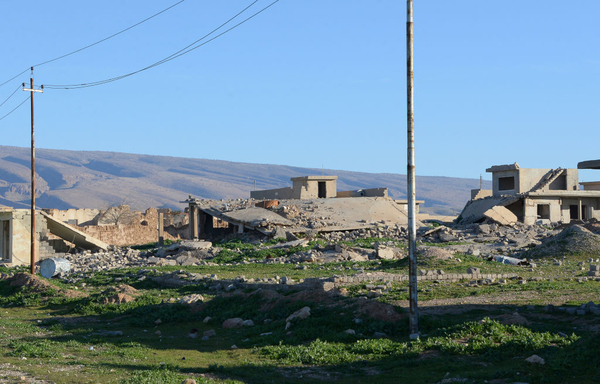 The Rafah border crossing between Egypt and Gaza, January 2009. (Source: International Transport Workers' Federation)
Yussra al-Najjar, a 65-year-old woman from the Gaza Strip, died this week while waiting to return from Egypt to the Gaza Strip. She and hundreds of Palestinians had been stranded on the Egyptian side of the Rafah border crossing for the past few months.
Al-Najjar is the tenth Palestinian to die while waiting for the Egyptians to reopen the Rafah terminal. Her relatives said she lost consciousness while waiting inside the travelers' hall on the Egyptian side of the border and was rushed to an Egyptian hospital, where she was pronounced dead.
The story of the Palestinian woman who passed away after being banned from by the Egyptian authorities from returning home to the Gaza Strip is unlikely to make it to the pages of major Western newspapers. Her story would have won extensive media coverage had she been stranded on the Israeli side of the border for even one day.
Continue Reading Article