by Khaled Abu Toameh • November 24, 2014 at 5:00 am
The only option Hamas faces, therefore, is to attack Israel again as a way of ridding itself of the severe crisis in the Gaza Strip and the growing frustration among the Palestinians living there. Hamas's biggest fear is that this frustration will be translated into disillusionment with its regime. That is why Hamas is now seeking to direct the anger on the Palestinian street toward Israel.

Hamas is also hoping that another war will further increase anti-Israel sentiment around the world and earn the Palestinians even more sympathy.

Hamas's threats should be taken seriously.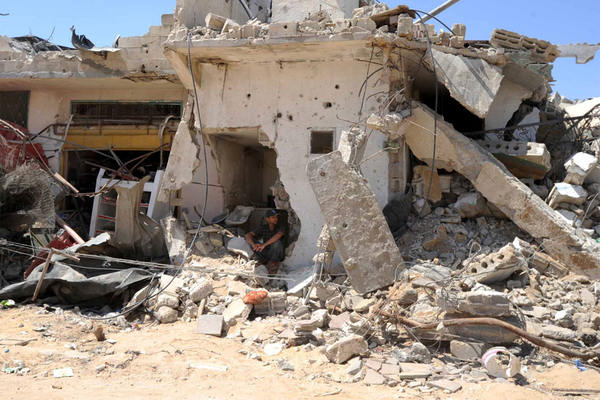 A destroyed building in Gaza. (Image source: UNRWA/Shareef Sarhan)
Hamas is once again threatening to attack Israel, this time over the failure of the international community and the Palestinian Authority to fulfill their promises to rebuild the Gaza Strip in the aftermath of Operation Protective Edge.
Hamas leaders are particularly angry with the Palestinian Authority [PA] and its president, Mahmoud Abbas, whom they accuse of hindering efforts to rebuild hundreds of destroyed homes in the Gaza Strip.
Hamas is also angry with the Egyptians for closing the Rafah border crossing after a terror attack in Sinai in which 32 Egyptian soldiers were killed.
Moreover, Hamas has rejected the United Nations plan to reconstruct the Gaza Strip on the pretext that it "sidelines" the Islamist movement and allows Israel to decide who would benefit from the work. "The UN plan is unacceptable and ineffective," said Hamas spokesman Sami Abu Zuhri.
Continue Reading Article