by Khaled Abu Toameh • February 11, 2016 at 5:00 am
During the past two decades, some of the Israeli Arab community's elected representatives and leaders have worked harder for Palestinians in the West Bank and Gaza Strip than for their own Israeli constituents.

These parliamentarians ran in elections on the promise of working to improve the living conditions of Israeli Arabs and achieving full equality in all fields. However, they devote precious time and energy on Palestinians who are not citizens of Israel. They vie for the distinction of being the most vitriolic provocateur against their country.

Such provocations make it more difficult for Arab university graduates to find jobs in both the Israeli private and public sectors.

The big losers are the Arab citizens of Israel, who have once again been reminded that their elected representatives care far more about non-Israeli Palestinians than they care about them.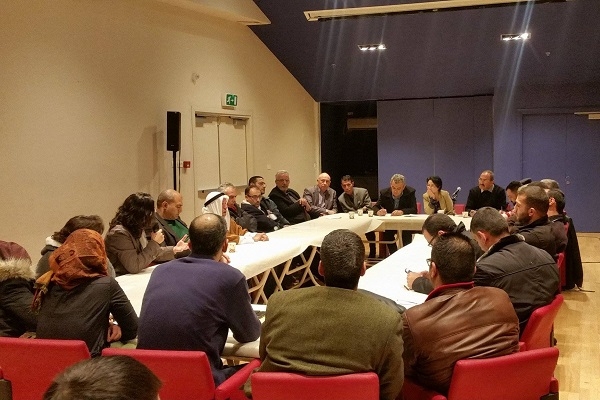 Israeli Arab Members of Knesset Jamal Zahalka, Haneen Zoabi and Basel Ghattas (at the head of the table, facing the camera) recently met with families of terrorists who attacked and murdered Israelis. The meeting opened with a moment of silence for the dead attackers. (Image source: Palestinian Media Watch)
The uproar surrounding a recent meeting held by three Israeli Arab Members of Knesset (parliament) with families of Palestinians who carried out attacks against Israelis is not only about the betrayal of their country, Israel. It is also about the betrayal of their own constituents: the 1.5 million Arab citizens of Israel.
Knesset members Haneen Zoabi, Basel Ghattas and Jamal Zahalka managed to accomplish several things at once with this controversial meeting. They certainly seem to have provoked the ire of many Jewish Israelis. Perhaps they violated the oath they made when they were sworn into parliament: "I pledge to bear allegiance to the State of Israel and faithfully to discharge my mandate in the Knesset."
One thing, however, they have accomplished without question is acting against the interests of Israeli Arabs.
Continue Reading Article