by Khaled Abu Toameh • September 15, 2014 at 5:00 am
Many Arabs and Muslims identify with the terrorists' anti-Western objectives ideology; they are afraid of being dubbed traitors and U.S. agents for joining non-Muslims in a war that would result in the death of many Muslims, and they are afraid their people would rise up against them.

Many Arab and Muslim leaders view the Islamic State as a by-product of failed U.S. policies, especially the current U.S. Administration's weak-kneed support for Iraq's Nuri al-Maliki. Some of these leaders, such as Egypt's Abdel Fattah al-Sisi, consider the U.S. to be a major ally of the Muslim Brotherhood. Sisi and his regime will never forgive Obama for his support for the Muslim Brotherhood.

Also, they do not seem to have much confidence in the Obama Administration, which is perceived as weak and incompetent when it comes to combating Islamists.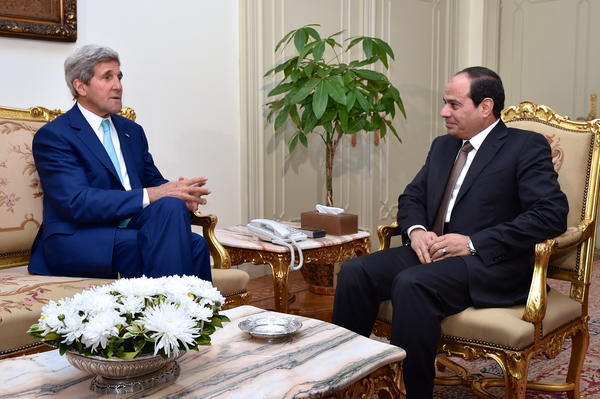 Will Sisi ever forgive the Obama Administration for its support of the Muslim Brotherhood? Above, U.S. Secretary of State John Kerry chats with Egyptian President Abdel Fattah al-Sisi in Cairo on July 22, 2014. (Image source: U.S. State Department)
"This is not our war and we should not be taking part in it."
That is how many Arabs and Muslims reacted to US President Barack Obama's plan to form an international coalition to fight the Islamic State [IS] terrorist organization, which is operating in Iraq and Syria and threatening to invade more Arab countries.
Islamic State terrorists have killed and wounded tens of thousands of Arabs and Muslims, mostly over the past few months. By contrast, Islamic State has targeted only a few Westerners, three of whom were beheaded in recent weeks.
Islamic State terrorists are also responsible for the displacement of millions of Iraqis and Syrians, and for the murder of many others.
Still, the atrocities committed by Islamic State against Arabs and Muslims, in addition to the immediate threat it poses to many of their countries, do not seem to be sufficient reason for them to declare war on the group.
Continue Reading Article