by Khaled Abu Toameh • October 20, 2014 at 5:00 am
The "Arab Spring" did not erupt as a result of the Israeli-Palestinian conflict. Rather, it was the outcome of decades of tyranny and corruption in the Arab world. The Tunisians, Egyptians, Libyans and Yemenis who removed their dictators from power did not do so because of the lack of a "two-state solution." This is the last thing they had in mind.

The thousands of Muslims who are volunteering to join the Islamic State [IS] are not doing so because they are frustrated with the lack of progress in the Israeli-Palestinian peace talks.

The only solution the Islamic State believes in is a Sunni Islamic Caliphate where the surviving non-Muslims who are not massacred would be subject to sharia law.

What Kerry perhaps does not know is that the Islamic State is not interested in the Israeli-Palestinian conflict at all. Unlike Kerry, Sunni scholars fully understand that the Islamic State has more to do with Islam and terrorism than with any other conflict.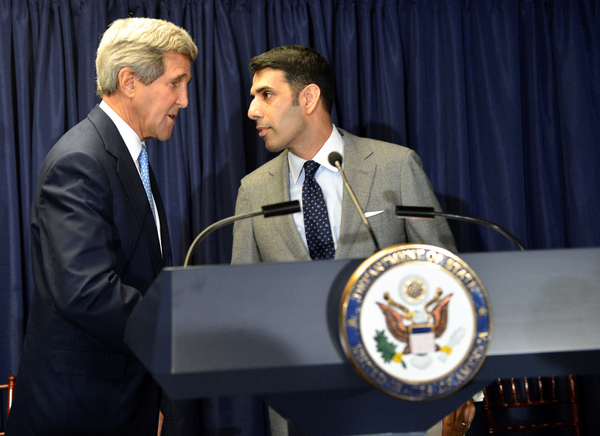 'Forget ISIS... let's talk more about a Palestinian state.' Above, U.S. Secretary of State John Kerry greets U.S. Special Representative to Muslim Communities Shaarik Zafar during an Eid al-Adha reception on Oct. 16, 2014 at the U.S. Department of State in Washington, D.C. (Image source: State Dept.)
U.S. Secretary of State John Kerry's claim that the lack of a "two-state solution" has fueled the rise of the Islamic State [IS] terrorist group reinforces how clueless the U.S. Administration is about what is happening in the Arab and Islamic countries.
Speaking at a State Department ceremony marking the Muslim holiday of Eid al-Adha, Kerry said that the resumption of peace negotiations between Israel and the Palestinians was vital in the fight against Islamic extremism, including Islamic State.
"There wasn't a leader I met with in the region who didn't raise with me spontaneously the need to try to get peace between Israel and the Palestinians, because it was a cause of recruitment and of street anger and agitation," Kerry said. "People need to understand the connection of that. And it has something to do with the humiliation and denial and absence of dignity."
The U.S. State Department later denied that Kerry had made the statement attributed to him.
Continue Reading Article