by Shoshana Bryen • October 31, 2014 at 5:00 am
The relevant UN Resolution, as well as the Congressional sanctions bill, says the acceptable level of enrichment is none at all. The administration is, in fact, negotiating a level. This track means the total erasure of all international sanctions.

All of the steps Iran took are reversible. Iran's "expressed desires" should not be the driver of U.S. policy.

The Coach-in Chief, President Obama, appears to believe the West and Iran are on the same team looking for a negotiated tie. The Iranians, however, are looking for nuclear weapons.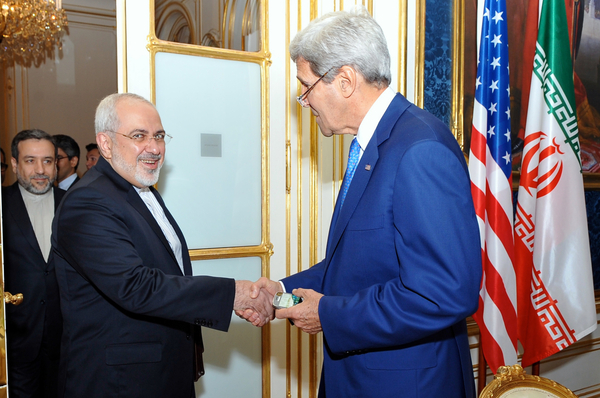 U.S. Secretary of State John Kerry shakes hands with Iranian Foreign Minister Mohammad Javad Zarif during talks in Vienna, Austria, July 14, 2014. (Image source: U.S. State Department)
In the run up to November's P5+1 talks, Iran has already won the battles that count; remember, this is the bazaar. After last year's unsatisfactory interim agreement, this author wrote:
A deal that is not a capitulation requires two conditions: the parties must equally value the process; and there has to be a compatible endgame. The West invested the process with much more value than did Iran, providing the mullahs with instant leverage, but most important, there was no agreed-upon end game.

The P5+1 wanted to negotiate the terms of Iran's nuclear surrender; Iran was negotiating the conditions under which it will operate its nuclear program.
Continue Reading Article