by Soeren Kern • November 26, 2014 at 5:00 am
The Supreme Court's ruling is eerily similar to an international blasphemy law being promoted by the Organization of Islamic Cooperation, a bloc of 57 Muslim countries dedicated to implementing a worldwide ban on "negative stereotyping of Islam."

Firasat's lawyers say that they have presented the court with irrefutable evidence that the charges against Firasat were fabricated by Indonesian authorities, but that this evidence has been ignored by a judiciary that is under political pressure from the Spanish government to get rid of Firasat once and for all.

"Even if Indonesians do not punish me for death, how will I be protected from Muslims who consider me a blasphemer and an apostate? Will I be able to get a fair trial when the judges, prosecution, fake witnesses and lawyers, everybody will be a Muslim?" — Imran Firasat

Firasat said it was never his intention to provoke the Spanish government, but that he felt it was his duty to "warn of the dangers of not understanding or stopping what is known as Jihad."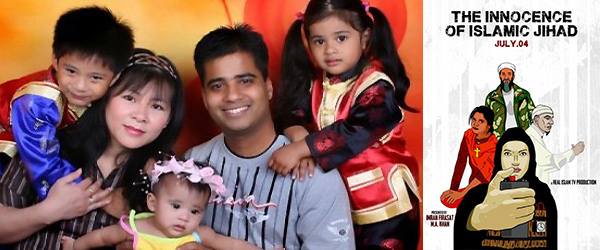 Left: Imran Firasat and his family. Right: The poster for "The Innocence of Islamic Jihad," a video produced by Firasat in 2013.
A Spanish court is deliberating the fate of Imran Firasat, an ex-Muslim from Pakistan who faces imminent deportation because the Spanish government has deemed his criticism of Islam to be a threat to national security.
Firasat's lawyers, however, argue that sending him back to Pakistan or any other Muslim country would be the equivalent of a death sentence because Islamic Sharia law prescribes the penalty of death for Muslims who commit apostasy.
Firasat, now 36, obtained political asylum in Spain in 2006 because of death threats against him in both Pakistan and Indonesia for leaving the Islamic faith and marrying a non-Muslim.
Continue Reading Article