by Douglas Murray • March 30, 2015 at 5:00 am
The former head of MI6, Richard Dearlove, has described the Muslim Brotherhood as "at heart a terrorist organization."

Officials who are soft on extremism hope that both the extremism strategy and the Muslim Brotherhood review are not merely being kicked into the long grass but will, in fact, never see the light of day.

This is, it must be said, politics at its very worst. The Muslim Brotherhood has wreaked havoc for decades. Its desire to carry our coups and to rule Middle Eastern countries according to the rule of a hardline interpretation of Islamic law is not ancient history — it is very recent history.

Britain has for some years now been the major global hub of for these revolutionaries to fundraise, organize and dip in and out of whenever they are in or out of power.

When countries harbor Britain's enemies, we rightly regard those countries as less than friendly toward us. If Britain fails to publish the Muslim Brotherhood review, it will not just show that the country is unreliable to its friends and even to its own citizens.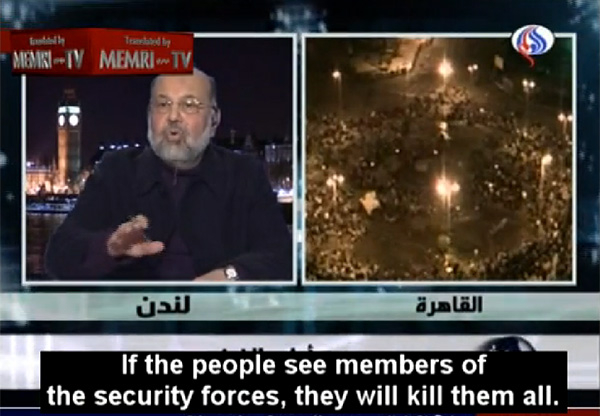 Muhammad Ghanem, the representative of the Muslim Brotherhood in the UK, is shown here speaking on live television from London, in 2011. (Image source: MEMRI)
What has happened to the British government's "review" into the activities of the Muslim Brotherhood in the UK?
The "review" (officials have been careful not to refer to it as an '"inquiry") into the Muslim Brotherhood's "philosophy and values and alleged connections with extremism and violence" was announced by Prime Minister David Cameron almost a year ago. At a press conference, he said that Britain's ambassador to Saudi Arabia, Sir John Jenkins, would lead the review. Explaining the need for such a process, Mr. Cameron said:
"What I think is important about the Muslim Brotherhood is that we understand what this organisation is, what it stands for, what its beliefs are in terms of the path of extremism and violent extremism, what its connections are with other groups, what its presence is here in the United Kingdom. Our policies should be informed by a complete picture of that knowledge."
Continue Reading Article