by Guy Millière • February 28, 2015 at 5:00 am
Even if many Muslims came to Europe seeking economic opportunity, they are often defined as victims of racism and oppression. So, the thinking goes, if you are a victim of racism and oppression, how can you be racist yourself?

The Palestinians repeat almost daily that they would like to kill the Israelis, while the Israelis say they would like peace. What follows are usually bitter, politically-motivated denunciations of Israel by Europe, masquerading as human rights.

Despite the increasingly savage state of the world and an openly genocidal Iran -- soon to be nuclear, if it is not already -- Israeli leaders remain the ones Europeans love to accuse, hate and demonize.

The terrorist attacks are denounced by journalists and political leaders, but their denunciations always sound sanctimonious and thin, condemning the "anti-Semitism" they themselves have been encouraging.

In Europe today, slandering Israel is widely conveyed by European Muslims, and if a political leader or journalist does not agree with what they say, he must be a racist.

There are now 44 million Muslims in Europe.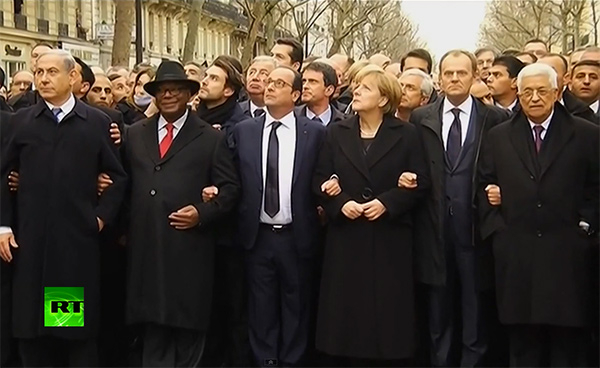 World leaders link arms at the Paris anti-terror rally on January 11, 2014. Guy Millière writes that had it been only Jews that were been killed, there probably would have been no rally at all. (Image source: RT video screenshot)
In Europe, evoking the memory of Auschwitz has become difficult; tomorrow, it may be impossible.
The ceremony marking the seventieth anniversary of the liberation of the Auschwitz death camp was held on January 27 -- and will likely be the last commemoration of its kind. The Nazis wanted a Europe without Jews. They killed six million, but in their ultimate goal, they failed.
Three hundred survivors were invited; all were more than eighty years old. Although filmed testimonies will remain, there may be no more direct witnesses.
While European political leaders speak of Auschwitz with the solemn formula of "never again," it increasingly seems meaningless. Surveys show that in most European countries, including Germany, a growing number of people want to turn the page, and say they want forget about the Holocaust in a way they do not say they want to forget about, for instance, the Crucifixion.
Continue Reading Article