by Burak Bekdil • September 3, 2015 at 5:00 am
Iran did not go mad and threaten to hit all NATO installations in Turkey because it wanted 3.5 million Turkish citizens to die from the chemical warhead of a Syrian missile. It went mad and threatened because it viewed the defensive NATO assets in Turkey as a threat to its offensive missile capabilities.

Iran's reaction to the NATO assets in Turkey revealed its intentions to attack. It could be a coincidence that the U.S. and Germany (most likely to be followed by Spain) have decided to withdraw their Patriot missile batteries and troops from Turkey shortly after agreeing to a nuclear deal with Iran. But if it is a coincidence, it is a very suspicious one. Why were Assad's missiles a threat to Turkey two and a half years ago, but are not today?

Apparently, NATO allies believe, although the idea defies logic, that the nuclear deal with Iran will discourage the mullahs in Tehran from attacking Israel.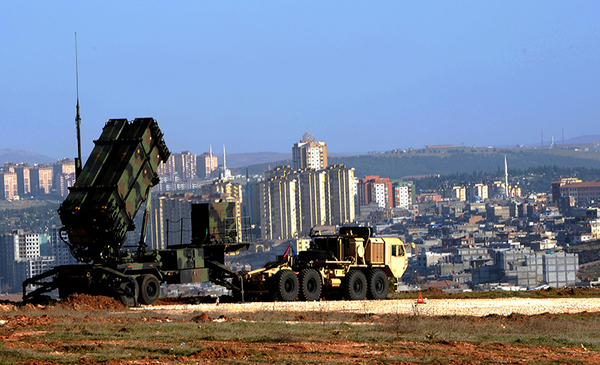 U.S. Patriot missiles, deployed outside Gaziantep, Turkey in 2013. (Image source: U.S. Army Europe/Daniel Phelps)
In early 2013, NATO supposedly came to its ally's help: As Turkey was under threat from Syrian missiles -- potentially with biological/chemical warheads -- the alliance would build a mini anti-missile defense architecture on Turkish soil. Six U.S.-made Patriot missile batteries would be deployed in three Turkish cities and protect a vast area where about 3.5 million Turks lived.
The Patriot batteries that would protect Turkey from Syrian missiles belonged to the United States, Germany and the Netherlands. In early 2015, the Dutch mission ended and was replaced by Spanish Patriots. Recently, the German government said that it would withdraw its Patriot batteries and 250 troops at the beginning of 2016. Almost simultaneously, the U.S. government informed Turkey that its Patriot mission, expiring in October, would not be renewed. Washington cited "critical modernization upgrades" for the withdrawal.
Continue Reading Article