How Islam Conquers Europe
Hezbollah's Deputy Director General, Sheikh Naim Qassem, says Europe will be harmed by the lies it spreads about Hezbollah, whose two wings are intertwined and cannot be separated. He says Hezbollah knows exactly how to respond to Europe's provocation, and will do so at a time and in a place it chooses.
Europe, in denial, afraid to face the truth about the Islamist threat, has taken the coward's way out and stuck its head firmly in the sand. Even as the radical Islamist networks threatening to take over Europe entrench themselves in the violent enclaves within the swelling Islamic communities in the cities, the EU's politicians, with their elastic sense of morality and double-jointed value system, outdo themselves in attempts to reassure their constituents, and defang the Islamist terrorism about to explode in their back yards.
In light of Hezbollah's participation in the slaughter in Syria and of the terrorist attacks it has carried out in the thirty years of its existence, the leaders of the EU had no choice but to designate its "military wing" as a terrorist organization and take measures against it, but somehow managed to leave its so-called "political wing" untouched.
However, before the EU could designate Hezbollah a terrorist organization, a sop had to be thrown to the various Islamist terrorist organizations: an anti-Israeli decision. In a particularly pathetic move intended to provide "balance" for designating Hezbollah's military wing a terrorist organization -- and hoping to stave off the Islamist terrorism threatening Europe, if only temporarily -- the EU issued a condemnation of the Jewish settlements in the occupied territories and announced that their products would be boycotted.
It is obvious that all the EU's slippery maneuvering and rhetoric have only one objective: to fool the radical Islamists and appease them, in that way hoping to gain quiet, for the time being, and postpone the eventual outbreak of Islamist violence. The Islamists, however, refuse to be manipulated by such semantics. Hezbollah spokesmen had an immediate aggressive response to the EU announcement, calling it surrender to the dictates of the Americans and the Zionist lobby, and a hostile action, which serves only the Jews.
Hezbollah's Deputy Director General, Sheikh Naim Qassem, says Europe will be harmed by this decision and the lies it spreads about Hezbollah, whose two wings are intertwined and cannot be separated. Hezbollah, he says, makes no distinction whatsoever between its political and military wings, and that the unity of the organization is perfectly clear to every Lebanese and every shaheed (martyr who dies for the sake of Allah in a holy war) who had ever fought in its ranks. He said Hezbollah knows exactly how to respond to the EU's provocation, and will do so at a time and in a place it chooses.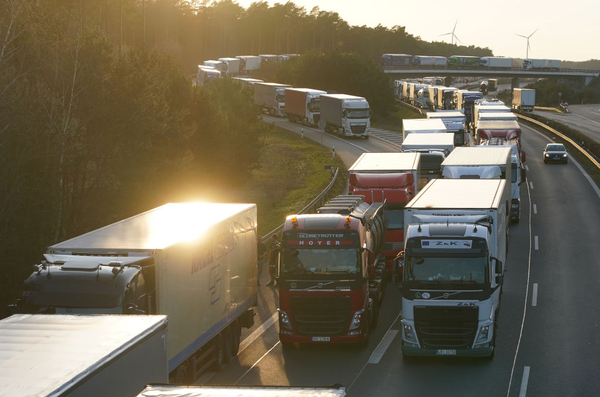 Naim Qassem, Deputy Secretary-General of Hezbollah, in 2009. (Source: Sebastian Baryli)
No further statement was necessary to send the EU running to raise the white flag to any organization that so desired. After all, Hezbollah's threats are genuine, and its fingerprints recently found on the terrorist attack in Burgas, Bulgaria.
Hezbollah, however, is not the only terrorist organization with its ear to the ground in Europe. Operatives of the various Islamist organizations -- among them, the Muslim Brotherhood, Al-Qaeda and Hamas -- listen very carefully to the EU's pronouncements and continue to threaten, attack and weave a web of terrorism that will eventually cover Europe with destruction and death. Unlike Hezbollah, the leaders of these organizations still protest, for the time being, that there is a distinction between their political leadership and their military wings, but in reality the distinction is artificial, and its only objective is to fool the Europeans. They are exactly like Hezbollah, with no distinction whatsoever between politics and operations. As soon as their so-called political wings give the order, they will blow up Europe, and after that, the United States.
The EU's designation of Hezbollah's military wing as a terrorist organization is an example of Christian Europe's cowardice as it looks into the face of the radical Islam that is threatening to destroy it. Europe is slowly dismembering itself, its principles and its cultural legacy to feed the monster and keep it at bay, while the monster will soon be strong enough to break its chains. Europe has started by feeding the monster a little finger, which it can easily do without; and will wind up feeding the monster its internal organs.
The first person to notice the trend was the late Libyan dictator Muammar Gadhafi -- beaten and then shot at the side of the road in 2011 -- who said, "The Muslims will conquer Europe without firing a shot." If he knew about the European distinction between the political and military wings of the various Islamist terrorist organizations, he would die again, this time laughing.
Ali Salim is a scholar based in the Middle East.
Related Topics: Ali Salim receive the latest by email: subscribe to the free gatestone institute mailing list
Reader comments on this item
Comment on this item
Subscribe To Mailing List
Tweets by @GatestoneInst
Subscribe To Mailing List
Latest Articles
by Soeren Kern
Hamas would likely resort to violence to thwart any attempts to disarm the group. It is therefore highly unlikely the Europeans would confront Hamas in any meaningful way.
Spanish intelligence agents met secretly with Hezbollah operatives, who agreed to provide "escorts" to protect Spanish UNIFIL patrols. The quid pro quo was that Spanish troops would look the other way while Hezbollah was allowed to rearm for its next war with Israel. Hezbollah's message to Spain was: mind your own business.
If the European experience with Hezbollah in Lebanon is any indication, not only will Hamas not be disarmed, it will be rearmed as European monitors look on and do nothing.
What is clear is that European leaders have never been committed to honoring either the letter or the spirit of UN Resolutions 1559, 1680 and 1701, all of which were aimed at preventing Hezbollah from rearming.
by Debalina Ghoshal
According to former Bush administration official Stephen Rademaker, for the United States to respond to Russian violations of the treaty by pulling out of it would be "welcome in Moscow," which is "wrestling with the question of how they terminate [the treaty]" and thus, the United States should not make it easier for the Russians to leave.
by Guy Millière
Belgian security services have estimated that the number of European jihadists in Syria may be over 4000.
European leaders have directed their nastiest comments against the Jewish state, none of them has asked why Palestinian organizations in Gaza put their stockpiles of weapons in hospitals, homes, schools and mosques, or their command and control centers at the bottom of large apartment buildings or underneath hospitals. None of them has even said that Hamas is a terrorist organization despite its genocidal charter.
The majority of them are wedded to the idea of redistribution. Their policies are anti-growth, do not afford people any economic opportunity, and are what caused these economic crises in Europe in the first place. The United States seems to be following these thoroughly failed policies as well.
"Europe could not stay the same with a different population in it." — Christopher Caldwell, Reflections on the Revolution in Europe.
by Raymond Ibrahim
"I abducted your girls. I will sell them on the market, by Allah... There is a market for selling humans. Allah says I should sell." — Abubakar Shekau, leader of Boko Haram.
Hillary Clinton repeatedly refused to designate Boko Haram a terrorist organization.
In Malaysia -- regularly portrayed in the West as a moderate Muslim nation -- any attempt to promote religions other than Islam is illegal.
"The reason they want to kill me is very clear -- it is because of being a convert to Christianity." — Hassan Muwanguzi, Uganda.
by Dexter Van Zile
Rev. Hanna Massad does not mention that perhaps Hamas actually wants the blockade to end so it can bring in more weapons and cement to build attack-tunnels so it can "finish the job."
Hamas does not just admit to using human shields, it brags about using human shields. Why does Massad have to inject an air of uncertainty about Hamas's use of human shields when no such uncertainty exists?
The problem is that any self-respecting journalist would confront Massad with a follow-up question about Hamas's ideology and violence, but not the folks at Christianity Today.
Most Shared
Most Viewed