How Islam Conquers Europe
Hezbollah's Deputy Director General, Sheikh Naim Qassem, says Europe will be harmed by the lies it spreads about Hezbollah, whose two wings are intertwined and cannot be separated. He says Hezbollah knows exactly how to respond to Europe's provocation, and will do so at a time and in a place it chooses.
Europe, in denial, afraid to face the truth about the Islamist threat, has taken the coward's way out and stuck its head firmly in the sand. Even as the radical Islamist networks threatening to take over Europe entrench themselves in the violent enclaves within the swelling Islamic communities in the cities, the EU's politicians, with their elastic sense of morality and double-jointed value system, outdo themselves in attempts to reassure their constituents, and defang the Islamist terrorism about to explode in their back yards.
In light of Hezbollah's participation in the slaughter in Syria and of the terrorist attacks it has carried out in the thirty years of its existence, the leaders of the EU had no choice but to designate its "military wing" as a terrorist organization and take measures against it, but somehow managed to leave its so-called "political wing" untouched.
However, before the EU could designate Hezbollah a terrorist organization, a sop had to be thrown to the various Islamist terrorist organizations: an anti-Israeli decision. In a particularly pathetic move intended to provide "balance" for designating Hezbollah's military wing a terrorist organization -- and hoping to stave off the Islamist terrorism threatening Europe, if only temporarily -- the EU issued a condemnation of the Jewish settlements in the occupied territories and announced that their products would be boycotted.
It is obvious that all the EU's slippery maneuvering and rhetoric have only one objective: to fool the radical Islamists and appease them, in that way hoping to gain quiet, for the time being, and postpone the eventual outbreak of Islamist violence. The Islamists, however, refuse to be manipulated by such semantics. Hezbollah spokesmen had an immediate aggressive response to the EU announcement, calling it surrender to the dictates of the Americans and the Zionist lobby, and a hostile action, which serves only the Jews.
Hezbollah's Deputy Director General, Sheikh Naim Qassem, says Europe will be harmed by this decision and the lies it spreads about Hezbollah, whose two wings are intertwined and cannot be separated. Hezbollah, he says, makes no distinction whatsoever between its political and military wings, and that the unity of the organization is perfectly clear to every Lebanese and every shaheed (martyr who dies for the sake of Allah in a holy war) who had ever fought in its ranks. He said Hezbollah knows exactly how to respond to the EU's provocation, and will do so at a time and in a place it chooses.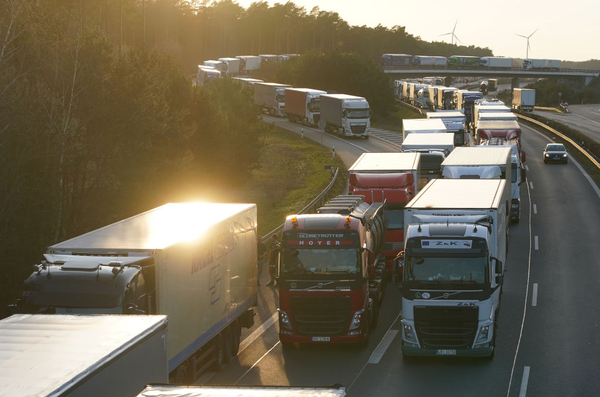 Naim Qassem, Deputy Secretary-General of Hezbollah, in 2009. (Source: Sebastian Baryli)
No further statement was necessary to send the EU running to raise the white flag to any organization that so desired. After all, Hezbollah's threats are genuine, and its fingerprints recently found on the terrorist attack in Burgas, Bulgaria.
Hezbollah, however, is not the only terrorist organization with its ear to the ground in Europe. Operatives of the various Islamist organizations -- among them, the Muslim Brotherhood, Al-Qaeda and Hamas -- listen very carefully to the EU's pronouncements and continue to threaten, attack and weave a web of terrorism that will eventually cover Europe with destruction and death. Unlike Hezbollah, the leaders of these organizations still protest, for the time being, that there is a distinction between their political leadership and their military wings, but in reality the distinction is artificial, and its only objective is to fool the Europeans. They are exactly like Hezbollah, with no distinction whatsoever between politics and operations. As soon as their so-called political wings give the order, they will blow up Europe, and after that, the United States.
The EU's designation of Hezbollah's military wing as a terrorist organization is an example of Christian Europe's cowardice as it looks into the face of the radical Islam that is threatening to destroy it. Europe is slowly dismembering itself, its principles and its cultural legacy to feed the monster and keep it at bay, while the monster will soon be strong enough to break its chains. Europe has started by feeding the monster a little finger, which it can easily do without; and will wind up feeding the monster its internal organs.
The first person to notice the trend was the late Libyan dictator Muammar Gadhafi -- beaten and then shot at the side of the road in 2011 -- who said, "The Muslims will conquer Europe without firing a shot." If he knew about the European distinction between the political and military wings of the various Islamist terrorist organizations, he would die again, this time laughing.
Ali Salim is a scholar based in the Middle East.
Related Topics: Ali Salim receive the latest by email: subscribe to the free gatestone institute mailing list
Reader comments on this item
Comment on this item
Subscribe To Mailing List
Tweets by @GatestoneInst
Latest Articles
by Khaled Abu Toameh
"Armed robbery in broad daylight." — Palestinians, after Hamas "seized" $750,000 from Gaza bank.
Fatah accused Hamas of "squandering" $700 million of financial aid earmarked for the Palestinian victims of war. Fatah wants to ensure that the millions of dollars intended for the Gaza Strip will pass through its hands and not end up in Hamas's bank accounts. Relying on Fatah in this regard is like asking a cat to guard the milk.
The head of the Palestinian Authority's Anti-Corruption Commission revealed that his group has retrieved $70 million of public funds fund embezzled by Palestinian officials. Arab and Western donors need to make sure that their money does not end up (once again) in the wrong hands. Without a proper mechanism of accountability and transparency, hundreds of millions of dollars are likely to find their way into the bank accounts of both Hamas and Fatah leaders.
by Mudar Zahran
"If Hamas does not like you for any reason all they have to do now is say you are a Mossad agent and kill you." — A., a Fatah member in Gaza.
"Hamas wanted us butchered so it could win the media war against Israel showing our dead children on TV and then get money from Qatar." — T., former Hamas Ministry officer.
"They would fire rockets and then run away quickly, leaving us to face Israeli bombs for what they did." — D., Gazan journalist.
"Hamas imposed a curfew: anyone walking out in the street was shot. That way people had to stay in their homes, even if they were about to get bombed. Hamas held the whole Gazan population as a human shield." — K., graduate student
"The Israeli army allows supplies to come in and Hamas steals them. It seems even the Israelis care for us more than Hamas." — E., first-aid volunteer.
"We are under Hamas occupation, and if you ask most of us, we would rather be under Israeli occupation… We miss the days when we were able to work inside Israel and make good money. We miss the security and calm Israel provided when it was here." — S., graduate of an American university, former Hamas sympathizer.
by Ben Cohen
Now, with the Islamic State's self-proclaimed caliphate having captured key oil wells in the Middle East this year, foreign oil has become an even more lethal financial weapon-of-choice for those seeking to destroy democracy and further escalate the War on Terror.
That President Barack Obama failed even to mention oil as a critical factor in the war against IS during his speech to the nation on September 10, is an omission both revealing and dangerous in terms of how his administration wants to depict the stakes involved in this latest confrontation with the jihadis.
by Lawrence A. Franklin
One Pakistani recruiter of child suicide bombers describes these children as "tools provided by God."
Another Muslim cleric in a madrassa [Islamic boys' school] describes child suicide bombers as "a gift from Allah that we have an unlimited number willing to be sacrificed to teach Americans a lesson."
Using children as suicide bombers will stop when... they stop "condoning the killing of innocents."
by Denis MacEoin
"No religion condones the killing of innocents." — U.S. President Barack Obama, September 10, 2014.
"Islam is a religion of peace." — U.K. Prime Minister David Cameron, September 13, 2014.
"There is a place for violence in Islam. There is a place for jihad in Islam." — U.K. Imam Anjem Choudary, CBN News, April 5, 2010.
Regrettably it is impossible to re-interpret the Qur'an in a "moderate" manner. The most famous modern interpretation by Sayyid Qutb (d. 1966), the Muslim Brotherhood ideologue, leads the reader again and again into political territory, where jihad is at the root of action.
If they deviated from the true faith -- as we are seeing in the Islamic State today -- "backsliders," like pagans, were to be fought until they either accepted Islam or were killed.
In India alone, between 60 and 80 million Hindus may have been put to death by Muslim armies between the years 1000-1525.
Most Shared
Most Viewed