How Islam Conquers Europe
Hezbollah's Deputy Director General, Sheikh Naim Qassem, says Europe will be harmed by the lies it spreads about Hezbollah, whose two wings are intertwined and cannot be separated. He says Hezbollah knows exactly how to respond to Europe's provocation, and will do so at a time and in a place it chooses.
Europe, in denial, afraid to face the truth about the Islamist threat, has taken the coward's way out and stuck its head firmly in the sand. Even as the radical Islamist networks threatening to take over Europe entrench themselves in the violent enclaves within the swelling Islamic communities in the cities, the EU's politicians, with their elastic sense of morality and double-jointed value system, outdo themselves in attempts to reassure their constituents, and defang the Islamist terrorism about to explode in their back yards.
In light of Hezbollah's participation in the slaughter in Syria and of the terrorist attacks it has carried out in the thirty years of its existence, the leaders of the EU had no choice but to designate its "military wing" as a terrorist organization and take measures against it, but somehow managed to leave its so-called "political wing" untouched.
However, before the EU could designate Hezbollah a terrorist organization, a sop had to be thrown to the various Islamist terrorist organizations: an anti-Israeli decision. In a particularly pathetic move intended to provide "balance" for designating Hezbollah's military wing a terrorist organization -- and hoping to stave off the Islamist terrorism threatening Europe, if only temporarily -- the EU issued a condemnation of the Jewish settlements in the occupied territories and announced that their products would be boycotted.
It is obvious that all the EU's slippery maneuvering and rhetoric have only one objective: to fool the radical Islamists and appease them, in that way hoping to gain quiet, for the time being, and postpone the eventual outbreak of Islamist violence. The Islamists, however, refuse to be manipulated by such semantics. Hezbollah spokesmen had an immediate aggressive response to the EU announcement, calling it surrender to the dictates of the Americans and the Zionist lobby, and a hostile action, which serves only the Jews.
Hezbollah's Deputy Director General, Sheikh Naim Qassem, says Europe will be harmed by this decision and the lies it spreads about Hezbollah, whose two wings are intertwined and cannot be separated. Hezbollah, he says, makes no distinction whatsoever between its political and military wings, and that the unity of the organization is perfectly clear to every Lebanese and every shaheed (martyr who dies for the sake of Allah in a holy war) who had ever fought in its ranks. He said Hezbollah knows exactly how to respond to the EU's provocation, and will do so at a time and in a place it chooses.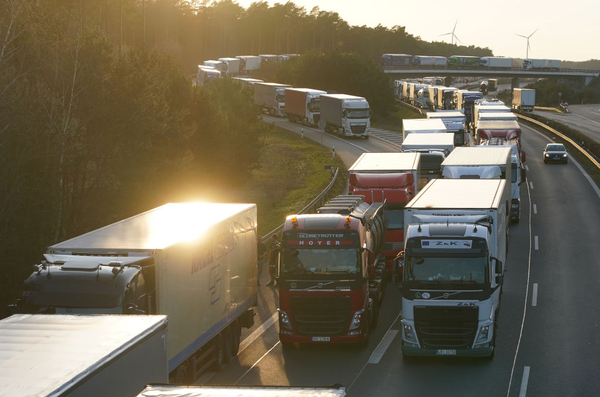 Naim Qassem, Deputy Secretary-General of Hezbollah, in 2009. (Source: Sebastian Baryli)
No further statement was necessary to send the EU running to raise the white flag to any organization that so desired. After all, Hezbollah's threats are genuine, and its fingerprints recently found on the terrorist attack in Burgas, Bulgaria.
Hezbollah, however, is not the only terrorist organization with its ear to the ground in Europe. Operatives of the various Islamist organizations -- among them, the Muslim Brotherhood, Al-Qaeda and Hamas -- listen very carefully to the EU's pronouncements and continue to threaten, attack and weave a web of terrorism that will eventually cover Europe with destruction and death. Unlike Hezbollah, the leaders of these organizations still protest, for the time being, that there is a distinction between their political leadership and their military wings, but in reality the distinction is artificial, and its only objective is to fool the Europeans. They are exactly like Hezbollah, with no distinction whatsoever between politics and operations. As soon as their so-called political wings give the order, they will blow up Europe, and after that, the United States.
The EU's designation of Hezbollah's military wing as a terrorist organization is an example of Christian Europe's cowardice as it looks into the face of the radical Islam that is threatening to destroy it. Europe is slowly dismembering itself, its principles and its cultural legacy to feed the monster and keep it at bay, while the monster will soon be strong enough to break its chains. Europe has started by feeding the monster a little finger, which it can easily do without; and will wind up feeding the monster its internal organs.
The first person to notice the trend was the late Libyan dictator Muammar Gadhafi -- beaten and then shot at the side of the road in 2011 -- who said, "The Muslims will conquer Europe without firing a shot." If he knew about the European distinction between the political and military wings of the various Islamist terrorist organizations, he would die again, this time laughing.
Ali Salim is a scholar based in the Middle East.
Related Topics: Ali Salim receive the latest by email: subscribe to the free gatestone institute mailing list
Reader comments on this item
Comment on this item
Tweets by @GatestoneInst
Subscribe To Mailing List
Latest Articles
by Khaled Abu Toameh
It is interesting that Khoury's call for launching terror attacks on Israel comes at a time when Christians are being slaughtered and churches torched in Syria and Egypt.
What Khoury perhaps does not know – or does not want to know — is that one of the few places where Christians can still lead normal lives is the same country he wants to see targeted by the jihadis: Israel.
by Douglas Murray
Western democracies have a great and serious problem: larger and larger swaths of people, when asked their opinion on certain matters, keep coming back with the wrong opinion. Surely, something must be done about this!
The other option is to de-link Islam from violence by ensuring that people stop carrying out acts of violence in the name of Islam; or to create ways for people actually to acquire quality healthcare at affordable prices; or seriously to prevent Iran from acquiring nuclear weapons, or to stop those in power from 'making up the rules as they go along', which as Daniel Hannan puts it, "means, in short, that there is no effective rule of law."
by Ali Salim
They probably believe that if they put off a war in this administration -- possibly to have the world thrown into an even more deadly and costly war down the line -- at least no one will be able to say it happened on their watch. They are wrong. If and when Iran becomes a nuclear power, as with North Korea, the event will go down in history as the fault of the Americans -- and above all the crowning legacy of the current administration -- in their retreat and flight.
Countries such as China and Russia easily identified a historic opportunity when America abandoned sensitive strongholds of great geopolitical value such as Saudi Arabian oil; the Suez Canal; the Arabian Gulf markets for arms, technology and merchandise, and spheres of geostrategic influence.
by Soeren Kern
The common thread that binds the entire document together is the OIC's repeated insistence that the main culprit responsible for "the institutionalization of Islamophobia" in Western countries is freedom of speech.
"The Istanbul Process started with Secretary of State Hillary Clinton and the EU High Representative for Foreign Affairs and Security Policy Catherine Ashton.... We need to build on it." — OIC Secretary General Ekmeleddin Isanoglu
by Samuel Westrop
Speakers at Hacked Off events, for example, have demanded that a media regulator should encourage the press to "support" public institutions such as the National Health Service, effectively turning Britain's free press into cheerleaders for the government.
"If a minority group (gypsies, say) is routinely and falsely maligned by a newspaper, it is fair for a representative organisation to make a compliant on their behalf. If not, there would be no single voice addressing such a democratic deficit." — David Hass, spokesperson, Hacked Off Campaign
Most Shared
Most Viewed