Jordan Says No to Kerry "Conspiracy"
Translations of this item:
Kerry has managed to escalate tensions not only between Israel and the Palestinians, but also between Jordanians and the Palestinians inside Jordan.

Kerry will now have to find a way to calm King Abdullah and his constituents before Jordan slips into civil war.

"Jordan is playing host [to Palestinians] and no agreement can pass without Jordan." — Fatin al-Baddad, Jordanian journalist.
Jordan's government officials and ordinary citizens have come out against U.S. Secretary of State John Kerry's proposals for reaching a peace agreement between Israel and the Palestinians.
The Jordanians fear that such an agreement would be concluded at their expense and undermine King Abdullah's rule.
The Jordanians' biggest fear is that Kerry is seeking to "resettle" Palestinian refugees in their country, effectively turning the kingdom into a Palestinian state. Palestinians constitute more than half of Jordan's population.
More than 2,000 Jordanians from various political groups gathered in Amman on February 2 to condemn Kerry's "malicious conspiracy."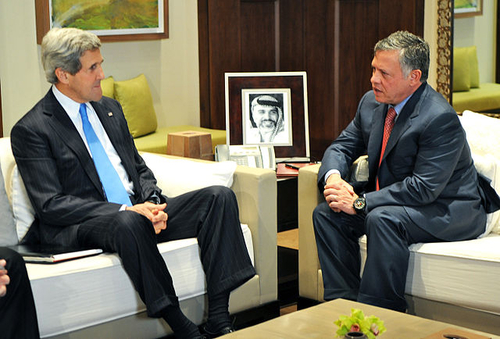 U.S. Secretary of State John Kerry meets with Jordanian King Abdullah II in Amman, Jordan, on May 22, 2013. (Image source: U.S. State Department)
Protesters claimed that Kerry's proposals are aimed at "liquidating" the Palestinian cause and ending the Israeli-Arab conflict without granting the Palestinians their full rights, including the "right of return" to Israel.
A group of retired Jordanian army generals issued a statement warning their government against accepting Kerry's proposals. The retired generals expressed fear that the proposals were designed to "settle" Palestinians in Jordan.
"Jordan is going through a dangerous historic moment," the statement read. "This is an American-Zionist plot to liquidate the Palestinian cause at the expense of Jordan."
The retired generals, headed by member of parliament Abdel Hadi Majali, vowed to use all means to block Kerry's proposals, which are aimed at "dismantling the foundations of the kingdom and diluting the Jordanian national identity by dropping the right of return for Palestinians and granting them Jordanian citizenship."
Jordanian columnist Fatin al-Baddad said that Jordan was extremely worried because Kerry was ignoring any role for the kingdom in his efforts to achieve peace between Israel and the Palestinians. Noting that Jordanians have declared an intifada [uprising] against Kerry and his proposed "framework agreement," al-Baddad said that the Jordanian people are furious because they feel that the U.S. Administration has "marginalized" the kingdom.
"Jordan's politicians and parties want to alert the world that Jordan is playing host [to Palestinians] and no agreement can pass without Jordan," he wrote. "Jordanians believe that Kerry is offering to turn Jordan into a Palestinian state."
Last month, dozens of prominent Jordanian figures, including former parliament members and party leaders, also expressed fear that Kerry was seeking to turn Jordan into a Palestinian state.
A petition published by the same group even called on the Jordan's government to revoke the Jordanian citizenship granted to Palestinians after 1988, when the late King Hussein "divorced" the West Bank by cutting off administrative and legal ties with it.
"The heroic Jordanian people will struggle with all their force and means to thwart this scheme, regardless of the price," the petition cautioned.
On February 2, Jordanian Foreign Minister Nasser Judeh appeared before parliament to voice his concern over Kerry's ideas. In a bid to calm the parliament members, Judeh declared that Jordan would not be an alternative homeland for the Palestinians.
"This is a red line and we can not accept it," Judeh said, stressing that Jordan would not accept any deal that comes at the kingdom's expense."
Judeh also hinted that Jordan would demand compensation for playing host to the Palestinians over the past few decades. "Jordan has rights as a host country for Palestinian refugees," he added.
Following the session, the members of parliament issued a statement which also warned against Kerry's ostensible scheme to establish a Palestinian state in Jordan.
"There is a state of fear among Jordanians and Arabs that Kerry's plan might succeed in involving the Palestinians in a new agreement that extracts from them political concessions so as to establish a Palestinian state with no borders and sovereignty," the statement said.
The panic in Jordan has re-ignited tensions between Jordanians and Palestinians living in the kingdom. Some top Jordanian officials have been accused of making "racist" statements about Palestinians. One of them, retired general Riad Abu Karaki, called on his government to stop granting citizenship to children born to Jordanian women who are married to Palestinians. "Why aren't the children of Jordanian mothers granted Palestinian citizenship of their fathers?" he asked. "The Palestinians have a recognized entity called the Palestinian National Authority."
Kerry has managed to escalate tensions not only between Israel and the Palestinians, but also between Jordanians and the Palestinians inside Jordan. The growing tensions in Jordan pose a threat to stability in the kingdom and could easily undermine the only stable regime in the region. Kerry will now have to find a way to calm King Abdullah and his constituents before Jordan slips into civil war.
Related Topics: Khaled Abu Toameh receive the latest by email: subscribe to the free gatestone institute mailing list
Reader comments on this item
Comment on this item
Subscribe To Mailing List
Tweets by @GatestoneInst
Latest Articles
by Soeren Kern
Austria has emerged as a major base for radical Islam and as a central hub for European jihadists to fight in Syria.
The proposed revisions would, among other changes, regulate the training and hiring of Muslim clerics, prohibit the foreign funding of mosques, and establish an official German-language version of the Koran to prevent its "misinterpretation" by Islamic extremists.
Muslims would be prohibited from citing Islamic sharia law as legal justification for ignoring or disobeying Austrian civil laws.
Leaders of Austria's Muslim community counter that the contemplated new law amounts to "institutionalized Islamophobia."
Official statistics show that nearly 60% of the inhabitants of Vienna are immigrants or foreigners. The massive demographic and religious shift underway in Austria, traditionally a Roman Catholic country, appears irreversible.
by Samuel Westrop
Over 800 Iranians were executed during President Rouhani's first year in office.
Leading politicians, British government officials and businessmen nevertheless seemed happy to attend and speak at the Europe-Iran Forum.
by Khaled Abu Toameh
The "Arab Spring" did not erupt as a result of the Israeli-Palestinian conflict. Rather, it was the outcome of decades of tyranny and corruption in the Arab world. The Tunisians, Egyptians, Libyans and Yemenis who removed their dictators from power did not do so because of the lack of a "two-state solution." This is the last thing they had in mind.
The thousands of Muslims who are volunteering to join the Islamic State [IS] are not doing so because they are frustrated with the lack of progress in the Israeli-Palestinian peace talks.
The only solution the Islamic State believes in is a Sunni Islamic Caliphate where the surviving non-Muslims who are not massacred would be subject to sharia law.
What Kerry perhaps does not know is that the Islamic State is not interested in the Israeli-Palestinian conflict at all. Unlike Kerry, Sunni scholars fully understand that the Islamic State has more to do with Islam and terrorism than with any other conflict.
by Steven J. Rosen
Palestinian officials have generally been silent about security cooperation with Israel. They are loath to acknowledge how important it is for the survival of the Palestinian Authority [PA], and fear that critics, especially Hamas, will consider it "collaboration with the enemy."
"You smuggle weapons, explosives and cash to the West Bank, not for the fight with Israel, but for a coup against the Palestinian Authority. The Israeli intelligence chief visited me two weeks ago and told me about the [Hamas] group they arrested that was planning for a coup... We have a national unity government and you are thinking about a coup against me." — Mahmoud Abbas, PA President, to Khaled Mashaal, Hamas leader.
According to Israeli Defense Minister Moshe Ya'alon, if the IDF leaves the West Bank, Hamas will take over, and other terrorists groups such as the Islamic Jihad, Al-Qaeda and Islamic State would operate there.
In recent months, Abbas has been making a series of threats against Israel. If Abbas becomes another Arafat, it could be the Israeli side that loses interest in security cooperation.
by Burak Bekdil
It was the Islamists who, since they came to power in the 2000s, have reaped the biggest political gains from the "Palestine-fetish."
But the Turkish rhetoric on "solidarity" with our Palestinian brothers often seems askew to how solidarity should be.
Most Shared
Most Viewed