Jordan Says No to Kerry "Conspiracy"
Translations of this item:
Kerry has managed to escalate tensions not only between Israel and the Palestinians, but also between Jordanians and the Palestinians inside Jordan.

Kerry will now have to find a way to calm King Abdullah and his constituents before Jordan slips into civil war.

"Jordan is playing host [to Palestinians] and no agreement can pass without Jordan." — Fatin al-Baddad, Jordanian journalist.
Jordan's government officials and ordinary citizens have come out against U.S. Secretary of State John Kerry's proposals for reaching a peace agreement between Israel and the Palestinians.
The Jordanians fear that such an agreement would be concluded at their expense and undermine King Abdullah's rule.
The Jordanians' biggest fear is that Kerry is seeking to "resettle" Palestinian refugees in their country, effectively turning the kingdom into a Palestinian state. Palestinians constitute more than half of Jordan's population.
More than 2,000 Jordanians from various political groups gathered in Amman on February 2 to condemn Kerry's "malicious conspiracy."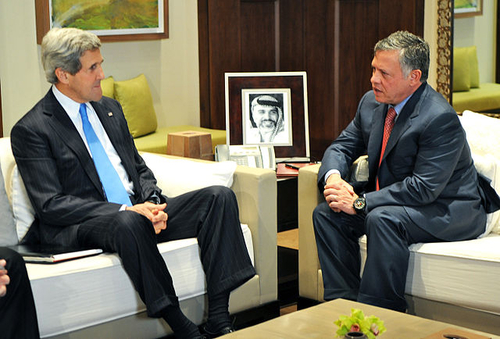 U.S. Secretary of State John Kerry meets with Jordanian King Abdullah II in Amman, Jordan, on May 22, 2013. (Image source: U.S. State Department)
Protesters claimed that Kerry's proposals are aimed at "liquidating" the Palestinian cause and ending the Israeli-Arab conflict without granting the Palestinians their full rights, including the "right of return" to Israel.
A group of retired Jordanian army generals issued a statement warning their government against accepting Kerry's proposals. The retired generals expressed fear that the proposals were designed to "settle" Palestinians in Jordan.
"Jordan is going through a dangerous historic moment," the statement read. "This is an American-Zionist plot to liquidate the Palestinian cause at the expense of Jordan."
The retired generals, headed by member of parliament Abdel Hadi Majali, vowed to use all means to block Kerry's proposals, which are aimed at "dismantling the foundations of the kingdom and diluting the Jordanian national identity by dropping the right of return for Palestinians and granting them Jordanian citizenship."
Jordanian columnist Fatin al-Baddad said that Jordan was extremely worried because Kerry was ignoring any role for the kingdom in his efforts to achieve peace between Israel and the Palestinians. Noting that Jordanians have declared an intifada [uprising] against Kerry and his proposed "framework agreement," al-Baddad said that the Jordanian people are furious because they feel that the U.S. Administration has "marginalized" the kingdom.
"Jordan's politicians and parties want to alert the world that Jordan is playing host [to Palestinians] and no agreement can pass without Jordan," he wrote. "Jordanians believe that Kerry is offering to turn Jordan into a Palestinian state."
Last month, dozens of prominent Jordanian figures, including former parliament members and party leaders, also expressed fear that Kerry was seeking to turn Jordan into a Palestinian state.
A petition published by the same group even called on the Jordan's government to revoke the Jordanian citizenship granted to Palestinians after 1988, when the late King Hussein "divorced" the West Bank by cutting off administrative and legal ties with it.
"The heroic Jordanian people will struggle with all their force and means to thwart this scheme, regardless of the price," the petition cautioned.
On February 2, Jordanian Foreign Minister Nasser Judeh appeared before parliament to voice his concern over Kerry's ideas. In a bid to calm the parliament members, Judeh declared that Jordan would not be an alternative homeland for the Palestinians.
"This is a red line and we can not accept it," Judeh said, stressing that Jordan would not accept any deal that comes at the kingdom's expense."
Judeh also hinted that Jordan would demand compensation for playing host to the Palestinians over the past few decades. "Jordan has rights as a host country for Palestinian refugees," he added.
Following the session, the members of parliament issued a statement which also warned against Kerry's ostensible scheme to establish a Palestinian state in Jordan.
"There is a state of fear among Jordanians and Arabs that Kerry's plan might succeed in involving the Palestinians in a new agreement that extracts from them political concessions so as to establish a Palestinian state with no borders and sovereignty," the statement said.
The panic in Jordan has re-ignited tensions between Jordanians and Palestinians living in the kingdom. Some top Jordanian officials have been accused of making "racist" statements about Palestinians. One of them, retired general Riad Abu Karaki, called on his government to stop granting citizenship to children born to Jordanian women who are married to Palestinians. "Why aren't the children of Jordanian mothers granted Palestinian citizenship of their fathers?" he asked. "The Palestinians have a recognized entity called the Palestinian National Authority."
Kerry has managed to escalate tensions not only between Israel and the Palestinians, but also between Jordanians and the Palestinians inside Jordan. The growing tensions in Jordan pose a threat to stability in the kingdom and could easily undermine the only stable regime in the region. Kerry will now have to find a way to calm King Abdullah and his constituents before Jordan slips into civil war.
Related Topics: Khaled Abu Toameh receive the latest by email: subscribe to the free gatestone institute mailing list
Reader comments on this item
Comment on this item
Subscribe To Mailing List
Tweets by @GatestoneInst
Latest Articles
by Khaled Abu Toameh
To understand what drives a young Palestinian to carry out such a deadly attack, one needs to look at the statements of Palestinian Authority leaders during the past few weeks.
The anti-Israel campaign of incitement reached its peak with Abbas's speech at the UN a few weeks ago, when he accused Israel of waging a "war of genocide" in the Gaza Strip. Abbas made no reference to Hamas's crimes against both Israelis and Palestinians.
Whatever his motives, it is clear that the man who carried out the most recent attack, was influenced by the messages that Abbas and and the Palestinian Authority leadership have been sending their people.
by Richard Kemp
Would General Allen -- or any other general today -- recommend contracting out his country's defenses if it were his country at stake? Of course not.
The Iranian regime remains dedicated to undermining and ultimately destroying the State of Israel. The Islamic State also has Israel in its sights and would certainly use the West Bank as a point from which to attack, if it were open to them.
There can be no two-state solution and no sovereign Palestinian Arab state west of the Jordan, however desirable those things might be. The stark military reality is that Israel cannot withdraw its forces from the West Bank.
Fatah leaders ally themselves with the terrorists of Hamas, and, like Hamas, they continue to reject the every existence of the State of Israel.
If Western leaders actually want to help, they should use all diplomatic and economic means to make it clear to the Palestinians that they will never achieve an independent and sovereign state while they remain set on the destruction of the State of Israel.
by Louis René Beres
The Palestine Liberation Organization [PLO], forerunner of today's Palestinian Authority, was founded in 1964, three years before Israel came into the unintended control of the West Bank and Gaza. What therefore was the PLO planning to "liberate"?
Why does no one expect the Palestinians to cease all deliberate and random violence against Israeli civilians before being considered for admission to statehood?
On June 30, 1922, a joint resolution of both Houses of Congress of the United States endorsed a "Mandate for Palestine," confirming the right of Jews to settle anywhere they chose between the Jordan River and the Mediterranean Sea. This is the core American legacy of support for a Jewish State that President Obama now somehow fails to recall.
A sovereign state of Palestine, as identified by the Arabs -- a Muslim land occupied by "Palestinian" Arabs -- has never existed; not before 1948, and not before 1967. From the start, it was, and continues to be, the Arab states -- not Israel -- that became the core impediment to Palestinian sovereignty.
by Timon Dias
It looks as if this new law is meant to serve as a severe roadblock to parties that would like to dismantle the EU in a democratic and peaceful way from within.
A rather dull semantic trick pro-EU figures usually apply, is calling their opponents "anti-Europe."
Most Shared
Most Viewed