Jordan Says No to Kerry "Conspiracy"
Translations of this item:
Kerry has managed to escalate tensions not only between Israel and the Palestinians, but also between Jordanians and the Palestinians inside Jordan.

Kerry will now have to find a way to calm King Abdullah and his constituents before Jordan slips into civil war.

"Jordan is playing host [to Palestinians] and no agreement can pass without Jordan." — Fatin al-Baddad, Jordanian journalist.
Jordan's government officials and ordinary citizens have come out against U.S. Secretary of State John Kerry's proposals for reaching a peace agreement between Israel and the Palestinians.
The Jordanians fear that such an agreement would be concluded at their expense and undermine King Abdullah's rule.
The Jordanians' biggest fear is that Kerry is seeking to "resettle" Palestinian refugees in their country, effectively turning the kingdom into a Palestinian state. Palestinians constitute more than half of Jordan's population.
More than 2,000 Jordanians from various political groups gathered in Amman on February 2 to condemn Kerry's "malicious conspiracy."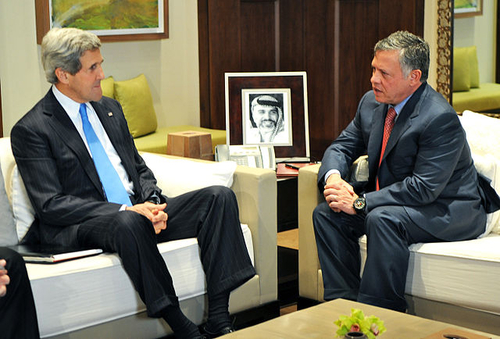 U.S. Secretary of State John Kerry meets with Jordanian King Abdullah II in Amman, Jordan, on May 22, 2013. (Image source: U.S. State Department)
Protesters claimed that Kerry's proposals are aimed at "liquidating" the Palestinian cause and ending the Israeli-Arab conflict without granting the Palestinians their full rights, including the "right of return" to Israel.
A group of retired Jordanian army generals issued a statement warning their government against accepting Kerry's proposals. The retired generals expressed fear that the proposals were designed to "settle" Palestinians in Jordan.
"Jordan is going through a dangerous historic moment," the statement read. "This is an American-Zionist plot to liquidate the Palestinian cause at the expense of Jordan."
The retired generals, headed by member of parliament Abdel Hadi Majali, vowed to use all means to block Kerry's proposals, which are aimed at "dismantling the foundations of the kingdom and diluting the Jordanian national identity by dropping the right of return for Palestinians and granting them Jordanian citizenship."
Jordanian columnist Fatin al-Baddad said that Jordan was extremely worried because Kerry was ignoring any role for the kingdom in his efforts to achieve peace between Israel and the Palestinians. Noting that Jordanians have declared an intifada [uprising] against Kerry and his proposed "framework agreement," al-Baddad said that the Jordanian people are furious because they feel that the U.S. Administration has "marginalized" the kingdom.
"Jordan's politicians and parties want to alert the world that Jordan is playing host [to Palestinians] and no agreement can pass without Jordan," he wrote. "Jordanians believe that Kerry is offering to turn Jordan into a Palestinian state."
Last month, dozens of prominent Jordanian figures, including former parliament members and party leaders, also expressed fear that Kerry was seeking to turn Jordan into a Palestinian state.
A petition published by the same group even called on the Jordan's government to revoke the Jordanian citizenship granted to Palestinians after 1988, when the late King Hussein "divorced" the West Bank by cutting off administrative and legal ties with it.
"The heroic Jordanian people will struggle with all their force and means to thwart this scheme, regardless of the price," the petition cautioned.
On February 2, Jordanian Foreign Minister Nasser Judeh appeared before parliament to voice his concern over Kerry's ideas. In a bid to calm the parliament members, Judeh declared that Jordan would not be an alternative homeland for the Palestinians.
"This is a red line and we can not accept it," Judeh said, stressing that Jordan would not accept any deal that comes at the kingdom's expense."
Judeh also hinted that Jordan would demand compensation for playing host to the Palestinians over the past few decades. "Jordan has rights as a host country for Palestinian refugees," he added.
Following the session, the members of parliament issued a statement which also warned against Kerry's ostensible scheme to establish a Palestinian state in Jordan.
"There is a state of fear among Jordanians and Arabs that Kerry's plan might succeed in involving the Palestinians in a new agreement that extracts from them political concessions so as to establish a Palestinian state with no borders and sovereignty," the statement said.
The panic in Jordan has re-ignited tensions between Jordanians and Palestinians living in the kingdom. Some top Jordanian officials have been accused of making "racist" statements about Palestinians. One of them, retired general Riad Abu Karaki, called on his government to stop granting citizenship to children born to Jordanian women who are married to Palestinians. "Why aren't the children of Jordanian mothers granted Palestinian citizenship of their fathers?" he asked. "The Palestinians have a recognized entity called the Palestinian National Authority."
Kerry has managed to escalate tensions not only between Israel and the Palestinians, but also between Jordanians and the Palestinians inside Jordan. The growing tensions in Jordan pose a threat to stability in the kingdom and could easily undermine the only stable regime in the region. Kerry will now have to find a way to calm King Abdullah and his constituents before Jordan slips into civil war.
Related Topics: Khaled Abu Toameh receive the latest by email: subscribe to the free gatestone institute mailing list
Reader comments on this item
Comment on this item
Subscribe To Mailing List
Tweets by @GatestoneInst
Latest Articles
by Louis René Beres
Jihadi violence serves not only to advance the terrorist's delusion of immortality, but also to add, however perversely, an apparent and desperately needed erotic satisfaction, using religion as the justification.
Persuasive promises of immortality -- the desperate hope to live forever -- underlie virtually all major religions.
Washington and Jerusalem should finally address what needs to be done in addition to military remediation -- reinforcing efforts to convince these terrorists that their expected martyrdom is ultimately just an elaborate fiction.
by Gill Gillespie and Shabnam Assadollahi
The aim of the current Iranian regime is clearly to acquire a nuclear weapons capability and to retain as much territory in Iraq as possible under Shia Islamist rule, whatever the human cost. Those aims are also the reason Iran's regime is now trying to intervene in Iraq.
Iran will doubtless be demanding that any cooperation with the West be compensated for by "concessions" permitting its nuclear weapons program.
Involving Iran in Iraq at this point will merely alienate any Sunni allies whose assistance is much needed to defeat IS.
Many people inside Iran have alerted the U.S. Administration for over two years about other industrial facilities being secretly built in Iran and not declared to the International Atomic Energy. So far, all intelligence from within Iran has been wilfully ignored by the Obama Administration.
by Burak Bekdil
The Turkish government "frankly worked" with the al-Nusrah Front, the al-Qaeda affiliate in Syria, along with other terrorist groups.
The Financial Task Force, an international body setting the standards for combating terrorist financing, ruled that Turkey should remain in its "gray list."
While NATO wishes to reinforce its outreach to democracies such as Australia and Japan, Turkey is trying to forge wider partnerships with the Arab world, Russia, China, Central Asia, China, Africa and -- and with a bunch of terrorist organizations, including Hamas, Muslim Brotherhood, Ahrar al-Sham and the al-Nusrah Front.
Being NATO's only Muslim member was fine. Being NATO's only Islamist member ideologically attached to the Muslim Brotherhood is quite another thing.
by Samuel Westrop
British politicians seem to be trapped in an endless debate over how to curb both violent and non-violent extremism within the Muslim community.
A truly useful measure might be to end the provision of state funding and legitimacy to terror-linked extremist charities.
by Soeren Kern
"My son and I love life with the beheaders." — British jihadist Sally Jones.
Mujahidah Bint Usama published pictures of herself on Twitter holding a severed head while wearing a white doctor's jacket; alongside it, the message: "Dream job, a terrorist doc."
British female jihadists are now in charge of guarding as many as 3,000 non-Muslim Iraqi women and girls held captive as sex slaves.
"The British women are some of the most zealous in imposing the IS laws in the region. I believe that's why at least four of them have been chosen to join the women police force." — British terrorism analyst Melanie Smith.
Most Shared
Most Viewed