Jordan Says No to Kerry "Conspiracy"
Translations of this item:
Kerry has managed to escalate tensions not only between Israel and the Palestinians, but also between Jordanians and the Palestinians inside Jordan.

Kerry will now have to find a way to calm King Abdullah and his constituents before Jordan slips into civil war.

"Jordan is playing host [to Palestinians] and no agreement can pass without Jordan." — Fatin al-Baddad, Jordanian journalist.
Jordan's government officials and ordinary citizens have come out against U.S. Secretary of State John Kerry's proposals for reaching a peace agreement between Israel and the Palestinians.
The Jordanians fear that such an agreement would be concluded at their expense and undermine King Abdullah's rule.
The Jordanians' biggest fear is that Kerry is seeking to "resettle" Palestinian refugees in their country, effectively turning the kingdom into a Palestinian state. Palestinians constitute more than half of Jordan's population.
More than 2,000 Jordanians from various political groups gathered in Amman on February 2 to condemn Kerry's "malicious conspiracy."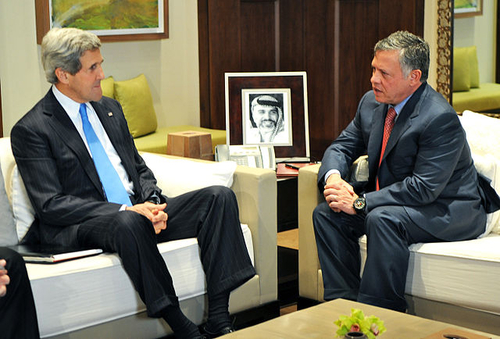 U.S. Secretary of State John Kerry meets with Jordanian King Abdullah II in Amman, Jordan, on May 22, 2013. (Image source: U.S. State Department)
Protesters claimed that Kerry's proposals are aimed at "liquidating" the Palestinian cause and ending the Israeli-Arab conflict without granting the Palestinians their full rights, including the "right of return" to Israel.
A group of retired Jordanian army generals issued a statement warning their government against accepting Kerry's proposals. The retired generals expressed fear that the proposals were designed to "settle" Palestinians in Jordan.
"Jordan is going through a dangerous historic moment," the statement read. "This is an American-Zionist plot to liquidate the Palestinian cause at the expense of Jordan."
The retired generals, headed by member of parliament Abdel Hadi Majali, vowed to use all means to block Kerry's proposals, which are aimed at "dismantling the foundations of the kingdom and diluting the Jordanian national identity by dropping the right of return for Palestinians and granting them Jordanian citizenship."
Jordanian columnist Fatin al-Baddad said that Jordan was extremely worried because Kerry was ignoring any role for the kingdom in his efforts to achieve peace between Israel and the Palestinians. Noting that Jordanians have declared an intifada [uprising] against Kerry and his proposed "framework agreement," al-Baddad said that the Jordanian people are furious because they feel that the U.S. Administration has "marginalized" the kingdom.
"Jordan's politicians and parties want to alert the world that Jordan is playing host [to Palestinians] and no agreement can pass without Jordan," he wrote. "Jordanians believe that Kerry is offering to turn Jordan into a Palestinian state."
Last month, dozens of prominent Jordanian figures, including former parliament members and party leaders, also expressed fear that Kerry was seeking to turn Jordan into a Palestinian state.
A petition published by the same group even called on the Jordan's government to revoke the Jordanian citizenship granted to Palestinians after 1988, when the late King Hussein "divorced" the West Bank by cutting off administrative and legal ties with it.
"The heroic Jordanian people will struggle with all their force and means to thwart this scheme, regardless of the price," the petition cautioned.
On February 2, Jordanian Foreign Minister Nasser Judeh appeared before parliament to voice his concern over Kerry's ideas. In a bid to calm the parliament members, Judeh declared that Jordan would not be an alternative homeland for the Palestinians.
"This is a red line and we can not accept it," Judeh said, stressing that Jordan would not accept any deal that comes at the kingdom's expense."
Judeh also hinted that Jordan would demand compensation for playing host to the Palestinians over the past few decades. "Jordan has rights as a host country for Palestinian refugees," he added.
Following the session, the members of parliament issued a statement which also warned against Kerry's ostensible scheme to establish a Palestinian state in Jordan.
"There is a state of fear among Jordanians and Arabs that Kerry's plan might succeed in involving the Palestinians in a new agreement that extracts from them political concessions so as to establish a Palestinian state with no borders and sovereignty," the statement said.
The panic in Jordan has re-ignited tensions between Jordanians and Palestinians living in the kingdom. Some top Jordanian officials have been accused of making "racist" statements about Palestinians. One of them, retired general Riad Abu Karaki, called on his government to stop granting citizenship to children born to Jordanian women who are married to Palestinians. "Why aren't the children of Jordanian mothers granted Palestinian citizenship of their fathers?" he asked. "The Palestinians have a recognized entity called the Palestinian National Authority."
Kerry has managed to escalate tensions not only between Israel and the Palestinians, but also between Jordanians and the Palestinians inside Jordan. The growing tensions in Jordan pose a threat to stability in the kingdom and could easily undermine the only stable regime in the region. Kerry will now have to find a way to calm King Abdullah and his constituents before Jordan slips into civil war.
Related Topics: Khaled Abu Toameh receive the latest by email: subscribe to the free gatestone institute mailing list
Reader comments on this item
Comment on this item
Subscribe To Mailing List
Tweets by @GatestoneInst
Subscribe To Mailing List
Latest Articles
by Soeren Kern
"There is no territory more occupied than the body of a Palestinian woman, or a strip... severed by the violent imposition of the superstitions of Allah and the followers of Mohammed. We had better not even mention the situation of Palestinian homosexuals. This selective outrage by top progressives when it involves Israel is indeed anti-Semitism." — Alberto Moyano, Spanish newspaper editor.
"It is possible legitimately to criticize Israel. But it smells fishy when all of the blame is attributed to Israel, without even mentioning the small detail that a terrorist and jihadist group that rules Gaza has infringed on every conceivable humanitarian principle, by using civilians as human shields, and launching missiles from apartment blocks, while their leaders are living comfortable in Qatar, guests of a sheik." — Ángel Mas, Spanish analyst.
There has been virtually no public outcry whatsoever in Spain over the deaths of more than 160,000 people during three years of fighting in Syria; the decimation of ancient Christian communities at the hands of Islamists in Iraq; the kidnapping of 300 girls by Islamists in Nigeria; or the downing of a civilian passenger plane in Ukraine.
"The most anti-Semitic people are supposedly the most educated and well-informed." — Spanish Ministry of Foreign Affairs report on anti-Semitism in Spain.
by Khaled Abu Toameh
There is growing concern in Ramallah, Cairo, Riyadh and Dubai that the U.S. Administration is working to prevent the collapse of Hamas.
"The Americans mistakenly think that moderate political Islam, which is represented by the Muslim Brotherhood, will be able to combat radical Islam. The Americans are trying to bring the Muslim Brotherhood back to the region." — Palestinian official, Ramallah.
The Iranians, with whom the U.S. is now negotiating on nuclear weapons -- amid fears in the Middle East that the U.S. will capitulate to Tehran's demands if it has not effectively capitulated to them already -- have now joined Qatar and Turkey in opposing any attempt to confiscate Hamas's weapons.
The Paris conference was actually a spit in the face to the anti-Hamas forces in the Arab world. By failing to invite the Palestinian Authority to the conference, Kerry indicated that he does not see any role for Abbas and his loyalists in a post-Hamas Gaza Strip.
by Amir Taheri
According to Küntzel, German leaders have at least two other reasons for helping Iran defy the United States. The first is German resentment of defeat in the Second World War followed by foreign occupation, led by the US. The second reason is that Iran is one of the few, if not the only country, where Germans have never been looked at as "war criminals" because of Hitler.
by Malcolm Lowe
Go to Nazareth and you can easily find the mini-mosque. It displays a large poster of Koran quotations denigrating Christianity and urging Christians to convert to Islam.
Overlooked is a fundamental difference between the two regimes. Israel is a state governed by the rule of law. The Palestinian Authority, like most other states in the region, is a personal dictatorship. Arafat started the fashion of simply disregarding the laws.
What is needed in Israel is a central policy unit with the brief of developing long-term policies both to integrate Israeli Christians and to engage with the great variety of Christians in foreign countries.
Most Shared
Most Viewed