Lebanon's New Government Threatening Israel?
Hezbollah's "eleventh hour" consent to join a compromise government with the "March 14" bloc ought not to be viewed through the prism of a peace offering. The compromise is more likely a tactical attempt by Hezbollah to restore its shattered image by fabricating an alleged threat against it from an outside source.
Amid declining support in Lebanon – due to blowback from its role in supporting the Assad regime's brutal civil war in Syria – the Iran-backed terrorist group, Hezbollah, seems to be trying to restore credibility among its own constituencies by agreeing to a compromise government, called the Future Patriotic Movement, with the anti-Hezbollah "March 14" bloc. According to some analysts, the move is intended to manufacture conflict with a common enemy – Israel.
Lebanon has been without a functioning government since Prime Minister Najib Mikati resigned last March. Since then, the parties aligned with Shi'ite Hezbollah and its Sunni-led rivals have been locked in a power struggle.
The conflict in neighboring Syria has exacerbated the already volatile sectarian tensions in Lebanon. Syria's rebels are mostly Sunnis, while President Bashar Assad belongs to the Alawite faith, which claims to be an offshoot of Shi'ite Islam, and is supported by Iran and its terrorist proxy, Hezbollah. Former Prime Minister Saad-eddine Rafiq Al-Hariri, leader of the newly-formed Future Patriotic Movement, backs the Sunni-led rebel uprising against the Assad regime.
Hezbollah's brand as a Lebanese organization solely dedicated to advancing Lebanese socio-economic interests and protecting Lebanese territory from Israel has been shattered by its involvement in the Syrian conflict on behalf of the Assad regime. Hezbollah has provided critical backing to Assad's regime in support of its civil war, which has left more than 140,000 Syrians dead, and has no end in sight.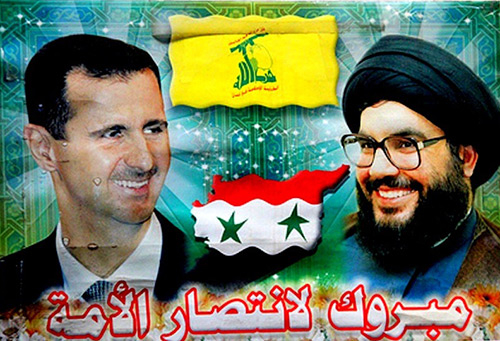 A poster featuring Syrian President Bashar Assad (left) and Hezbollah Secretary-General Hassan Nasrallah.
The "Party of God" has reportedly dedicated several thousand troops to fighting around Syria's biggest cities Aleppo and Damascus. In March 2013, the Syrian Observatory for Human Rights cited the Iran-backed terror group as being instrumental in the Assad regime's victory at the strategically critical Syrian city of Qusayr, which hitherto had served as a stronghold for opposition forces.
For the past ten months Hezbollah has also blocked the formation of a new cabinet in Lebanon, rejecting proposals in which the finance and foreign ministries would have gone to Hezbollah allies while cabinet portfolios related to security would have gone to the "March 14" movement. After persistently undermining Lebanon's security, political and economic institutions, Hezbollah now desperately seems to have needed a pretext for reestablishing its credibility with the people of Lebanon. Arguably, Hezbollah found that pretext last week, when it joined the compromise government.
The agreement between Hezbollah and "March 14" divides the government's 24 portfolios into three groups, with Hezbollah and Hariri's blocs each taking eight ministries, and candidates considered neutral allocating the remainder. Hezbollah secured two key portfolios: Former Energy Minister, Gebran Bassil, became foreign minister, and Former Health Minister, Ali Hassan Khalil, was awarded the Finance portfolio.
Many analysts believe Hezbollah will use these government platforms to spark tensions with Israel, with which Lebanon is formally in a state of war. Hezbollah could force the issue of drilling in contested waters near Leviathan, Dalit, and Karish – the vast fields of natural gas and oil discovered in the deep waters off Israel and Cyprus during the last five years.
The basin is situated outside of Israeli territorial waters but still inside Israel's Exclusive Economic Zone, and is estimated by the U.S. Department of Interior to contain approximately 122 trillion cubic feet of natural gas and 1.6 billion barrels of oil, enough gas to meet Israel's requirements for the next 150 years.
Both Hezbollah and Lebanon's caretaker Energy Minister, Gebran Bassil, have called for the approval of laws to demarcate the country's boundaries to facilitate drilling in those areas. If that scenario occurs, Israel would likely be compelled to protect its vital national interests by responding to Lebanon's claim of sovereignty either legally, militarily or both.
It is also possible that Hezbollah might try to disrupt Israel's off-shore enterprise by targeting rigs and Israeli naval patrols. Hezbollah currently possesses Chinese C-802 anti-ship missiles and possibly Russian Yakhont missiles, all capable of hitting targets up to 180 miles from shore. During the Second Lebanon War in 2006, Hezbollah fired a missile at the INS Hanit corvette, killing four sailors and causing extensive damage.
In a 2011 speech marking the fifth anniversary of the Second Lebanon War, the Secretary-General of Hezbollah, Hassan Nasrallah, urged the Lebanese government to ratify a law to pave the way for companies to start exploring for oil and gas off the country's coast. He said Lebanon should protect these companies because Israel had installations, too. More recently, Nasrallah reportedly insisted that Israel is engaged in a plot to plunder Lebanese oil, a charge possibly initiated as an attempt for political survival.
Given the Iran-backed terror group's costly twin decisions to support the Assad regime in Syria and to impose political gridlock in Lebanon, Hezbollah's "eleventh hour" consent to join a compromise government with "March 14" ought not be viewed through the prism of a peace offering. The compromise is more likely a tactical attempt by Hezbollah to restore its shattered image by fabricating an alleged threat against it from an outside source.
Joseph Raskas is currently completing graduate program at The George Washington University's Graduate School of Political Management.
Related Topics: Israel, Lebanon | Joseph Raskas receive the latest by email: subscribe to the free gatestone institute mailing list
Comment on this item
Subscribe To Mailing List
Tweets by @GatestoneInst
Latest Articles
by Mudar Zahran
"If Hamas does not like you for any reason all they have to do now is say you are a Mossad agent and kill you." — A., a Fatah member in Gaza.
"Hamas wanted us butchered so it could win the media war against Israel showing our dead children on TV and then get money from Qatar." — T., former Hamas Ministry officer.
"They would fire rockets and then run away quickly, leaving us to face Israeli bombs for what they did." — D., Gazan journalist.
"Hamas imposed a curfew: anyone walking out in the street was shot. That way people had to stay in their homes, even if they were about to get bombed. Hamas held the whole Gazan population as a human shield." — K., graduate student
"The Israeli army allows supplies to come in and Hamas steals them. It seems even the Israelis care for us more than Hamas." — E., first-aid volunteer.
"We are under Hamas occupation, and if you ask most of us, we would rather be under Israeli occupation… We miss the days when we were able to work inside Israel and make good money. We miss the security and calm Israel provided when it was here." — S., graduate of an American university, former Hamas sympathizer.
by Ben Cohen
Now, with the Islamic State's self-proclaimed caliphate having captured key oil wells in the Middle East this year, foreign oil has become an even more lethal financial weapon-of-choice for those seeking to destroy democracy and further escalate the War on Terror.
That President Barack Obama failed even to mention oil as a critical factor in the war against IS during his speech to the nation on September 10, is an omission both revealing and dangerous in terms of how his administration wants to depict the stakes involved in this latest confrontation with the jihadis.
by Lawrence A. Franklin
One Pakistani recruiter of child suicide bombers describes these children as "tools provided by God."
Another Muslim cleric in a madrassa [Islamic boys' school] describes child suicide bombers as "a gift from Allah that we have an unlimited number willing to be sacrificed to teach Americans a lesson."
Using children as suicide bombers will stop when... they stop "condoning the killing of innocents."
by Denis MacEoin
"No religion condones the killing of innocents." — U.S. President Barack Obama, September 10, 2014.
"Islam is a religion of peace." — U.K. Prime Minister David Cameron, September 13, 2014.
"There is a place for violence in Islam. There is a place for jihad in Islam." — U.K. Imam Anjem Choudary, CBN News, April 5, 2010.
Regrettably it is impossible to re-interpret the Qur'an in a "moderate" manner. The most famous modern interpretation by Sayyid Qutb (d. 1966), the Muslim Brotherhood ideologue, leads the reader again and again into political territory, where jihad is at the root of action.
If they deviated from the true faith -- as we are seeing in the Islamic State today -- "backsliders," like pagans, were to be fought until they either accepted Islam or were killed.
In India alone, between 60 and 80 million Hindus may have been put to death by Muslim armies between the years 1000-1525.
by Yaakov Lappin
Hamas's long-term ambitions are indistinguishable from those of Islamic State and al-Qaeda.
Hamas will now focus on its next goal -- trying to strengthen its presence in the West Bank and eventually toppling the Palestinian Authority from power there, just as it did in Gaza. If Israel were to withdraw from the West Bank, Hamas would certainly find such a goal easier to accomplish.
Nothing keeps the flames of jihad alight, and Hamas's popularity secure, like frequent wars.
Most Shared
Most Viewed