Lebanon's New Government Threatening Israel?
Hezbollah's "eleventh hour" consent to join a compromise government with the "March 14" bloc ought not to be viewed through the prism of a peace offering. The compromise is more likely a tactical attempt by Hezbollah to restore its shattered image by fabricating an alleged threat against it from an outside source.
Amid declining support in Lebanon – due to blowback from its role in supporting the Assad regime's brutal civil war in Syria – the Iran-backed terrorist group, Hezbollah, seems to be trying to restore credibility among its own constituencies by agreeing to a compromise government, called the Future Patriotic Movement, with the anti-Hezbollah "March 14" bloc. According to some analysts, the move is intended to manufacture conflict with a common enemy – Israel.
Lebanon has been without a functioning government since Prime Minister Najib Mikati resigned last March. Since then, the parties aligned with Shi'ite Hezbollah and its Sunni-led rivals have been locked in a power struggle.
The conflict in neighboring Syria has exacerbated the already volatile sectarian tensions in Lebanon. Syria's rebels are mostly Sunnis, while President Bashar Assad belongs to the Alawite faith, which claims to be an offshoot of Shi'ite Islam, and is supported by Iran and its terrorist proxy, Hezbollah. Former Prime Minister Saad-eddine Rafiq Al-Hariri, leader of the newly-formed Future Patriotic Movement, backs the Sunni-led rebel uprising against the Assad regime.
Hezbollah's brand as a Lebanese organization solely dedicated to advancing Lebanese socio-economic interests and protecting Lebanese territory from Israel has been shattered by its involvement in the Syrian conflict on behalf of the Assad regime. Hezbollah has provided critical backing to Assad's regime in support of its civil war, which has left more than 140,000 Syrians dead, and has no end in sight.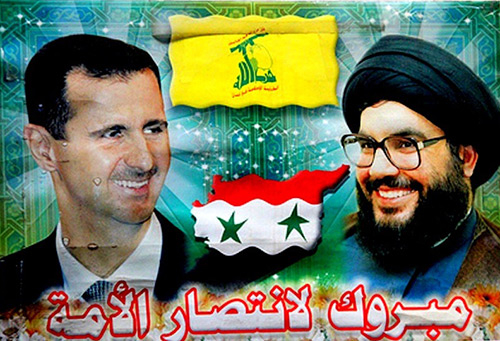 A poster featuring Syrian President Bashar Assad (left) and Hezbollah Secretary-General Hassan Nasrallah.
The "Party of God" has reportedly dedicated several thousand troops to fighting around Syria's biggest cities Aleppo and Damascus. In March 2013, the Syrian Observatory for Human Rights cited the Iran-backed terror group as being instrumental in the Assad regime's victory at the strategically critical Syrian city of Qusayr, which hitherto had served as a stronghold for opposition forces.
For the past ten months Hezbollah has also blocked the formation of a new cabinet in Lebanon, rejecting proposals in which the finance and foreign ministries would have gone to Hezbollah allies while cabinet portfolios related to security would have gone to the "March 14" movement. After persistently undermining Lebanon's security, political and economic institutions, Hezbollah now desperately seems to have needed a pretext for reestablishing its credibility with the people of Lebanon. Arguably, Hezbollah found that pretext last week, when it joined the compromise government.
The agreement between Hezbollah and "March 14" divides the government's 24 portfolios into three groups, with Hezbollah and Hariri's blocs each taking eight ministries, and candidates considered neutral allocating the remainder. Hezbollah secured two key portfolios: Former Energy Minister, Gebran Bassil, became foreign minister, and Former Health Minister, Ali Hassan Khalil, was awarded the Finance portfolio.
Many analysts believe Hezbollah will use these government platforms to spark tensions with Israel, with which Lebanon is formally in a state of war. Hezbollah could force the issue of drilling in contested waters near Leviathan, Dalit, and Karish – the vast fields of natural gas and oil discovered in the deep waters off Israel and Cyprus during the last five years.
The basin is situated outside of Israeli territorial waters but still inside Israel's Exclusive Economic Zone, and is estimated by the U.S. Department of Interior to contain approximately 122 trillion cubic feet of natural gas and 1.6 billion barrels of oil, enough gas to meet Israel's requirements for the next 150 years.
Both Hezbollah and Lebanon's caretaker Energy Minister, Gebran Bassil, have called for the approval of laws to demarcate the country's boundaries to facilitate drilling in those areas. If that scenario occurs, Israel would likely be compelled to protect its vital national interests by responding to Lebanon's claim of sovereignty either legally, militarily or both.
It is also possible that Hezbollah might try to disrupt Israel's off-shore enterprise by targeting rigs and Israeli naval patrols. Hezbollah currently possesses Chinese C-802 anti-ship missiles and possibly Russian Yakhont missiles, all capable of hitting targets up to 180 miles from shore. During the Second Lebanon War in 2006, Hezbollah fired a missile at the INS Hanit corvette, killing four sailors and causing extensive damage.
In a 2011 speech marking the fifth anniversary of the Second Lebanon War, the Secretary-General of Hezbollah, Hassan Nasrallah, urged the Lebanese government to ratify a law to pave the way for companies to start exploring for oil and gas off the country's coast. He said Lebanon should protect these companies because Israel had installations, too. More recently, Nasrallah reportedly insisted that Israel is engaged in a plot to plunder Lebanese oil, a charge possibly initiated as an attempt for political survival.
Given the Iran-backed terror group's costly twin decisions to support the Assad regime in Syria and to impose political gridlock in Lebanon, Hezbollah's "eleventh hour" consent to join a compromise government with "March 14" ought not be viewed through the prism of a peace offering. The compromise is more likely a tactical attempt by Hezbollah to restore its shattered image by fabricating an alleged threat against it from an outside source.
Joseph Raskas is currently completing graduate program at The George Washington University's Graduate School of Political Management.
Related Topics: Israel, Lebanon | Joseph Raskas receive the latest by email: subscribe to the free gatestone institute mailing list
Comment on this item
Subscribe To Mailing List
Tweets by @GatestoneInst
Latest Articles
by Khaled Abu Toameh
To understand what drives a young Palestinian to carry out such a deadly attack, one needs to look at the statements of Palestinian Authority leaders during the past few weeks.
The anti-Israel campaign of incitement reached its peak with Abbas's speech at the UN a few weeks ago, when he accused Israel of waging a "war of genocide" in the Gaza Strip. Abbas made no reference to Hamas's crimes against both Israelis and Palestinians.
Whatever his motives, it is clear that the man who carried out the most recent attack, was influenced by the messages that Abbas and the Palestinian Authority leadership have been sending their people.
by Richard Kemp
Would General Allen -- or any other general today -- recommend contracting out his country's defenses if it were his country at stake? Of course not.
The Iranian regime remains dedicated to undermining and ultimately destroying the State of Israel. The Islamic State also has Israel in its sights and would certainly use the West Bank as a point from which to attack, if it were open to them.
There can be no two-state solution and no sovereign Palestinian Arab state west of the Jordan, however desirable those things might be. The stark military reality is that Israel cannot withdraw its forces from the West Bank.
Fatah leaders ally themselves with the terrorists of Hamas, and, like Hamas, they continue to reject the every existence of the State of Israel.
If Western leaders actually want to help, they should use all diplomatic and economic means to make it clear to the Palestinians that they will never achieve an independent and sovereign state while they remain set on the destruction of the State of Israel.
by Louis René Beres
The Palestine Liberation Organization [PLO], forerunner of today's Palestinian Authority, was founded in 1964, three years before Israel came into the unintended control of the West Bank and Gaza. What therefore was the PLO planning to "liberate"?
Why does no one expect the Palestinians to cease all deliberate and random violence against Israeli civilians before being considered for admission to statehood?
On June 30, 1922, a joint resolution of both Houses of Congress of the United States endorsed a "Mandate for Palestine," confirming the right of Jews to settle anywhere they chose between the Jordan River and the Mediterranean Sea. This is the core American legacy of support for a Jewish State that President Obama now somehow fails to recall.
A sovereign state of Palestine, as identified by the Arabs -- a Muslim land occupied by "Palestinian" Arabs -- has never existed; not before 1948, and not before 1967. From the start, it was, and continues to be, the Arab states -- not Israel -- that became the core impediment to Palestinian sovereignty.
by Timon Dias
It looks as if this new law is meant to serve as a severe roadblock to parties that would like to dismantle the EU in a democratic and peaceful way from within.
A rather dull semantic trick pro-EU figures usually apply, is calling their opponents "anti-Europe."
Most Shared
Most Viewed