Islamist Terror Challenge Continues in Britain
Moderate, traditional, spiritual and even conservative British Muslims should hearken to London Mayor Boris Johnson's message and support effective measures to curb the spread of extremist ideology among their vulnerable offspring. Not only are these practices morally abhorrent, and deserve better than the complicity of silence, but in addition, the survival of Islam as a normal component of the religious spectrum in the UK is at stake.
As Britain continues to wrestle with the challenge of radical Islam and its product, terrorism, on March 2, 2014, London Mayor Boris Johnson contributed a column to one of Britain's leading journals, The Sunday Telegraph, "The children taught at home about murder and bombings."
Johnson's commentary correctly placed radical Islamist ideology in the same category with pedophilia and female genital mutilation (FGM) as moral abominations with which the British political class has failed adequately to contend, and continued, "I worry that their work is being hampered by what I am obliged to call political correctness. ... There is built in to the British system a reluctance to be judgmental about someone else's culture, even if that reluctance places children at risk" – a decision, Johnson said, that led to abusers being "emboldened." Johnson continued:
We have thousands of victims [of FGM] in Britain, thousands of girls being cut every year, and yet we have managed not a single prosecution -- let alone a conviction. Again, there is that fatal squeamishness about intervening in the behavior of a 'protected group'. ... We need to be stronger and clearer in asserting our understanding of British values. That is nowhere more apparent [than] in the daily job of those who protect us all from terror -- and who are engaged in tackling the spread of extremist and radical Islam.

We are familiar by now with the threat posed by the preachers of hate, the extremist clerics who can sow the seeds of madness in the minds of impressionable young people. We are watching like hawks to see who comes back from Syria and the ideas they have picked up.
The horrific bloodshed in Syria has indeed attracted terror recruits from British and other Muslim communities, and Johnson's warning was timely. On the same day he published his column in The Sunday Telegraph -- March 2 -- one of that paper's more "progressive" competitors, The Observer, which is the weekend edition of The Guardian, reported that Moazzem Begg, 45, a resident of Birmingham, in the British Midlands, interned for almost three years as a terrorist suspect in the US base at Guantanamo Bay, Cuba, was ordered held in custody for terrorism-related offences involving Syria.
Begg's arrest had been revealed by The Daily Telegraph on February 25.
CNN International stated on March 3, 2014, that Begg was "accused of providing instruction and training for terrorism and funding terrorism overseas," as disclosed by West Midlands Police. Begg is due to return to court on March 14, The Observer said.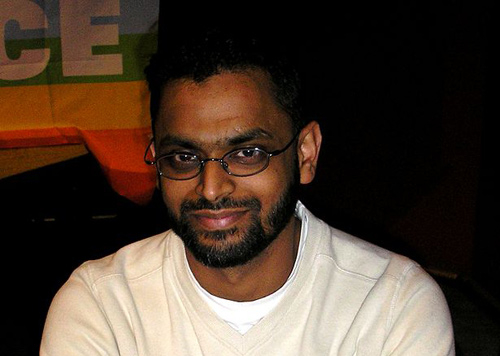 Former Guantanamo detainee Moazzam Begg was recently arrested on suspicion of Syria-related terrorism offences. (Image source: Wikimedia Commons)
The Observer had noted that a female Birmingham resident, Gerrie Tahari, 44, was also in custody after she was similarly charged with facilitating terrorism overseas, and that two more men, aged 20 and 36, were arrested at the same time in Birmingham and held by the authorities. The original February 25 Telegraph account of the case described the 20-year old as Tahari's son.
Mayor Johnson warned of "reluctance by the social services to intervene.... A child may be taken into care if he or she is being exposed to pornography, or is being abused -- but not if the child is being habituated to this utterly bleak and nihilistic [radical Muslim] view of the world that could lead them to become murderers…"
As Johnson wrote, "Pedophilia, FGM, Islamic radicalization -- to some extent, at some stage, we have tiptoed round them all for fear of offending this or that minority. It is children who have suffered. ... The law should obviously treat radicalization as a form of child abuse."
Moderate, traditional, spiritual, and even conservative British Muslims should hearken to Johnson's message and support effective measures to curb the spread of extremist ideology among their vulnerable offspring. Not only are these practices morally abhorrent, and deserve more than the complicity of silence, but in addition, the survival of Islam as a normal component of the religious spectrum in the UK is at stake.
Related Topics: United Kingdom | Irfan Al-Alawi receive the latest by email: subscribe to the free gatestone institute mailing list
Reader comments on this item
| | | |
| --- | --- | --- |
| Title | By | Date |
| Wherever Muslims are, there are problems [36 words] | Alexander Scheiner, Israel | Mar 21, 2014 06:05 |
| Get the terminology right [80 words] | Bart Benschop | Mar 21, 2014 03:28 |
| Islamist terror challenge [77 words] | Kingsley Beattie | Mar 20, 2014 14:58 |
| ↔ Islamist terror challenge [8 words] | DockyWocky | Mar 21, 2014 09:04 |
| A Question for Irfan Al-Alawi...and all "moderate,traditional...even conservative" muslims.... [278 words] | Steven Buckley | Mar 20, 2014 13:01 |
| What is radical about Radical Islam? [169 words] | The 27th Comrade | Mar 20, 2014 09:05 |
| There is only Islam [130 words] | John Galt III | Mar 20, 2014 08:50 |
| Women and girls the victims [189 words] | Sue Hickey | Mar 20, 2014 07:00 |
Comment on this item
Subscribe To Mailing List
Tweets by @GatestoneInst
Latest Articles
by Khaled Abu Toameh
"Armed robbery in broad daylight." — Palestinians, after Hamas "seized" $750,000 from Gaza bank.
Fatah accused Hamas of "squandering" $700 million of financial aid earmarked for the Palestinian victims of war. Fatah wants to ensure that the millions of dollars intended for the Gaza Strip will pass through its hands and not end up in Hamas's bank accounts. Relying on Fatah in this regard is like asking a cat to guard the milk.
The head of the Palestinian Authority's Anti-Corruption Commission revealed that his group has retrieved $70 million of public funds fund embezzled by Palestinian officials. Arab and Western donors need to make sure that their money does not end up (once again) in the wrong hands. Without a proper mechanism of accountability and transparency, hundreds of millions of dollars are likely to find their way into the bank accounts of both Hamas and Fatah leaders.
by Mudar Zahran
"If Hamas does not like you for any reason all they have to do now is say you are a Mossad agent and kill you." — A., a Fatah member in Gaza.
"Hamas wanted us butchered so it could win the media war against Israel showing our dead children on TV and then get money from Qatar." — T., former Hamas Ministry officer.
"They would fire rockets and then run away quickly, leaving us to face Israeli bombs for what they did." — D., Gazan journalist.
"Hamas imposed a curfew: anyone walking out in the street was shot. That way people had to stay in their homes, even if they were about to get bombed. Hamas held the whole Gazan population as a human shield." — K., graduate student
"The Israeli army allows supplies to come in and Hamas steals them. It seems even the Israelis care for us more than Hamas." — E., first-aid volunteer.
"We are under Hamas occupation, and if you ask most of us, we would rather be under Israeli occupation… We miss the days when we were able to work inside Israel and make good money. We miss the security and calm Israel provided when it was here." — S., graduate of an American university, former Hamas sympathizer.
by Ben Cohen
Now, with the Islamic State's self-proclaimed caliphate having captured key oil wells in the Middle East this year, foreign oil has become an even more lethal financial weapon-of-choice for those seeking to destroy democracy and further escalate the War on Terror.
That President Barack Obama failed even to mention oil as a critical factor in the war against IS during his speech to the nation on September 10, is an omission both revealing and dangerous in terms of how his administration wants to depict the stakes involved in this latest confrontation with the jihadis.
by Lawrence A. Franklin
One Pakistani recruiter of child suicide bombers describes these children as "tools provided by God."
Another Muslim cleric in a madrassa [Islamic boys' school] describes child suicide bombers as "a gift from Allah that we have an unlimited number willing to be sacrificed to teach Americans a lesson."
Using children as suicide bombers will stop when... they stop "condoning the killing of innocents."
by Denis MacEoin
"No religion condones the killing of innocents." — U.S. President Barack Obama, September 10, 2014.
"Islam is a religion of peace." — U.K. Prime Minister David Cameron, September 13, 2014.
"There is a place for violence in Islam. There is a place for jihad in Islam." — U.K. Imam Anjem Choudary, CBN News, April 5, 2010.
Regrettably it is impossible to re-interpret the Qur'an in a "moderate" manner. The most famous modern interpretation by Sayyid Qutb (d. 1966), the Muslim Brotherhood ideologue, leads the reader again and again into political territory, where jihad is at the root of action.
If they deviated from the true faith -- as we are seeing in the Islamic State today -- "backsliders," like pagans, were to be fought until they either accepted Islam or were killed.
In India alone, between 60 and 80 million Hindus may have been put to death by Muslim armies between the years 1000-1525.
Most Shared
Most Viewed