Islamist Terror Challenge Continues in Britain
Moderate, traditional, spiritual and even conservative British Muslims should hearken to London Mayor Boris Johnson's message and support effective measures to curb the spread of extremist ideology among their vulnerable offspring. Not only are these practices morally abhorrent, and deserve better than the complicity of silence, but in addition, the survival of Islam as a normal component of the religious spectrum in the UK is at stake.
As Britain continues to wrestle with the challenge of radical Islam and its product, terrorism, on March 2, 2014, London Mayor Boris Johnson contributed a column to one of Britain's leading journals, The Sunday Telegraph, "The children taught at home about murder and bombings."
Johnson's commentary correctly placed radical Islamist ideology in the same category with pedophilia and female genital mutilation (FGM) as moral abominations with which the British political class has failed adequately to contend, and continued, "I worry that their work is being hampered by what I am obliged to call political correctness. ... There is built in to the British system a reluctance to be judgmental about someone else's culture, even if that reluctance places children at risk" – a decision, Johnson said, that led to abusers being "emboldened." Johnson continued:
We have thousands of victims [of FGM] in Britain, thousands of girls being cut every year, and yet we have managed not a single prosecution -- let alone a conviction. Again, there is that fatal squeamishness about intervening in the behavior of a 'protected group'. ... We need to be stronger and clearer in asserting our understanding of British values. That is nowhere more apparent [than] in the daily job of those who protect us all from terror -- and who are engaged in tackling the spread of extremist and radical Islam.

We are familiar by now with the threat posed by the preachers of hate, the extremist clerics who can sow the seeds of madness in the minds of impressionable young people. We are watching like hawks to see who comes back from Syria and the ideas they have picked up.
The horrific bloodshed in Syria has indeed attracted terror recruits from British and other Muslim communities, and Johnson's warning was timely. On the same day he published his column in The Sunday Telegraph -- March 2 -- one of that paper's more "progressive" competitors, The Observer, which is the weekend edition of The Guardian, reported that Moazzem Begg, 45, a resident of Birmingham, in the British Midlands, interned for almost three years as a terrorist suspect in the US base at Guantanamo Bay, Cuba, was ordered held in custody for terrorism-related offences involving Syria.
Begg's arrest had been revealed by The Daily Telegraph on February 25.
CNN International stated on March 3, 2014, that Begg was "accused of providing instruction and training for terrorism and funding terrorism overseas," as disclosed by West Midlands Police. Begg is due to return to court on March 14, The Observer said.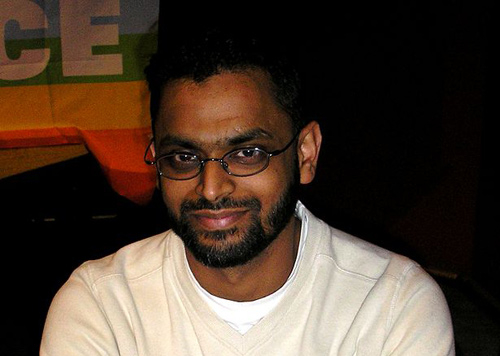 Former Guantanamo detainee Moazzam Begg was recently arrested on suspicion of Syria-related terrorism offences. (Image source: Wikimedia Commons)
The Observer had noted that a female Birmingham resident, Gerrie Tahari, 44, was also in custody after she was similarly charged with facilitating terrorism overseas, and that two more men, aged 20 and 36, were arrested at the same time in Birmingham and held by the authorities. The original February 25 Telegraph account of the case described the 20-year old as Tahari's son.
Mayor Johnson warned of "reluctance by the social services to intervene.... A child may be taken into care if he or she is being exposed to pornography, or is being abused -- but not if the child is being habituated to this utterly bleak and nihilistic [radical Muslim] view of the world that could lead them to become murderers…"
As Johnson wrote, "Pedophilia, FGM, Islamic radicalization -- to some extent, at some stage, we have tiptoed round them all for fear of offending this or that minority. It is children who have suffered. ... The law should obviously treat radicalization as a form of child abuse."
Moderate, traditional, spiritual, and even conservative British Muslims should hearken to Johnson's message and support effective measures to curb the spread of extremist ideology among their vulnerable offspring. Not only are these practices morally abhorrent, and deserve more than the complicity of silence, but in addition, the survival of Islam as a normal component of the religious spectrum in the UK is at stake.
Related Topics: United Kingdom | Irfan Al-Alawi receive the latest by email: subscribe to the free gatestone institute mailing list
Reader comments on this item
| | | |
| --- | --- | --- |
| Title | By | Date |
| Wherever Muslims are, there are problems [36 words] | Alexander Scheiner, Israel | Mar 21, 2014 06:05 |
| Get the terminology right [80 words] | Bart Benschop | Mar 21, 2014 03:28 |
| Islamist terror challenge [77 words] | Kingsley Beattie | Mar 20, 2014 14:58 |
| ↔ Islamist terror challenge [8 words] | DockyWocky | Mar 21, 2014 09:04 |
| A Question for Irfan Al-Alawi...and all "moderate,traditional...even conservative" muslims.... [278 words] | Steven Buckley | Mar 20, 2014 13:01 |
| What is radical about Radical Islam? [169 words] | The 27th Comrade | Mar 20, 2014 09:05 |
| There is only Islam [130 words] | John Galt III | Mar 20, 2014 08:50 |
| Women and girls the victims [189 words] | Sue Hickey | Mar 20, 2014 07:00 |
Comment on this item
Subscribe To Mailing List
Tweets by @GatestoneInst
Latest Articles
by Burak Bekdil
It was the Islamists who, since they came to power in the 2000s, have reaped the biggest political gains from the "Palestine-fetish."
But the Turkish rhetoric on "solidarity" with our Palestinian brothers often seems askew to how solidarity should be.
by Raheel Raza
One blogger writes that Malala hates Pakistan's military. I believe it is the other way around.
I would so like to see the day when Malala is welcomed back in Pakistan, with the whole country cheering.
by Francesco Sisci
Democratic evolution in China was being seriously considered. The failures of U.S. support for democracy in Afghanistan, Iraq, Egypt and Libya gave new food for thought to those opposed to democracy. Lastly, the United States did not strongly oppose the anti-democratic coup d'état that overthrew a democratically elected government in Thailand.
On the other hand, Russia -- dominated by Vladimir Putin, a new autocrat determined to stifle democracy in Russia -- provided a new model.
The whole of Eastern Europe and most of Latin America, formerly in the clutches of dictatorships, are now efficient democracies. This seems to indicate that while democracy cannot be parachuted into a country, there is a broader, longer-term global trend toward democracy and that its growth depends on local conditions.
As economic development needed careful planning, political reforms need even greater planning. The question remains: is China preparing for these political reforms?
by Peter Martino
The United Kingdom Independence Party [UKIP] not only managed to halve the Conservative vote, but also the Labour Vote and the Liberal Democrat vote.
UKIP stands for small government, low taxes, and preservation of Britain's identity and sovereignty, values that appeal to Conservative voters; and it wants to pull the United Kingdom out of the European Union. UKIP also stands for strong policies on law and order and immigration, which appeal to the traditional old Labour heartlands.
Strategically, to pick up Labour votes, UKIP would need to move to the left, but examples in France, Switzerland, Denmark and Geert Wilders's PVV in the Netherlands, show that it is possible to attract voters from both the left and the right.
by Peter Huessy
Critics of missile defense must have seen their whole multi-decade, multi-million dollar campaign to stop U.S. missile defenses in danger of crashing to the ground.
"All flight tests of the weapon have been rigged," William Broad, New York Times, June 9, 2000.
The success of Iron Dome apparently gave lie to the repeated claims that missile defense tests are rigged; that missile defense systems cannot work; that they do not save lives, and that the threat of rocket attacks must be dealt with through appeasement and concessions.
Most Shared
Most Viewed