Who is in More Trouble: Wilders or The Netherlands?
"Freedom of speech is a great thing and we have said nothing that is not allowed." — Geert Wilders, MP and leader of the Party of Freedom.

Now, the police have apparently decided to become part of the prosecution. They have drafted pre-filled "Wilders forms" to press charges and have offered to come to people's homes to help them fill out the paperwork.
Dutch Freedom Party leader Geert Wilders again made international headlines. Nazi comparisons are rampant, self-proclaimed victims are lining up to sue and now more than ever there is a chance that Wilders actually might be convicted of hate speech.
In an interview on the Dutch Public News Service [NOS] on March 12, Wilders said (10:10): "[People] will now be voting for a safer, a more social, and... in any case a city with fewer costs, and, if at all possible, with fewer Moroccans."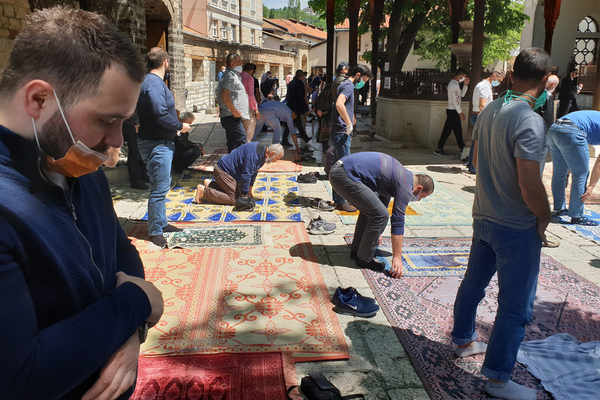 Geert Wilders is interviewed while campaigning, March 12, 2014. (Image source: Video screenshot from Dutch Public News)
Wilders has the numbers to support his concern. Statistics show that 65% of all Moroccan youths have been arrested by police, and that one third of that group have been arrested more than five times.
Wilders emphasizes the inordinate costs associated with the disproportionately high number of Dutch Moroccans registered as social welfare beneficiaries and who are implicated in welfare fraud.
Based on those numbers, Wilders seems to imply that if there were not such a large number of Moroccans, Dutch crime rates and social welfare costs would significantly drop.
Wilder proposes that Dutch Moroccans who are habitual criminal offenders should be deprived of their Dutch passports and sent back to Morocco, an act that is possible as all Moroccans and their descendants are, by Moroccan law, prohibited from relinquishing their Moroccan passports.
Dutch Moroccan criminals are known to be highly indifferent to sentences in Dutch prisons, which are known for their comfort. In a majority, Dutch prisons are populated by Dutch Moroccans.
Moroccans also apparently derive status from prison sentences. Evidently, upon their release, many gloat. Apparently it is only the thought of having to trade the luxury of the Netherlands -- even prison -- for Morocco that strikes terror into the hearts of potential offenders. In Italy, the same threat is already in effect and acts as a successful deterrent. It seems as if it is only the threat of deportation, more than any other measure, that is likely to deter young Moroccans from a life of crime.
Although the proposal is being used by Wilders's opponents as either a laughing stock or beating stick, the merits of the proposal are rarely elaborated on, including even by Wilders. A recent poll showed 76% of Dutch voters to be in favor of the measure.
The NOS, interviewing Wilders again on March 14, asked him if he actually meant what he had said regarding Moroccans in general, possibly expecting him to say that he had only been referring to Dutch Moroccan criminals. But Wilders stood firm. He emphasized that his concern lay with the number of Moroccans currently flooding the crime statistics, and repeatedly stated, "The fewer Moroccans, the better."
"Can you imagine that people are startled by your remarks?" he was asked.
"It is unfortunate if people are startled by the truth," he said.
This latest round of anger against Wilders began after the announcement of voting results on March 19. At the end of his victory speech, Wilders remarked, "And the third question is, and I'm actually not allowed to say this, because I'm being sued, and there might even be Social Democrat DAs that would prosecute me, but freedom of speech is a great thing, and we have said nothing that is not allowed. We have said nothing that is not accurate. So I am asking you now: Do you want, in this city and the Netherlands, more or fewer Moroccans?" The crowd replied: "Fewer, fewer, fewer!"
That time, however, after the event, Wilders did nuance his views. He stated that he was referring to criminals, and only in favor of the voluntary repatriation of law-abiding Moroccans.
Now the police have apparently decided to become part of the prosecution. They have drafted pre-filled "Wilders forms" to press charges and have offered to come to people's homes to fill out the paperwork.
Is Wilders a racist? He recently tweeted: "Support for Moroccan businesswomen Elou Akhiat. It is a shame she receives death threats over opening a wine bar."
Related Topics: Timon Dias receive the latest by email: subscribe to the free gatestone institute mailing list
Reader comments on this item
| | | |
| --- | --- | --- |
| Title | By | Date |
| Geert is a true patriot of his country [198 words] | Jay Murray | Apr 30, 2014 20:30 |
| Geert Wilders [134 words] | Dirk van der Haar | Apr 29, 2014 18:43 |
| Widers-ness [162 words] | John | Apr 29, 2014 04:08 |
| Lawfare has the potential to bring us down [97 words] | Dallas | Apr 28, 2014 12:33 |
| Geert Wilders injustice [66 words] | B C Wade | Apr 27, 2014 20:26 |
| I see the future... [9 words] | Gnarlodious | Apr 26, 2014 10:40 |
| Geert Wilders a loyal Dutchman [121 words] | Willem Hekman | Apr 25, 2014 06:03 |
| Who is in more trouble: Wilders or the Netherlands? [101 words] | Barbara Griffith | Apr 24, 2014 20:04 |
| Housecleaning in the future [29 words] | R.H. | Apr 24, 2014 16:20 |
| Braveheart! [112 words] | Ephesian | Apr 24, 2014 11:50 |
| Wilders speaks the truth [72 words] | Antony Wibberley | Apr 24, 2014 11:12 |
| Muslim indifference [204 words] | Edward Cline | Apr 24, 2014 10:47 |
| Nonsense, get the facts right [47 words] | Bart Benschop | Apr 24, 2014 06:32 |
Comment on this item
Subscribe To Mailing List
Tweets by @GatestoneInst
Latest Articles
by Soeren Kern
"In the Quran it is not allowed for you to feel sorry for non-Muslims. I don't feel sorry for him." — Anjem Choudary.
"Eventually the whole world will be governed by Shari'ah & Muslims will have authority over China Russia USA etc This is the promise of Allah." — Anjem Choudary.
"Under the Koran the sale of alcohol is prohibited and if one were to also drink alcohol, that would be 40 lashes." — Anjem Choudary.
"We [Muslims] take the Jizya, which is ours anyway. The normal situation is to take money from the kuffar [non-Muslim]. They give us the money. You work, give us the money, Allahu Akhbar. We take the money." — Anjem Choudary.
by Steven J. Rosen
The U.S. State Department has chosen to act as UNRWA's patron and the protector of its mission, perpetuating and expanding the refugee issue as a source of conflict against Israel.
Apparently more Israeli houses hurt peace, but multiplying the number of refugees is fine.
by Mina Ahadi, Nazanin AfshinJam, Shabnam Assadollahi and Shadi Paveh
Reyhaneh Jabbari has been transferred to Rajai-Shahr Prison to be hanged — while the world parties at the UN and gets ready to permit Iran nuclear capability.
by Salim Mansur
Broadly speaking, the struggle within Islam is between Muslims who embrace the values of the modern world in terms of freedom, individual rights, gender equality and democracy on the one side, and Muslims opposing these values and insisting on a Sharia-based legal system on the other. Any Muslim who even questions this version of Islam they refer to as a heretic or, worse, an apostate to be killed.
For Muslims who embrace modernity, Islam is a matter of personal belief, not a political system.
A reformed Islam -- greatly desired and sought after by swelling numbers of Muslims -- cannot succeed without the support of non-Muslims.
by Guy Millière
Many Europeans who would laugh at the idea of negotiating with ISIS or al-Qaeda say that Israel should negotiate with Hamas.
Almost nobody sees that the invention of the "Palestinian people" has transformed millions of Arabs into a genocidal weapon to be used against the Israelis, and even, as in Europe recently, the Jews. Transforming people into a genocidal weapon is a barbaric act.
Israel was urged to find ways to coexist peacefully with people who did not want to co-exist with it. Terrorism against Israel fast became acceptable: a "good" terrorism.
Hamas's stated aim is the destruction of Israel. Its stated way to achieve this aim is terror attacks, called "armed struggle" by Hamas leaders. To this day the Palestinian Authority has not ceased praising and promoting terrorism.
If hatred of Israel is increasing in the U.S., it is largely confined to academics and other extreme radical circles, many of which are funding or receiving funding from Soviet-style agitprop organizations. Journalists are recruited to disseminate descriptions of "facts" as if they were real facts. Pseudo-historians rewrote the history of the Middle East. The falsified version of history replaced history.
Most Shared
Most Viewed