Vicious Attack at Women's Prison in Iran
Other countries just elected to a five-year term on the United Nations Commission for Women's rights are Sudan and Pakistan, which, along with Iran, still practice burying women to their waists, then stoning them to death.

"[T]he condition of human rights has significantly worsened in Iran." — Dr. Majid Rafizadeh, Al Arabiya
An attack in Tehran's women's prison, Shahr-Ray, similar to the attack on prisoners in Ward 350 of Evin prison a week ago, was reported by reliable sources inside Iran.
According to the report, widely published on social media and on the Rowzane News website, on April 27, 2014 all doors to Shahr Ray prison were locked while five men attacked the women in Wards 1 and 2, a 190 square meter section [about 2000 square feet] that houses 240 female prisoners.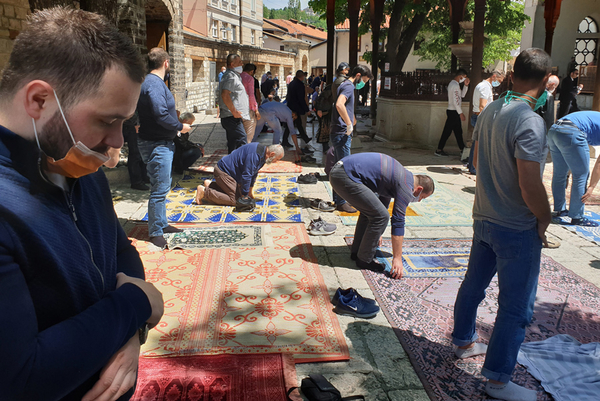 Shahr-Ray women's prison.
The night guard, Mr. Asghar Kolivand, along with four soldiers -- Mohammad Mohamadzade, one simply known as Mr. Tartar and two unnamed -- descended upon the women. They beat them with belts, batons and electric cables. The guard responsible for the ward was mentioned as Sima Boormand. Prison phones were cut off and all doors to the outside remained locked for some time after the attack.
Shahr-Ray prison is where 26 year old Reyhaneh Jabbari -- whom an international campaign is trying to save from being executed -- is being held. Under threat of rape, Jabbari stabbed a man in self-defense and was sentenced to death. The Islamic Republic of Iran, in general, does not recognize self-defense in its courts, especially in cases of rape.
Since late March 2014, the campaign to save Reyhaneh Jabbari has brought attention internationally and even inside Iran, to the corrupt judicial system in the Islamic Republic; its unnaturally high conviction rate; and the recent surge in the number of executions, while at the same time shining a light on the lack of women's rights in a country under strict seventh century Islamic laws.
On April 23, 2014, the United Nations grotesquely elected the Islamic Republic of Iran, along with more than a dozen other repressive regimes -- including Sudan; Mauritania, where slavery is still rampant; Russia; China; Cuba and Turkey -- to top committees responsible for protecting women's rights and overseeing the work of human rights organizations. Other countries elected to a five-year term on the Commission for Women's Rights were Sudan and Pakistan, which, along with Iran, still practice burying women to their waists, then stoning them to death.
This is the second attack this month on prisoners inside Iran. On April 17, 2014, security forces brutally attacked and seriously injured political prisoners in Ward 350 of Evin prison.
Last year alone, Iran put 369 people to death, more than any other country except China, according to UN Watch [Vol.487, April 25, 2014].
In a surge of executions that has literally doubled since the election of the "moderate" President Hassan Rouhani, Iran has put to death at least 188, or nearly half that amount, in the first quarter of 2014 alone.
"[T]he condition of human rights has significantly worsened in Iran," according to political scientist and Harvard Scholar, Dr. Majid Rafizadeh, with "the increase in the persecution of ethnic and religious minorities, the cracking down on oppositional political figures, the mistreatment of political prisoners, arbitrary detention and unfair trials. ... not even keeping the status of human rights similar to that of his predecessor Mahmoud Ahmadinejad's era."
Related Topics: Iran | Shadi Paveh receive the latest by email: subscribe to the free gatestone institute mailing list
Comment on this item
Subscribe To Mailing List
Tweets by @GatestoneInst
Subscribe To Mailing List
Latest Articles
by Soeren Kern
Hamas would likely resort to violence to thwart any attempts to disarm the group. It is therefore highly unlikely the Europeans would confront Hamas in any meaningful way.
Spanish intelligence agents met secretly with Hezbollah operatives, who agreed to provide "escorts" to protect Spanish UNIFIL patrols. The quid pro quo was that Spanish troops would look the other way while Hezbollah was allowed to rearm for its next war with Israel. Hezbollah's message to Spain was: mind your own business.
If the European experience with Hezbollah in Lebanon is any indication, not only will Hamas not be disarmed, it will be rearmed as European monitors look on and do nothing.
What is clear is that European leaders have never been committed to honoring either the letter or the spirit of UN Resolutions 1559, 1680 and 1701, all of which were aimed at preventing Hezbollah from rearming.
by Debalina Ghoshal
According to former Bush administration official Stephen Rademaker, for the United States to respond to Russian violations of the treaty by pulling out of it would be "welcome in Moscow," which is "wrestling with the question of how they terminate [the treaty]" and thus, the United States should not make it easier for the Russians to leave.
by Guy Millière
Belgian security services have estimated that the number of European jihadists in Syria may be over 4000.
European leaders have directed their nastiest comments against the Jewish state, none of them has asked why Palestinian organizations in Gaza put their stockpiles of weapons in hospitals, homes, schools and mosques, or their command and control centers at the bottom of large apartment buildings or underneath hospitals. None of them has even said that Hamas is a terrorist organization despite its genocidal charter.
The majority of them are wedded to the idea of redistribution. Their policies are anti-growth, do not afford people any economic opportunity, and are what caused these economic crises in Europe in the first place. The United States seems to be following these thoroughly failed policies as well.
"Europe could not stay the same with a different population in it." — Christopher Caldwell, Reflections on the Revolution in Europe.
by Raymond Ibrahim
"I abducted your girls. I will sell them on the market, by Allah... There is a market for selling humans. Allah says I should sell." — Abubakar Shekau, leader of Boko Haram.
Hillary Clinton repeatedly refused to designate Boko Haram a terrorist organization.
In Malaysia -- regularly portrayed in the West as a moderate Muslim nation -- any attempt to promote religions other than Islam is illegal.
"The reason they want to kill me is very clear -- it is because of being a convert to Christianity." — Hassan Muwanguzi, Uganda.
by Dexter Van Zile
Rev. Hanna Massad does not mention that perhaps Hamas actually wants the blockade to end so it can bring in more weapons and cement to build attack-tunnels so it can "finish the job."
Hamas does not just admit to using human shields, it brags about using human shields. Why does Massad have to inject an air of uncertainty about Hamas's use of human shields when no such uncertainty exists?
The problem is that any self-respecting journalist would confront Massad with a follow-up question about Hamas's ideology and violence, but not the folks at Christianity Today.
Most Shared
Most Viewed