Vicious Attack at Women's Prison in Iran
Other countries just elected to a five-year term on the United Nations Commission for Women's rights are Sudan and Pakistan, which, along with Iran, still practice burying women to their waists, then stoning them to death.

"[T]he condition of human rights has significantly worsened in Iran." — Dr. Majid Rafizadeh, Al Arabiya
An attack in Tehran's women's prison, Shahr-Ray, similar to the attack on prisoners in Ward 350 of Evin prison a week ago, was reported by reliable sources inside Iran.
According to the report, widely published on social media and on the Rowzane News website, on April 27, 2014 all doors to Shahr Ray prison were locked while five men attacked the women in Wards 1 and 2, a 190 square meter section [about 2000 square feet] that houses 240 female prisoners.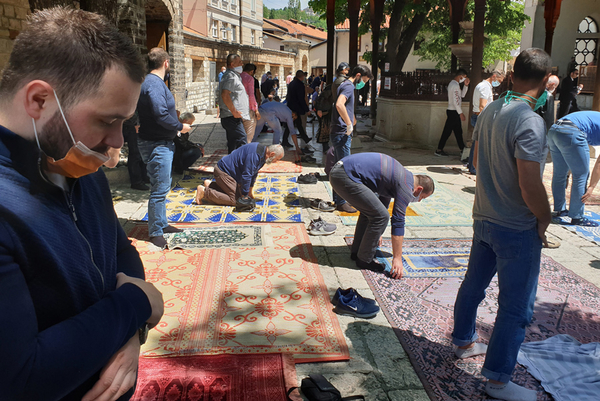 Shahr-Ray women's prison.
The night guard, Mr. Asghar Kolivand, along with four soldiers -- Mohammad Mohamadzade, one simply known as Mr. Tartar and two unnamed -- descended upon the women. They beat them with belts, batons and electric cables. The guard responsible for the ward was mentioned as Sima Boormand. Prison phones were cut off and all doors to the outside remained locked for some time after the attack.
Shahr-Ray prison is where 26 year old Reyhaneh Jabbari -- whom an international campaign is trying to save from being executed -- is being held. Under threat of rape, Jabbari stabbed a man in self-defense and was sentenced to death. The Islamic Republic of Iran, in general, does not recognize self-defense in its courts, especially in cases of rape.
Since late March 2014, the campaign to save Reyhaneh Jabbari has brought attention internationally and even inside Iran, to the corrupt judicial system in the Islamic Republic; its unnaturally high conviction rate; and the recent surge in the number of executions, while at the same time shining a light on the lack of women's rights in a country under strict seventh century Islamic laws.
On April 23, 2014, the United Nations grotesquely elected the Islamic Republic of Iran, along with more than a dozen other repressive regimes -- including Sudan; Mauritania, where slavery is still rampant; Russia; China; Cuba and Turkey -- to top committees responsible for protecting women's rights and overseeing the work of human rights organizations. Other countries elected to a five-year term on the Commission for Women's Rights were Sudan and Pakistan, which, along with Iran, still practice burying women to their waists, then stoning them to death.
This is the second attack this month on prisoners inside Iran. On April 17, 2014, security forces brutally attacked and seriously injured political prisoners in Ward 350 of Evin prison.
Last year alone, Iran put 369 people to death, more than any other country except China, according to UN Watch [Vol.487, April 25, 2014].
In a surge of executions that has literally doubled since the election of the "moderate" President Hassan Rouhani, Iran has put to death at least 188, or nearly half that amount, in the first quarter of 2014 alone.
"[T]he condition of human rights has significantly worsened in Iran," according to political scientist and Harvard Scholar, Dr. Majid Rafizadeh, with "the increase in the persecution of ethnic and religious minorities, the cracking down on oppositional political figures, the mistreatment of political prisoners, arbitrary detention and unfair trials. ... not even keeping the status of human rights similar to that of his predecessor Mahmoud Ahmadinejad's era."
Related Topics: Iran | Shadi Paveh receive the latest by email: subscribe to the free gatestone institute mailing list
Comment on this item
Subscribe To Mailing List
Tweets by @GatestoneInst
Subscribe To Mailing List
Latest Articles
by Soeren Kern
"There is no territory more occupied than the body of a Palestinian woman, or a strip... severed by the violent imposition of the superstitions of Allah and the followers of Mohammed. We had better not even mention the situation of Palestinian homosexuals. This selective outrage by top progressives when it involves Israel is indeed anti-Semitism." — Alberto Moyano, Spanish newspaper editor.
"It is possible legitimately to criticize Israel. But it smells fishy when all of the blame is attributed to Israel, without even mentioning the small detail that a terrorist and jihadist group that rules Gaza has infringed on every conceivable humanitarian principle, by using civilians as human shields, and launching missiles from apartment blocks, while their leaders are living comfortable in Qatar, guests of a sheik." — Ángel Mas, Spanish analyst.
There has been virtually no public outcry whatsoever in Spain over the deaths of more than 160,000 people during three years of fighting in Syria; the decimation of ancient Christian communities at the hands of Islamists in Iraq; the kidnapping of 300 girls by Islamists in Nigeria; or the downing of a civilian passenger plane in Ukraine.
"The most anti-Semitic people are supposedly the most educated and well-informed." — Spanish Ministry of Foreign Affairs report on anti-Semitism in Spain.
by Khaled Abu Toameh
There is growing concern in Ramallah, Cairo, Riyadh and Dubai that the U.S. Administration is working to prevent the collapse of Hamas.
"The Americans mistakenly think that moderate political Islam, which is represented by the Muslim Brotherhood, will be able to combat radical Islam. The Americans are trying to bring the Muslim Brotherhood back to the region." — Palestinian official, Ramallah.
The Iranians, with whom the U.S. is now negotiating on nuclear weapons -- amid fears in the Middle East that the U.S. will capitulate to Tehran's demands if it has not effectively capitulated to them already -- have now joined Qatar and Turkey in opposing any attempt to confiscate Hamas's weapons.
The Paris conference was actually a spit in the face to the anti-Hamas forces in the Arab world. By failing to invite the Palestinian Authority to the conference, Kerry indicated that he does not see any role for Abbas and his loyalists in a post-Hamas Gaza Strip.
Most Shared
Most Viewed