Vicious Attack at Women's Prison in Iran
Other countries just elected to a five-year term on the United Nations Commission for Women's rights are Sudan and Pakistan, which, along with Iran, still practice burying women to their waists, then stoning them to death.

"[T]he condition of human rights has significantly worsened in Iran." — Dr. Majid Rafizadeh, Al Arabiya
An attack in Tehran's women's prison, Shahr-Ray, similar to the attack on prisoners in Ward 350 of Evin prison a week ago, was reported by reliable sources inside Iran.
According to the report, widely published on social media and on the Rowzane News website, on April 27, 2014 all doors to Shahr Ray prison were locked while five men attacked the women in Wards 1 and 2, a 190 square meter section [about 2000 square feet] that houses 240 female prisoners.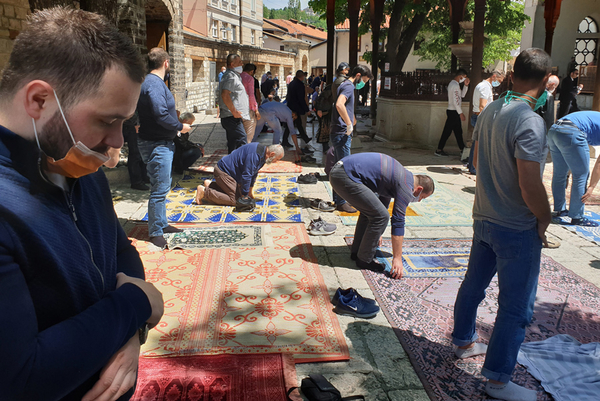 Shahr-Ray women's prison.
The night guard, Mr. Asghar Kolivand, along with four soldiers -- Mohammad Mohamadzade, one simply known as Mr. Tartar and two unnamed -- descended upon the women. They beat them with belts, batons and electric cables. The guard responsible for the ward was mentioned as Sima Boormand. Prison phones were cut off and all doors to the outside remained locked for some time after the attack.
Shahr-Ray prison is where 26 year old Reyhaneh Jabbari -- whom an international campaign is trying to save from being executed -- is being held. Under threat of rape, Jabbari stabbed a man in self-defense and was sentenced to death. The Islamic Republic of Iran, in general, does not recognize self-defense in its courts, especially in cases of rape.
Since late March 2014, the campaign to save Reyhaneh Jabbari has brought attention internationally and even inside Iran, to the corrupt judicial system in the Islamic Republic; its unnaturally high conviction rate; and the recent surge in the number of executions, while at the same time shining a light on the lack of women's rights in a country under strict seventh century Islamic laws.
On April 23, 2014, the United Nations grotesquely elected the Islamic Republic of Iran, along with more than a dozen other repressive regimes -- including Sudan; Mauritania, where slavery is still rampant; Russia; China; Cuba and Turkey -- to top committees responsible for protecting women's rights and overseeing the work of human rights organizations. Other countries elected to a five-year term on the Commission for Women's Rights were Sudan and Pakistan, which, along with Iran, still practice burying women to their waists, then stoning them to death.
This is the second attack this month on prisoners inside Iran. On April 17, 2014, security forces brutally attacked and seriously injured political prisoners in Ward 350 of Evin prison.
Last year alone, Iran put 369 people to death, more than any other country except China, according to UN Watch [Vol.487, April 25, 2014].
In a surge of executions that has literally doubled since the election of the "moderate" President Hassan Rouhani, Iran has put to death at least 188, or nearly half that amount, in the first quarter of 2014 alone.
"[T]he condition of human rights has significantly worsened in Iran," according to political scientist and Harvard Scholar, Dr. Majid Rafizadeh, with "the increase in the persecution of ethnic and religious minorities, the cracking down on oppositional political figures, the mistreatment of political prisoners, arbitrary detention and unfair trials. ... not even keeping the status of human rights similar to that of his predecessor Mahmoud Ahmadinejad's era."
Related Topics: Iran | Shadi Paveh receive the latest by email: subscribe to the free gatestone institute mailing list
Comment on this item
Subscribe To Mailing List
Tweets by @GatestoneInst
Latest Articles
by Louis René Beres
The Palestinian Liberation Organization [PLO], forerunner of today's Palestinian Authority, was founded in 1964, three years before Israel came into the unintended control of the West Bank and Gaza. What therefore was the PLO planning to "liberate"?
Why does no one expect the Palestinians to cease all deliberate and random violence against Israeli civilians before being considered for admission to statehood?
On June 30, 1922, a joint resolution of both Houses of Congress of the United States endorsed a "Mandate for Palestine," confirming the right of Jews to settle anywhere they chose between the Jordan River and the Mediterranean Sea. This is the core American legacy of support for a Jewish State that President Obama now somehow fails to recall.
A sovereign state of Palestine, as identified by the Arabs -- a Muslim land occupied by "Palestinian" Arabs -- has never existed; not before 1948, and not before 1967. From the start, it was, and continues to be, the Arab states -- not Israel -- that became the core impediment to Palestinian sovereignty.
by Timon Dias
It looks as if this new law is meant to serve as a severe roadblock to parties that would like to dismantle the EU in a democratic and peaceful way from within.
A rather dull semantic trick pro-EU figures usually apply, is calling their opponents "anti-Europe."
by Soeren Kern
Austria has emerged as a major base for radical Islam and as a central hub for European jihadists to fight in Syria.
The proposed revisions would, among other changes, regulate the training and hiring of Muslim clerics, prohibit the foreign funding of mosques, and establish an official German-language version of the Koran to prevent its "misinterpretation" by Islamic extremists.
Muslims would be prohibited from citing Islamic sharia law as legal justification for ignoring or disobeying Austrian civil laws.
Leaders of Austria's Muslim community counter that the contemplated new law amounts to "institutionalized Islamophobia."
Official statistics show that nearly 60% of the inhabitants of Vienna are immigrants or foreigners. The massive demographic and religious shift underway in Austria, traditionally a Roman Catholic country, appears irreversible.
by Samuel Westrop
Over 800 Iranians were executed during President Rouhani's first year in office.
Leading politicians, British government officials and businessmen nevertheless seemed happy to attend and speak at the Europe-Iran Forum.
Most Shared
Most Viewed