Despite prolonged efforts by human rights organizations, six Sunni men were hanged in the early morning of March 4, 2015 at Rajai Shahr Prison in Iran.
Hamed Ahmadi, Kamal Molai, Jamshid Dehghani, Jahangir Dehghani, Sedigh Mohammadi and Seyed Hadi Hosseini all belonged to the Sunni sect of Islam, which is much persecuted by the mostly Shi'a Islamic Republic of Iran.
The sister of Jamshid and Jahangir Dehghani stated to the Roozonline News Agency that the families were unexpectedly summoned by prison authorities for their last visit with their loved ones. "The call was most unexpected; no one had any idea that the executions were to be taking place right away, not even the men themselves. We were told to go to the prison for our very last visit, so we went... The men were in iron cages, with shackled hands and feet... we saw them for 10 minutes only -- from afar... We just looked at them, we could not touch them. That was our last visit."
Their families and supporters had gathered outside the prison in hopes of halting the execution, as they had also done last June. One supporter wrote on her Facebook:
"I was outside prison with the families starting at 1:00 a.m. that night.... Mrs. Dehghani, the mother of two of the men, was praying and crying. Guards were trying to get us all to leave. At dawn, when everyone was getting ready for morning prayers, an ambulance suddenly came out of the prison. It was terrifying. Were the lifeless bodies of the men in that ambulance? The families attacked the ambulance and tried to stop it to see inside. No one believed that they had actually hanged the men already; we thought it was a trick to get us to leave so they could carry out the hangings. Prison authorities told us that the bodies were being taken to the cemetery and that we should just follow the ambulance, he also threatened Mrs. Mohammadi, the mother of one of the men.... We got into our cars and started following the ambulance, but were violently forced out of the car. I was taken for interrogation and Mr. Norizade [a well known human rights activist] was beaten badly."

Many came and brought us food and blankets, but I wish many more had come so maybe the regime would have not killed those innocent men."
Sadegh Mohammadi and Seyed Hadi Hosseini both suffered from various psychological illnesses, requiring medications. Their execution had been overturned in 2013 due to their illness, and the courts promised new trials. Instead, their death sentence was confirmed in May 2014.
The other four men -- Hamed Ahmadi, Jahangir Dehghani, Jamshid Dehghani and Kamal Molai -- were accused of killing a senior Sunni cleric in September 2009, but they claim they were arrested several months before the killing.
"The Iranian authorities are executing them over charges that appear to be fabricated and after grossly unfair trials," said Amnesty International's Deputy Director for the Middle East and North Africa.
The Islamic Republic of Iran is well known for persecuting, torturing and even executing members of religious minorities with no adverse consequences, despite outcries from international governments and human rights organizations around the world.
The charges for all six men were "enmity of God," punishable by death in Iran's present penal code. They were among 33 Sunni men currently on death row in Iran. All of the men maintain that they were targeted solely because they practiced or promoted their faith, such as taking part in Sunni religious seminars, distributing Sunni religious reading materials and participating in religious gatherings.
One human rights activist from Iran, interviewed exclusively for Gatestone, who wishes to remain anonymous, stated: "Ever since the rise of ISIS, the regime has become more brazen and has stepped up executions. Before, at least they would not announce them regularly, but now they do. They do not have a care in the world; not many countries are really paying attention to Iran's human rights much anymore. We have had our own ISIS here for 36 years now."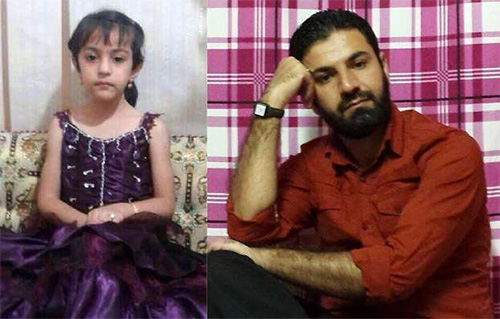 Hamed Ahmadi and his daughter Mohannah.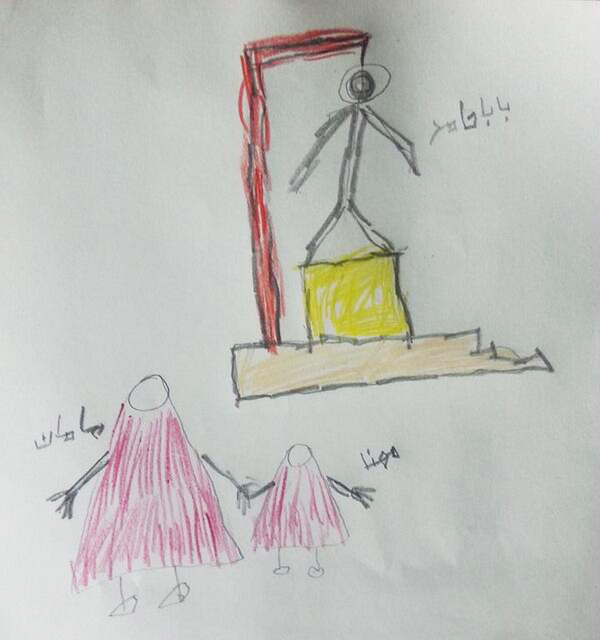 Mohannah Ahmadi drew a picture of her father's upcoming execution at the age of four, in 2014. It shows her mother holding hands as her father is hanged in the background of the drawing.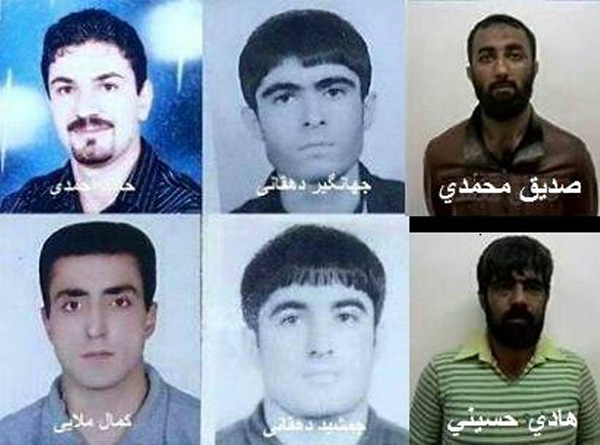 Top from left: Hamed Ahmadi, Jahangir Dehghani, Sedigh Mohammadi. Bottom left: Kamal Molai, Jamshid Dehghani, Hadi Hosseini (Jahangir and Jamshid Dehghani are brothers).