Is CAIR Lying about a Rally for Hamas?
Translations of this item:
CAIR should be treated as a marginal and despised group like the Ku Klux Klan or the Nation of Islam.
A "Stop the Bloodshed in Gaza" rally in downtown Miami on July 20 featured aggressive Islamist chants typical of anti-Israel events. In English, the demonstrators yelled "We are Hamas!" and "We are Jihad!" (as can be seen and heard here). In Hebrew, a Hamas partisan screamed at an Israel-supporter, "Son of a bitch" and "Go to Hell!" and made an obscene arm gesture. In Arabic, the crowd chanted the infamous "Khaybar, Khaybar, oh Jew, Muhammad's army will return" (a reference to a massacre of Jews under the auspices of Islam's prophet in A.D. 629).
As I say, just a typical anti-Israel demonstration, and far from the worst. Typical – except that some of its sponsors desperately seek respectability.
In a July 23 report on the demonstration, investigative researcher Danielle Avel posted a scan of a glossy paper flier advertising the event, listing its seven sponsors:
American Muslim Association of North America (AMANA), Council on American-Islamic Relations (CAIR) Florida, Islamic Circle of North America (ICNA), Students for Justice in Palestine (SJP), Syrian American Council of South Florida (SAC), American Muslims for Emergency & Relief (AMER), and American Muslims Foundation.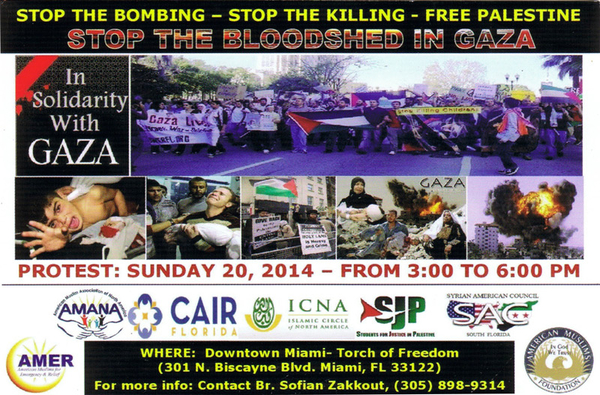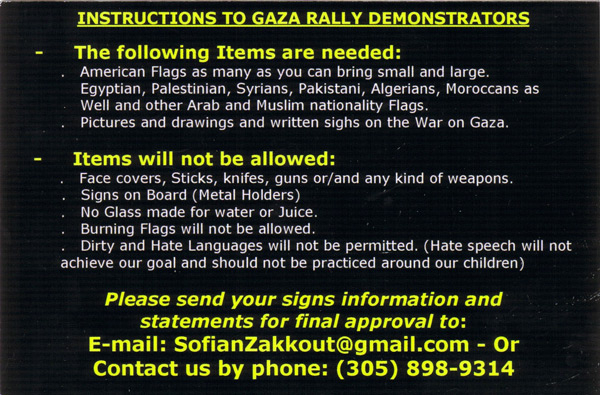 The event's Facebook page lists a coalition of eight organizations, some of which overlap with those on the flier:
Join us & spread the word! In coordination with our coalition: Al-Awda Coalition, Students for Justice in Palestine (SJP)-FL, POWIR, Broward Green Party, CAIR, National Lawyers Guild (South Florida), Students for Justice in Palestine (SJP) - FAU, and Students for Justice in Palestine (SJP) - FIU.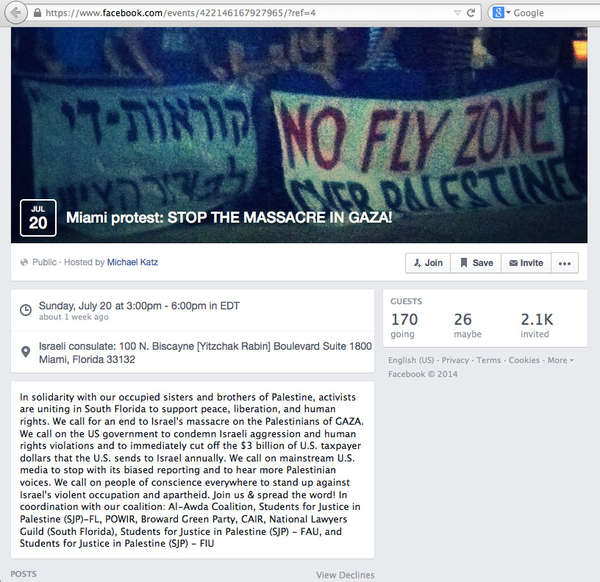 Two groups in particular, CAIR and ICNA, caught Avel's eye because they aspire to invitations to the White House, appearances on network television and at leading universities, and other signs of public acceptance. What took place in Miami, she correctly noted, reveals their true extremism.
Six days later, on July 29, CAIR's Florida chapter responded with a denial:
CAIR-Florida was not part of, did not plan, did not sponsor, did not participate in, and had absolutely nothing to do with the July 20 rally. If any document lists CAIR-Florida as a sponsor of the event, that listing was included without CAIR-Florida's permission.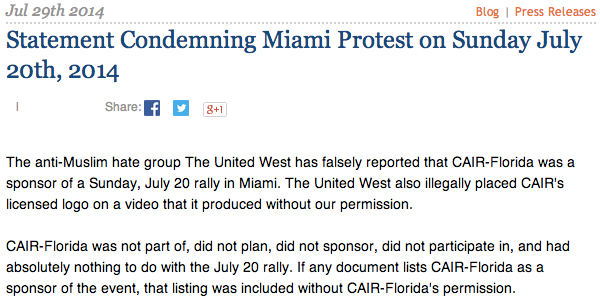 I doubt the veracity of this denial for several reasons.
CAIR's mendacity is so widespread that I have an entire bibliography of my writings exposing the reasons not to trust it.
The flier, of which I have a copy, twice states that Sofian Zakkout organized the rally. Zakkout is so close to CAIR, he's effectively a staff volunteer: he coordinates with it, is quoted by it, seeks help from it, and is listed as a contact by it. (For more on Zakkout, see Avel's exposé.) A year earlier, he listed CAIR's Florida branch on another rally flier. It beggars the imagination that he would list CAIR without authorization.
The Facebook page still lists CAIR as a sponsor, two weeks after CAIR's statement of denial.
Perhaps CAIR seeks to conceal the truth through semantics. Both the national organization (on the Facebook page) and the Florida chapter (on the flier) are listed as sponsors. The July 29 statement only denies permission from the latter, not the former. It is more than credible that CAIR national gave its permission to be listed as a sponsor while CAIR's Florida chapter did not.
Given these facts, I disbelieve CAIR's statement.
I do believe it sponsored the vile event in Miami; that its denial of that sponsorship is false; and that the despicable words at the Miami rally revealed the true face of CAIR.
CAIR must not be validated by invitations and appearances. It should be treated as a marginal and despised group like the Ku Klux Klan or the Nation of Islam.
Daniel Pipes (DanielPipes.org) is president of the Middle East Forum. © 2014 by Daniel Pipes. All rights reserved.
Related Topics: Daniel Pipes receive the latest by email: subscribe to the free gatestone institute mailing list
Reader comments on this item
| | | |
| --- | --- | --- |
| Title | By | Date |
| CAIR shows face, some don't. [144 words] | schwartzapfel | Aug 25, 2014 10:59 |
| Do not allow CAIR oxygen [11 words] | john nemesh | Aug 24, 2014 00:27 |
| Is CAIR lying, period? [130 words] | Franck Prissert | Aug 23, 2014 15:55 |
| CAIR lie? this is their M.O. [38 words] | steven L | Aug 22, 2014 14:29 |
| Fruitful seasons come to us in the 21st century [64 words] | Marco Singer | Aug 22, 2014 10:03 |
| A disaster not just a failure [91 words] | Hamdy | Aug 22, 2014 09:22 |
| CAIR [95 words] | Russell Gaddin | Aug 22, 2014 08:39 |
| Similar groups in UK [97 words] | Paul Renan | Aug 22, 2014 06:43 |
| Jew-hate groups are anti-Semitic, not anti-Semantic! [153 words] | Dean | Aug 22, 2014 06:40 |
| CAIR: a DOJ designated unindicted co-conspirator [181 words] | mike midas | Aug 22, 2014 06:23 |
Comment on this item
Subscribe To Mailing List
Tweets by @GatestoneInst
Latest Articles
by Louis René Beres
Jihadi violence serves not only to advance the terrorist's delusion of immortality, but also to add, however perversely, an apparent and desperately needed erotic satisfaction, using religion as the justification.
Persuasive promises of immortality -- the desperate hope to live forever -- underlie virtually all major religions.
Washington and Jerusalem should finally address what needs to be done in addition to military remediation -- reinforcing efforts to convince these terrorists that their expected martyrdom is ultimately just an elaborate fiction.
by Gill Gillespie and Shabnam Assadollahi
The aim of the current Iranian regime is clearly to acquire a nuclear weapons capability and to retain as much territory in Iraq as possible under Shia Islamist rule, whatever the human cost. Those aims are also the reason Iran's regime is now trying to intervene in Iraq.
Iran will doubtless be demanding that any cooperation with the West be compensated for by "concessions" permitting its nuclear weapons program.
Involving Iran in Iraq at this point will merely alienate any Sunni allies whose assistance is much needed to defeat IS.
Many people inside Iran have alerted the U.S. Administration for over two years about other industrial facilities being secretly built in Iran and not declared to the International Atomic Energy. So far, all intelligence from within Iran has been wilfully ignored by the Obama Administration.
by Burak Bekdil
The Turkish government "frankly worked" with the al-Nusrah Front, the al-Qaeda affiliate in Syria, along with other terrorist groups.
The Financial Task Force, an international body setting the standards for combating terrorist financing, ruled that Turkey should remain in its "gray list."
While NATO wishes to reinforce its outreach to democracies such as Australia and Japan, Turkey is trying to forge wider partnerships with the Arab world, Russia, China, Central Asia, China, Africa and -- and with a bunch of terrorist organizations, including Hamas, Muslim Brotherhood, Ahrar al-Sham and the al-Nusrah Front.
Being NATO's only Muslim member was fine. Being NATO's only Islamist member ideologically attached to the Muslim Brotherhood is quite another thing.
by Samuel Westrop
British politicians seem to be trapped in an endless debate over how to curb both violent and non-violent extremism within the Muslim community.
A truly useful measure might be to end the provision of state funding and legitimacy to terror-linked extremist charities.
by Soeren Kern
"My son and I love life with the beheaders." — British jihadist Sally Jones.
Mujahidah Bint Usama published pictures of herself on Twitter holding a severed head while wearing a white doctor's jacket; alongside it, the message: "Dream job, a terrorist doc."
British female jihadists are now in charge of guarding as many as 3,000 non-Muslim Iraqi women and girls held captive as sex slaves.
"The British women are some of the most zealous in imposing the IS laws in the region. I believe that's why at least four of them have been chosen to join the women police force." — British terrorism analyst Melanie Smith.
Most Shared
Most Viewed