Is CAIR Lying about a Rally for Hamas?
Translations of this item:
CAIR should be treated as a marginal and despised group like the Ku Klux Klan or the Nation of Islam.
A "Stop the Bloodshed in Gaza" rally in downtown Miami on July 20 featured aggressive Islamist chants typical of anti-Israel events. In English, the demonstrators yelled "We are Hamas!" and "We are Jihad!" (as can be seen and heard here). In Hebrew, a Hamas partisan screamed at an Israel-supporter, "Son of a bitch" and "Go to Hell!" and made an obscene arm gesture. In Arabic, the crowd chanted the infamous "Khaybar, Khaybar, oh Jew, Muhammad's army will return" (a reference to a massacre of Jews under the auspices of Islam's prophet in A.D. 629).
As I say, just a typical anti-Israel demonstration, and far from the worst. Typical – except that some of its sponsors desperately seek respectability.
In a July 23 report on the demonstration, investigative researcher Danielle Avel posted a scan of a glossy paper flier advertising the event, listing its seven sponsors:
American Muslim Association of North America (AMANA), Council on American-Islamic Relations (CAIR) Florida, Islamic Circle of North America (ICNA), Students for Justice in Palestine (SJP), Syrian American Council of South Florida (SAC), American Muslims for Emergency & Relief (AMER), and American Muslims Foundation.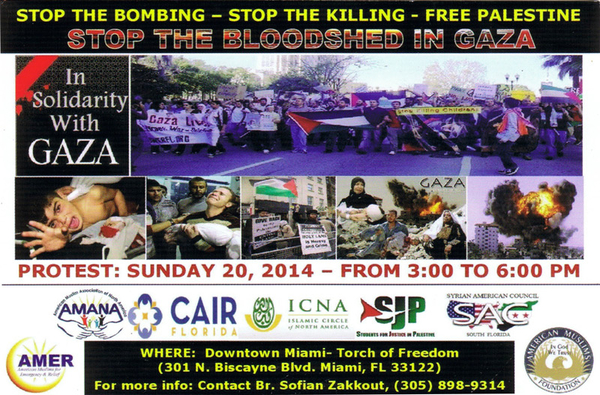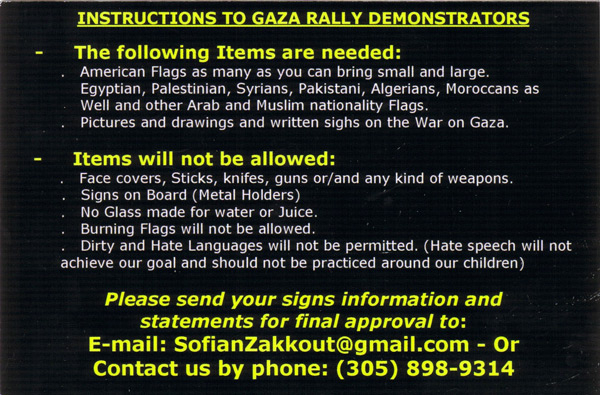 The event's Facebook page lists a coalition of eight organizations, some of which overlap with those on the flier:
Join us & spread the word! In coordination with our coalition: Al-Awda Coalition, Students for Justice in Palestine (SJP)-FL, POWIR, Broward Green Party, CAIR, National Lawyers Guild (South Florida), Students for Justice in Palestine (SJP) - FAU, and Students for Justice in Palestine (SJP) - FIU.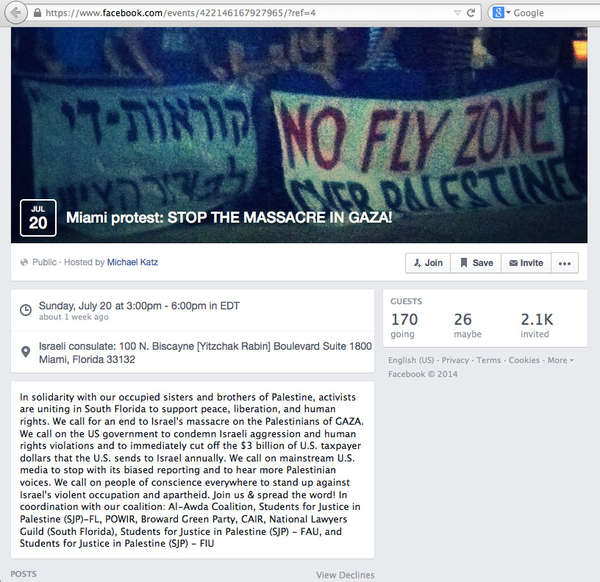 Two groups in particular, CAIR and ICNA, caught Avel's eye because they aspire to invitations to the White House, appearances on network television and at leading universities, and other signs of public acceptance. What took place in Miami, she correctly noted, reveals their true extremism.
Six days later, on July 29, CAIR's Florida chapter responded with a denial:
CAIR-Florida was not part of, did not plan, did not sponsor, did not participate in, and had absolutely nothing to do with the July 20 rally. If any document lists CAIR-Florida as a sponsor of the event, that listing was included without CAIR-Florida's permission.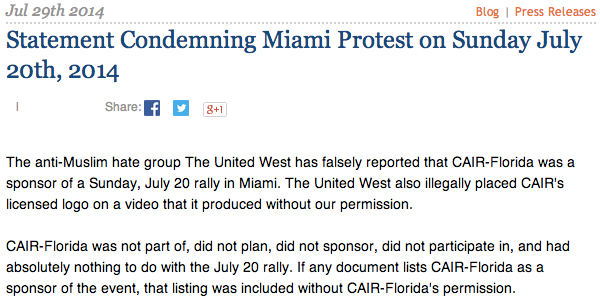 I doubt the veracity of this denial for several reasons.
CAIR's mendacity is so widespread that I have an entire bibliography of my writings exposing the reasons not to trust it.
The flier, of which I have a copy, twice states that Sofian Zakkout organized the rally. Zakkout is so close to CAIR, he's effectively a staff volunteer: he coordinates with it, is quoted by it, seeks help from it, and is listed as a contact by it. (For more on Zakkout, see Avel's exposé.) A year earlier, he listed CAIR's Florida branch on another rally flier. It beggars the imagination that he would list CAIR without authorization.
The Facebook page still lists CAIR as a sponsor, two weeks after CAIR's statement of denial.
Perhaps CAIR seeks to conceal the truth through semantics. Both the national organization (on the Facebook page) and the Florida chapter (on the flier) are listed as sponsors. The July 29 statement only denies permission from the latter, not the former. It is more than credible that CAIR national gave its permission to be listed as a sponsor while CAIR's Florida chapter did not.
Given these facts, I disbelieve CAIR's statement.
I do believe it sponsored the vile event in Miami; that its denial of that sponsorship is false; and that the despicable words at the Miami rally revealed the true face of CAIR.
CAIR must not be validated by invitations and appearances. It should be treated as a marginal and despised group like the Ku Klux Klan or the Nation of Islam.
Daniel Pipes (DanielPipes.org) is president of the Middle East Forum. © 2014 by Daniel Pipes. All rights reserved.
Related Topics: Daniel Pipes receive the latest by email: subscribe to the free gatestone institute mailing list
Reader comments on this item
| | | |
| --- | --- | --- |
| Title | By | Date |
| CAIR shows face, some don't. [144 words] | schwartzapfel | Aug 25, 2014 10:59 |
| Do not allow CAIR oxygen [11 words] | john nemesh | Aug 24, 2014 00:27 |
| Is CAIR lying, period? [130 words] | Franck Prissert | Aug 23, 2014 15:55 |
| CAIR lie? this is their M.O. [38 words] | steven L | Aug 22, 2014 14:29 |
| Fruitful seasons come to us in the 21st century [64 words] | Marco Singer | Aug 22, 2014 10:03 |
| A disaster not just a failure [91 words] | Hamdy | Aug 22, 2014 09:22 |
| CAIR [95 words] | Russell Gaddin | Aug 22, 2014 08:39 |
| Similar groups in UK [97 words] | Paul Renan | Aug 22, 2014 06:43 |
| Jew-hate groups are anti-Semitic, not anti-Semantic! [153 words] | Dean | Aug 22, 2014 06:40 |
| CAIR: a DOJ designated unindicted co-conspirator [181 words] | mike midas | Aug 22, 2014 06:23 |
Comment on this item
Subscribe To Mailing List
Tweets by @GatestoneInst
Latest Articles
by Khaled Abu Toameh
The "Arab Spring" did not erupt as a result of the Israeli-Palestinian conflict. Rather, it was the outcome of decades of tyranny and corruption in the Arab world. The Tunisians, Egyptians, Libyans and Yemenis who removed their dictators from power did not do so because of the lack of a "two-state solution." This is the last thing they had in mind.
The thousands of Muslims who are volunteering to join the Islamic State [IS] are not doing so because they are frustrated with the lack of progress in the Israeli-Palestinian peace talks.
The only solution the Islamic State believes in is a Sunni Islamic Caliphate where the surviving non-Muslims who are not massacred would be subject to sharia law.
What Kerry perhaps does not know is that the Islamic State is not interested in the Israeli-Palestinian conflict at all. Unlike Kerry, Sunni scholars fully understand that the Islamic State has more to do with Islam and terrorism than with any other conflict.
by Steven J. Rosen
Palestinian officials have generally been silent about security cooperation with Israel. They are loath to acknowledge how important it is for the survival of the Palestinian Authority [PA], and fear that critics, especially Hamas, will consider it "collaboration with the enemy."
"You smuggle weapons, explosives and cash to the West Bank, not for the fight with Israel, but for a coup against the Palestinian Authority. The Israeli intelligence chief visited me two weeks ago and told me about the [Hamas] group they arrested that was planning for a coup... We have a national unity government and you are thinking about a coup against me." — Mahmoud Abbas, PA President, to Khaled Mashaal, Hamas leader.
According to Israeli Defense Minister Moshe Ya'alon, if the IDF leaves the West Bank, Hamas will take over, and other terrorists groups such as the Islamic Jihad, Al-Qaeda and Islamic State would operate there.
In recent months, Abbas has been making a series of threats against Israel. If Abbas becomes another Arafat, it could be the Israeli side that loses interest in security cooperation.
by Burak Bekdil
It was the Islamists who, since they came to power in the 2000s, have reaped the biggest political gains from the "Palestine-fetish."
But the Turkish rhetoric on "solidarity" with our Palestinian brothers often seems askew to how solidarity should be.
by Raheel Raza
One blogger writes that Malala hates Pakistan's military. I believe it is the other way around.
I would so like to see the day when Malala is welcomed back in Pakistan, with the whole country cheering.
by Francesco Sisci
Democratic evolution in China was being seriously considered. The failures of U.S. support for democracy in Afghanistan, Iraq, Egypt and Libya gave new food for thought to those opposed to democracy. Lastly, the United States did not strongly oppose the anti-democratic coup d'état that overthrew a democratically elected government in Thailand.
On the other hand, Russia -- dominated by Vladimir Putin, a new autocrat determined to stifle democracy in Russia -- provided a new model.
The whole of Eastern Europe and most of Latin America, formerly in the clutches of dictatorships, are now efficient democracies. This seems to indicate that while democracy cannot be parachuted into a country, there is a broader, longer-term global trend toward democracy and that its growth depends on local conditions.
As economic development needed careful planning, political reforms need even greater planning. The question remains: is China preparing for these political reforms?
Most Shared
Most Viewed