by Denis MacEoin • November 22, 2014 at 5:00 am
Although outwardly more liberal than the Saudis, the Qataris have surpassed them as financiers of extremism and terrorism.

U.S. officials reckon that Qatar has now replaced Saudi Arabia as the source of the largest private donations to the Islamic State and other al-Qaeda affiliates.

Qatar, the world's wealthiest country per capita, also has the unsavory reputation for the mistreatment and effective slavery of much of its workforce.

Leaders of Western states threatened by jihadi advances are happy to sit down with the largest financiers of terrorism in the world, offer them help, take as much money as they can, and smile for the cameras.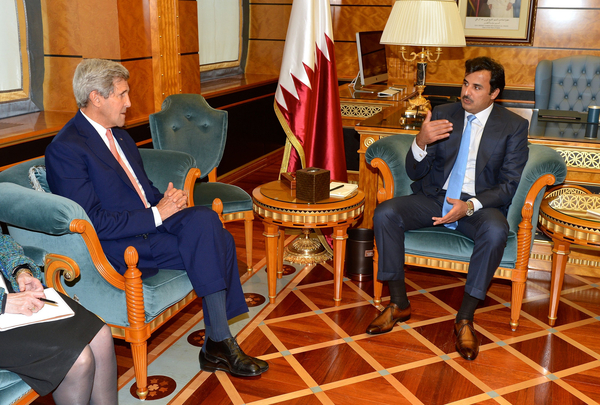 Qatar finances terrorists with one hand, while the other joins hands with the West. Above: U.S. Secretary of State John Kerry meets with Qatari Emir Tamim bin Hamad al-Thani in New York City on September 25, 2014. (Image source: U.S. State Department)
There is a central weakness in the coalition against the Islamic State [IS] in Syria, as pointed out by Bryan Bender in the Boston Globe. There are 62 members of the coalition, some of which are Arab states: Saudi Arabia, the United Arab Emirates, Jordan, Bahrain, Iraq, and Qatar. The U.S., however, carries the greatest weight in the air campaign against the self-proclaimed Caliphate. America had carried out 3,589 sorties by August 8, its partners 8; between September 23 (when most partners joined in attacks) and November 3, U.S. sorties numbered a further 3,320, with 1,090 by other coalition members.
The U.S., therefore, flies over 75% of missions -- an indication of American intent? It's not quite that simple.
Continue Reading Article