Raheel Raza

The Council for Muslims Facing Tomorrow
Raheel Raza is President of The Council for Muslims Facing Tomorrow, author of the book Their Jihad – Not My Jihad, award winning journalist, public speaker, activist for human rights, gender equality and dignity in diversity. She is recipient of the Queen Elizabeth II Diamond Jubilee medal for service to Canada.
Raheel bridges the gap between East and West, promoting cultural and religious diversity for which she has appeared in print and on TV and radio numerous times.
Raheel has been invited to speak locally at places of worship, the private sector, the Justice Department, School Boards and government institutions. Internationally she has addressed audiences at Universities in USA including Harvard & Columbia, in UK at Oxford and Cambridge, other forums across Australia and Europe and the Israeli Presidential Conference in Jerusalem.
In her pursuit for human rights, Raheel is accredited with United Nations Human Rights Council in Geneva through The International Humanist and Ethical Union (IHEU). She has received many awards for her work on women's equality including the City of Toronto's Constance Hamilton award and the Urban Hero award. She is the first Muslim woman in Canada to lead mixed gender prayers.
Raheel has made a documentary film called "Whose Sharia is it anyway?" dealing with the sharia debate in Ontario, Canada. She runs a Forum for Learning for youth to educate them about the dangers of radicalization and terrorism, and continues to write and speak about the subject.
Raheel is Distinguished Senior Fellow with The Gatestone Institute. She also sits on the Advisory Board of The Mosaic Institute and The ACTV Foundation (The Alliance of Canadian Terror Victims).
---
Get Free Exclusive Gatestone Content:
FREE JASON REZAIAN!
Jason Rezaian, the Washington Post's Iran Bureau Chief, will be subjected to a closed-door sham trial on August 10, on charges of "espionage." He faces a possible prison sentence of up to 10 years. There should be no Iran Deal without the return of Rezaian and other Americans held hostage in Iran: former U.S. Marine Amir Hekmati, Pastor Saeed Abedini and former FBI agent Robert Levinson.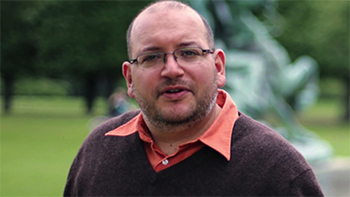 FIRST TRANSLATION OF AYATOLLAH KHAMENEI'S BOOK ON HOW TO DESTROY AMERICA