by Khaled Abu Toameh • October 18, 2018 at 5:00 am
In the absence of a parliament, the Palestinians have no address to express their grievances. They cannot write to or phone their elected legislators to complain about anything. All they can do is resort to social media, especially Facebook, to air their views.

As Palestinian Authority President Mahmoud Abbas does not tolerate criticism particularly well, he doubtless feels more comfortable delivering speeches at international forums such as the United Nations, the European Parliament and his own Fatah and PLO institutions than at the Palestinian parliament. The others are places where no one takes him to task for his tyranny.

In the past few years, scores of Palestinians have been harassed, arrested and interrogated by Abbas's security forces for posting critical comments on Facebook.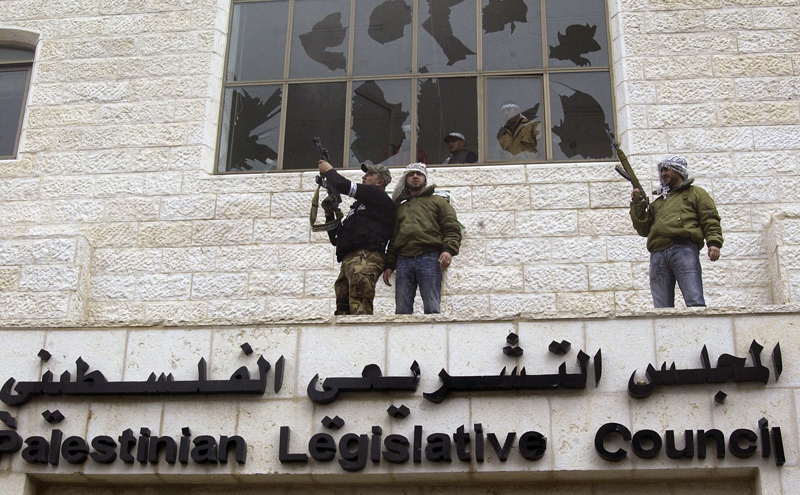 The Fatah Revolutionary Council, dominated by people loyal to Palestinian Authority President Mahmoud Abbas, has recommended that Abbas dissolve the Palestinian Legislative Council (PLC). This is yet another attempt by Abbas to silence his critics and prevent an open debate among Palestinians about his policies. Pictured: The PLC building in Ramallah on January 28, 2006, three days after its last election. (Photo by Zharan Hammad/Getty Images)
Parliaments, among the strongest manifestations of a democracy, represent the electorate, enact laws and oversee the government through hearings and inquiries.
Apparently, this does not apply to the Palestinians, who, as a result of the power struggle between Palestinian Authority (PA) President Mahmoud Abbas's ruling Fatah faction in the West Bank and Hamas in the Gaza Strip, have, for the past 11 years, been without a functioning parliament.
The Palestinian Authority's unicameral legislature is the 132-member Palestinian Legislative Council (PLC). Both the PA and PLC were established after the signing of the Oslo Accord in 1993. The first Palestinian legislative election took place in January 1996. The second, and last, election took place in January 2006; it resulted in a victory for Hamas.
Continue Reading Article