by Soeren Kern • July 23, 2017 at 5:00 am
"I am in fundamental disagreement with these left-wing people who do everything to dissociate fundamentalism from Islam. Islam has been radicalized for fifty years. On the Shiite side, there was Imam Khomeini and his Islamic revolution. In the Sunni world, there was Saudi Arabia, which used its immense resources to finance the spread of this fanaticism of Wahhabism. But this historical evolution took place within Islam and not outside. When the people of the Islamic State attack, they do it by saying 'Allahu Akbar.' So how can we then say that this has nothing to do with Islam? It must be stopped." — Sir Salman Rushdie, author of the novel The Satanic Verses, who has been hunted to be killed by Muslim extremists for nearly 30 years.

Residents of the Paris suburb of Mée-sur-Seine complained that a mosque was blasting prayers on outdoor loudspeakers well beyond midnight each night during Ramadan. Mourad Salah, a local Muslim leader, said the city council was to blame for the noise because of its failure to provide Muslims with a larger mosque: "The ball is in the mayor's court. Until we have a place of prayer worthy of the name, with a greater capacity, things will be difficult."

An online petition — "Women: An Endangered Species in the Heart of Paris" — accused Paris Mayor Anne Hidalgo of allowing a large swathe of the city to become a no-go zone for women. Every night, hundreds of migrants from Africa and the Middle East line the pavements to form an intimidating gauntlet for women walking from the Gare du Nord and Gare de l'Est railway stations to their homes, the petition said. Shouts of "bitch" and "dirty whore" are common.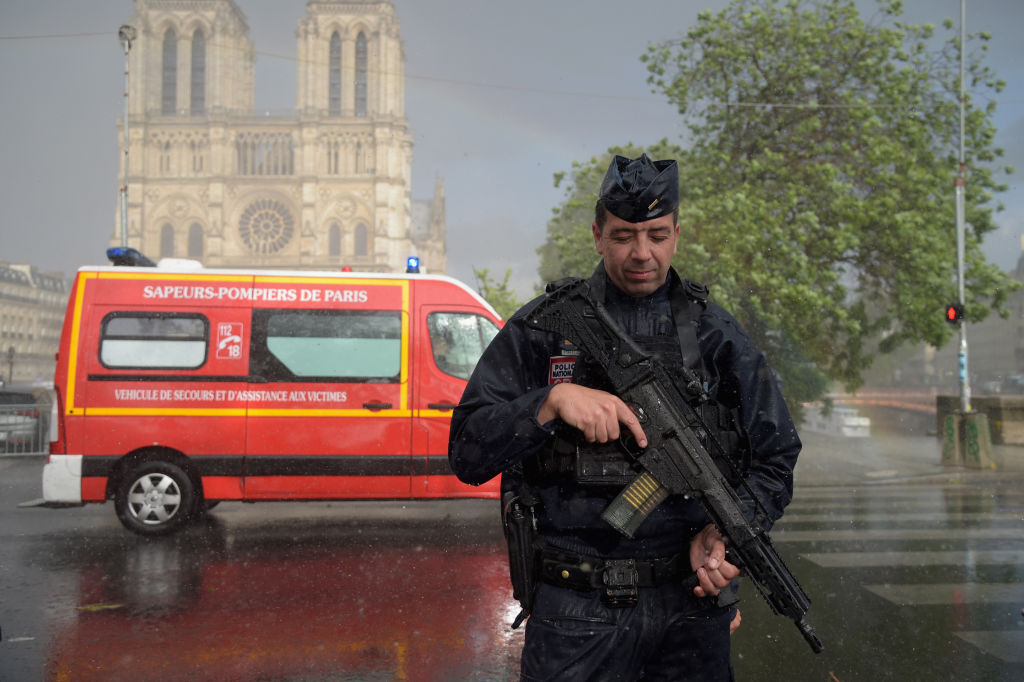 A policeman stands guard near Notre-Dame Cathedral in Paris, France, on June 6, 2017, after Farid Ikken, a 40-year-old Algerian, attempted to murder a police officer at the site. (Photo by Pascal Le Segretain/Getty Images)
June 1. Saber Lahmar, a 48-year-old Algerian who has lived in Bordeaux since his release from Guantánamo Bay in 2009, was charged with "terrorist association" and placed in pre-trial detention. He is suspected of providing financial, logistical and doctrinal aid to French jihadists who were planning to travel to Iraq and Syria. Lahmar was arrested in Bosnia in 2001 after being accused of plotting to bomb the American embassy in Sarajevo. In November 2008, U.S. District Judge Richard J. Leon ordered Lahmar to be released from Guantánamo because there was insufficient reason to hold him. In December 2009, Robert C. Kirsch, a lawyer at the firm of WilmerHale, which represented Lahmar in federal court, said: "We are grateful for the courage and generosity of the French people and government, and for the ongoing effort by President Obama... which will now give Mr. Lahmar a chance to rebuild his life in France."
Continue Reading Article