by Khaled Abu Toameh • April 15, 2021 at 5:00 am
These Palestinian officials, in other words, would rather see their people continue living in devastating poverty as refugees rather than improve their living conditions and search for new opportunities in Western countries. They want millions of Palestinians to remain stuck in refugee camps so that the Palestinian leadership can continue milking the world for money.

The assault on the woman triggered a wave of condemnations by Palestinian activists, who took to social media to express outrage over the Palestinian leadership's decision to use force against Palestinian refugees.

The Palestinians who protested outside the PA embassy in Beirut, however, seem somewhat dubious that this new American money will go into the right hands. The protesters have been in Lebanon for several years now and the Palestinian leadership has done precious little to assist them.

Judging from experience, it is safe to assume that the Palestinians in Lebanon would be lucky to see a single dollar of the Biden administration's new aid package. This is what happens when Western donors shower money on a corrupt and ruthless Palestinian leadership that sends its thugs to beat up starving refugees who are begging for help.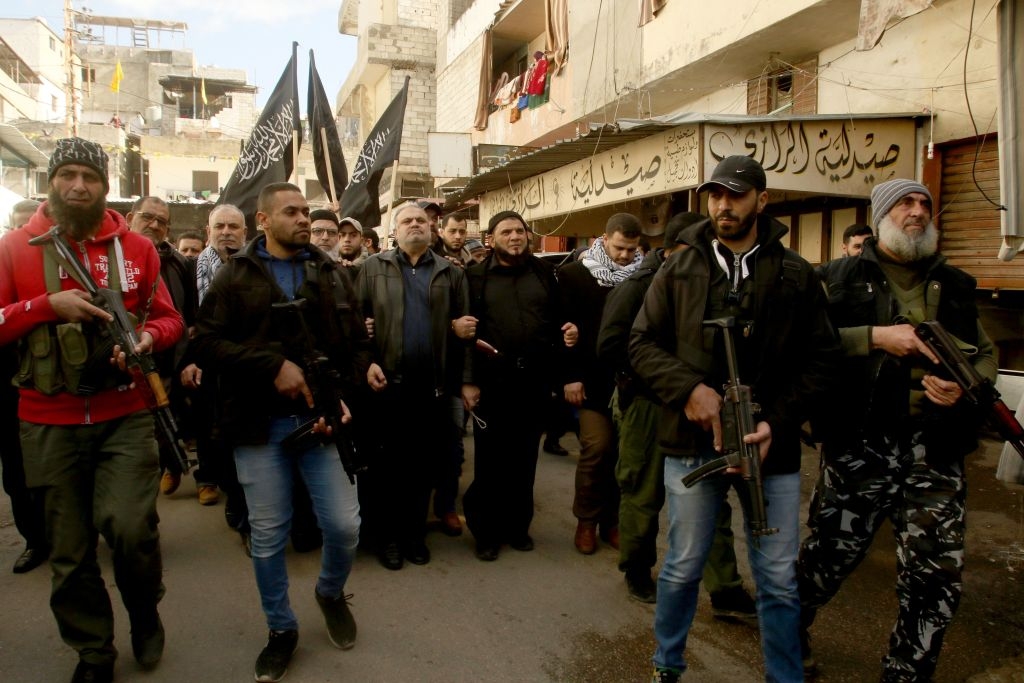 On March 31, militiamen from Palestinian Authority President Mahmoud Abbas's Fatah faction arrested three Palestinian activists in Lebanon's Ain al-Hilweh refugee camp who protested against the Palestinian leadership's failure to help the refugees from Syria. Pictured: Palestinians in Ain al-Hilweh protest on January 31, 2020. (Photo by Mahmoud Zayyat/AFP via Getty Images)
The Palestinian leadership, which is about to receive tens of millions of dollars from the Biden administration, has once again proven that it does not tolerate any form of criticism, even if it comes from impoverished Palestinian who fled their homes in Syria.
This leadership has also shown how it cares nothing about the problems facing its people, especially those who were forced to flee their homes in Syria after the beginning of the civil war there in 2011.
The number of Palestinian refugees from Syria in Lebanon is estimated at 27,000, according to statistics from the United Nations Relief and Works Agency (UNRWA). These refugees suffer from harsh living conditions as a result of the scarcity of relief aid and lack of stable financial resources.
About 87% of the Palestinian refugees displaced from Syria to Lebanon suffer from absolute poverty, according to UNRWA.
Continue Reading Article