by Guy Millière • February 22, 2020 at 5:00 am
Just as in the 1930s, National Socialist anti-Semitism and far-right anti-Semitism -- and their consequences for the Jews -- were of no interest to anyone, the anti-Semitism growing today seems of no interest to anyone.

None of the countries represented at the ceremony to commemorate the Holocaust, except the United States, appeared interested in the threats to Israel or the genocidal intentions of its enemies.

If, seven decades ago, the existence of the new State of Israel had depended on the countries represented this year in Jerusalem... the war that resulted would effectively have been a second Holocaust.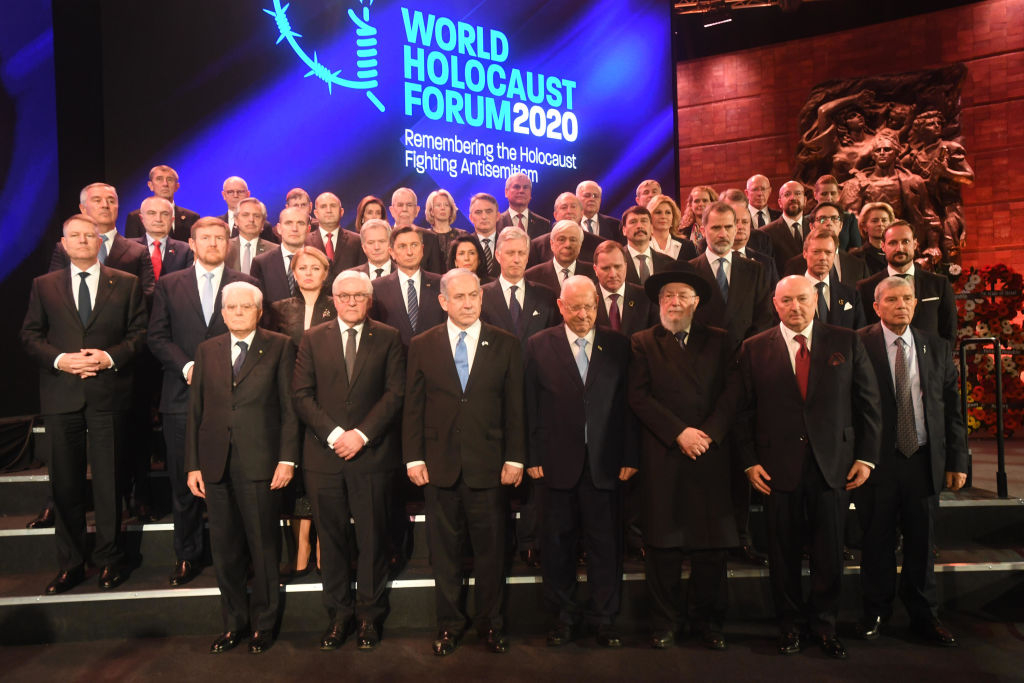 Pictured: World leaders and foreign ministers gathered in Jerusalem on January 23, 2020 to commemorate the 75th anniversary of the liberation of the Auschwitz death camp. (Image source: Getty Images/Pool)
The ceremony held in Jerusalem on January 23 for the 75th anniversary of the liberation of the Auschwitz death camp created the opportunity to remind the world about the Holocaust. The commemoration of the only attempt totally to exterminate an entire people by industrial means, which was among the worst crimes in history, offered the international leaders who attended the opportunity to reaffirm the need to fight anti-Jewish hatred at a time when, throughout the world, it is rapidly gaining ground.
"The industrial mass murder of six million Jews, the worst crime in the history of humanity, was committed by my countrymen", German President Frank-Walter Steinmeier humbly said.
One nevertheless feels the need to ask whether those international leaders who attended are actually ready to align their actions with their words.
Continue Reading Article