by Giulio Meotti • March 18, 2018 at 5:00 am
It is in Nigeria that the balance between Islam and Christianity in Africa will be decided, according to Philip Jenkins, a leading expert of Christianity. That is why the Islamists have been killing the Christians en masse.

"If the Islamists should overrun Nigeria, it will be a steppingstone [sic] to conquering smaller countries. If Nigeria falls to Islamic extremists, all of Africa will be at risk". — Catholic Bishop Hyacinth Egbebo, Nigeria.

Wole Soyinka's "horde" will not be confined to the Nigerian borders, but will try to strike Western Europe as well. We are lucky to have survived as many attacks as we have in Madrid, London, Paris and Berlin, to recall just a few. But how many more? And for how long?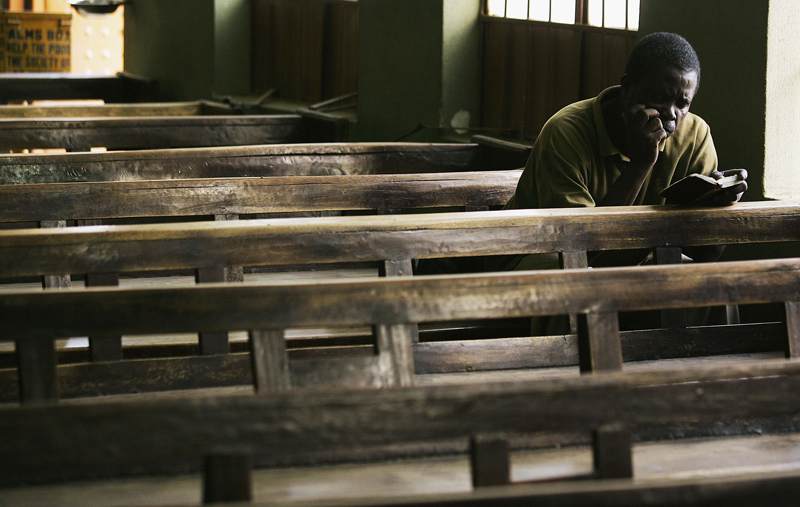 Pictured: A Nigerian man reads a bible in a Catholic Church in Kano, Nigeria. (Photo by Chris Hondros/Getty Images)
Usually, Africa only breaks through to the West when Western targets are attacked by terrorists. First, two US Black Hawk helicopters were shot down in Somalia in 1993. Then Al Qaeda attacked US embassies in Kenya and Tanzania in 1998. Then, only a few days ago, Islamic State published a video purporting to show an ambush in Niger in which four US soldiers were killed last October. The West was silent. The West does not seem to care about the ongoing Islamic terrorist genocide on Africa's biggest Christian population in Nigeria.
A few days ago, the Coliseum in Rome was lit up red to protest the persecution of Christians. Italy's most famous landmark was illuminated at the behest of "Aid to the Church in Need" to draw attention to the intense and enormous massacres Christians are suffering.
Continue Reading Article