by Bassam Tawil • April 24, 2019 at 5:00 am
Palestinian Authority President Mahmoud Abbas's remarks at the Arab League gathering in Cairo demonstrate his preference for the well-being of terrorists over the ability of hard-working employees to put bread on the table for their families. These payments to terrorists and their families lie at the heart of Palestinian incitement to terror that drives the Israeli-Palestinian conflict.

If anyone is collectively punishing the Palestinians, it is Abbas himself. He is depriving tens of thousands of families of full salaries, thus preventing them from purchasing food for their children or paying various fees, including rent and university tuition. A Palestinian civil service employee who sends his son to university does not get a full salary. A Palestinian whose son sets out to murder a Jew is entitled to a full salary and earns more respect from Palestinian leaders.

What message is Abbas sending to his people? That those who wish to eat had better turn to terror. The families of the public employees who are now unable to pay their grocery bill and rent are now looking at the families of the terrorists with envy. They must be saying to themselves: "We are suckers because we didn't send our children to stab a Jew!" This is the education that the Palestinians leaders have been providing since 1965.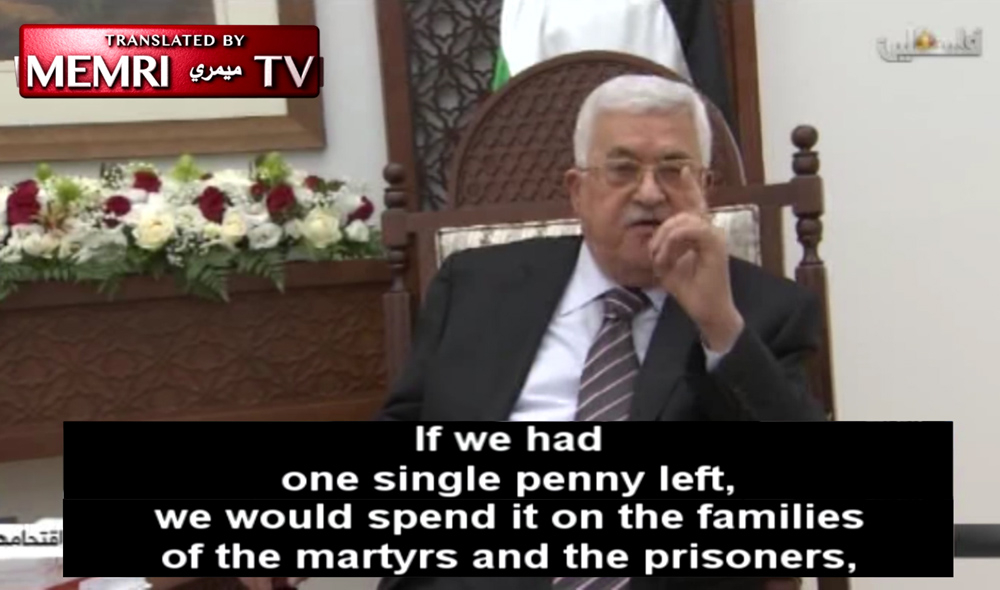 On July 23, 2018, at a ceremony honoring Palestinian terrorists, Palestinian Authority President Mahmoud Abbas said: "We will neither reduce nor withhold the allowances of the families of martyrs, prisoners, and released prisoners... if we had one single penny left, we would spend it on the families of the martyrs and the prisoners." (Image source:
MEMRI
)
Palestinian Authority (PA) President Mahmoud Abbas recently reaffirmed his longstanding commitment to pay families of Palestinians who were imprisoned for or killed during terrorist attacks against Israelis. "We have been paying the families of the prisoners and martyrs since 1965," Abbas told Arab League Foreign Ministers during an emergency meeting in Cairo on April 21.
Abbas's insistence on paying millions of dollars to families of Palestinians who murder or attempt to murder Jews, has cost the Palestinians a heavy price. In the past two months, Abbas's government has been unable to pay full salaries to its 200,000 employees. The reason? Israel has begun deducting, from the tax revenues it collects on behalf of the Palestinians, the same amount the PA government pays each month to the families of the prisoners and "martyrs."
Continue Reading Article