by Khaled Abu Toameh • November 12, 2018 at 5:00 am
To date, Hamas and Fatah have not been able to agree on the interpretation of the "reconciliation" agreements already signed. Fatah claims that the agreements are supposed to allow its Ramallah-based government to assume full responsibility over the Gaza Strip. Hamas, for its part, remains vehemently opposed to relinquishing security control over the Gaza Strip.

Abbas's official news agency, Wafa, issued a strongly worded statement accusing Hamas of being part of a "Zionist-American conspiracy" to detach the West Bank from the Gaza Strip. According to the statement, Hamas is now cooperating with the US and Israel to establish a separate Palestinian state in the Gaza Strip. "There will be no Palestinian state without the Gaza Strip, and there will be no [separate Palestinian] state in the Gaza Strip," the statement quoted Abbas as saying.

Abbas can continue to present himself to the world as the "President of the State of Palestine" as much as he wants. He is only living in an illusion: it is obvious by now that he does not represent the two million Palestinians who are living in a separate Hamas-controlled entity in the Gaza Strip. Abbas has not been able to set foot in the Gaza Strip for the past 11 years, and his chances of ever returning there now seem to be zero.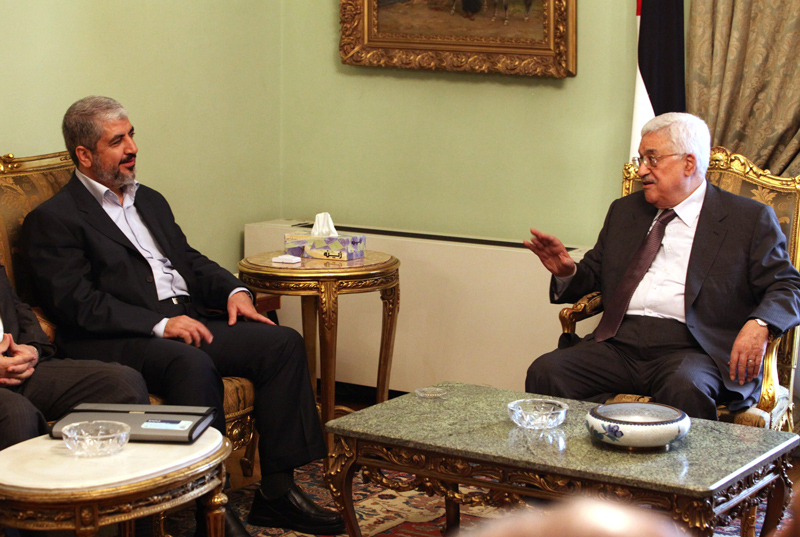 For the past 11 years, a number of Arab countries have tried to end the power struggle between Hamas and Palestinian Authority President Mahmoud Abbas's Fatah faction, to no avail. Several "reconciliation" agreements previously signed between Fatah and Hamas have never been implemented. Pictured: Abbas (right) and Hamas leader Khaled Mashaal meet on November 24, 2011 in Cairo, Egypt, in one "reconciliation" attempt. (Photo by Mohammed al-Hams/Khaled Mashaal's Office via Getty Images)
Last week, Hamas began paying salaries to thousands of its employees after Qatar sent a $15 million grant in cash to the Gaza Strip. The money was brought to the Gaza Strip by senior Qatari envoy Mohammed El-Amadi through the Erez border crossing with Israel.
The Qatari grant is in the context of efforts by Egypt, Qatar, and the United Nations to reach a long-term truce between Israel and Hamas.
The payment was the first of a total of $90 million that the emirate has pledged to send to the Gaza Strip in the next six months, according to Palestinian sources.
The Palestinian Authority (PA) and its president, Mahmoud Abbas, however, remain opposed to an agreement; reports say that one of the reasons they are opposed to a truce accord between Israel and Hamas is because such a deal will pave the way for the establishment of a separate Palestinian state in the Gaza Strip.
Continue Reading Article