by Soeren Kern • April 24, 2018 at 5:00 am
Since the March 2004 attacks on Madrid's trains, Spanish authorities have arrested more than 750 jihadis in 243 counter-terrorism operations, according to the Interior Ministry.

Jihadis remain undeterred. A recent Islamic State document included a list of grievances against Spain for wrongs allegedly done to Muslims since the Battle of Las Navas de Tolosa on July 16, 1212.

"There is little doubt that the autonomous region of Catalonia has become a prime base of operations for terrorist activity. Spanish authorities tell us they fear the threat from these atomized immigrant communities prone to radicalism, but they have very little intelligence on or ability to penetrate these groups." — US diplomatic cable, October 2, 2007.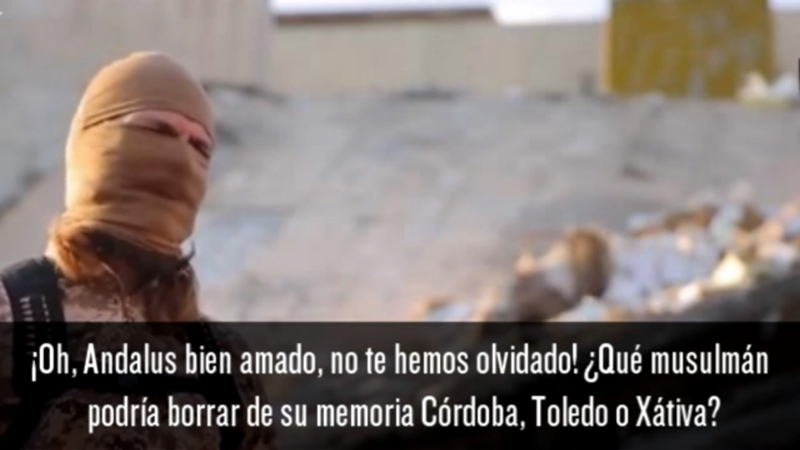 An armed, masked Islamic State jihadist appears in a propaganda video, where he warns Spain that it would "pay a very heavy price" for expelling Muslims from al-Andalus hundreds of years ago. The Spanish subtitle above reads "Oh dear Andalus! You thought we forgot about you. I swear by Allah we have never forgotten you. No Muslim can forget Córdoba, Toledo or Xàtiva."
Ten members of an Islamic State jihadi cell have been sentenced to combined prison terms of nearly 100 years for a plot to bomb landmarks and behead infidels in Barcelona.
The cell, composed of five Moroccans, four Spaniards and a Brazilian, was separate to and independent of the jihadi group that killed 16 people in Barcelona and nearby Cambrils in August 2017.
The case shows that Spain continues to be a prime target for jihadis, many of whom are striving to reconquer al-Andalus, the Arabic name given to those parts of Spain, Portugal and France occupied by Muslim conquerors (also known as the Moors) from 711 to 1492. Many jihadis believe that territories Muslims lost during the Christian Reconquest of Spain still belong to the realm of Islam, and that Sharia law requires them to re-establish Muslim rule there.
Continue Reading Article