by Khaled Abu Toameh • April 26, 2018 at 5:00 am
Dropping barrels of dynamite on houses and hospitals in a Palestinian refugee camp is apparently of no interest to those who pretend to champion Palestinians around the world. Nor does the issue seem to move the UN Security Council.

UNRWA said that of the estimated 438,000 Palestine refugees remaining inside Syria, more than 95% (418,000) are in critical need of sustained humanitarian assistance.

As for the leaders of the Palestinians in the West Bank and Gaza Strip? They are otherwise occupied. Mahmoud Abbas's Palestinian Authority and Hamas are too busy lunging at each other's throats and trying to take down Israel to pay much attention to their people's suffering in Syria.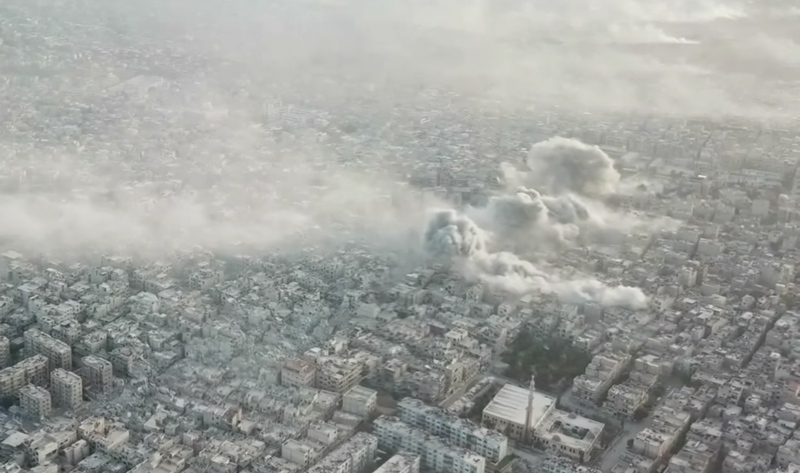 Plumes of smoke billow up from the Yarmouk refugee camp in Damascus, as the Syrian Army shells the camp on April 20, 2018. (Image source: Ruptly screenshot)
While all eyes are set on the weekly demonstrations organized by Hamas and other Palestinian factions along the border between the Gaza Strip and Israel, as part of the so-called March of Return, a Palestinian refugee camp near Damascus is facing a wide-scale military offensive and ethnic cleansing by the Syrian army and its allies.
The war crimes committed against the Palestinians in Yarmouk camp have so far failed to prompt an ounce of outrage, much less the sort of outcry emerging from the international community over the events of the past four weeks along the border between the Gaza Strip and Israel.
The international community seems to differentiate between a Palestinian shot by an Israeli soldier and a Palestinian shot by a Syrian soldier.
Continue Reading Article