by Soeren Kern • April 3, 2020 at 5:00 am
In Spain, the Ministry of Health revealed that 640,000 coronavirus tests that it had purchased from a Chinese supplier were defective. In addition, a further million coronavirus tests delivered to Spain on March 30 by another Chinese manufacturer were also defective.

The Czech news site iRozhlas reported that 300,000 coronavirus test kits delivered by China had an error rate of 80%. The Czech Ministry of Interior had paid $2.1 million for the kits.

A spokesperson for a hospital in Dutch city of Eindhoven said that Chinese suppliers were selling "a lot of junk... at high prices."

"No. 10 [the residence of the British prime minister] believes China is seeking to build its economic power during the pandemic with 'predatory offers of help' to countries around the world." — The Daily Mail, March 28, 2020.

"The brutal truth is that China seems to flout the normal rules of behavior in every area of life — from healthcare to trade and from currency manipulation to internal repression. For too long, nations have lamely kowtowed to China in the desperate hope of winning trade deals. But once we get clear of this terrible pandemic, it is imperative that we all rethink that relationship and put it on a much more balanced and honest basis." — Former UK Conservative Party leader Iain Duncan Smith.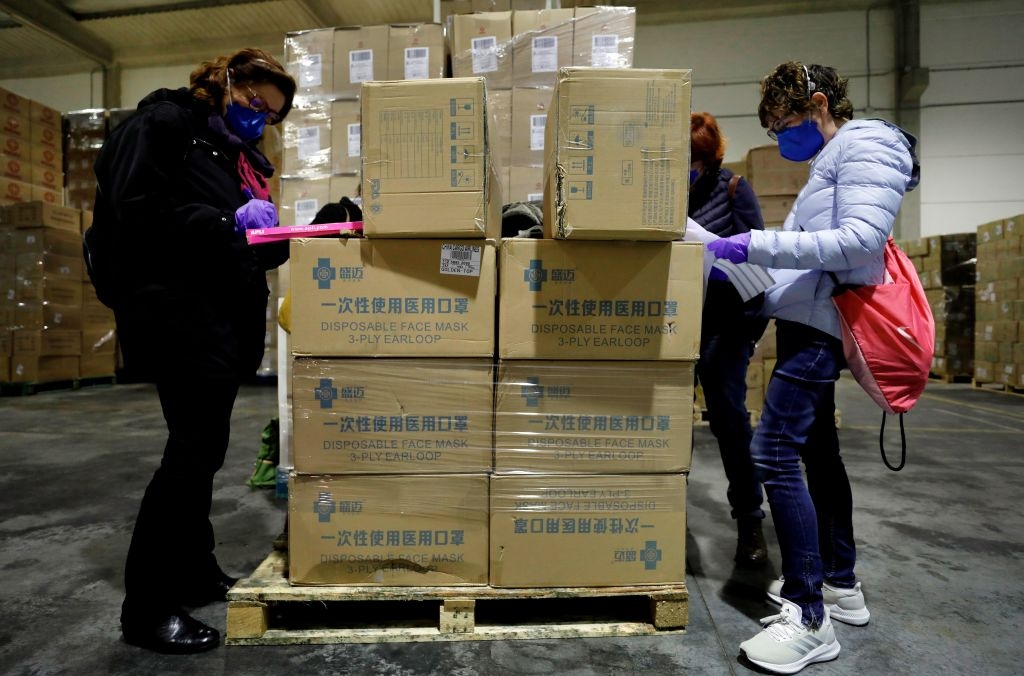 A growing number of European countries are reporting that millions of pieces of medical equipment donated by, or purchased from, China to defeat the coronavirus pandemic are defective and unusable. Pictures: Workers sort out personal protective equipment received from China at a warehouse in Valencia, Spain, on March 25, 2020. (Photo by Juan Carlos Cardenas/Pool/AFP via Getty Images)
As the coronavirus rages across Europe, a growing number of countries are reporting that millions of pieces of medical equipment donated by, or purchased from, China to defeat the pandemic are defective and unusable.
The revelations are fueling distrust of a public relations effort by Chinese President Xi Jinping and his Communist Party to portray China as the world's new humanitarian superpower.
On March 28, the Netherlands was forced to recall 1.3 million face masks produced in China because they did not meet the minimum safety standards for medical personnel. The so-called KN95 masks are a less expensive Chinese alternative to the American-standard N95 mask, which currently is in short supply around the world. The KN95 does not fit on the face as tightly as the N95, thus potentially exposing medical personnel to the coronavirus.
Continue Reading Article