by Giulio Meotti • November 14, 2018 at 5:00 am
Asia Bibi is expected to remain in Pakistan until her case is once again "reviewed in an appeal process" ordered by the Prime Minister. Bibi's judicial process now looks infinite. Meanwhile, thousands of Islamists fill the Pakistani streets, calling for her execution.

Many of the values that make the West "the West" are now at stake in her fate: freedom of expression, religious freedom, freedom of movement, the rule of law, human dignity, and the separation of church and state. If the West does not fight for Asia Bibi, for whom should it fight?

"If Asia Bibi is denied asylum in the UK then what the heck is the point of the asylum system?" — Ayaan Hirsi Ali, refugee from Somalia, author and human rights campaigner.

A London where an ISIS-supporting preacher of Pakistani descent, Anjem Choudary, is free and comfortable, while a Pakistani Christian woman, Asia Bibi, would be unsafe and threatened, is the end of the West as we know it.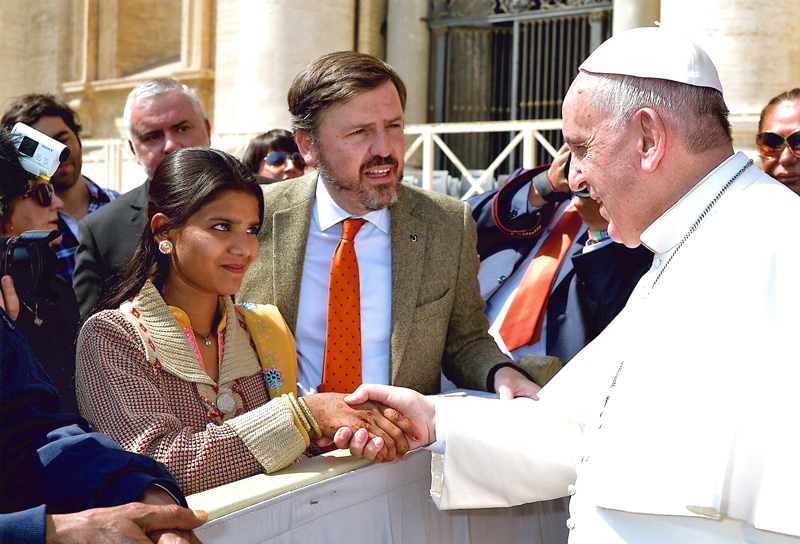 Asia Bibi's family has struggled for eight years to save her life, first to get her off of death row in Pakistan, where she was falsely imprisoned for "blasphemy," and now that she has been released, to try to get asylum for her in the West. Pictured: Eisham Masih, one of Asia Bibi's daughters, is greeted by Pope Francis in 2015. (Image source: HazteOir/Wikimedia Commons)
Asia Bibi's case looks as if it is coming from "another, medieval world."
Her "guilt," as an "unclean" Christian, was for drinking water from a communal well, used by Muslim neighbors. Two Muslim women alleged that because she, a Christian, had touched the water from the well, the entire well was now haram (forbidden by Islamic law). Bibi responded by saying "I think Jesus would see it differently from Mohammed," that Jesus had "died on the cross for the sins of mankind," and asked, "What did your Prophet Muhammad ever do to save mankind?" She was accused of insulting the Islamic prophet Muhammad and put on trial for "blasphemy." She was told to convert to Islam or die.
Continue Reading Article