by Raymond Ibrahim • February 17, 2019 at 5:00 am
Saudi Arabia, America's close friend and ally, failed to live up to its promise to eliminate extremist content -- that promotes hostility for, and violence against, religious minorities -- from its 2018-19 school year curriculum.

"Examples of this content include demeaning non-Muslims and encouraging jihad against them. The execution of apostates is prescribed and children are encouraged not to associate with non-Muslims. Saudi Arabia not only continues to use these textbooks domestically, but exports them to other parts of the Middle East." — Report from International Christian Concern, December 1, 2018.

British authorities decided to deport a Christian man back to Pakistan, where he was previously beaten and threatened with death, "despite UK playing host to [Muslim] hijackers, extremists and rapists," to quote from one headline. Asher Samson, 41, "first arrived in the UK in 2004 to carry out his theology training in order to become a pastor, but later applied for asylum after receiving threats from Islamic extremists during visits home..." According to Samson, "If they do send me back my life will be really in danger... I'm so scared... People know who I am, they know I am a Christian..." — The Independent, December 24, 2018.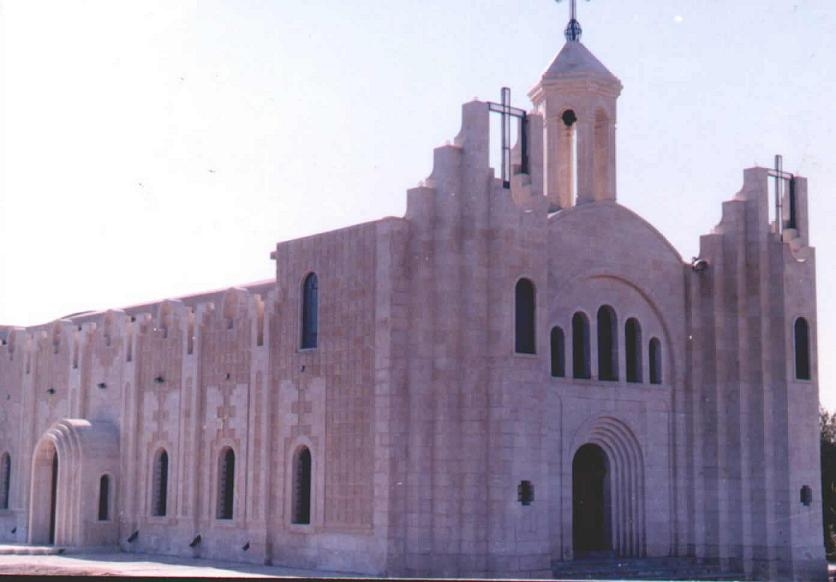 On December 1, Shabak, an Iraqi Shia militia formed in 2014 to reclaim the Nineveh Plain from the Islamic State, opened fire on the St. George Assyrian Church in Bartella, formerly a Christian-majority city in Iraq, and threatened its priest, Fr. Behnam Benoka. Pictured: St. George Assyrian Church in Bartella. (Image source: Wikimedia Commons)
The Slaughter of Christians
Egypt: A Muslim policeman charged with guarding a Coptic Christian church shot and killed two Christians — a father, 49, and his son, 21 — on the night of December 12 in Minya. Eyewitnesses say a quarrel had ensued before the officer pulled out his gun and opened fire on the two men. Video footage of the incident shows the killer-cop brandishing his gun as he stalks around the bloodied but still moving Christians on the ground. He loudly curses them — or all Copts in general? — as "mother-f*****s." Thousands of angry Christians attended the funeral, chanting kyrie eleison ("Lord have mercy!"), and, "Where are the rights of the martyrs!" Coptic Solidarity said in a statement:
Continue Reading Article