by Giulio Meotti • June 16, 2019 at 5:00 am
Recently, some major conservative intellectuals have been sacked in the UK. One is the peerless philosopher Roger Scruton, who was fired from a governmental committee...

Then it was the turn of the great Canadian psychologist Jordan Peterson, whose visiting fellowship at Cambridge University was rescinded...

By refusing to confront the speech police, or to support freedom of expression for Salman Rushdie, Roger Scruton, Jordan Peterson, Charlie Hebdo, and Jyllands-Posten -- just the tip of a huge iceberg -- we have started down the road of submission to sharia law and to tyranny. We all have been covering up our supposedly "blasphemous" culture with burqas to avoid offending people who do not seem to mind offending us.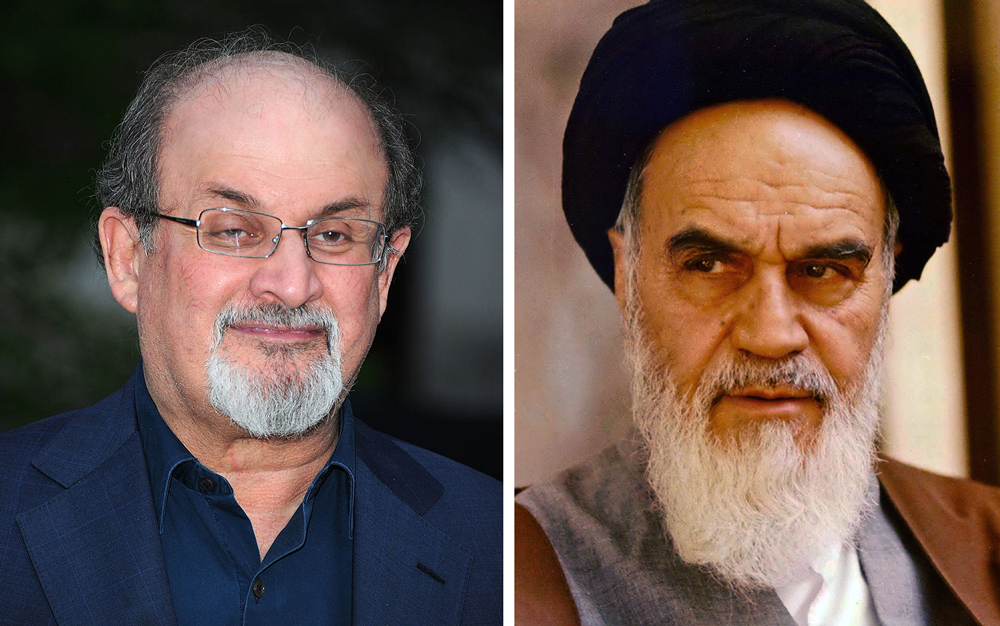 In 1988, The Satanic Verses was published, written by Salman Rushdie (left), a British citizen. Iran's "Supreme Leader" Ayatollah Ruhollah Khomeini (right) in 1989 condemned Rushdie to death for writing the book. The Rushdie affair seems to have deeply shaped British society. (Image sources: Rushdie - Andrew H. Walker/Getty Images; Khomeini - Mohammad Sayyad/Wikimedia Commons)
Three years ago, the Italian government made a shameful decision. It veiled its antique Roman statues to avoid offending Iran's visiting President Hassan Rouhani. Nude statues were encased in white boxes. A year earlier, in Florence, another statue featuring a naked man in Greco-Roman style had also been covered during the visit of the crown prince of Abu Dhabi. Now, one of the most famous British art galleries has covered two paintings, after Muslim complaints that they were "blasphemous".
Continue Reading Article