There have never been so many childless politicians leading Europe as today. They are modern, open minded and multicultural and they know that "everything finishes with them". In the short term, being childless is a relief since it means no spending for families, no sacrifices and that no one complains about the future consequences. As in a research report financed by the European Union: "No kids, no problem!".
Being a mother or a father, however, means that you have a very real stake in the future of the country you lead. Europe's most important leaders leave no children behind.
Europe's most important leaders are all childless: German Chancellor Angela Merkel, Dutch Prime Minister Mark Rutte and the French presidential hopeful Emmanuel Macron. The list continues with Swedish Prime Minister Stefan Löfven, Luxembourg's Prime Minister Xavier Bettel and Scottish First Minister Nicola Sturgeon.
As Europe's leaders have no children, they seem have no reason to worry about the future of their continent. German philosopher Rüdiger Safranski wrote:
"for the childless, thinking in terms of the generations to come loses relevance. Therefore, they behave more and more as if they were the last and see themselves as standing at the end of the chain".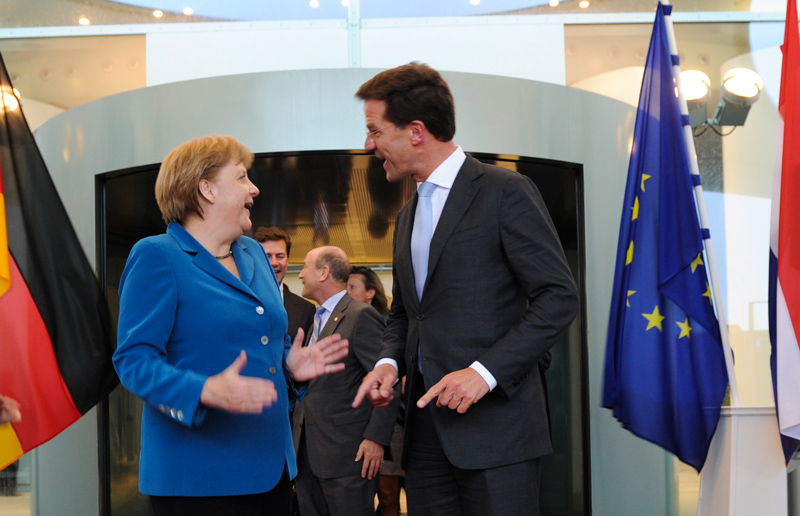 Living for today: Europe's most important leaders are all childless, among them German Chancellor Angela Merkel (left) and Mark Rutte (right), Prime Minister of the Netherlands. (Image source: Minister-president Rutte/Flickr)
"Europe is committing suicide. Or at least its leaders have decided to commit suicide", wrote Douglas Murray in The Times. "Europe today has little desire to reproduce itself, fight for itself or even take its own side in an argument". Murray, in his new book, entitled The Strange Death of Europe, called it "an existential civilisational tiredness".
Angela Merkel made the fatal decision to open the doors of Germany to one million and half migrants to stop the demographic winter of her country. It is not a coincidence that Merkel, who has no children, has been called "the compassionate mother" of migrants. Merkel evidently did not care if the massive influx of these migrants would change German society, probably forever.
Dennis Sewell recently wrote in the Catholic Herald:
"It is that idea of 'Western civilisation' that greatly complicates the demographic panic. Without it, the answer would be simple: Europe has no need to worry about finding young people to support its elderly in their declining years. There are plenty of young migrants banging at the gates, trying to climb the razor wire or setting sail on flimsy boats to reach our shores. All we need to do is let them in".
Merkel's childless status mirrors German society: 30% of German women have not had children, according to European Union statistics, with the figure rising among female university graduates to 40%. Germany's Minister of Defense, Ursula von der Leyen, said that unless the birth rate picked up, the country would have to "turn the lights out".
According to a new study published by the Institut national d'études démographiques, a quarter of European women born in the 1970s may remain childless. Europe's leaders are no different. One in nine women born in England and Wales in 1940 were childless at the age of 45, compared to one in five of those born in 1967.
French politician Emmanuel Macron has rejected French President François Hollande's assertion that, "France has a problem with Islam". He is against suspending the citizenship of jihadists, and keeps insisting, against all evidence, that Islamic State is not Islamic: "What poses a problem is not Islam, but certain behaviours that are said to be religious and then imposed on persons who practice that religion".
Macron preaches a sort of multicultural buffet. He speaks of colonialism as a "crime against humanity". He is in favor of "open borders", and for him, again against all evidence to the contrary, there is no "French culture".
According to philosopher Mathieu Bock-Coté, the 39-year-old Macron, who is married to his 64-year-old former teacher, is the symbol of a "happy globalization freed of the memory of the French lost glory". It is not a coincidence that "Manif Pour Tous," a movement that fought the legalization gay marriage in France, urged voting against Macron as the "anti-family candidate". Macron's slogan, "En Marche!" ("Forward!"), embodies the globalized élites who reduce politics to an exercise, a performance.
That is why Turkish leader Erdogan urged Muslims to have "five children" and Islamic imams are urging the faithful to "breed children": to conquer Europe. Islamic supremacists are busily building a clash of civilizations in Europe's midst, and they depict their Western host countries collapsing: without population, without values, and abandoning their own culture.
If you look at Merkel, Rutte, Macron and others, are these Islamic supremacists so wrong? Our European leaders are sleepwalking us to disaster. Why should they care, if at the end of their lifespans Europe will not be Europe? As Joshua Mitchell explained in an essay, "'finding ourselves' becomes more important than building a world. The long chain of generations has already done that for us. Now let us play".
Giulio Meotti, Cultural Editor for Il Foglio, is an Italian journalist and author.