Headlines every day proclaim the new religion: political correctness, cultural vandalism and censorship -- not from Islamic emirates such as Saudi Arabia, but in Western cities right here.
The Writers Union of Canada, for instance, recently apologized for a magazine editorial that defended the right of novelists to create characters from a backgrounds other than their own.
Just think of that: a writer defending the right to use one's imagination?! What an insult! At least, to "the new Stalinists" it is.
"In my opinion anyone, anywhere, should be encouraged to imagine other peoples, other cultures, other identities," Hal Niedzviecki, who was the editor of the union's magazine, Write, defended freedom in an editorial. The Union then announced that Niedzviecki had resigned.
Another journalist also fell victim to this new religion. Jonathan Kay also recently resigned as editor of the magazine The Walrus. Defending Niedzviecki's right to use his imagination cost Kay his job.
Their unspeakable crime was, it appears, "cultural appropriation" -- one of the new "groupthink" expressions that the theologian Paul Griffiths condemned as "illiberal and totalitarian". Griffiths, too, had to resign from Duke University after criticizing his colleagues for a "diversity program" that "provides foundational training in understanding historical and institutional racism."
Every revolution needs to master a new "language" to achieve uniformity of expression and thought. George Orwell, in 1984, called the replacement language "Newspeak".
Cardiff Metropolitan University, one of the largest in Britain, compiled a list of 34 words that it "encouraged" teachers and students to stop using, and replaced them with "gender-neutral" terms. "Fireman" should be replaced by "firefighter"; "mankind" should be replaced by banned "humanity", and so on. Princeton University also expunged the word "man" in its various uses, in favor of supposedly more "inclusive" expressions. City University of New York decided to ban "Mr." and "Mrs." California State University replaced commercial terms such as "businessman", "mailman", "manpower" and "salesman" to avoid that horrendous, forbidden word.
While at it, why not also purge Christianity's religious language? Some of the most famous theological universities, such as Duke and Vanderbilt, invited professors and staff to use "inclusive" language even when they are referring to God, because the masculine pronouns are "a cornerstone of patriarchy".
This politically correct nonsense highlights even further the infantilization of our culture -- such as the demand for "safe spaces" and "trigger warnings". It may look like comedy, but its effect is deadly serious. British philosopher Roger Scruton has said that a kind of "moral obesity" is crippling Western culture.
Groupthink is a debilitating force. in any civilization. It undermines one's ability to resist the real enemies of democracy and freedom: it makes us blind to radical Islam and jihadi terrorism, and it gives the impression that our society is a joke.
That is why Algerian writer Boualem Sansal, whose novel 2084 depicted a dystopian state governed by religious law, said "literature and arts are not playing a big role in this struggle against barbarism". Those writers are, instead, far too busy implementing political correctness.
Universities in Britain are now even holding workshops to "deal with right wing attitudes in the classroom". Instead of being intellectually diverse, universities are trying their utmost to impose homogeneity of thoughts and ideas. So-called "right wing newspapers" are banned from certain universities. Recently, the at the City University of London, the student union, devoid of irony, fascistically voted to ban some conservative tabloids in order to "oppose fascism".
Dozens of personalities, conservative and liberal alike, have been prevented from speaking on many U.S. campuses. This is just a short list: Milo Yiannopoulos, Janet Napolitano, George Will, Condoleezza Rice, Madeleine Albright, Ayaan Hirsi Ali, Henry Kissinger, Christine Lagarde, Charles Murray and Jason Riley.
First, students asked to limit freedom of expression to a specific place on campus. Then they started issuing declarations about no rights to free speech. Finally, in a crescendo of hysteria, they ended up throwing firebombs. How can we pretend that freedom of expression in the West is protected -- from fascism, Islamism, anything -- when we restrict it in our universities?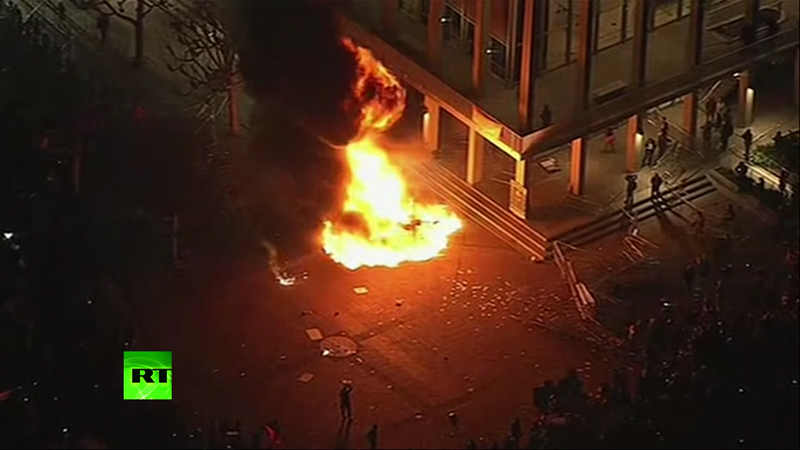 When the "politically incorrect" commentator and writer Milo Yiannopoulos was due to speak at the University of California, Berkeley on February 1, 2017, a mob of 150 people proceeded to riot, smash and set fires, causing more than $100,000 of damage. (Image source: RT video screenshot)
A few weeks ago, the 2017 Whitney Biennal in New York opened with a protest in front of a painting by the American-born artist Dana Schutz. The picture depicted Emmett Till, a boy lynched by racists in Mississippi in 1955. More than 25 black artists signed an open letter, written by the artist Hannah Black, to the Whitney's curators and staff, asking that the painting be removed from the Biennial, allegedly because "the painting uses black suffering for "profit and fun'". Ms. Black also asked that the painting be "destroyed and not entered into any market or museum".
That request not only aimed at censoring different ideas, but, like the Grand Inquisitor, of destroying the "wrong thought". The new religion -- featuring political correctness, cultural vandalism and censorship -- is dismantling the West.
Giulio Meotti, Cultural Editor for Il Foglio, is an Italian journalist and author.