"Germany is quietly building a European army under its command," according to some in the media. Apparently German Chancellor Angela Merkel, after her clash with U.S. President Donald Trump, would like to invest, along with France, in a European army.
At present, however, there is just one real army in Europe -- the Jihadist Army, as in the terrorists who struck London on June 3 and murdered seven people, just two weeks after carnage in Manchester.
In the four European countries most targeted by terror attacks -- Britain, France, Belgium and Germany -- the number of official extremists has reached 66,000. That sounds like a real army, on active duty.
Intelligence officers have identified 23,000 Islamic extremists living in Britain as potential terrorists. The number reveals the real extent of the jihadist threat in the UK. The scale of the Islamist challenge facing the security services was disclosed after intense criticism that many opportunities to stop the Manchester suicide bomber had been overlooked.
French authorities are monitoring 15,000 Islamists, according a database created in March 2015 and managed by France's Counter-Terrorism Coordination Unit. Different surveys estimate up to 20,000 French radical Islamists.
The number on Belgium's anti-terror watch-list surged from 1,875 in 2010 to 18,884 in 2017. In Molenbeek, the well-known jihadist nest in the EU capital, Brussels, intelligence services are monitoring 6,168 Islamists. Think about that: 18,884 Belgian jihadists compared to 30,174 Belgian soldiers on active duty.
The number of potential jihadists in Germany has exploded from 3,800 in 2011 to 10,000, according to Hans-Georg Maassen, head of the Office for the Protection of the Constitution (Germany's domestic intelligence service).
These Islamists have built a powerful infrastructure of terror inside Europe's cities. These terror bases are self-segregated, multicultural enclaves in which extremist Muslims promote Islamic fundamentalism and implement Islamic law, Sharia -- with the Tower Hamlets Taliban of East London; in the French banlieues [suburbs], and in The Hague's "sharia triangle", known as "the mini-caliphate," in the Netherlands. These extremist Muslims can comfortably get their weapons from the Balkans, where, thanks to Europe's open borders, they can travel with ease. They can also get their money from abroad, thanks to countries such as Qatar and Saudi Arabia. These Islamists can self-finance through the mosques they run, as well as get "human resources," donated by unvetted mass migration coming through the Mediterranean.
23,000 potential jihadists in the UK, 18,000 in Belgium, 10,000 in Germany, 15,000 in France. What do these numbers tell us? There might be a war in Europe "within a few years", as the chief of the Swedish army, General Anders Brännström, told the men under his command that they must expect.
Take what happened in Europe with the terror attacks from 1970 to 2015:
"4,724 people died from bombings. 2,588 from assassinations. 2,365 from assaults. 548 from hostage situations. 159 from hijackings. 114 from building attacks. Thousands were wounded or missing".
Terrorism across Europe has killed 10,537 people in 18,803 reported attacks. And it is getting worse:
"Attacks in 2014 and 2015 have seen the highest number of fatalities, which includes terrorists targeting civilians, government officials, businesses and the media, across Europe since 2004".
A jihadist takeover of Europe is no longer unthinkable. Islamic extremists are already reaping what they sowed: they successfully defeated Geert Wilders and Marine Le Pen, the only two European candidates who really wanted to fight radical Islam. What if tomorrow these armed Islamists assault the Parliament in Rome, election polls in Paris, army bases in Germany or schools in London, in a Beslan-type attack?
The terrorists' ransom is already visible: they have destabilized the democratic process in many European countries and are drafting the terms of freedom of expression. They have been able to pressure Europe into moving the battle-front from the Middle East to Europe itself. Of all the French soldiers engaged in military operations, half are deployed inside France; in Italy, more than half of Italian soldiers are used in "Safe Streets," the operation keeping Italy's cities safe.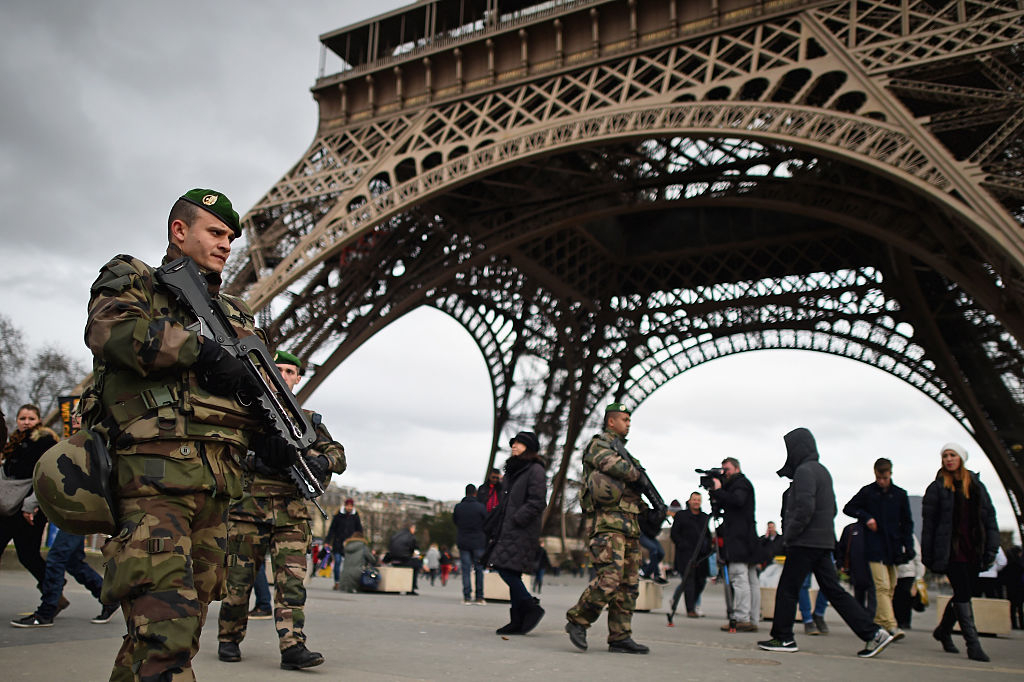 Of all the French soldiers engaged in military operations, half are deployed inside France. (Photo by Jeff J Mitchell/Getty Images)
After 9/11, the United States decided to fight the Islamists in Afghanistan and Iraq, not to have to fight them in Manhattan. Europe chose the opposite direction: it as if Europe had accepted to turn its own cities into a new Mosul.
If Europe's leaders do not act now to destroy the enemy within, the outcome may well come to be an "Afghan scenario," in which Islamists control part of the territory from where they launch attacks against cities. Europe could be taken over the same way Islamic State took over much of Iraq: with just one-third of Iraqi territory.
Giulio Meotti, Cultural Editor for Il Foglio, is an Italian journalist and author.