Editors' note: To those of you who have enquired, the author is a real man living in the Middle East who sent us these pieces because he is unable to share them with anyone where he lives. At first we tried to tidy up the English, but that seemed to knock much of the soul out of his work. So we made the editorial choice to present his work basically as he sent it; what you are seeing is the result of that choice. It is the way he sees the world from his point of view, unobstructed by editors. Perhaps think of it more as a different kind of article, more as folk art but in words. It is not meant to offend anyone or any religion. It always seemed, living among people from different nations, as if wrongnesses in English were often "righter" than rightnesses. The painter Paul Gauguin reportedly said: "If you see a tree as blue, then make it blue." We apologize to anyone who may not like these postings. "Those who understand, understand."
A lot of World Banned Terrorist Organization start for work openly in my Country. One of these World Banned Terrorist Organization Head was just elected Member for Parliament. Other day, a Ambulance come by with mark of Famous World Banned Terrorist Organization that say they collecting fund for Muslims in Iraq, Syria, Afghanistan, etc. There are two persons one are driving the Ambulance and other one announce in a speaker for Donation. He say, We buy Food and cloth for our Men and we also use this Donation for Fight Against The Enemy Jihad.
He also say that, Tomorrow we arrange a Really, and our organization Main Leaders participates in this and all of you participates in this Good-Deed also.
Next day in Play Ground where in evening few Boys plays cricket, at morning under the dusty sun we listen the Voice of Quranic Verse and Songs of Anthem that force a person to fight. There are a Stage with Dice and Mice -- the Dice with sitting arrangement and Mice to loud the voice -- and also many chairs infront . There are Black and green Flags every place and on these Flags the First Kalimah–e-Tayyaba are print or write: No God there are but Allah and Muhammad PBUH are the messenger.
Every where are arranger wearing turban on the head. Some wear white, some wear the yellow or Brown. Behind the stage is giant banner where Kalima-e-Tayyaba are write again, this time with all the Well-Known World Banned Terrorist Organization name on one side and on Other, many pictures of them: Osama Bin Laden, Mulla Umar, al-Zawahiri and other Well-Known Most-Want Persons. At the end there are a Statement in a Big Letters: "THESE ARE THE TRUE LIONS OF ISLAM AND MUSLIM WORLD"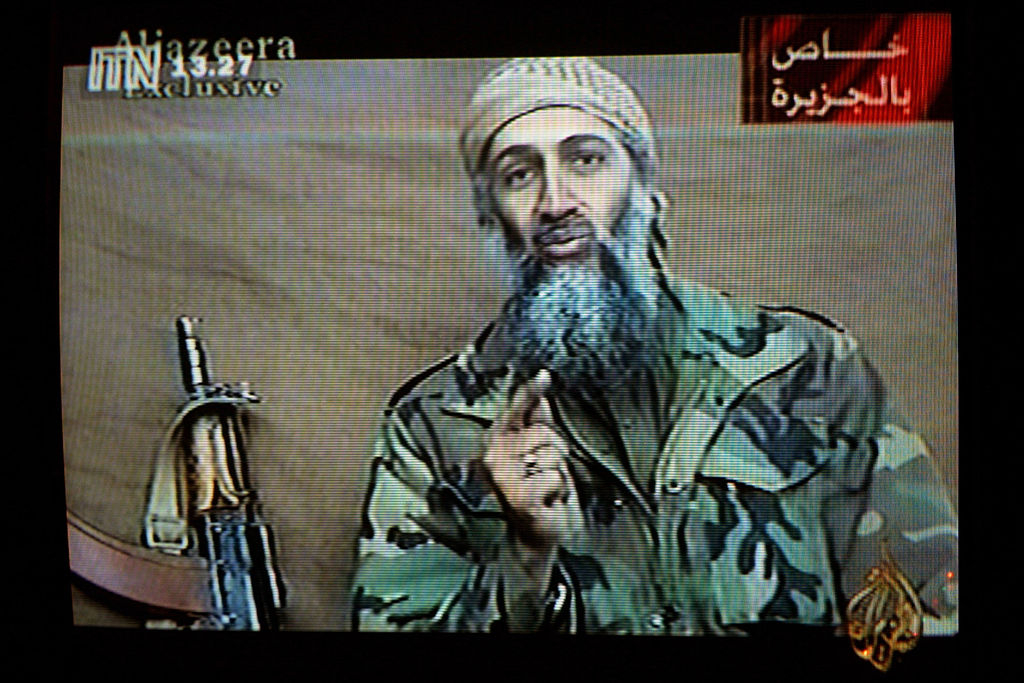 Osama Bin Laden (Photo by Getty Images)
Soon One person in Black Turban and Long Hairs on face announce, Now we begins the mass meeting with the name of Allah and recites the Holy Quran.
Then a person recite the few Quranic Verses and after this, deliver the short speech on the personality of Prophet P.B.U.H. After that, the Stage Host invite some One for deliver speech for Syria, Afghanistan, Iraq, etc. He also tell that he is Honour for serve the Osama, Zawahiri and Mulla Umar. He tell his speech with these word:
Muslims you know Osama, Umar and Zawahiri, they are bear a lot of hardship for you. Am have also cleans the blood and sees the scratch on their body for you against The Enemies of Islam!
After this, one more person are invites to Dice and Mice for deliver speech for tell every One go right a Way for prepare himself in The Fight Against The Enemy. One of these say, We now are change the way for Fight. We now discover New Way. Our Enemy are ancient Clever. We now make The Strong Alliance on all the Other Organization and help each Other with Hidden Shake Hand. We now prepare for educate young Boys, Girls and any interest person to take part in This Holy Fight. We needs your donation for Wins this Fight!
After speech, the Host say, Now am invite on Dice such type of person who are not wearing dress like us, who do not have turban and long Hairs on face, but he are a person who are working in a World Strongest Intelligence Network more than 30 year and get a permotion until in Army he are a General! Still, after his retirement, his soul nor care not take a rest. Now He give us ideas and ways to fight because he Well-Known in this. He take part in four war and know how how for Defeat The Enemy.
So he invite him. General stand from chair and raise the hand and all the crowd start hooting in the favour of this person. He start his speech to saying,
Am serve the one of strongest Army more than 37 year, and more than 30 year am done my service in a Intelligence Network that is the World Best Intelligence Network and am see and observe closely every Thing. Am also work in world Most Dangerous Countries and it are my exercise when and how are Capture the Enemy. Am also know on every Weapon how for use them. It are a great, great loss for Muslim Worlds that al-Qaida are not in her best position that was before when it have work for the Osama. Mulla Umar were Good Person also. Am meet with him so many Time. But when this point come into my mind, that now al-Qaida soo weak, it fill tears in my eyes, but it are a great gift for us that One more Organization that are more strong than Qaida and that are working in Syria, Afghanistan, Iraq, etc. Am not have any link with that but am advice all the leaders who is sitting here to make the collision and help them with every way Donation - Weapon, the Human Resource, Food, Shelter, every Thing, and when Ever you need my help I will with you! Am know how collects the weapons and how for use them! Now This Time if you want for Fight Against The Enemy, this Fight Need Blood. Blood of Youngster! Am remember acutely well when have been soldier, there are so many aged soldier with us, but we are young, so we say on him, Just gives us support from back and we lead to the fight infront. So many my brothers soldier becomes Shaheed (martyr). Am also touch and feel the Hot Blood on my Young Soldier, but when we have try to save them they say on us for, Carry on with Fight do not have Care for us. So we leaves them there and when comes back, most are been Shaheed. Their Blood were Hot. Soo this Time if you want for build the strong wall like al-Qaida, then Shake the Hand and help the Mujahideens, then one day we too gets success and takes them to the next location. My message for you are plain: You takes interest and builds this new group. Before, Enemy feel fear from al-Qaida, but now with Your Contribution and Your Help, Enemy again feel More Fear from this new group of Mujahideen. If we need for do the robbery and collect a weapons for them, then we are not feel hasitation for do this. One day, we are takeover World, one day we are takeover Every Place!
After this, the host the invite Chief Guest, who are also on the World Most Want Terrorist List. Chief Guest say,
Not have more words. My brothers who address you before me tells you every Thing and the General who address you before me, am deeply thanks full to him that he join us and am say this openly. It are our first success from Allah! As already you know, that Enemy feel fear from me and he add my name on Most Wan Person Terror List. This is happen because am Fight Against The Enemy. My Team and my Welfare Organizations works for people who are Needy in the World. If Enemy think that this are wrong, Enemy are wrong. Am do this terrorist till Last Breath, till Grave, till the Death. Not for bury me in grave till some One inform me that Enemy are no more on this Earth. It are my promise to you, am Destroy every Enemy. If world add my name Thousand Time on Most Want Person Teror List, than am not for care: the Love that You are gives me are Bigger! This list are nothing infront of me, it equal to the piece of Paper. Am also advice to my family, My Sons, that if I becomes die, then carry my Mission forward. Now no one able to damage me because now we have person who know every Thing about War and War Game. And it are my Honour that am standing on that place where he are before me. He donate his Life for War or Fight. So the Organization who are running in Afghanistan, Iraq, Syria etc., we carry one day Your Flag, and Your Flag raise one day over World, those are our Wish! One day we destroy the Infidel, until he accomplish last day on Earth!
He carry on for nearly dark with out for use a single word for peace. But when Ever he use War, Blood, Guns, Infidel, words like this, the public rise up the voice. The men in Turban invites and announce new and young persons for comes and shake the hand with us and the person will go and serves in defance forces. They then go wander in different city and arrange mass meeting and no one tell them now stops.
Hakim Haider is based in the Middle East.