"Far from leading to fusion, Europe's migration crisis is leading to fission", Stanford's historian Niall Ferguson recently wrote. "Increasingly, I believe that the issue of migration will be seen by future historians as the fatal solvent of the EU". Week after week, Mr. Ferguson's prediction seems to be turning into a reality.
Not only does Europe continue to fragment as anti-immigration sentiment gathers political strength, but, as a result of the migrant crisis, the EU's border-free internal zone, Europe's most cherished prize after the Second World War, is now defined as "at risk" by the Italian government, among other governments, such and Austria.
Immigration is also redefining the intra-EU contract.
The Czech Republic, Hungary, Poland and Slovakia, the so called "Visegrad Group", recently called for EU border defense. "We have to have a Europe capable of defending us", Austrian Chancellor Sebastian Kurz said as well, after he was invited to join the Visegrad meeting.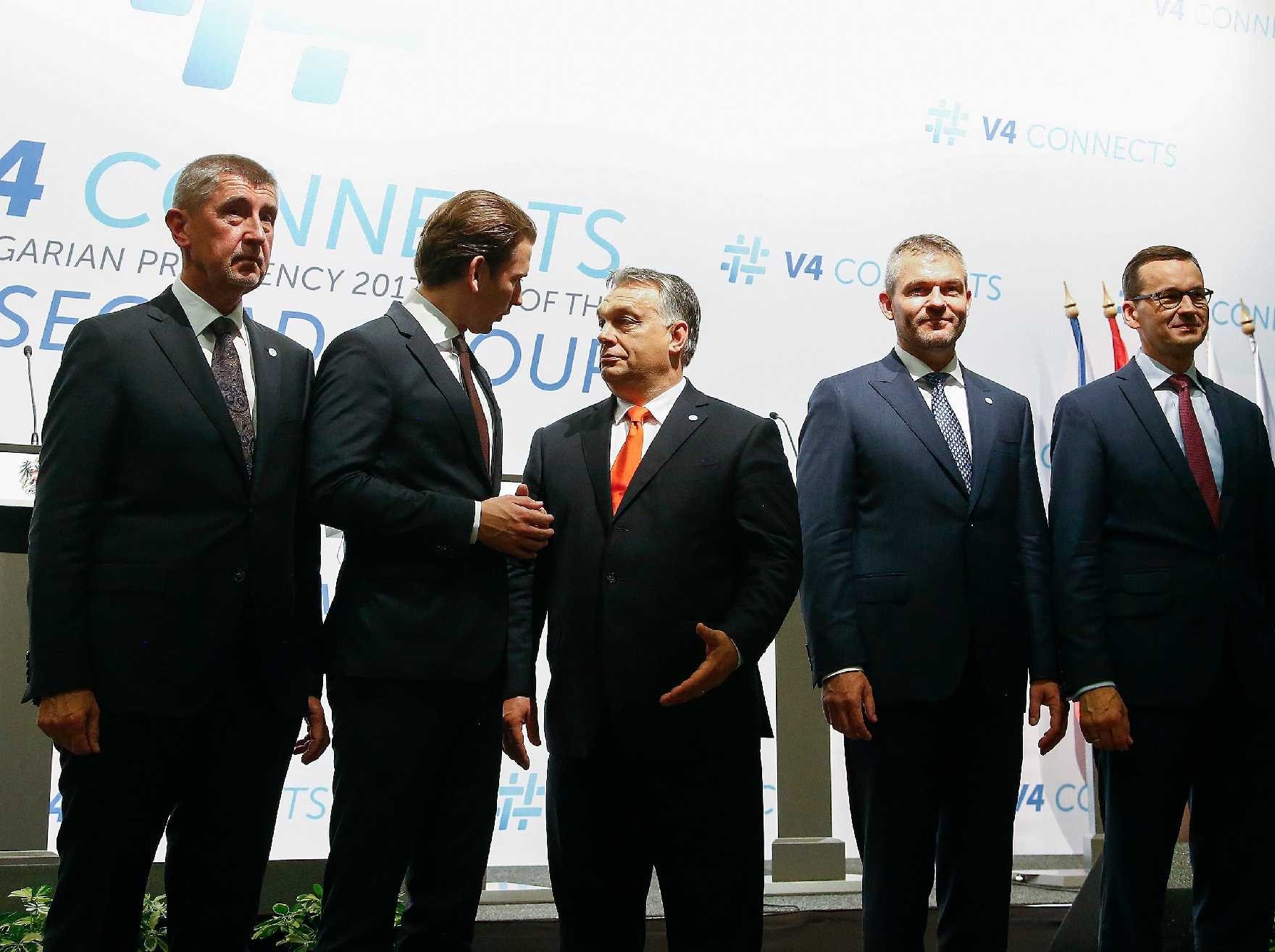 This year, Austrian Chancellor Sebastian Kurz (second from left) was invited to join the leaders of the four "Visegrad Group" countries (Czech Republic, Hungary, Poland and Slovakia) at their June 21 summit meeting. High on the agenda were the issues of mass-migration and border protection. (Image source: Austrian Federal Chancellor's Office)
The new Italian populist government, after Italy saw more than 700,000 migrants arrive on its shores in the past five years, also embraced a hard-line policy. Italian Interior Minister Matteo Salvini recently closed Italy's ports to migrant vessels. In Germany, after the German chancellor clashed on immigration with her interior minister, Horst Seehofer, migrant policy could also lead to the "end of Merkel's tenure".
"Italy's new populist government signals a major challenge to the European status quo, but not in the way most observers initially expected", the author Walter Russell Mead recently commented in The Wall Street Journal. "The governing coalition has put the challenge to its euro policy on hold. Instead it is turning to a subject on which the European establishment is more vulnerable: migration".
The entire European political consensus is fracturing under the seismic impact of the migrant wave. Migration to Europe has become a political issue "as toxic as ever", the New York Times just noted about the current debate inside the European Union. The EU's current trouble seems to come from a deafness among the policy elites, who refuse to take into account the problems for their citizens that have followed unvetted mass immigration.
Mass migration in the last years has simply created major troubles for Europe's internal stability. First, there has been a security challenge. According to a new report by the Heritage Foundation:
"Almost 1,000 people have been injured or killed in terrorist attacks featuring asylum seekers or refugees since 2014. Over the past four years, 16 percent of Islamist plots in Europe featured asylum seekers or refugees. ISIS has direct connections to the majority of plots, with Germany targeted most often, and Syrians more frequently involved than any other nationality. Nearly three-quarters of plotters carry out, or have their plans thwarted, within two years of arrival in Europe.

...

"Since January 2014, 44 refugees or asylum seekers have been involved in 32 Islamist terror plots in Europe. These plots led to 814 injuries and 182 deaths."
There is also a severe challenge to ethnic and religious coexistence posed by immigration. French Jews have fallen victim to a form of ethnic cleansing, according to a manifesto signed by, among others, former French President Nicholas Sarkozy and former French Prime Minister Manuel Valls. "Ten per cent of the Jewish citizens of the Paris region have recently been forced to move because they were no longer secure in certain council estates" the manifesto said. "This is a quiet ethnic cleansing".
The threat Europe is facing if it refuses to close and control the borders is examined by Stephen Smith, an expert on Africa and admired by French President Emmanuel Macron, in his new book, The Rush to Europe: Young Africa on the Way to the Old Continent. Today, he notes, 510 million Europeans live in the European Union with 1.3 billion Africans facing them. "In thirty-five years, 450 million Europeans will face some 2.5 billion Africans, five times as many", Smith predicts. If the Africans follow the example of other parts of the developing world, such as the Mexicans in the US, "in thirty years", according to Smith, "Europe will have between 150 and 200 million Afro-Europeans, compared with 9 million today". Smith called this scenario "Eurafrique". Europe's largest migration wave since World War II has also become an increasingly urgent problem as Europe's indigenous populations continue to age and diminish in number.
The controversial quota system for migrants has already failed. The European governments also cannot really deport migrants. In 2012, the European Court of Human Rights (ECHR) condemned the Italian government and ordered it to pay thousands of euros to two dozen immigrants it deported to Libya. Italian authorities had intercepted the migrants in the Mediterranean Sea when they were trying to get to the Italian island of Lampedusa from Libya. Three years later, the European Court again condemned the Italian government for deporting migrants. The European Court of Human Rights also condemned Spain in its judgment to expel of a group of 75-80 migrants from the Melilla enclave. The ECHR then condemned Hungary for detaining migrants. Europe cannot stop, deport, arrest and repatriate the migrants. What do the authorities in Brussels suggest? Bring everyone to Europe?
Andrew Michta, dean of the College of International and Security Studies at the George C. Marshall European Center for Security Studies, recently wrote that, under this mass migration, European democracies risk their own "decomposition". We will not only see the "fission" of the already fragile European Union, but that of the Western civilization as well.
Giulio Meotti, Cultural Editor for Il Foglio, is an Italian journalist and author.