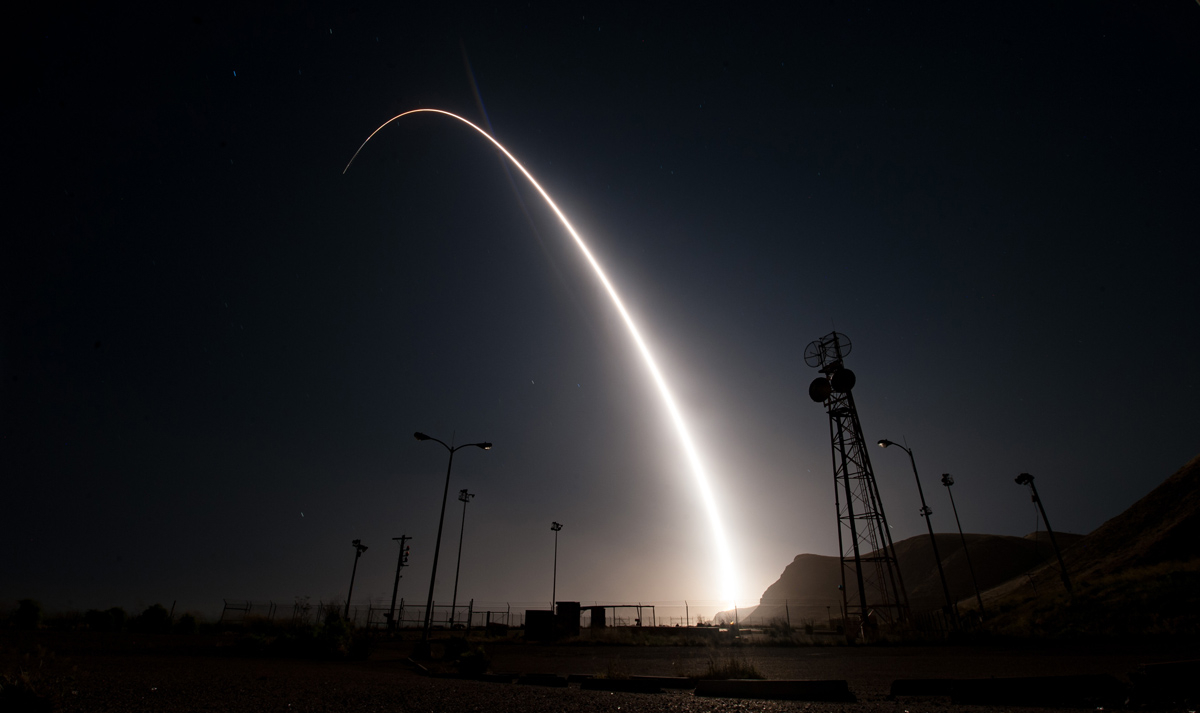 The Princeton University disarmament group, Global Zero, calls for the unilateral disarmament of more than two-thirds of the US nuclear deterrent, including placing most US warheads in storage bunkers far removed from the missiles that could carry them. Pictured: An unarmed Minuteman III intercontinental ballistic missile launches from Vandenberg Air Force Base, California during an operational test on April 26, 2017. (U.S. Air Force photo/Senior Airman Ian Dudley)
The Princeton University disarmament group, Global Zero, has released a new 107-page report -- "The End of Nuclear Warfighting: Moving to a Deterrence-Only Posture" -- that calls for the unilateral disarmament of more than two-thirds of the US nuclear deterrent and the adoption of a Chinese deterrent strategy including placing most US warheads in storage bunkers far removed from the missiles that could carry them.
The report's conclusions are as follows:
US Deterrent Policy
China and Russia have no incentive to attack the United States, so the US can cut in half its nuclear arsenal -- unilaterally -- as the US no longer has to worry about the size of the Russian nuclear arsenal in measuring its own deterrent.

A reserve fleet of 40 nuclear bombers, but not readily available for use, is proposed, as opposed to the 75 B52 and 100 B21 bombers for both conventional and nuclear missions in the Trump administration plan. Bomber weapons would be kept in storage only to be used in emergencies.

The US target list to be destroyed in a hypothetical retaliatory strike should only be Russian industry and leadership, including electrical facilities, banking and communications, with 50% of the targets able to be destroyed with conventional weapons and cyber-attacks, further eliminating the need for nuclear weapons.

No Russian conventional or nuclear military targets need to be destroyed. As Russian infrastructure does not "move," there is no need to destroy it quickly.

Global Zero says the US should unilaterally adopt China's nuclear strategy, with most of America's nuclear warheads not on alert but stored elsewhere; a deterrent of no more than 200-300 warheads deployed and in reserve (compared to 3,800 today); and a posture of no first use of such weapons.

Global Zero advocates a submarine-based MONAD deterrent, as opposed to the current US three-legged Triad of bombers, submarines and land-based missiles. Only 260 warheads would be at sea under this deterrence-only plan; at first, total deployed warheads would be 5 submarines x 16 missiles x 8 warheads per missile -- or 640 warheads, but then declining after that to under 300.

The "target set" for Russia, China and North Korea would be 445 possible targets in all three countries, but no military targets.

Global Zero says there are 15,000 warheads worldwide, but this estimate includes the warheads that the US and Russia have retired and dismantled (2,650 and 2,500 respectively), yet does not include Russia's more than 2,000 theater nuclear weapons.
Proposed US Alert Posture
Global Zero claims that current US policy "jams" a president into making an early decision to launch nuclear weapons, including hastily ordering retaliation to a false alarm of an attack. Global Zero (falsely) says that the US has a policy of "launch on warning." In addition, says Global Zero, over the past decade American presidents have been warned of an attack in progress that has been ambiguous at best.
Current US Forces on Hair Trigger
Global Zero admits multiple times that the missiles can only be launched after an authorized code from the president is received. However, the study asserts that the underground electric cables connecting Minuteman missiles with the launch control centers can be accessed through hacking, implying that missiles could thus be launched in this way.
Global Zero warns that existing US policy projects a "constant threat of massive attack," increasing the chance that we will believe a false attack warning is genuine. It also asserts that Russia has time pressures, and has to decide whether to launch its nuclear missiles within 2-4 minutes of seeing radar warnings of an attack.
According to Global Zero, as well, a counterforce strategy -- holding at risk the weapons and military assets of an adversary -- requires the US to engage in a preemptive attack or attack on warning. Because of this, claims Global Zero, the Russian government believes that a US nuclear warhead force of more than 300 warheads poses a decapitating threat to Russia and therefore should be abandoned.
Global Zero also says that to expand the time it takes for the US to retaliate with nuclear weapons, it should keep its intercontinental ballistic missiles (ICBMs) and submarine-launched ballistic missiles (SLBMs) 72 hours away from being able to be launched, for example by blocking launch circuits in our silo-based missiles. In addition, according to Global Zero, warheads should be removed from most of the 400 Minuteman missiles and 240 missiles in Ohio-class submarines, and stored in empty Minuteman silos in Montana, and that on-board inverters that launch submarine missiles should also be removed.
If warheads were actually removed from both submarine- and silo-based missiles, however, it would take months to put them back on the missiles, assuming the storage facilities used for the warheads were not destroyed in a preemptive Russian or Chinese attack. Talk about painting a bull's-eye on your nuclear forces.
Future US Nuclear Force Structure
Global Zero says that several years after adopting the strategy it proposes in the report, the US would have only 100 land-based missile warheads and only 250 total warheads on alert, implying 150 submarine warheads or roughly the equivalent of two submarines at sea. But, says Global Zero, even these missiles should -- over time -- should be de-alerted and unable to launch "promptly." As long as survivable second-strike forces remain, even if the retaliatory strike is delayed by many days, there is no incentive -- says Global Zero -- for the first use of nuclear weapons and high-alert rates. Thus, says Global Zero, the US should take its missiles off alert and pledge never to use such weapons first.
Russian Nuclear Modernization Not a Threat?
What about the rapid Russian nuclear modernization efforts? Well, says Global Zero, Russian upgrades to its nuclear forces are a normal part of its defense posture. During the Russian modernization, the US refurbished its Minuteman missiles, and thus, the claims that the United States languished in its nuclear modernization effort is not true, says Global Zero, which also states that since no US military officers would trade US forces for Russia's forces, obviously the US is not behind the Russian modernization effort – and that because Russian and Chinese nuclear modernization extends over many decades, there is no adversary "rush" to modernize as a means of trying to secure a strategic advantage over the United States.
Thus, according to Global Zero, American characterizations of great power competition are overwrought and melodramatic. As for arms control, says Global Zero, violations are asserted by both the US and Russia, so no one country is to blame here.
Arms Control Proposals
Global Zero says that:
The US should delink the US nuclear force from the size of the Russian nuclear force, and that unilateral reductions can be pursued by the US safely. To better protect its remaining submarines, the US could designate areas of the ocean off limits to attack submarines.

The US should phase out and eliminate Minuteman missiles over a 10-year period, cancel the GBSD and limit total nuclear and conventional bombers in our inventory to 40-70, including the B52 and B21.

The US should agree with Russia to eliminate launch-on-warning or launch-under-attack options. If the US drops down to these new warhead limits, China will agree to do so, as well.

The eventual near-term goal is a cap of no more than 300 deployed and reserve warheads for each of the nine nuclear armed countries, implying that the US would have no more warheads than, say, Pakistan and North Korea.

An agreement on No First Use (NFU) would be in a new treaty – one in which everyone "sincerely vows" never to use nuclear weapons first.
Key Additional Points
The full loading of the US Ohio class submarine-based D-5 missiles and the new missile for the Columbia class submarine with eight warheads per missile is what Global Zero proposes. But a side effect would be limiting dramatically the target coverage and range of the missile, both undermining deterrence and making our submarines less survivable. Given the fact that the D-5 missiles that have undergone a Life Extension cannot hold more than eight warheads, loading them at that maximum level means the US would have zero-hedge capability to match a Russian build-up or breakout beyond the 2010 Russia-United States New Start treaty limits of 1,550 accountable strategic nuclear weapons.

Global Zero says that destroying US Minuteman missiles is not as difficult as supporters of the land-based systems have claimed. Russia does not have to target all Minuteman silos, says Global Zero; it could sever the UHF radio links and destroy just the launch control centers, as Russians "may be smarter targeteers" than we think.

In addition, according to Global Zero, if our ICBMs were attacked with Russian nuclear warheads, the result would be a massive radioactive cloud spread across the US, further arguing for the elimination of such missiles so as to avoid a possible Russian attack.

Thus, says Global Zero, if the United States "disappears" Minuteman, then Russia would have "good reason" also to limit and cut back on its heavy missile production. In short, asserts Global Zero, the deployment of United States Minuteman missiles caused Russia to build more large multi-warhead missiles, even though the number of deployed Minuteman missiles is less than 40% of its previous level.

Global Zero says we must eliminate Minuteman in 10 years; cancel the follow-on ground-based strategic deterrent (GBSD); and rely in an emergency on a reserve force of nuclear and conventional bombers armed with gravity bombs and cruise missiles and a range of other (unspecified) conventionally capable forces.
My counter-analysis can be found here and here.
Dr. Peter Huessy is President of GeoStrategic Analysis, a defense consulting firm he founded in 1981, as well as Director of Strategic Deterrent Studies at the Mitchell Institute for Aerospace Studies.