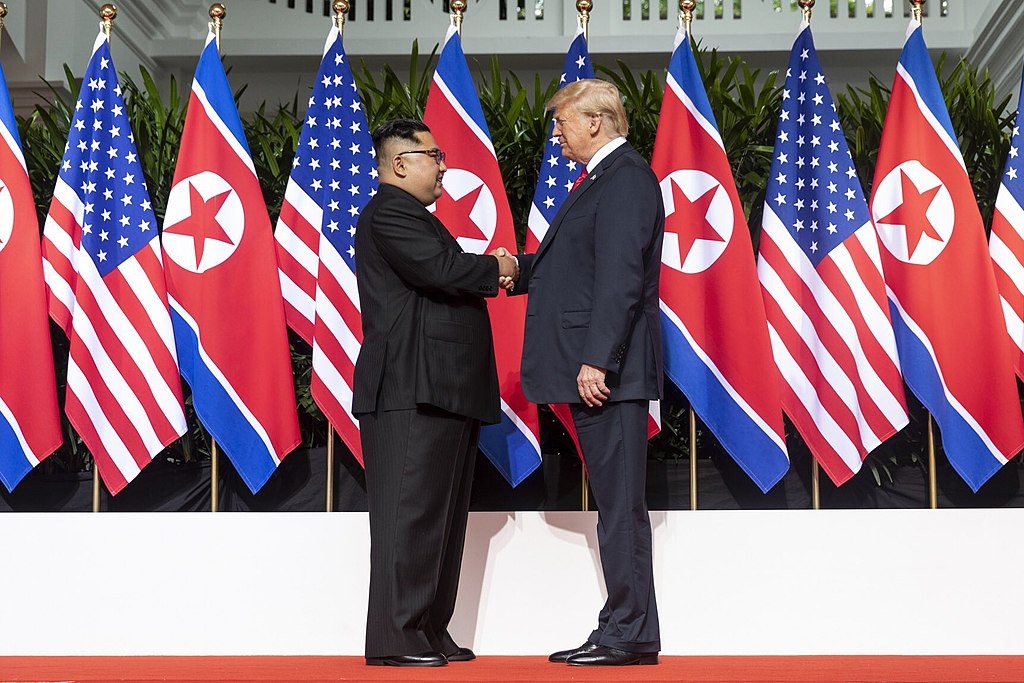 Pictured: U.S. President Donald Trump and North Korean leader Kim Jong-un shake hands at their first summit in Singapore, on June 12, 2018. (Image source: White House/Wikimedia Commons)
United States intelligence chiefs told Congress on January 29 that Pyongyang is unlikely to give up its nuclear weapons in any deal with Washington. This assessment was made a month ahead of U.S. President Donald Trump's February 27-28 second summit -- to be held in Vietnam -- with North Korean leader Kim Jong-un, the purpose of which is to make strides in achieving the very denuclearization that FBI Director Christopher Wray, CIA Director Gina Haspel and Director of National Intelligence Dan Coats consider improbable.
One would have thought that if these intelligence chiefs disagreed with Trump's efforts to reach a deal with North Korea, they would have presented an alternative. They might have explained what a deal with Pyongyang is liable to do to America's relations with Japan and South Korea. They might have provided a future scenario for the Nuclear Non-Proliferation Treaty (NPT), which North Korea signed in 1968, then violated and withdrew from in 2003.
Trump might, however, actually be acting sensibly. During a speech on January 31 at Stanford University, the U.S. special envoy for North Korea, Stephen Biegun, said that when Secretary of State Mike Pompeo met with Kim in Pyongyang in October 2018, Kim committed for the first time to dismantling and destroying his plutonium and uranium enrichment facilities.
Although the media has been highlighting the disagreement between Trump and the U.S. intelligence community as though it is a huge scandal, such disputes have occurred in the past.
The most notable example was President Gerald Ford's Team B project, launched in May 1976, to challenge the conventional intelligence community assessments of the Soviet threat. George H.W. Bush, who was director of the CIA at the time, had approved the project, which enlisted a group of foreign policy and security professionals who strongly disagreed with the policy of détente. Team B was convinced that the Soviet Union was spending 40% of its GDP on defense, as opposed to the 5% projected by the U.S. intelligence community.
After Team B released its report, the CIA conceded that Soviet defense spending was probably higher than it had thought, but nevertheless pushed for détente, a policy Ford supported, as well as for peaceful coexistence between the U.S. and the U.S.S.R.
Ronald Reagan's 1976 Republican Party primary campaign against Ford focused on this very issue, with Reagan taking a much harsher view of the Soviet Union and the battle against communism. As Reagan predicted, détente led not to peaceful coexistence with the Soviet Union, but to Soviet expansion. Still, Reagan lost the Republican primary to Ford, and Ford lost the presidential race to Jimmy Carter.
Upon assuming the presidency in 1980, Reagan reversed most of the policies of the previous decades, and went against the consensus of a majority of the U.S. intelligence community.
Reagan turned out, of course, to be right, while the conventional wisdom of economists and intellectuals, such as John Kenneth Galbraith -- who considered communism to be superior to capitalism because it supposedly made better use of "manpower" -- was revealed to be spectacularly wrong.
Another key fight between the administration in Washington and its intelligence community took place at the outset of Reagan's presidency, when Secretary of State Alexander Haig accused the Soviet Union of "training, funding and equipping" international terrorists. Reagan backed up Haig on this assessment -- much to the chagrin of the intelligence community, which held a different view.
Yet, as former U.S. Defense Secretary Robert Gates -- who headed the CIA under President George H.W. Bush -- revealed in his 1996 book, From the Shadows: The Ultimate Insider's Story of Five Presidents and How They Won the Cold War, Haig and Reagan were not only correct; the extent to which the Soviets supported terrorism was even greater than they had thought.
In spite of the fact that Reagan ultimately won the Cold War – and the Soviet Union subsequently fell – his policies and extraordinary global achievements were partially discarded by the failures and laziness of the U.S. intelligence community. Starting in 1993, the US cut back excessively its military defenses. The US also failed to help Russia secure the Duma's ratification of the 1993 Strategic Arms Reduction Treaty (START II), signed by Yeltsin and Bush but not ratified by the Senate. And the US allowed China both militarily and non-militarily to run rampant.
Almost worse, the intelligence community failed to recognize the rise of Islamic terrorism in Iran and elsewhere, which would culminate in the 9/11 attacks on the World Trade Center and the Pentagon.
These failures are not surprising, given the history of American intelligence assessments. In early 1950, for example, President Harry Truman was told by his intelligence chiefs that there would not be a North Korean invasion of South Korea. They reached this conclusion based on the assumption that North Korea could only invade South Korea with the help of the Soviet Union, and there appeared to be no sign of such assistance.
In June 1950, however, North Korea invaded South Korea, and an unprepared United States lost over 35,000 soldiers in the Korean War.
Whether Trump is able, through a combination of toughness and street-smarts, to succeed where others have failed with North Korea remains to be seen. What is clear, however, is that the U.S. intelligence community often has a terrible track record where threat assessments are concerned. Alarmingly, it would not be surprising they were wrong again today.
Dr. Peter Huessy is President of GeoStrategic Analysis, a defense consulting firm he founded in 1981, as well as Director of Strategic Deterrent Studies at the Mitchell Institute for Aerospace Studies. He was also for 20 years, the senior defense consultant at the National Defense University Foundation.