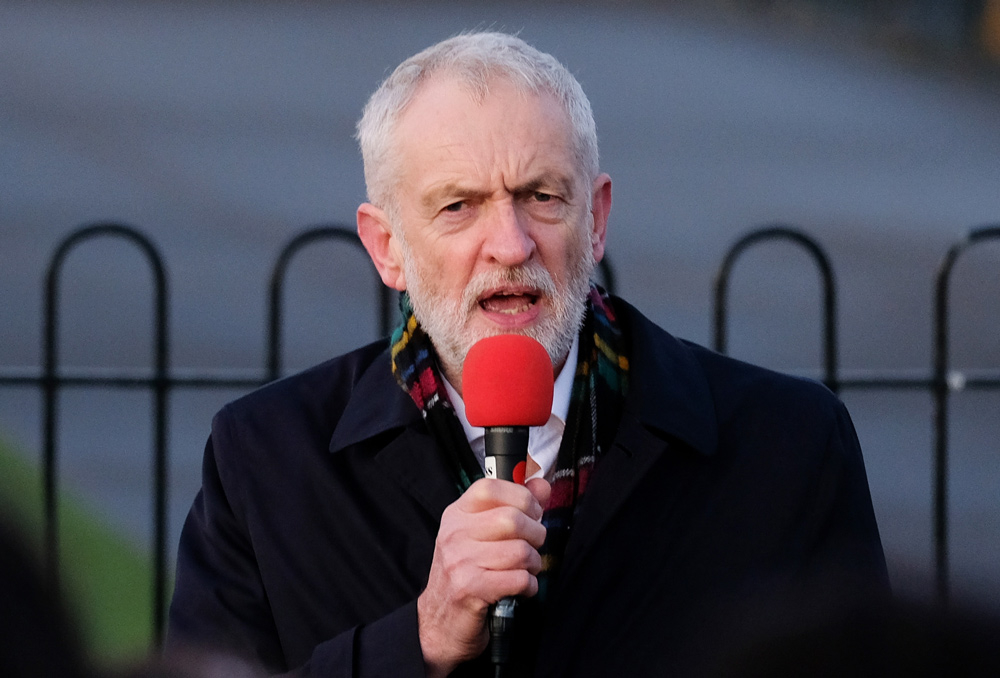 Labour Party leader Jeremy Corbyn has always been a Marxist ideological extremist, even while serving in Parliament, and has spoken of Hamas and Hizbullah as his friends. Corbyn has brought with him into the party vast numbers of followers who share a loathing for anything Western, from the United States to the struggle against jihadi terrorism. (Photo by Ian Forsyth/Getty Images)
The political situation in the UK is in a state of near chaos. A General Election was called in October for 12 December. Whereas such elections are normally run between whichever party is in power (currently the Tory, or Conservative Party, with Boris Johnson as Prime Minister) and the loyal opposition (in this case the Labour Party), the carefully balanced routine that in the past has allowed conservative and socialist parties to come to power has now collapsed.
Among other things, this election is confused in a race between the Tories, Labour, the fast-growing anti-Brexit Liberal Democrats, the Scottish National Party (third-largest in the UK overall), and the newly formed Brexit Party.
This new arrival (founded on November 23, 2018, active since January 2019) campaigns for the UK to leave the European Union without a "deal". This, they believe, will be done in fulfilment of the 2016 Referendum, which resulted in a slim majority in favour of leaving.
That should seem simple enough, but is far from it. The Tory Party, now in power and still leading in the polls, has made a deal with the EU and campaigns (among other things) to be the most likely to bring Brexit about, placing their pro-Brexit policy in the lead.
Again, it is not as simple as that, in Britain's first-past-the-post electoral system. For one thing, although all the parties standing for election have delivered broad claims on key issues such as the economy, social care, health, and more, everybody knows that this election is, at heart, about Brexit. The Brexit Party appears to have no other well-considered policies than to leave the EU. On the other hand, the Liberal Democrats, the SNP, and some smaller parties are thoroughly in favour of Remaining and are trying to attract votes on that basis. In May 2019, the Lib Dems surged ahead of both Tories and Labour in a poll that placed the Brexit Party behind.
Needless to say, polling has fluctuated over the months, not least since October 24, when Prime Minister Johnson announced the government's decision to hold a fresh General Election. By early November, the scene had changed again. For example, the Lib Dems brought themselves, Plaid Cymru (the Welsh nationalists), and the Greens into a coalition not to vote against one another in 60 constituencies they hope will support a pro-Remain stance and their call for a second Referendum. However, the other pro-Remain party, the Scottish Nationalists (SNP) refuse to join such a coalition on the grounds that they are so far ahead of the others. More importantly, however, is the SNP leader (and First Minister of Scotland) Nicola Sturgeon's insistence that her party will focus on a demand for a second referendum for Scottish independence; should that be achieved, the new country will remain in the EU. This seems reasonable given that a majority of Scots voted to remain in 2016.
One might have thought that the Tories and the Brexit Party, both Brexiteers, could find some form of mutuality. But on November 4, Nigel Farage said his party would mount no fewer than 600 candidates across the UK to harden the no-deal vote, thereby dismissing Conservative warnings that this could split the pro-leave vote as "conceited arrogance".
It was indeed arrogance, given that almost none of the Brexit Party candidates had any political experience. This must have sunk in quickly, until on November 11 Farage performed an almost total U-turn, now saying that no Brexit Party candidate would stand in a seat held by Conservative MPs. But this gesture did not wholly reassure the Tories.
One immediate result of Farage's shift may be found in a fresh YouGov poll of voting intentions revealed on November 12. It means that 10% Brexit Party support has dropped to 4% while the Tories have risen from 35% to 42%. Labour and the Lib Dems have just gone up by 1% each.
This is a good moment to pause and take stock. It is almost irrelevant to bring in Labour because, led by Jeremy Corbyn, it has shillied and shallied from the start of the Brexit process. In May this year, Corbyn maintained that his party had been right to support both pro-Leave and pro-Remain individuals. In an important political TV interview, he defended this attempt to play both sides in a desperate attempt to win votes:
Labour supporters voted both leave and remain, and every other party in this European election is appealing to either one side or the other, defining everybody on 2016. We're not. We're defining people as hopefully supporters of us – but also, people who have common problems, however they voted.
But this misses the point in respect of Labour as a political party in a confused but longstanding democracy. Democracies with a first-past-the-post system, such as the UK, the US, Canada, or India, see power pass between two principal parties.
This is what normally happened in the UK. New Labour under Tony Blair and Gordon Brown was in power for thirteen years. Since 2010, the Conservatives have been in government, first at the head of a coalition, and since 2015 as the ruling party. The Conservatives are likely to rule for many more if, as is likely, they achieve a majority in the coming election.
The country is extremely divided, largely because of Brexit, and Tory policies on welfare allowances, employment, housing and austerity in general have made it deeply unpopular in places. Its recently-introduced Universal Credit system for the poor has caused real hardship for many, slowing down welfare payments and leading in many cases to homelessness and lack of food in families. This has been enough to cause embarrassment even for Conservative MPs in the House of Commons.
Ordinarily, the Labour Party might be expected to take singular advantage of this. Proclaiming itself the party of the underprivileged, the supporter of all workers and the unemployed, the party most closely supported by the trades unions, it would not find it beyond its powers to win an election as it has done before in similar situations.
But today's Labour Party has so far remained far behind the Tories in the polls. By mid-November, Labour stood at 28% while the Conservatives were at 39%. But at the same date, Katy Balls, the deputy political editor of the conservative journal, the Spectator, argued that the Tory path to a majority could become "steep and narrow", especially if Corbyn performed well in a one-on-one TV debate due to take place on November 20. In the end, both Johnson and Corbyn were thought to have won, leaving things much as they had been. Balls also says that in the event of a hung parliament, Labour could well form a minority government -- that just might make Jeremy Corbyn prime minister. It is a prospect that frightens everyone else, including some left-wingers. Jo Swinson, the leader of the Lib Dems, refuses to enter into a partnership with Corbyn because "he is not fit to be Prime Minister". Admittedly, she said the same thing about Johnson albeit for different reasons. Whatever the problems with Johnson, they lie most with public dislike of his aura of personal ambition, unreliability in keeping promises, and inattention to the details of his various political roles.
It is quite different with Corbyn. Corbyn has not been just an idealist. He has always been a Marxist ideological extremist, even while serving in Parliament as a backbench MP for Islington North between 1983 and 2015. Despite being elected as Labour leader more or less by chance in 2015, making him Shadow Prime Minister, he has given up none of the ideology he first acquired in his youth.[1]
Extremist ideology is probably never healthy anywhere, but in a democracy it can derail an entire political system and as likely as not take whole populations towards totalitarianism, be that of the far right (as under Hitler, although he called himself a socialist) or the extreme left. British democracy is, of course, robust enough to tolerate any shift to a Stalinist revision, yet that is exactly what Corbyn apparently wants to see. Corbyn has brought with him into the party vast numbers of followers who share a loathing for anything Western, from the United States to the struggle against jihadi terrorism.
As for Corbyn in person, a striking breakdown in trust with the public was made clear on September 20, 2019: "Ipsos MORI's new Political Monitor poll reveals Jeremy Corbyn now has the lowest net satisfaction ratings of any opposition leader since the survey began in 1977".
Corbyn's chief aide is Seamus Milne, a man who might well make Stalin or Che Guevara blush by his own devotion to a radical communist ideology. As a result, Labour has been radically denatured, causing many of its MPs to leave the party.
What was, until recently, the most outspoken and multivocal of Britain's political parties in its opposition to racism is currently under investigation by the country's Equality and Human Rights Commission (EHRC) for its now notorious and deeply ingrained antisemitism. The undiminished scandal of deep-seated antisemitic and anti-Zionist views among Corbynite members has plagued the party since 2015 and has led to the departure of many members and voters.
Writing last year in The Atlantic, Yasmeen Serhan noted this enormous shift:
For most of the 20th century, most British Jews voted for the Labour Party. It seemed like a natural fit. This was a party that championed religious minorities, emphasized workers' rights, and condemned anti-Semitism—all stances that appealed to a Jewish population that grew along with immigration from Europe. Yet now, a spate of anti-Semitic scandals is plaguing the left-wing party, and many British Jews are fed up with its leadership's perceived failure to address the problem.
The media coverage given to Labour's now inherent antisemitism and the obsession of so many of its members with pro-Palestinian and anti-Israel activities -- and its unquestioning support of the Palestinian cause, including the romanticization of "freedom fighters" who are no more than terrorists -- has done a vast amount to lower Labour's reputation. Criticism of its antisemitism may be found across the press. On November 15 this year, John Le Carré and Fay Weldon were among 24 writers and other celebrities who said they would not vote for Labour because of its antisemitism.
More strikingly, on November 25, Britain's Chief Rabbi, Ephraim Mirvis, did something unprecedented. While the UK's main parties went out campaigning for votes in the coming election, Mirvis went public with a resounding condemnation of Corbyn's and Labour's antisemitism:
Raising concerns about anti-Jewish racism in the context of a general election ranks among the most painful moments I have experienced since taking office. Convention dictates that the Chief Rabbi stays well away from party politics — and rightly so. However, challenging racism is not a matter of politics, it goes well beyond that. Wherever there is evidence of it, including in any of our political parties, it must be swiftly rooted out. Hateful prejudice is always wrong, whoever the perpetrator, whoever the victim.
Mirvis went on:
The Jewish community has watched with incredulity as supporters of the Labour leadership have hounded parliamentarians, members and even staff out of the party for challenging anti-Jewish racism. Even as they received threats, the response of the Labour leadership was utterly inadequate. We have endured quibbling and prevarication over whether the party should adopt the most widely accepted definition of antisemitism. Now we await the outcome of a formal investigation by the Equality and Human Rights Commission into whether discrimination by the party against Jews has become an institutional problem. And all of this while in opposition. What should we expect of them in government?
He also rounds on Corbyn's claims that all is being done to fight antisemitism in the party:
The claims that the party is "doing everything" it reasonably can to tackle anti-Jewish racism and that it has "investigated every single case", are a mendacious fiction. According to the Jewish Labour Movement, there are at least 130 outstanding cases before the party, some dating back years, and thousands more have been reported but remain unresolved.
With almost equal significance, on the following day Justin Welby, the Archbishop of Canterbury, voiced open support for the Chief Rabbi's concerns. Not surprisingly, on the same day Jeremy Corbyn -- with a straight face -- reiterated his belief that there is no place in Labour for antisemitism and vowed it would not be tolerated.
But there is more to it than that. To many of Corbyn's critics, he must seem like an unreconstructed activist in his devotion to any cause so long as it is anti-establishment, anti-Western, or anti-military or revolutionary or pro-terrorist in nature. Corbyn served as chairman of the Stop the War Coalition from 2011 to 2015. He has consistently claimed to be against all violence, yet his history of contact with, defence of, and praise of violent terrorists is just as consistent. His early years as a politician coincided with the period of Troubles in Northern Ireland, during which time he had regular associations with Sinn Féin and IRA figures, and until very recently has refused to condemn IRA violence unequivocally.
There is no space here for a full description of Corbyn's ties to terrorism, even though it would be a mistake to describe him as himself a terrorist. However, it is important to mention how, once the violence in Northern Ireland had been largely ended through the signing of the Good Friday Agreement on December 2 1999, much of Corbyn's attention turned to anti-Israel paramilitaries, notably to Hamas and Hizbullah. In 2009, Corbyn spoke of Hamas and Hizbullah as his friends. He went on to compound this by saying:
The idea that an organisation that is dedicated towards the good of the Palestinian people and bringing about long-term peace and social justice and political justice in the whole region should be labelled as a terrorist organisation by the British government is really a big, big historical mistake and I would invite the government to reconsider their position on this matter and start talking directly to Hamas and Hezbollah...
Even if we assume that Corbyn really believed all of that, he shows himself to possess the political understanding of a six-month-old child. He has clearly never read the 1988 Hamas Covenant, seen at first hand the suffering of Palestinians under Hamas rule, or faced a barrage of rocket fire from Gaza.
The Provisional IRA was a murderous force that killed many innocent civilians. Hamas and Hizbullah are major military entities whose policies regarding the Jews of Israel are explicitly genocidal. During its 50-day war against Israel in 2014, Hamas and its terrorist partners in Gaza fired more than 4,500 rockets and mortars at the Jewish state. An article in Israel's left-wing newspaper Haaretz portrays Hizbullah as follows: "While the terror organization doesn't own planes and tanks, in every other way its improved capabilities match those of a medium-level army." The same article sets out the vast range of Hizbullah's weaponry, including many thousands of short-, medium- and long-range missiles.
These, then, are the "friends" of a man whose life has supposedly been committed to peace and non-violence? Though organized in a military style, ironically they lack the efficiency and moral qualities of the Israeli Defence Force, not long ago described by a group of high-ranking military experts as "the most moral army in the world", but which Corbyn accuses of war crimes.
Finally, those interested may also read about the 100 occasions when Corbyn showed his true face through meetings or other ties with parties for whom politics comes out of the barrel of a gun.
Denis MacEoin PhD is a Middle East specialist. A Distinguished Senior Fellow at Gatestone Institute, he has just completed a study of Contemporary Antisemitism.
---
[1] For a recent well-researched albeit scathing biography of Corbyn, see Tom Bower. Dangerous Hero: Corbyn's Ruthless Plot for Power, London, 2019