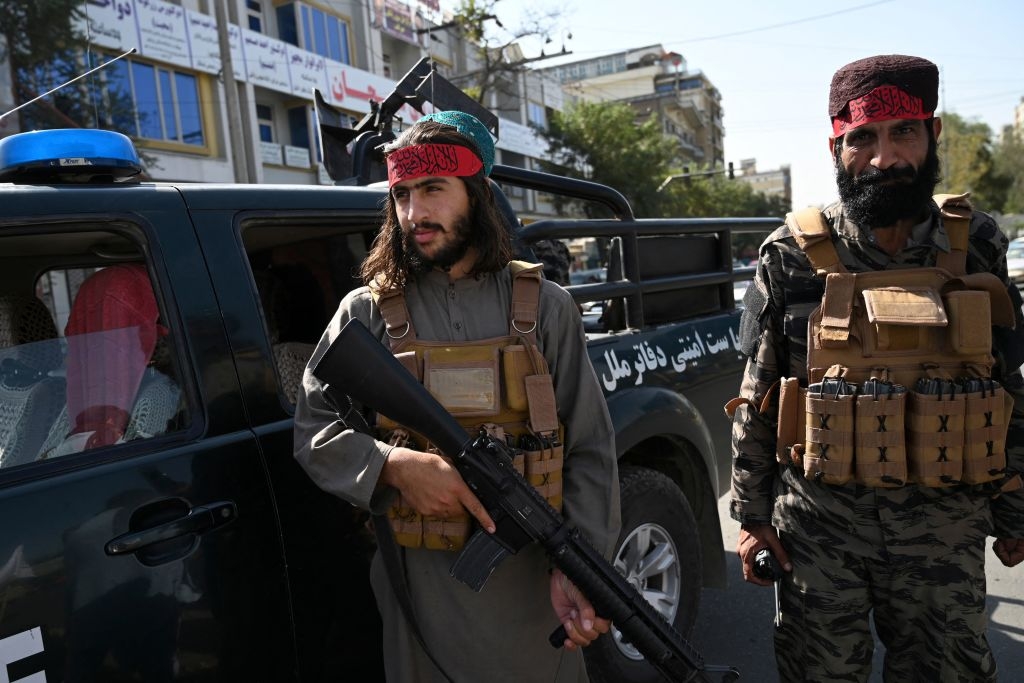 The Taliban, by trying to introduce themselves as "moderate," also appear to be playing "good cop, bad cop" regarding Islamic State Khorasan Province (IS-K), presumably to get international support and recognition. The West should be skeptical. As long as the Taliban and other terror groups, whether Shi'ite or Sunni, have not changed ideologically, they will remain a significant threat to the US and the Free World. Pictured: Taliban gunmen patrol a road Kabul, Afghanistan on September 9, 2021. (Photo by Wakil Kohsar/AFP via Getty Images)
The team that assisted former President Barack Obama to destabilize the Middle East in Syria, Libya and Yemen, the instability of Egypt, the surrender of Iraq to Iran's Islamic Revolutionary Guard Corps (IRGC) and the annexation of Crimea to Russia, apparently wishes to go the same route in Central Asia by gifting this strategic region to Shi'ite and Sunni Islamic fundamentalists.
The election of President Joe Biden and Vice President Kamala Harris may be giving onlookers around the world a sinking feeling that we could see the same collapse happen again in Afghanistan and, as the Kabul airport suicide attack signalled, that Afghanistan has again become a center for narcotics, violence, terror and hostage-taking.
Last week, six privately chartered planes, reportedly carrying Americans, were lined up on the tarmac waiting to leave, but were prevented for days with spurious excuses of insufficient vetting by the US State Department -- who seem blithe enough not vetting the anticipated 2,000,000 migrants flooding across America's southern border this year -- as well as the Taliban. Countless asylum seekers are apparently trying to escape the country while an extremist group swallows Afghanistan and an unknown number of betrayed civilians remain trapped at the heart of danger.
Although the withdrawal from Afghanistan is reportedly a bipartisan policy in the US there are still those who see America's pullout as a "catastrophic mistake." If you look at "nation building" done so well in Germany, Japan and South Korea, and at twenty years of advancement for women in Afghanistan -- and at keeping a small footprint for on-the-ground intelligence and access to in Central Asia to protect America and the West -- the continued presence of a small contingent at a relatively low risk would seem extremely worthwhile. Add to that the advantage of maintaining a forward-positioned listening-post for less-than-friendly countries that neighbor Afghanistan, such as China, Pakistan, former Soviet bloc nations, and Iran. Now, post-pullout, the closest airports from which the US can easily reach Central Asia are located at the Persian Gulf and require at least an eight-hour flight.
Importantly, intelligence reports had warned President Biden about a rapid, total collapse of the Afghan military and the Kabul government.
Former President Donald J. Trump had also hoped to withdraw from Afghanistan; his planning, however, had entailed specific conditions, based upon the behavior of the Taliban, and "retaining control of Bagram Air Base until all Americans were withdrawn from Afghanistan," according to Kash Patel, former chief of staff to Acting Defense Secretary Christopher Miller in the Trump Administration:
"The overarching theme was a conditions-based withdrawal, whereby the U.S. military would leave Afghanistan in increments if the Taliban met clear conditions....Among other things, the Taliban were required to reject and repudiate Al Qaeda, and would have to negotiate in good faith. The U.S. would also maintain a special operations contingent in place, and would retain the capacity to launch air strikes under specific circumstances."
Trump had also reportedly planned to keep a residual intelligence force in Afghanistan as was done in Syria.
Currently, China is reportedly in talks, which they strenuously deny, to take over the Bagram airbase, conveniently situated near Russia's former "Stans", Iran, Pakistan and China's Xinjiang province, home to its persecuted Turkic Uyghurs. Bagram's central location enabled intelligence gathering and proximity to these countries. If China succeeds in occupying the airbase, Biden -- despite purported efforts to withdraw from Afghanistan to focus more on Beijing -- will instead have provided CCP Chairman Xi Jinping with the run of the region.
Reports have also begun questioning if Biden's surrender of Afghanistan with not a trace of resistance, might have been deliberate in view of China's "investment" of $1.5 billion in Biden's son, Hunter, when Biden was vice-president, as well as for possible future returns.
President Biden could hardly have organized a worse retreat if he had tried. The withdrawal began in the middle of the summer fighting season rather than in the winter when the Taliban relocate to Pakistan. The military was evacuated before Americans or their allies; $85 billion of America's most advanced weaponry -- worth nearly as much as the military aid the US has provided to Israel since 1948 -- instead of being destroyed, was left for the enemy; kill-lists were provided to the enemy of names, often with biometric data, of Americans and their allies -- now targets to be tortured, killed or held hostage; there was no consultation with America's NATO and European allies, who had not even been informed of the US pullout, and no one destroyed the US embassy before abandoning it. Worse, no one seemed then, or seems now, to threaten the Taliban with reprisals if any American or ally is hurt. Americans have been relying for protection on the word of terrorists who have been trying to kill them for more than twenty years, were beating Americans at the airport, and allowed a suicide bomber to blow up nearly 200 gathered there, including 13 US servicemen.
The US is now announcing that it could "work with" these terrorists, send them billions of dollars and possibly recognize them as a legitimate government. The Taliban, for their part -- going from house to house raping women and girls, hunting down journalists, and slaughtering Christians, Americans and their allies -- have been trying to claim that they are now "moderate".
The newly formed government actually consists of acting interior minister, Sirajuddin Haqqani, who has a $10 million bounty on his head , is on the FBI's Most Wanted List, and whose family are longtime supporters of al-Qaeda; and four of the senior commanders are terrorists whom former President Barack Obama released from Guantanamo Bay in exchange for US Army deserter Bowe Bergdahl.
Even if the Taliban remain committed to some professed peace agreement with the US, terror groups such as the IRGC or IS will doubtless have access to this military equipment. Biden's policy in Afghanistan only gives a green light to other fundamentalist groups. One can expect a considerable growth of Islamism in the region.
Today, all extremist groups including the Taliban, Al-Qaeda, IS, Iran's Revolutionary Guard Corps (IRGC) and its proxies, seeing America at its self-inflicted weakest, can only feel empowered and emboldened.
Republican Congressman Jim Banks warned that the Taliban currently has access to $85 billion advanced weapons including 75,000 vehicles, 200 airplanes and helicopters, and 600,000 small arms and light weapons, courtesy of gold-star families and US taxpayers.
The Taliban and other Sunni terrorist organizations now have access to all that potentially to use against the US, its allies, or send to adversaries of the US in Russia, China and Iran to reverse-engineer.
It also appears that President Biden or his administration had fully trusted the former Afghan president, Ashraf Ghani. This US surrender to the Taliban is an expensive lesson on how a superpower relies on a terror group for securing its soldiers.
Meanwhile, President Biden is calling the pullout an "extraordinary success."
Some critics believe that the Biden administration intentionally left these weapons behind for the Taliban in contrast to when the US had bombed its military equipment before leaving Northern Syria in 2019. The supposition, apparently, was that the Biden administration had decided to hand over the country to the Taliban in the Quixotic hope that China and Russia – both of which had voted "abstain" on a UN Security Council resolution pressuring the Taliban -- would confront terror groups in Afghanistan.
Now what? Islamic fundamentalist groups ideologically seem to consider the West -- but not China or and Russia -- an enemy. In a speech at the RUSI security think tank, former British Prime Minister Tony Blair said that "Islamism, both the ideology and the violence, is a first order security threat and, unchecked, it will come to us, even if centred far from us, as 9/11 demonstrated."
Unfortunately, some Western officials and liberal mainstream media conveniently disregard this probability. CNN reporter, Clarissa Ward, for instance, called the Taliban's fighters friendly to the US and her. BBC also reported that the Taliban had called for good relations with the US. Unfortunately, British Prime Minister Boris Johnson told members of parliament that he believed the Taliban were different from when the group ruled Afghanistan in the 1990s, even though all evidence seems to be pointing the other way.
The newly formed government consists of acting interior minister, Sirajuddin Haqqani, who has a $10 million bounty on his head , is on the FBI's Most Wanted List, and whose family are longtime supporters of al-Qaeda; and four of the senior commanders are terrorists whom former President Barack Obama released from Guantanamo Bay in exchange for US Army deserter Bowe Bergdahl.
The Taliban leadership, meanwhile, seem to have taken a tip from Iran's mullahs, and have been marketing themselves as what they know the West loves to hear: that the terrorists responsible for 9/11 and other atrocities have reformed and are now a kinder, gentler Taliban. This kinder, gentler Taliban released from prison in Bagram 5,000 inmates, including some members of Islamic State (IS), who are now roaming freely wherever they like and are reputed to be responsible for the attack that murdered the 13 US servicemen and nearly 200 Afghanis outside Kabul airport in August.
The Taliban also appear to be playing "good cop, bad cop" regarding Islamic State Khorasan Province (IS-K), presumably to get international support and recognition. The West should be skeptical. As long as the Taliban and other terror groups, whether Shi'ite or Sunni, have not changed ideologically, they will remain a significant threat to the US and the Free World.
Any official recognition, which the Taliban may now be demanding in exchange for releasing American hostages, will only embolden other Islamic and terrorist groups worldwide -- including the Muslim Brotherhood and its supporter, the Qatari government -- to destabilize their countries, as well as place a bounty on the head of any American traveling abroad.
A few key questions remain unanswered: Has America, in seeking coordination with a terror group against which it fought for years, ended its own supremacy? Is America about to cap the horror by officially recognizing a state run by known terrorists, armed to the teeth with America's finest military equipment, and who seem to have every intention of establishing a terrorist state?
Another question is the geostrategic factor, if any, of the West's position in the future of Afghanistan, Central Asia and the Free World.
With the prospect of an intensifying Sino-US rivalry in the coming decades, the shadow of the geopolitical conflict over Afghanistan between these superpowers, despite the US surrender, might well remain. Although the Taliban pledged to protect future US economic interests on Afghan soil by vowing that it would not allow other groups to form and organize terrorist attacks against the US and its allies, this promise will probably last only as long as the US keeps complying with the Taliban's blackmail demands regarding the US hostages and co-workers Biden abandoned.
The unlikely "stability" that Washington no doubt desires for its upcoming mid-term elections in 2022 will be met with the growth of Islamic fundamentalism in Afghanistan and beyond. By contrast, the relative stability after the US pullout provides China with the opportunity to develop its excavation of rare earth minerals, such as lithium, as well as to expand its Belt and Road Initiative – both huge loss for India and the West. China will most likely be able to cope with the Taliban regime's support for about 12 million Uyghurs in China, concentrated in its Xinjiang province.
The Uyghurs in China have been subjected to a state campaign of mass detention, surveillance, forced labor, and, according to some accounts sterilization, torture, rape and even genocide. Beijing, moreover, does not have the West's moral commitment to provide a warm future for the new regime in Kabul.
Considering the proxy influence of Pakistan, Russia, Saudi Arabia and Iran among the Islamist sects of Afghanistan and Central Asia, we should expect that if these countries' interests require, they will move towards activating these satellite groups in Afghanistan against each other, as Washington has lost all access and intelligence and influence. The IRGC, for instance, may be planning to build its own Shi'ite proxy and exploit the situation to develop Shi'ite fundamentalism for possible clashes with IS or the Taliban.
The Taliban and other terror groups might be used as Trojan horses to force out rivals, as Pakistan and its Inter-Services Intelligence agency (ISI), are currently doing with India. Delhi had sought influence in Afghanistan by investing millions of dollars in the country's reconstruction plans. Strengthening India's political influence in Afghanistan would pave the way for its economic, social and cultural influence as well as helping anti-Pakistan movements in Afghanistan. Now that the Taliban are in charge there, India does not have many levers to secure its interests there. The Taliban have close ties to anti-Hindu groups such as Lashkar-e-Taiba. One of its leaders, Suhail Shaheen, recently said that the group raises voice for Muslims in "Kashmir, India or any other country." Pakistan and India had evidently transferred their conflicts in Kashmir to Afghanistan and were pursuing their threats against each other in Afghanistan at a lower cost.
So far, the main losers in Afghanistan disaster, apart from the US and the Free World, are the people of Afghanistan, especially those who helped the US and found themselves betrayed, and the women who for 20 years, thanks to the US and its allies, had for the first time known freedom.
Whether the situation is reversible or not depends upon the policy of the US leadership regarding the Far East. At present, all policies appear in disarray.
Hamid Bahrami is an independent Middle East analyst based in Glasgow, Scotland. He tweets at @HaBahrami