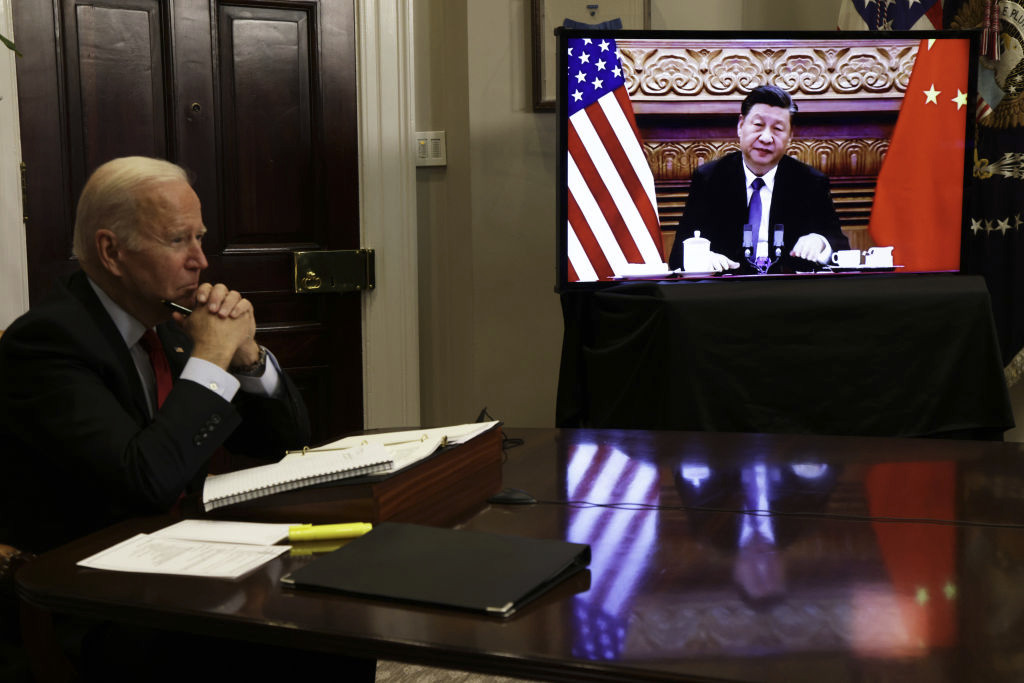 President Joe Biden will meet with Chinese ruler Xi Jinping on November 14 in Bali, Indonesia, on the sidelines of the G20 Summit. The talks will be, as Gideon Rachman wrote, "the first global summit of the second cold war."
The meeting, as crucial as everyone believes it will be, should not occur. It is long past time for America to stop talking with the Chinese regime and start imposing costs for dangerous and other unacceptable behavior.
Yes, China is crucial to the resolution of every major problem in the world — in large part because it has caused or aggravated them — yet China's central role does not, as Americans believe, automatically require them to talk to Chinese leaders. Talking at this time, unfortunately, is making problems even harder to resolve.
So why does Biden want to meet Xi?
"What I want to do with him when we talk is lay out what the—what kind of—what each of our red lines are, understand what he believes to be in the critical national interests of China, what I know to be the critical interests of the United States, and to determine whether or not they conflict with one another," Biden said on November 9 at his press conference, about the upcoming meeting. "And if they do, how to resolve it and how to work it out."
Biden as president has already had five phone or video calls with Xi, so by now it should be clear what his red lines are. Moreover, on any day, People's Daily lists them.
A "senior administration official" on November 10 said "the president believes it is critical to build a floor for the relationship and ensure that there are rules of the road that bound our competition." Biden and his predecessors have spent decades trying to do precisely that, so America should acknowledge that it cannot by dialogue change Beijing's views or constrain Chinese actions.
Nonetheless, the Economist tells us that "America and China must talk."
Talk? Dialogue, unfortunately, has great costs. First, as evident during decades of fruitless conversations with China, American presidents regularly postpone taking needed action while talking with Chinese counterparts. Talking sounds as if it should work but in fact has produced horrible results, for more than three decades. In short, dialogue enables China to buy time and often run out the clock.
Second, talks just feed the already inflated sense of self-importance of Chinese officials.
Americans, since the early 1970s, have believed it was in their interest, as well as in the interest of the international community, to establish and maintain regular dialogue with the Communist Party. Therefore, U.S. diplomats have figuratively — and literally — chased after their Chinese counterparts to begin conversations.
American neediness has not escaped the attention of Chinese policymakers. Foreign Ministry spokesperson Zhao Lijian publicly noted on November 10 that the Bali discussions are being held at the request of the American side. Beijing always announces that Washington initiates dialogue, to put American negotiators in inferior bargaining positions.
"There is a negative impact of the president signaling weakness by running after dictator Xi, something that significantly erodes America's alliance system," said James Fanell of the Geneva Centre for Security Policy to Gatestone in connection with the G20 meeting.
Third, the Chinese are not real believers in the importance of dialogue; they break it off whenever they feel it is to their advantage. They did so in September, for instance, after Michelle Bachelet, then the U.N. High Commissioner for Human Rights, issued her August 31 report on Beijing's inhuman treatment of Uighurs and other Turkic minorities.
The ending of the human rights dialogue followed China's August 5 announcement of the cancellation of phone and in-person meetings with American military leaders and of annual naval meetings conducted under the U.S.-China military maritime consultation mechanism. At the same time, Beijing suspended cooperation on repatriation of illegal immigrants, legal assistance on criminal matters, assistance on transnational criminal matters, cooperation on drug enforcement, and climate change talks.
Steve Yates, the chair of the China Policy Initiative of the America First Policy Institute, tells Gatestone that during summits presidents often convey warnings, seek understanding, or propose joint action. "There is no reason to think Xi Jinping is prepared to seek understanding or would take constructive joint action," he said. "It also is extremely unlikely that he believes or respects words of warning from the Biden administration. Given that, a side meeting on the margins of the G20 is pointless or counterproductive."
On the sidelines of multilateral meetings like the G20, the time of an American president is precious. Instead of wasting hours chatting with Xi, Biden should be building or reinforcing relations with allies, friends, and partners as well as potential allies, friends, and partners.
Xi is increasingly sounding bellicose and, worse, unhinged, especially his comments of November 8. Then, he not only talked about preparing for war — we have heard those words before — but he also proclaimed that China's external situation was "increasingly unstable and uncertain." Given that no nation threatens China, the comments betray a disturbed state of mind.
It is time, therefore, for America to get ready for the war that is coming. That means, among other things, bolstering those defending free societies, not emboldening those intent on attacking them.
"Refusing to speak is what children do when they are angry," the Economist states. No, refusing to speak is what leaders do when speaking for decades has created one of the most dangerous moments in history.
Gordon G. Chang is the author of The Coming Collapse of China, a Gatestone Institute distinguished senior fellow, and a member of its Advisory Board.