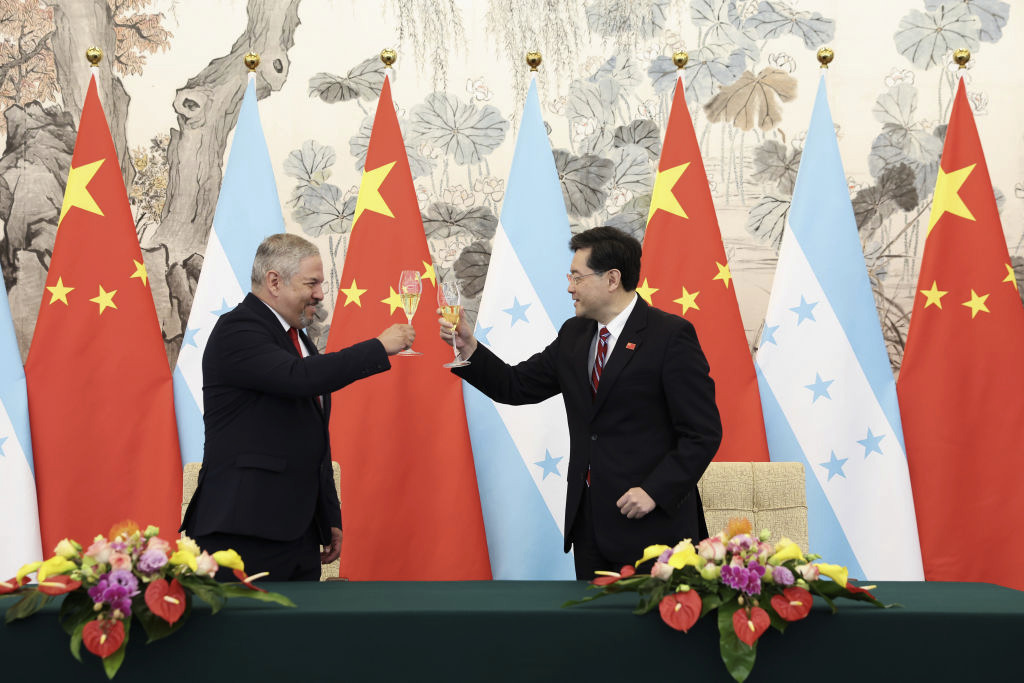 Honduras recently cut ties with Taiwan and established diplomatic ties with China.
Honduras' Foreign Minister Eduardo Reina made it clear that the decision was about "pragmatism, not ideology" and that it was motivated by the country's debt, which totals $20 billion, as well as the need to deal with the country's energy and other needs. Honduras' decision came just weeks after the Honduran government announced that it was negotiating with China to build a hydroelectric dam called Patuca II. China has already invested $298 million in a first dam in eastern Honduras inaugurated in January 2021.
Honduras "had to take that decision," Reina said. "The idea is to look for mechanisms for greater investment [and] commerce."
The Honduran decision further reveals the status and influence that Chinese Communist Party now has in Latin America; it has become the go-to power for Latin American countries in need of investments in construction and development, and the servicing of their debts. That they turn to China, and not to the neighboring United States, is also extremely telling of just how diminished US power and influence on the Latin American continent has become.
Honduras will not be the last country to turn to China. The opposition in Paraguay recently announced that if it wins the elections in April, it will do the same. This follows a trend that has been recognizable for a while: "In the past four years, the Dominican Republic, El Salvador and Panama have each switched their recognition from Taiwan to China," TIME Magazine wrote in February 2021.
This is all happening despite US President Joe Biden's pledge from March 2020, while campaigning for the presidency, that he would restore American leadership to Latin America and counter China's growing influence there:
"It is the current absence of American leadership in the Western Hemisphere that is the primary threat to U.S. national security. Russia and China can't match our extraordinary ties and common history with the people of Latin America and the Caribbean."
Evidently, they can, in the absence of any noticeable American leadership. The Honduran case shows that the people of Latin America have finally turned to China and not the US, which remains passively standing on the sidelines, politically and economically, watching as China literally turns the continent into its subject.
In June 2021, Biden launched the Build Back Better World project as a means to counter China, but that project – unlike China's Belt and Road Initiative -- largely relies on private investors.
A year later, in June 2022, at the Summit of the Americas, Biden announced the "Americas Partnership for Economic Prosperity" a new US economic partnership with Latin America, also launched to counter China's growing power in the region. The initiative promised to reinvigorate regional economic institutions and mobilize investment, among other projects.
What is the point of such programs, however, if they are unable to stop Latin American countries from being forced to turn to China for leadership, or at least having the US try to counter yet another future Chinese takeover in Latin America? There are reportedly more than 1,000 State Department personnel in Peru, for instance, according to sources who have served there, but have asked for confidentiality. What are they doing there? Literally? Is it just another bloated State Department bureaucracy?
The Biden administration seems adept at launching grand schemes that make it look as if it is doing something about countering China in Latin America, but American leadership seems to be entirely absent.
This absence of US leadership in Latin America has become critical. Senior US military commanders warn that China's actions in Latin America pose increasing risks to US national security.
General Laura Jane Richardson, Commander of the US Southern Command, told the House Armed Services Committee this month about her apprehensions over China's activities in Latin America. These include China's recent financing of a $3 billion container port in Peru, and the establishment of a space monitoring station near the Straits of Magellan.
"What concerns me as a Combatant Commander is the myriad of ways in which the PRC is spreading its malign influence, wielding its economic might, and conducting gray zone activities to expand its military and political access and influence... The PRC is investing in critical infrastructure, including deep-water ports, cyber, and space facilities which can have a potential dual use for malign commercial and military activities. In any potential global conflict, the PRC could leverage strategic regional ports to restrict U.S. naval and commercial ship access. This is a strategic risk that we can't accept or ignore."
Unfortunately, ignoring those risks seems to be exactly what the Biden administration is doing.
Richardson concluded:
"Today, the PRC has both the capability and intent to eschew international norms, advance its brand of authoritarianism, and amass power and influence at the expense of the existing and emerging democracies in our hemisphere. This is a decisive decade and our actions or inactions regarding the PRC will have ramifications for decades to come."
John Richardson is a researcher based in the United States.