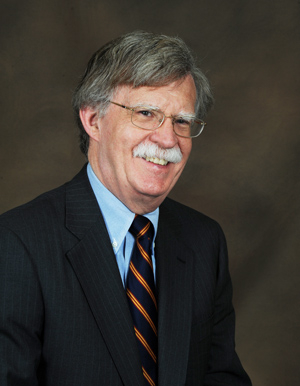 John R. Bolton
NEW YORK, July 17, 2013 – Gatestone Institute (www.gatestoneinstitute.org), a think tank dedicated to educating the public about the American ideals of freedom and democracy around the world, announced today that Ambassador John R. Bolton will serve as Chairman.
"Gatestone Institute is honored to have Ambassador Bolton as its Chairman," said Gatestone Institute Founder and President Nina Rosenwald. "After years of service as a dedicated advocate for democracy, human rights and justice, no one understands better than he does the importance of Gatestone's mission to inform the public about threats to individual liberties at home and abroad that the mainstream media too often ignore."
"I am privileged to be a part of an organization that provides vital information and analysis on a daily basis to address the critical issues facing the United States and all freedom-loving people in a dangerous world," said Ambassador Bolton. "I look forward to working with other Board members of Gatestone Institute, and its distinguished writers and scholars to ensure awareness and understanding of those issues."
Before serving as the United States Permanent Representative to the United Nations (2005-2006), Ambassador Bolton was Undersecretary of State for Arms Control and International Security (2001-2005). Bolton also served in the administrations of President Ronald Reagan and President George H. W. Bush. His many accomplishments include the rescission of the UN's 1975 "Zionism is racism" resolution, U.S. renunciation of the International Criminal Court and the establishment of the Proliferation Security Initiative. Ambassador Bolton is a Senior Fellow with the American Enterprise Institute and a Fox News contributor.
About Gatestone Institute
Gatestone Institute is an international policy council and think tank dedicated to educating the public in order to promote institutions of democracy and the rule of law; human rights; a free and strong economy; a military capable of ensuring peace at home and in the free world; and energy independence. Gatestone Institute's online daily report, www.gatestoneinstitute.org, features commentary and analysis on such topics as military and diplomatic threats to the United States and its allies, events in the Middle East, and the accountability of international organizations. Gatestone Institute and its overseas branch, Gatestone Europe, also conduct conferences and briefings with world leaders, policy experts and journalists.