Translator's Note: A group of prisoners managed to smuggle a letter, signed by 47 of them, out of Evin Prison concerning the unimaginable conditions there. Even though the prisoners know that serious punishment may well follow, they all signed their names. The prison has a small infirmary, ill equipped and substandard. So many prisoners ask to be transferred to a city hospital for adequate care. The prison doctors are cruel to the prisoners, and apparently chosen for that quality. When prisoners ask to go to a hospital, they are mocked, humiliated, and treated so brutally by the prison authorities that they do not dare ask and just give up asking.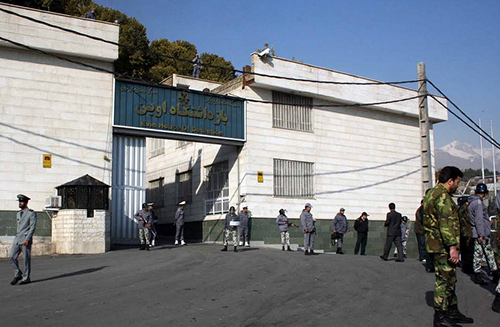 One of the entrances to Evin Prison, in Tehran, Iran. (Image source: Flickr/sabzphoto)
---
We political prisoners, due to problems created by the Islamic regime, are suffering greatly, both with and without ailments, from lack of medical attention.
Many of us are dying and many of us have developed further ailments from lack of medicine.
Aside from the countless pressures and difficulties prisoners face every day, many prisoners have also acquired ailments due to the lack of hygiene and improper medical care in prison. The medical aid here is minimal, substandard and ineffective. In many instances, prisoners have to wait weeks or even months before a medical professional comes to see even them or they are sent somewhere outside prison which, for some reason, worsens their condition.
Sometimes the prison doctors declare the patient fit and healthy in order to punish the prisoner, and the authorities look the other way. Getting involved in the paperwork and red tape to insist on going to a hospital is always met with humiliation, insults, and harassment by prison doctors and guards.
Usually in the [city] hospital, the sick patient is chained to the bed, mocked and treated inhumanely. This treatment is so unspeakable that most choose to suffer from their sickness instead of demanding to go to a hospital. Although some have very severe illnesses, they refuse to be shackled in humiliating prison garb and as such they are refused a visit to the hospital. Every day, medical aid, proper nutrition and a hygienic environment are being made worse for prisoners.
We the undersigned declare our greatest appreciation for your sincere and unwavering humanitarian support and would like to bring to your immediate attention the dire situation of the lack of medical care for political prisoners and ask for your support.
Signed,
Amir Dorosti, Reza Shahabi, Behnam Ebrahimzade, Saeed Mohammad Ebrahimi, Omid Shah-Moradi, Majid Mohamadi Maen, Mohammad Mehdi Sajedfar, Gholamreza Khosravi, Majid Assadi, Mohammad Sayemi, Hati Yazloo, Saeed Mohammad Hadiri, Reza Akbari Monfared, Ali Maghzi, Hamid Moradi, Amir Eslati, Mostafa Daneshjoo, Afshin Kermpour, Farshid Yadollahi, Mohammad Daroie, Sina Azimi, Shahin Dadkhah, Esmael Azizi, Alireza Sayedian, Saeed Abedini, Gholamreza Hosseini, Reza Entesary, Rasol Etesami, Alireza Ahmadi, Omid Behroozi, Davood Assadi, Ali Allai, Pajman Abdol Hosseinzade, Payman Casnejad, Yaghob Maleki, Mehdi Khodai, Rasool Esmailzade, Esmael Barzagar, Hamid Horaband, Ali- Rezai Ghasabzade, Vahid Asghari, Omid Zarenejad, Mohammad Haddi Bardbar, Farshid Fatehi, Salar Sotodeh, Hasan Siskhati, Kamron Eyazi
Ward 350, Evin Prison, Tehran, Iran
October 2013
Courtesy of CFPPI (Campaign to Free Political Prisoners in Iran)