by Judith Bergman • March 20, 2019 at 5:00 am
Saudi Arabia's Crown Prince, Mohammad Bin Salman (known as MBS), has sought to project an image of himself as a keen reformer and modernizer, a moderate who respects women's rights and the guarantor of Saudi Arabia's Vision 2030 plan, which aims to bring the country into the 21st century, at least economically, by, among other ventures, becoming less dependent on oil revenues.

The recent charges against the eleven women's rights activists presents an opportunity for the Saudi regime to prove that its talk of modernization and reform is not just limited to bringing the Saudi economy up to date with the 21st century by reducing the dependence on oil exports or by opening the first cinema.

The regime now has a magnificent opportunity to prove that it genuinely wants to move from 7th century jurisprudence and into a more 21st century understanding of concepts such as the rule of law -- especially a law, a women's right to drive, that it has already permitted.

It could also do so by providing a general amnesty, not only to the 11 women activists recently charged, but to the many others sentenced, some of whom have been mentioned above. Such an initiative would help present the country in a refreshing new light to the West, and might even help Saudi Arabia attract the significant financial investments it so needs and desires.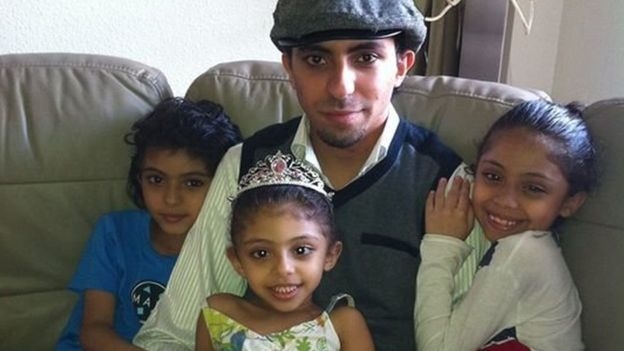 In 2012, the young blogger and human rights activist, Raif Badawi, was arrested in Saudi Arabia for "insulting Islam through electronic channels" and in 2014 sentenced to 10 years in prison and 1,000 lashes. Pictured: Badawi with his children, before his imprisonment. (Image source: Badawi family handout)
Eleven women are on trial in Saudi Arabia this week, charged with lobbying for women's right to drive and for abolishing the system of male guardianship over women[1]. Under the male guardianship system, Saudi women are still treated as legal minors. They are assigned a male guardian, who has to approve their applying for a passport, travelling outside the country, studying abroad on a government scholarship, getting married, leaving prison, or even exiting a shelter for abuse victims, according to the BBC.
The male guardianship system drew renewed international attention in January, when a young Saudi woman, Rahaf Mohammed, barricaded herself in a hotel room in Bangkok, and said that her family would have her imprisoned if she returned to Saudi Arabia. She eventually found asylum in Canada.
Continue Reading Article