Islamists' Scheme To Destabilize Jordan
Translations of this item:
Signs of the impending trouble awaiting King Abdullah emerged in the past few days as supporters of the Muslim Brotherhood recruited Syrian refugees in Jordan to take part in pro-Morsi rallies in Amman and other cities. Without massive and immediate financial and military aid from the US and the Gulf countries, Jordan will not be able to withstand the threat from the Muslim Brotherhood and its allies.
The downfall of the Muslim Brotherhood regime in Egypt has raised fears in Jordan that the Islamists may try to export their crisis to the Hashemite Kingdom of Jordan, one of the first Arab countries to voice support for the bloodless coup that toppled the regime of Mohamed Morsi.
Although King Abdullah appears to have been relieved by the collapse of the Muslim Brotherhood regime in Egypt, he nevertheless has good reasons to be concerned about increased attempts to undermine his monarchy.
Signs of the impending trouble awaiting King Abdullah emerged in the past few days as supporters of the Muslim Brotherhood recruited Syrian refugees in Jordan to take part in pro-Morsi rallies in Amman and other cities.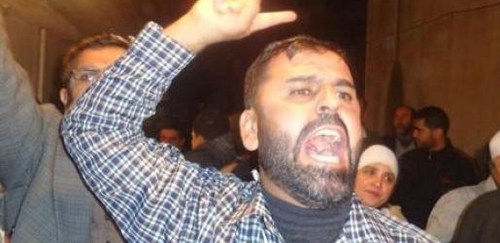 Muslim Brotherhood supporters in Jordan protest, June 2013. (Source: Islamic Action Front of Jordan)
Like Palestinian Authority President Mahmoud Abbas, who is undoubtedly hoping that Morsi's ouster will undermine his rivals in Hamas, Jordan's King Abdullah sees the newest revolution in Egypt as a blow to his political foes in the Jordanian branch of the Muslim Brotherhood.
Hamas and Jordan's Muslim Brotherhood indeed appear to have suffered a major setback as the result of the loss of their patrons in Egypt.
King Abdullah and his loyalists now apparently fear that Egypt's Muslim Brotherhood is currently working on a plan to stir unrest in Jordan in order to undermine, or possibly overthrow, the monarchy there in retaliation for the ouster of Morsi.
The ultimate and declared goal of the Islamists, of course, is to replace the monarchy with a radical Islamist state that would be a source of instability in the region and pose a threat to Israel, the US and moderate Arabs and Muslims.
Without massive and immediate financial and military aid from the West and oil-rich Gulf countries, Jordan will not be able to withstand the threat from the Muslim Brotherhood and its allies.
As a precautionary measure, the Jordanian authorities have strengthened security cooperation with Egypt's General Intelligence Service and army to thwart any attempt to destabilize the kingdom's security.
In the context of these efforts, King Abdullah this week dispatched his foreign minister, Naser Judeh, to Egypt's capital, Cairo, for urgent talks with Egypt's new rulers.
According to the Jordanians, Judeh travelled to Cairo to express Jordan's support for Egypt's "prosperity and progress."
Judeh also delivered a letter from King Abdullah to Egyptian Interim President Adli Mansour "affirming Jordan's support for Egypt in overcoming the circumstances it is going through and preserving its security and stability."
In addition to increasing security and political coordination with the new rulers of Egypt, King Abdullah has also unleashed a media campaign to discredit Jordan's Islamists.
Several Jordanian political analysts and columnists affiliated with the Hashemite monarchy have been recruited to the campaign.
One of them, Mahmoud Kraishan, wrote that Jordan's Muslim Brotherhood needs to "learn the lesson and reassess their policies."
He also called on the Jordanian security authorities to be on alert for "opportunists and blood lovers who seek to undermine the kingdom's stability."
Another columnist, Samer al-Khatib, accused Jordan's Muslim Brotherhood leaders of exploiting and inciting young men against the monarchy.
"Some of the leaders of the Muslim Brotherhood in Jordan have displayed a radical and hostile stance against the kingdom through statements based on curses, vituperation, insults and calls for jihad and killing of people," al-Khatib wrote. "We all remember the fatwa [Islamic religious decree] issued by Sheikh Mohamed Abu Fares, who ruled that anyone killed during demonstrations held by the Muslim Brotherhood [in Jordan] is a shaheed [martyr], while those killed while confronting the protesters will go to hell."
Many in Jordan fear that the Islamists in their country are, at the behest of their patrons in Egypt, planning violent protests that could plunge the kingdom into a state of chaos and anarchy similar to the one prevailing nowadays in the Sinai Peninsula.
Related Topics: Khaled Abu Toameh receive the latest by email: subscribe to the free gatestone institute mailing list
Reader comments on this item
Comment on this item
Subscribe To Mailing List
Tweets by @GatestoneInst
Subscribe To Mailing List
Latest Articles
by Soeren Kern
Hamas would likely resort to violence to thwart any attempts to disarm the group. It is therefore highly unlikely the Europeans would confront Hamas in any meaningful way.
Spanish intelligence agents met secretly with Hezbollah operatives, who agreed to provide "escorts" to protect Spanish UNIFIL patrols. The quid pro quo was that Spanish troops would look the other way while Hezbollah was allowed to rearm for its next war with Israel. Hezbollah's message to Spain was: mind your own business.
If the European experience with Hezbollah in Lebanon is any indication, not only will Hamas not be disarmed, it will be rearmed as European monitors look on and do nothing.
What is clear is that European leaders have never been committed to honoring either the letter or the spirit of UN Resolutions 1559, 1680 and 1701, all of which were aimed at preventing Hezbollah from rearming.
by Debalina Ghoshal
According to former Bush administration official Stephen Rademaker, for the United States to respond to Russian violations of the treaty by pulling out of it would be "welcome in Moscow," which is "wrestling with the question of how they terminate [the treaty]" and thus, the United States should not make it easier for the Russians to leave.
by Guy Millière
Belgian security services have estimated that the number of European jihadists in Syria may be over 4000.
European leaders have directed their nastiest comments against the Jewish state, none of them has asked why Palestinian organizations in Gaza put their stockpiles of weapons in hospitals, homes, schools and mosques, or their command and control centers at the bottom of large apartment buildings or underneath hospitals. None of them has even said that Hamas is a terrorist organization despite its genocidal charter.
The majority of them are wedded to the idea of redistribution. Their policies are anti-growth, do not afford people any economic opportunity, and are what caused these economic crises in Europe in the first place. The United States seems to be following these thoroughly failed policies as well.
"Europe could not stay the same with a different population in it." — Christopher Caldwell, Reflections on the Revolution in Europe.
by Raymond Ibrahim
"I abducted your girls. I will sell them on the market, by Allah... There is a market for selling humans. Allah says I should sell." — Abubakar Shekau, leader of Boko Haram.
Hillary Clinton repeatedly refused to designate Boko Haram a terrorist organization.
In Malaysia -- regularly portrayed in the West as a moderate Muslim nation -- any attempt to promote religions other than Islam is illegal.
"The reason they want to kill me is very clear -- it is because of being a convert to Christianity." — Hassan Muwanguzi, Uganda.
by Dexter Van Zile
Rev. Hanna Massad does not mention that perhaps Hamas actually wants the blockade to end so it can bring in more weapons and cement to build attack-tunnels so it can "finish the job."
Hamas does not just admit to using human shields, it brags about using human shields. Why does Massad have to inject an air of uncertainty about Hamas's use of human shields when no such uncertainty exists?
The problem is that any self-respecting journalist would confront Massad with a follow-up question about Hamas's ideology and violence, but not the folks at Christianity Today.
Most Shared
Most Viewed