Islamists' Scheme To Destabilize Jordan
Translations of this item:
Signs of the impending trouble awaiting King Abdullah emerged in the past few days as supporters of the Muslim Brotherhood recruited Syrian refugees in Jordan to take part in pro-Morsi rallies in Amman and other cities. Without massive and immediate financial and military aid from the US and the Gulf countries, Jordan will not be able to withstand the threat from the Muslim Brotherhood and its allies.
The downfall of the Muslim Brotherhood regime in Egypt has raised fears in Jordan that the Islamists may try to export their crisis to the Hashemite Kingdom of Jordan, one of the first Arab countries to voice support for the bloodless coup that toppled the regime of Mohamed Morsi.
Although King Abdullah appears to have been relieved by the collapse of the Muslim Brotherhood regime in Egypt, he nevertheless has good reasons to be concerned about increased attempts to undermine his monarchy.
Signs of the impending trouble awaiting King Abdullah emerged in the past few days as supporters of the Muslim Brotherhood recruited Syrian refugees in Jordan to take part in pro-Morsi rallies in Amman and other cities.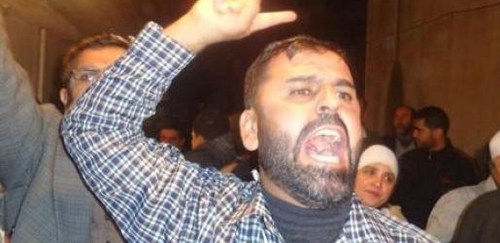 Muslim Brotherhood supporters in Jordan protest, June 2013. (Source: Islamic Action Front of Jordan)
Like Palestinian Authority President Mahmoud Abbas, who is undoubtedly hoping that Morsi's ouster will undermine his rivals in Hamas, Jordan's King Abdullah sees the newest revolution in Egypt as a blow to his political foes in the Jordanian branch of the Muslim Brotherhood.
Hamas and Jordan's Muslim Brotherhood indeed appear to have suffered a major setback as the result of the loss of their patrons in Egypt.
King Abdullah and his loyalists now apparently fear that Egypt's Muslim Brotherhood is currently working on a plan to stir unrest in Jordan in order to undermine, or possibly overthrow, the monarchy there in retaliation for the ouster of Morsi.
The ultimate and declared goal of the Islamists, of course, is to replace the monarchy with a radical Islamist state that would be a source of instability in the region and pose a threat to Israel, the US and moderate Arabs and Muslims.
Without massive and immediate financial and military aid from the West and oil-rich Gulf countries, Jordan will not be able to withstand the threat from the Muslim Brotherhood and its allies.
As a precautionary measure, the Jordanian authorities have strengthened security cooperation with Egypt's General Intelligence Service and army to thwart any attempt to destabilize the kingdom's security.
In the context of these efforts, King Abdullah this week dispatched his foreign minister, Naser Judeh, to Egypt's capital, Cairo, for urgent talks with Egypt's new rulers.
According to the Jordanians, Judeh travelled to Cairo to express Jordan's support for Egypt's "prosperity and progress."
Judeh also delivered a letter from King Abdullah to Egyptian Interim President Adli Mansour "affirming Jordan's support for Egypt in overcoming the circumstances it is going through and preserving its security and stability."
In addition to increasing security and political coordination with the new rulers of Egypt, King Abdullah has also unleashed a media campaign to discredit Jordan's Islamists.
Several Jordanian political analysts and columnists affiliated with the Hashemite monarchy have been recruited to the campaign.
One of them, Mahmoud Kraishan, wrote that Jordan's Muslim Brotherhood needs to "learn the lesson and reassess their policies."
He also called on the Jordanian security authorities to be on alert for "opportunists and blood lovers who seek to undermine the kingdom's stability."
Another columnist, Samer al-Khatib, accused Jordan's Muslim Brotherhood leaders of exploiting and inciting young men against the monarchy.
"Some of the leaders of the Muslim Brotherhood in Jordan have displayed a radical and hostile stance against the kingdom through statements based on curses, vituperation, insults and calls for jihad and killing of people," al-Khatib wrote. "We all remember the fatwa [Islamic religious decree] issued by Sheikh Mohamed Abu Fares, who ruled that anyone killed during demonstrations held by the Muslim Brotherhood [in Jordan] is a shaheed [martyr], while those killed while confronting the protesters will go to hell."
Many in Jordan fear that the Islamists in their country are, at the behest of their patrons in Egypt, planning violent protests that could plunge the kingdom into a state of chaos and anarchy similar to the one prevailing nowadays in the Sinai Peninsula.
Related Topics: Khaled Abu Toameh receive the latest by email: subscribe to the free gatestone institute mailing list
Reader comments on this item
Comment on this item
Subscribe To Mailing List
Tweets by @GatestoneInst
Subscribe To Mailing List
Latest Articles
by Burak Bekdil
In Turkey however, the protests were not peaceful. They included smashing a sculpture than was neither Jewish nor Israeli.
It was the usual "We-Muslims-can-kill each other-but-Jews-cannot" hysteria.
If Turkish crowds were protesting against Israel in a political dispute, why Koranic slogans? Why were they protesting in Arabic rather than their native language? Do Turks chant German slogans to protest nuclear energy?
by Burak Bekdil
So in the EU-candidate Turkey, a pianist should be punished for his re-tweets, but a pop-singer should be congratulated for her first-class racist hate-speech. This is contagious.
No reporter present at Mr. Ihsanoglu's campaign launch speech thought about asking him if his commitment to the "Palestinian cause" included any affirmation of the Hamas Charter, in particular a section that says, "…The stones and trees will say, 'O Muslims, there is a Jew behind me, come and kill him.'"
Turkey is also the country where a few years earlier, a group of school teachers (yes, school teachers!) gathered in a demonstration to commemorate Hitler.
by Debalina Ghoshal
Despite Chapter VII of the UN Charter and UNSC Resolutions, it seems that North Korea will continue developing its missiles -- and eventually weaponize them with nuclear warheads.
"North Korea's ballistic and nuclear threat is very much a near-term threat. ... Steady progression in their program is not harmless." — Victor Cha, Centre for Strategic and International Studies.
On March 26, 2014, North Korea reportedly test-fired medium-range ballistic Rodong missiles -- capable of reaching Japan and U.S. military bases in the Asia-Pacific region.
Since February, South Korean officials claim that North Korea has confirmed at least 90 test-firings, among which ten were ballistic missiles.
by Khaled Abu Toameh
It is important to note that these cease-fire demands are not part of Hamas's or Islamic Jihad's overall strategy, namely to have Israel wiped off the face of the earth.
Many foreign journalists who came to cover the war in the Gaza trip were under the false impression that it was all about improving living conditions for the Palestinians by opening border crossings and building an airport and seaport. These journalists really believed that once the demands of Hamas and the Palestinian Islamic Jihad are accepted, this would pave the way for peace between the Israelis and the Palestinians.
To understand the true intention of Hamas and its allies, it is sufficient to follow the statements made by their leaders after the cease-fire announcement this week. To his credit, Ismail Haniyeh, Hamas's leader, has never concealed Hamas's desire to destroy Israel.
Hamas and its allies see the war in the Gaza Strip as part of there strategy to destroy Israel. What Hamas and its allies are actually saying is, "Give us open borders and an airport and seaport so we can use them to prepare for the next war against Israel."
by Burak Bekdil
A front-page headline was particularly revealing: They (Israel) bombed a mosque in Gaza! Including the exclamation mark!
A quick internet search, if you typed "mosque bombing Shiite-Sunni," would give you 782,000 results on July 16.
Why did we not hear one single Turkish voice protest the death of 300,000 Muslims in Darfur?
Hamas's Charter is must-read fun.
Most Shared
Most Viewed