Jew Hatred Officially Backed by Belgium
Belgian children aged 6 to 12 are being instilled with a hatred for Jews that is so deep, that one day "Never Again" might indeed become "Over Again," and with the same victims as before: the Jews.
Shockingly, in Belgium, history lessons about Nazism and the Holocaust are currently being used to infuse children with hatred against Israel.
The Belgian Ministry of Education funds an organization, the Special Committee for Remembrance Education (BCH), which provides teachers with ready-made templates for their history lessons. In its September issue, Joods Actueel, the largest Jewish magazine in Belgium, describes this educational material as "perverted." The so-called Remembrance Education, the magazine writes, "has degenerated into an instrument to infect youngsters with hatred of Israel and anti-Semitism."
One of the materials used is the cartoon "Never Again, Over Again." It equates the treatment of the Palestinians by the Israelis today with the treatment of the Jews by the Nazis in the 1930s and 40s.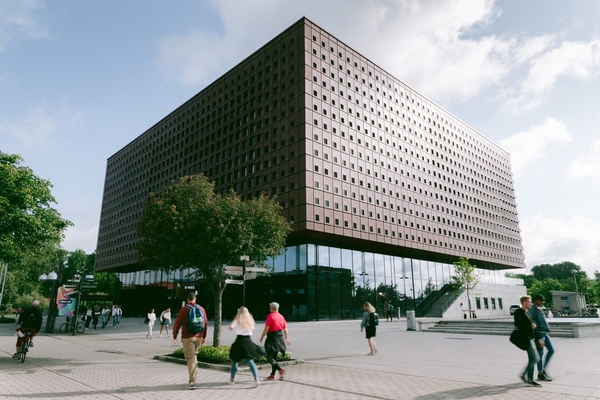 "Never Again means that what happened under Hitler should never happen again. And Over Again means that what is happening today is the same as in the past with Hitler," the Belgian school teachers are told. "In the past, the concentration camps were fenced off with barbed wire. Today, the border between Israel and Palestine is marked with barbed wire and a wall."
The atrocities committed by the Nazis are linked to the so-called atrocities of Israel. Teachers indoctrinated with teaching material provided by an organization that is sanctioned by the Ministry of Education, in turn indoctrinate the school children in their care.
The material of the Special Committee for Remembrance Education is frequently used by primary school teachers, who seem to have little knowledge of history. Two Belgian researchers, Jan Swerts and Kurt Monten of the Catholic College of Limburg, found that young people studying to become teachers know amazingly little about history. Many of them were unable to tell in which century the Second World War took place. They knew hardly anything about major ideologies such as Socialism and Communism. Ten percent of them even confused Zionism with Fascism. They are easy prey for the anti-Semites who author some of the material provided by the Special Committee for Remembrance Education.
The educational material also includes a "role play," in which children must play Palestinians and Israelis. The Palestinians are invariably good people who are confronted by the Israelis, who are almost always bad people, with the exception of the odd Israeli with many Palestinian friends.
One of the roles assigned to a child is the following: "You have sympathy for the radical group Hamas. You live in Gaza and go to work every day in Israel. It takes you four hours to go to work as you need to pass the border control between Gaza and Israel. You are already on your way at 4 a.m. You have two children in primary school. As a consequence, the death of a Palestinian girl shot by Israeli soldiers in the school playground has shocked you deeply. Israel denies having shot the children, but according to representatives of the United Nations in Gaza everything indicates that she was killed by the Israelis. Hamas has fired six rockets towards Israel. Israel has to stop with its attacks."
The Belgian Ministry of Education and the Special Committee for Remembrance Education fail to provide teachers with the information that Israel is the only democracy in the Middle East, or that the suffering of the Jews in the Nazi extermination camps is in no way be comparable to the situation in Gaza. It would suffice to point out that the Jews arriving in Auschwitz had only a few hours or a few days to live, while life expectancy for the Palestinians in Gaza and on the West Bank is 72 years.
The cartoon "Never Again, Over Again," is the work of a Brazilian artist of Arab origin, Carlos Latuff, who is known for his anti-Semitic motifs and especially his preposterous claim that the Palestinians are in the same position as the Jews were under Nazi tyranny. He once depicted a Jewish boy in the Warsaw Ghetto as saying, "I am Palestinian." In the 2006 Iranian Holocaust Cartoon Competition, Latuff won a second prize.
What would the 6 million Jews who died in Hitler's extermination camps have said if they had known that 70 years later their deaths would be abused to indoctrinate schoolchildren with anti-Jewish feelings? Surely, they would have felt as if they were being killed twice.
That a Latuff cartoon is used in Belgian schools in lessons that are ostensibly designed to remember the Holocaust, is particularly worrying. They instill Belgian children aged 6 to 12 with a hatred for the Jews that is so deep that one day the "Never Again" may indeed become an "Over Again," and with the same victims as before: the Jews. The authorities, such as the Belgian Ministry of Education, that have facilitated the indoctrination of children with this anti-Semitism, will be directly responsible.
POSTSCRIPT
"To the editorial office of Joods Actueel
The Special Committee on Remembrance Education (BCH) was deeply shocked by the article "Flemish Remembrance Education becomes tool to infect young people with hatred of Israel and hatred of Jews" in the September publication of the Belgian magazine Joods Actueel.
The Special Committee on Remembrance Education ( an organisation that represents  a number of major actors in the field of remembrance education, the school advisory boards of the various educational networks and the Flemish Ministry of Education and Training) strongly rejects  the accusations made in the article. We ask the editorial office to publish our right of reply in the next publication.
The Special Committee on Remembrance Education is a project group, commissioned by the Flemish minister of Education, and therefore holds a public function. Since 2008 the committee strives to stimulate  remembrance education. In this respect the committee argues in favor of a more qualitative approach to the subject, based on three main principles : (1) knowledge and insight; (2) empathy and solidarity and (3) reflection and action. To reach a wide range of teachers the Special Committee started a collaboration with KlasCement, an organization that holds a database with educational materials. This organization also works under the commission of  the Flemish government. BCH emphasizes that the two cases, discussed in the article, were not published in the database of Remembrance Education. They were part of the main database KlasCement. We strongly want to underline that all items published in the database ofRemembrance Education have been moderated and verified by our employee. In the process the vision text Touchstone Remembrance Education served as a benchmark.
Finally, we regret that the two items were brought under the heading of a "leftwing propaganda machine". The mission of BCH especially stresses the opposite. Our vision text marks the importance of the historical context by teaching historical en present-day conflicts and alerts to the danger of comparison by searching timeless processes and mechanisms.
Related Topics: Peter Martino receive the latest by email: subscribe to the free gatestone institute mailing list
Reader comments on this item
| | | |
| --- | --- | --- |
| Title | By | Date |
| Ship them back [131 words] | Fred Dias | Nov 26, 2013 19:59 |
| No change there then! [83 words] | Basha | Sep 23, 2013 18:34 |
| Education about history, World War II [205 words] | Halpern | Sep 19, 2013 18:18 |
| Belgian Teachers [46 words] | Ferdinand Cassar Torreggiani | Sep 19, 2013 06:14 |
| "Those who do not remember the past are condemned to repeat it." [40 words] | Anna Rientjes | Sep 18, 2013 23:12 |
| Jews, it is time to leave - now [57 words] | Martin | Sep 18, 2013 21:13 |
| How can this be? [22 words] | Terry Polaner | Sep 18, 2013 16:41 |
| ↔ Jodenhaat officieel gesteund door BelgÏe [24 words] | Kitty | Sep 19, 2013 08:45 |
| The hatred that will not die - meanwhile, Sukkot Sameach [9 words] | Herb Glatter | Sep 18, 2013 13:03 |
| I am not surprised [145 words] | Aygen | Sep 18, 2013 09:52 |
| ↔ Disagree [189 words] | Gunter G. Gillot Jr. | Nov 2, 2013 08:58 |
| ↔ Reply to Gunter G. Gillot Jr. [57 words] | Aygen | Nov 2, 2013 14:17 |
| The Uneducated [74 words] | Beatrix17 | Sep 17, 2013 17:11 |
| NO TO HATRED [62 words] | Stephen Sibanda | Sep 17, 2013 11:23 |
| Shocking anti-Semitic teaching material in Belgium [40 words] | Norma Brewer | Sep 17, 2013 08:42 |
| Ashamed [7 words] | Robbrecht Marina | Sep 17, 2013 06:21 |
| Anti-Semitism thrives in Belgium [8 words] | Svengelska | Sep 17, 2013 01:46 |
| Never Again [46 words] | Christopher Stewart | Sep 16, 2013 20:34 |
| Say what? [48 words] | Gee | Sep 16, 2013 19:13 |
| Belgium child abuse [48 words] | Shoshana Rubin | Sep 16, 2013 18:17 |
| What is being done to change this situation? [15 words] | Marlene Waiser | Sep 16, 2013 16:33 |
| Tempting as it is [189 words] | Daniel Chejfec | Sep 16, 2013 15:04 |
| ↔ Jews, time to come home! [129 words] | Shoshana Rubin | Sep 16, 2013 15:47 |
| Never learned [30 words] | Greg | Sep 16, 2013 13:45 |
| What is WRONG with Belgium? [61 words] | Constance Alsip | Sep 16, 2013 09:51 |
| King Leopold's ghost [144 words] | Sue Hickey | Sep 16, 2013 08:43 |
| Belgian idiocy [211 words] | Charles Philip Lehrer | Sep 16, 2013 08:25 |
| The new olden days [44 words] | Blanche Holstein | Sep 16, 2013 07:25 |
| Belgium [33 words] | David Salinger | Sep 16, 2013 07:08 |
| ↔ Calling Mark Steyn [9 words] | Max Modine | Sep 16, 2013 12:48 |
| ↔ Belgium by David Salinger [32 words] | Angela | Sep 17, 2013 06:19 |
| ↔ Yes, that's right. [26 words] | Joanne | Sep 17, 2013 22:07 |
| Education [65 words] | Wim van Rooy | Sep 16, 2013 06:57 |
| Belgian teachers [46 words] | John Galt III | Sep 16, 2013 06:37 |
Comment on this item
Subscribe To Mailing List
Tweets by @GatestoneInst
Latest Articles
by Denis MacEoin
"No religion condones the killing of innocents." — U.S. President Barack Obama, September 10, 2014.
"Islam is a religion of peace." — U.K. Prime Minister David Cameron, September 13, 2014.
"There is a place for violence in Islam. There is a place for jihad in Islam." — U.K. Imam Anjem Choudary, CBN News, April 5, 2010.
Regrettably it is impossible to re-interpret the Qur'an in a "moderate" manner. The most famous modern interpretation by Sayyid Qutb (d. 1966), the Muslim Brotherhood ideologue, leads the reader again and again into political territory, where jihad is at the root of action.
If they deviated from the true faith -- as we are seeing in the Islamic State today -- "backsliders," like pagans, were to be fought until they either accepted Islam or were killed.
In India alone, between 60 and 80 million Hindus may have been put to death by Muslim armies between the years 1000-1525.
by Yaakov Lappin
Hamas's long-term ambitions are indistinguishable from those of Islamic State and al-Qaeda.
Hamas will now focus on its next goal -- trying to strengthen its presence in the West Bank and eventually toppling the Palestinian Authority from power there, just as it did in Gaza. If Israel were to withdraw from the West Bank, Hamas would certainly find such a goal easier to accomplish.
Nothing keeps the flames of jihad alight, and Hamas's popularity secure, like frequent wars.
by Timon Dias
"Arab leaders are a reflection of their people. Arab leaders don't come from Mars or the sun, they emerged from among the people and share the same beliefs... I challenge any Arab citizen who may become a ruler to do anything beyond what current Arab leaders are doing." — Anwar Malek, Algerian author.
If anyone was trying to commit "genocide" during the Gaza War, it was clearly Hamas.
What the protestors in the Netherlands also revealed is that a killed Palestinian is only worth demonstrating for when the blame can be pinned on Israel.
The normalization and common approval of slogans that actually call for the destruction of the entire Jewish State, Israel, contribute to an atmosphere of hatred, violence and anti-Semitism that now seems as acceptable as it is overt.
by Anne Bayefsky
Why couldn't the UN... sponsor a conference on combating global antisemitism?
In theory the UN Charter demands equality of... nations large and small. In reality the UN mass-produces inequality for Jews and the Jewish nation.
The UN has launched a "legal" pogrom against the Jewish state. A "legal" pogrom is a license to kill.
Modern antisemitism targets Israel's exercise of the right of self-defense because self-defense is the essence of sovereignty.
Most Shared
Most Viewed