A New Intifada?
Translations of this item:
Although Palestinian President Mahmoud Abbas and some of his aides have been telling Israelis, Americans and Europeans that they are opposed to violence and terror attacks against Israel, they continue to incite Palestinians against Israel on an almost daily basis.
A connection seems to exist between the resumption of the peace talks between the Palestinian Authority and Israel, and the recent upsurge in violence in the West Bank, which reached its peak with the killing of two Israeli soldiers this week.
The resumption of the U.S.-sponsored negotiations has been accompanied by increased calls from Palestinians to launch a new intifada against Israel.
Calls have been coming not only from Hamas and other extremist groups, but also from Palestinians representing various PLO groups in the West Bank, including Palestinian President Mahmoud Abbas's own Fatah faction.
Earlier this week, representatives of several Palestinian groups met in Ramallah and launched a public campaign to stop the negotiations and wage an intifada against Israel.
That the meeting was held a few hundred meters away from Abbas's headquarters is significant. It shows that opposition to the peace talks is not only coming from the Hamas-controlled Gaza Strip, but also from the largely secular and relatively moderate city of Ramallah.
A few days earlier, a group of masked men marched in the city calling for a third intifada against Israel. The Palestinian Authority police did not intervene to stop them because, Palestinians say, they were Abbas loyalists from Fatah.
Calls for a new uprising against Israel are also being issued by senior officials of Fatah in the West Bank. These officials argue that stepping up the "popular resistance" against Israel is possible even as the peace talks continue.
"Popular resistance will increase pressure on the Israeli government and draw the world's attention to the conflict," explained a top Fatah official.
By supporting a new intifada against Israel, Fatah is seeking to send a message to its critics that, despite Abbas's decision to resume the peace talks with Israel, its members have not abandoned the option of violence as a way of extracting concessions from the Israeli government.
That is perhaps why Fatah's armed wing, Aqsa Martyrs Brigades, rushed to claim responsibility for the killing of the two IDF soldiers in Qalqilya and Hebron.
After the killing of the soldier in Hebron by a sniper, Fatah published a photo of one of its sharpshooters with the caption, "When Fatah says, it does. When Fatah promises, it fulfills."
It is worth noting that the Fatah leadership has refrained from distancing itself from the claims of its armed wing.
Moreover, the Palestinian Authority has stopped short of issuing any form of condemnation for the killing of the soldiers.
Instead, the Palestinian Authority itself has been involved in a massive campaign of incitement against Israel.
While some Palestinian Authority officials have come out in public in support of escalating "popular resistance" against Israel, others have been telling Palestinians that "extremist Jewish gangs are storming and contaminating the Aqsa Mosque" -- a reference to routine visits by Jews to the Temple Mount.
These are the kind of statements that prompt young Palestinians to take to the streets and throw stones and petrol bombs at Jewish settlers and IDF soldiers.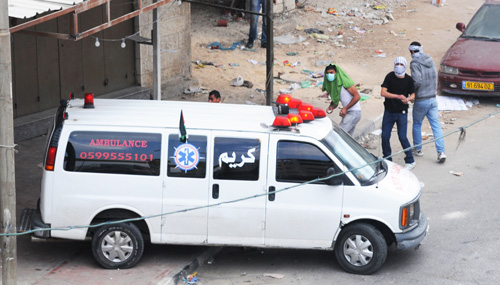 Palestinian rioters use an ambulance for cover while hurling rocks in Qalandiya, May 15, 2011. (Image Credit: IDF)
Although Abbas and some of his aides have been telling Israelis, Americans and Europeans that they are opposed to violence and terror attacks against Israel, they continue to incite Palestinians against Israel on a daily basis.
The Palestinian Authority openly supports an escalation of "popular resistance" against Israel, one where unarmed Palestinian civilians are encouraged to initiate confrontations with the IDF and settlers in the West Bank.
Some Palestinians have obviously interpreted the call for a "popular resistance" as a green light to launch terror attacks against Israelis.
For now, the Palestinian Authority leadership is doing nothing to calm the situation, even as Hamas is calling on its supporters in the West Bank to launch a new intifada against Israel. Some leaders in Ramallah are convinced that a popular uprising would serve their interests and persuade the Israeli public to support any deal with the Palestinian Authority.
During the second intifada, the Palestinian Authority security forces were severely weakened as armed groups asserted control over Palestinian communities, so ironically, the Palestinian Authority could also fall victim to a new intifada.
Related Topics: Palestinian Authority | Khaled Abu Toameh receive the latest by email: subscribe to the free gatestone institute mailing list
Reader comments on this item
Comment on this item
Subscribe To Mailing List
Tweets by @GatestoneInst
Latest Articles
by Timon Dias
"Arab leaders are a reflection of their people. Arab leaders don't come from Mars or the sun, they emerged from among the people and share the same beliefs... I challenge any Arab citizen who may become a ruler to do anything beyond what current Arab leaders are doing." — Anwar Malek, Algerian author.
If anyone was trying to commit "genocide" during the Gaza War, it was clearly Hamas.
What the protestors in the Netherlands also revealed is that a killed Palestinian is only worth demonstrating for when the blame can be pinned on Israel.
The normalization and common approval of slogans that actually call for the destruction of the entire Jewish State, Israel, contribute to an atmosphere of hatred, violence and anti-Semitism that now seems as acceptable as it is overt.
by Anne Bayefsky
Why couldn't the UN... sponsor a conference on combating global antisemitism?
In theory the UN Charter demands equality of... nations large and small. In reality the UN mass-produces inequality for Jews and the Jewish nation.
The UN has launched a "legal" pogrom against the Jewish state. A "legal" pogrom is a license to kill.
Modern antisemitism targets Israel's exercise of the right of self-defense because self-defense is the essence of sovereignty.
by Vijeta Uniyal
In Europe, displays of ferocity were clearly not a "spontaneous reaction" to the developing situation in Gaza. They were an opportune moment for many to act on their anti-Semitism by dressing it up as a supposedly "genuine concern" for human suffering.
In India, youth groups rallied to show their support for Israel, a fellow democracy under terrorist siege -- a pain known only too well by Indians, who have lost more than 30,000 of their countrymen to terrorism since 1994.
A majority if Indians, whose culture is not tainted by anti-Semitism, can see that Israel not only has the right to defend itself, but an obligation to protect its citizens from terrorism.
The media elites of Europe seem unable to see the threat posed to the West by radical Islamist ideology, which drives countless terrorist outfits, including IS, Hamas and al-Qaida. They also seem unable to distinguish their friends from their foes.
by Khaled Abu Toameh
Many Arabs and Muslims identify with the terrorists' anti-Western objectives ideology; they are afraid of being dubbed traitors and U.S. agents for joining non-Muslims in a war that would result in the death of many Muslims, and they are afraid their people would rise up against them.
Many Arab and Muslim leaders view the Islamic State as a by-product of failed U.S. policies, especially the current U.S. Administration's weak-kneed support for Iraq's Nuri al-Maliki. Some of these leaders, such as Egypt's Abdel Fattah al-Sisi, consider the U.S. to be a major ally of the Muslim Brotherhood. Sisi and his regime will never forgive Obama for his support for the Muslim Brotherhood.
Also, they do not seem to have much confidence in the Obama Administration, which is perceived as weak and incompetent when it comes to combating Islamists.
Most Shared
Most Viewed