A New Intifada?
Although Palestinian President Mahmoud Abbas and some of his aides have been telling Israelis, Americans and Europeans that they are opposed to violence and terror attacks against Israel, they continue to incite Palestinians against Israel on an almost daily basis.
A connection seems to exist between the resumption of the peace talks between the Palestinian Authority and Israel, and the recent upsurge in violence in the West Bank, which reached its peak with the killing of two Israeli soldiers this week.
The resumption of the U.S.-sponsored negotiations has been accompanied by increased calls from Palestinians to launch a new intifada against Israel.
Calls have been coming not only from Hamas and other extremist groups, but also from Palestinians representing various PLO groups in the West Bank, including Palestinian President Mahmoud Abbas's own Fatah faction.
Earlier this week, representatives of several Palestinian groups met in Ramallah and launched a public campaign to stop the negotiations and wage an intifada against Israel.
That the meeting was held a few hundred meters away from Abbas's headquarters is significant. It shows that opposition to the peace talks is not only coming from the Hamas-controlled Gaza Strip, but also from the largely secular and relatively moderate city of Ramallah.
A few days earlier, a group of masked men marched in the city calling for a third intifada against Israel. The Palestinian Authority police did not intervene to stop them because, Palestinians say, they were Abbas loyalists from Fatah.
Calls for a new uprising against Israel are also being issued by senior officials of Fatah in the West Bank. These officials argue that stepping up the "popular resistance" against Israel is possible even as the peace talks continue.
"Popular resistance will increase pressure on the Israeli government and draw the world's attention to the conflict," explained a top Fatah official.
By supporting a new intifada against Israel, Fatah is seeking to send a message to its critics that, despite Abbas's decision to resume the peace talks with Israel, its members have not abandoned the option of violence as a way of extracting concessions from the Israeli government.
That is perhaps why Fatah's armed wing, Aqsa Martyrs Brigades, rushed to claim responsibility for the killing of the two IDF soldiers in Qalqilya and Hebron.
After the killing of the soldier in Hebron by a sniper, Fatah published a photo of one of its sharpshooters with the caption, "When Fatah says, it does. When Fatah promises, it fulfills."
It is worth noting that the Fatah leadership has refrained from distancing itself from the claims of its armed wing.
Moreover, the Palestinian Authority has stopped short of issuing any form of condemnation for the killing of the soldiers.
Instead, the Palestinian Authority itself has been involved in a massive campaign of incitement against Israel.
While some Palestinian Authority officials have come out in public in support of escalating "popular resistance" against Israel, others have been telling Palestinians that "extremist Jewish gangs are storming and contaminating the Aqsa Mosque" -- a reference to routine visits by Jews to the Temple Mount.
These are the kind of statements that prompt young Palestinians to take to the streets and throw stones and petrol bombs at Jewish settlers and IDF soldiers.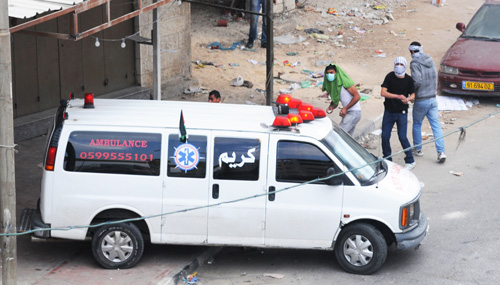 Palestinian rioters use an ambulance for cover while hurling rocks in Qalandiya, May 15, 2011. (Image Credit: IDF)
Although Abbas and some of his aides have been telling Israelis, Americans and Europeans that they are opposed to violence and terror attacks against Israel, they continue to incite Palestinians against Israel on a daily basis.
The Palestinian Authority openly supports an escalation of "popular resistance" against Israel, one where unarmed Palestinian civilians are encouraged to initiate confrontations with the IDF and settlers in the West Bank.
Some Palestinians have obviously interpreted the call for a "popular resistance" as a green light to launch terror attacks against Israelis.
For now, the Palestinian Authority leadership is doing nothing to calm the situation, even as Hamas is calling on its supporters in the West Bank to launch a new intifada against Israel. Some leaders in Ramallah are convinced that a popular uprising would serve their interests and persuade the Israeli public to support any deal with the Palestinian Authority.
During the second intifada, the Palestinian Authority security forces were severely weakened as armed groups asserted control over Palestinian communities, so ironically, the Palestinian Authority could also fall victim to a new intifada.
Related Topics: Khaled Abu Toameh receive the latest by email: subscribe to the free gatestone institute mailing list
Reader comments on this item
Comment on this item
Tweets by @GatestoneInst
Subscribe To Mailing List
Latest Articles
by Khaled Abu Toameh
Now Abbas is going to mislead Obama into thinking that he is coming to meet with him not only as the "rightful" leader of the Palestinians but also as a representative of the Arab world. Never mind that the Arab League, which issued the statement, is considered extremely inefficient and incompetent and that no one in the Arab world takes it seriously.
But the Obama Administration does not seem to care. Obama and Kerry seem to want a deal at any cost, even if it is with a president who lost his legitimacy many years ago and even if the deal will unravel the day after.
Abbas also believes he can say no to Obama because the U.S. Administration will not take any retaliatory measures against the Palestinian Authority. The Palestinians do not take Obama seriously, especially in light of his failure in dealing with the crises in the Arab world and Ukraine.
by Samuel Westrop
The individuals attached to the radicalization of the Woolwich killers were not unabashed advocates of terrorism, but so-called "soft Islamists" – afforded money and responsibility by the government in the vain hope that "non-violent" extremists would temper the more visible consequences of violent extremists. In truth, "moderate" Islamism seems to act as a "conveyor belt" to violent Islamism.
The greatest obstacle remains the failure of government, media and academia to accept that some "moderate" Islamists are frequently the cause, and Adebowale merely the symptom.
by Campaign to Free Political Prisoners in Iran
by Khaled Abu Toameh
"The dispute with Israel is not only over recognizing Israel as a Jewish state.The dispute is over Jerusalem, settlements, refugees and borders." — Mohamed Shtayyeh, Member of Fatah Central Committee.
Abbas is not authorized to make concessions on any of these issues.
Today it is clear that the Palestinian Authority is preparing to hold Israel responsible for the failure of the peace talks because of its refusal to comply with all of the Palestinians' demands.
by Yaakov Lappin
According to UN Security Council Resolution 1747, Iran is banned from trading in or sending weapons across, international borders. Yet, as the latest arms shipment intercepted by Israel shows, Iran systematically violates this resolution. Will diplomats prefer to look the other way?
Most Shared
Most Viewed