A New Intifada?
Although Palestinian President Mahmoud Abbas and some of his aides have been telling Israelis, Americans and Europeans that they are opposed to violence and terror attacks against Israel, they continue to incite Palestinians against Israel on an almost daily basis.
A connection seems to exist between the resumption of the peace talks between the Palestinian Authority and Israel, and the recent upsurge in violence in the West Bank, which reached its peak with the killing of two Israeli soldiers this week.
The resumption of the U.S.-sponsored negotiations has been accompanied by increased calls from Palestinians to launch a new intifada against Israel.
Calls have been coming not only from Hamas and other extremist groups, but also from Palestinians representing various PLO groups in the West Bank, including Palestinian President Mahmoud Abbas's own Fatah faction.
Earlier this week, representatives of several Palestinian groups met in Ramallah and launched a public campaign to stop the negotiations and wage an intifada against Israel.
That the meeting was held a few hundred meters away from Abbas's headquarters is significant. It shows that opposition to the peace talks is not only coming from the Hamas-controlled Gaza Strip, but also from the largely secular and relatively moderate city of Ramallah.
A few days earlier, a group of masked men marched in the city calling for a third intifada against Israel. The Palestinian Authority police did not intervene to stop them because, Palestinians say, they were Abbas loyalists from Fatah.
Calls for a new uprising against Israel are also being issued by senior officials of Fatah in the West Bank. These officials argue that stepping up the "popular resistance" against Israel is possible even as the peace talks continue.
"Popular resistance will increase pressure on the Israeli government and draw the world's attention to the conflict," explained a top Fatah official.
By supporting a new intifada against Israel, Fatah is seeking to send a message to its critics that, despite Abbas's decision to resume the peace talks with Israel, its members have not abandoned the option of violence as a way of extracting concessions from the Israeli government.
That is perhaps why Fatah's armed wing, Aqsa Martyrs Brigades, rushed to claim responsibility for the killing of the two IDF soldiers in Qalqilya and Hebron.
After the killing of the soldier in Hebron by a sniper, Fatah published a photo of one of its sharpshooters with the caption, "When Fatah says, it does. When Fatah promises, it fulfills."
It is worth noting that the Fatah leadership has refrained from distancing itself from the claims of its armed wing.
Moreover, the Palestinian Authority has stopped short of issuing any form of condemnation for the killing of the soldiers.
Instead, the Palestinian Authority itself has been involved in a massive campaign of incitement against Israel.
While some Palestinian Authority officials have come out in public in support of escalating "popular resistance" against Israel, others have been telling Palestinians that "extremist Jewish gangs are storming and contaminating the Aqsa Mosque" -- a reference to routine visits by Jews to the Temple Mount.
These are the kind of statements that prompt young Palestinians to take to the streets and throw stones and petrol bombs at Jewish settlers and IDF soldiers.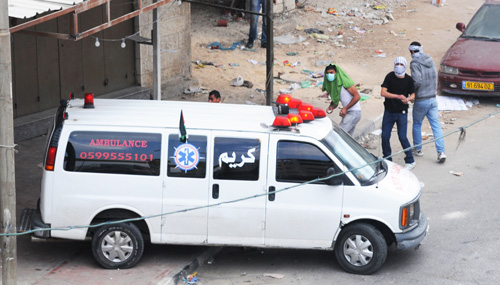 Palestinian rioters use an ambulance for cover while hurling rocks in Qalandiya, May 15, 2011. (Image Credit: IDF)
Although Abbas and some of his aides have been telling Israelis, Americans and Europeans that they are opposed to violence and terror attacks against Israel, they continue to incite Palestinians against Israel on a daily basis.
The Palestinian Authority openly supports an escalation of "popular resistance" against Israel, one where unarmed Palestinian civilians are encouraged to initiate confrontations with the IDF and settlers in the West Bank.
Some Palestinians have obviously interpreted the call for a "popular resistance" as a green light to launch terror attacks against Israelis.
For now, the Palestinian Authority leadership is doing nothing to calm the situation, even as Hamas is calling on its supporters in the West Bank to launch a new intifada against Israel. Some leaders in Ramallah are convinced that a popular uprising would serve their interests and persuade the Israeli public to support any deal with the Palestinian Authority.
During the second intifada, the Palestinian Authority security forces were severely weakened as armed groups asserted control over Palestinian communities, so ironically, the Palestinian Authority could also fall victim to a new intifada.
Related Topics: Khaled Abu Toameh receive the latest by email: subscribe to the free gatestone institute mailing list
Reader comments on this item
Comment on this item
Tweets by @GatestoneInst
Subscribe To Mailing List
Latest Articles
by Soeren Kern
The problem of Islam in public schools has been allowed to snowball to vast proportions... not hundreds but thousands of British schools have come under the influence of Muslim radicals.
Bains was also instructed to stop teaching citizenship classes because they were deemed to be "un-Islamic," and to introduce Islamic studies into the curriculum, even though Saltley is a non-faith school.
Schools should not be allowed to become "silos of segregation." — Nick Clegg, Deputy Prime Minister
by Peter Martino
Europe's biggest failure vis-à-vis Turkey is another example of its unwillingness to face unwelcome truths: that whenever Islamists go into politics, they never turn out to be moderates.
EU leaders are now, belatedly, coming to realize that Erdogan is not their friend.
by Timon Dias
"Both materially, and in essence, sovereignty unconditionally and always belongs to Allah." — Recep Tayyip Erdogan, Prime Minister, Turkey.
What is surprising is that so many Western politicians, including EU-minded ones, apparently still ignore what the consequences could be of such an ideology. Do they really assume it could never happen to them?
by Gordon G. Chang
The second thing we get wrong about China is that it is safe to ignore periodic Chinese threats to incinerate our cities and wage war on us. They employ salami-slicing tactics, as with Scarborough Shoal... so that they do not invite retaliation.
If we cannot say these things clearly and publicly, the Chinese will think we are afraid of them. If they think we are afraid of them, they will act accordingly.
Chinese leaders do not distrust us because they have insufficient contact with us. They distrust us because they see themselves as protectors of an ideology threatened by free societies.
by Anna Mahjar-Barducci
If the government fails... to assert its power in the months to come it will become a de facto Somalia II.... Soon, these militias, if they have not already done so, will have their own government that will contest the decisions of the paper government of Tripoli… Indicators show that it is already fragmenting into three countries." — Professor Mohamed Chtatou, University of Mohammed V, Morocco.
Most Shared
Most Viewed