A New Intifada?
Translations of this item:
Although Palestinian President Mahmoud Abbas and some of his aides have been telling Israelis, Americans and Europeans that they are opposed to violence and terror attacks against Israel, they continue to incite Palestinians against Israel on an almost daily basis.
A connection seems to exist between the resumption of the peace talks between the Palestinian Authority and Israel, and the recent upsurge in violence in the West Bank, which reached its peak with the killing of two Israeli soldiers this week.
The resumption of the U.S.-sponsored negotiations has been accompanied by increased calls from Palestinians to launch a new intifada against Israel.
Calls have been coming not only from Hamas and other extremist groups, but also from Palestinians representing various PLO groups in the West Bank, including Palestinian President Mahmoud Abbas's own Fatah faction.
Earlier this week, representatives of several Palestinian groups met in Ramallah and launched a public campaign to stop the negotiations and wage an intifada against Israel.
That the meeting was held a few hundred meters away from Abbas's headquarters is significant. It shows that opposition to the peace talks is not only coming from the Hamas-controlled Gaza Strip, but also from the largely secular and relatively moderate city of Ramallah.
A few days earlier, a group of masked men marched in the city calling for a third intifada against Israel. The Palestinian Authority police did not intervene to stop them because, Palestinians say, they were Abbas loyalists from Fatah.
Calls for a new uprising against Israel are also being issued by senior officials of Fatah in the West Bank. These officials argue that stepping up the "popular resistance" against Israel is possible even as the peace talks continue.
"Popular resistance will increase pressure on the Israeli government and draw the world's attention to the conflict," explained a top Fatah official.
By supporting a new intifada against Israel, Fatah is seeking to send a message to its critics that, despite Abbas's decision to resume the peace talks with Israel, its members have not abandoned the option of violence as a way of extracting concessions from the Israeli government.
That is perhaps why Fatah's armed wing, Aqsa Martyrs Brigades, rushed to claim responsibility for the killing of the two IDF soldiers in Qalqilya and Hebron.
After the killing of the soldier in Hebron by a sniper, Fatah published a photo of one of its sharpshooters with the caption, "When Fatah says, it does. When Fatah promises, it fulfills."
It is worth noting that the Fatah leadership has refrained from distancing itself from the claims of its armed wing.
Moreover, the Palestinian Authority has stopped short of issuing any form of condemnation for the killing of the soldiers.
Instead, the Palestinian Authority itself has been involved in a massive campaign of incitement against Israel.
While some Palestinian Authority officials have come out in public in support of escalating "popular resistance" against Israel, others have been telling Palestinians that "extremist Jewish gangs are storming and contaminating the Aqsa Mosque" -- a reference to routine visits by Jews to the Temple Mount.
These are the kind of statements that prompt young Palestinians to take to the streets and throw stones and petrol bombs at Jewish settlers and IDF soldiers.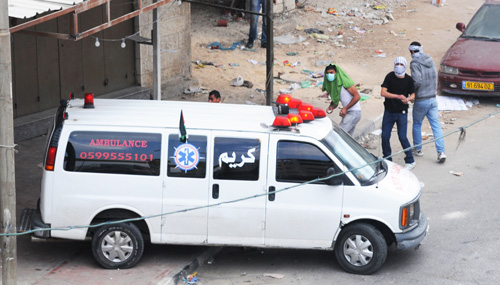 Palestinian rioters use an ambulance for cover while hurling rocks in Qalandiya, May 15, 2011. (Image Credit: IDF)
Although Abbas and some of his aides have been telling Israelis, Americans and Europeans that they are opposed to violence and terror attacks against Israel, they continue to incite Palestinians against Israel on a daily basis.
The Palestinian Authority openly supports an escalation of "popular resistance" against Israel, one where unarmed Palestinian civilians are encouraged to initiate confrontations with the IDF and settlers in the West Bank.
Some Palestinians have obviously interpreted the call for a "popular resistance" as a green light to launch terror attacks against Israelis.
For now, the Palestinian Authority leadership is doing nothing to calm the situation, even as Hamas is calling on its supporters in the West Bank to launch a new intifada against Israel. Some leaders in Ramallah are convinced that a popular uprising would serve their interests and persuade the Israeli public to support any deal with the Palestinian Authority.
During the second intifada, the Palestinian Authority security forces were severely weakened as armed groups asserted control over Palestinian communities, so ironically, the Palestinian Authority could also fall victim to a new intifada.
Related Topics: Palestinian Authority | Khaled Abu Toameh receive the latest by email: subscribe to the free gatestone institute mailing list
Reader comments on this item
Comment on this item
Subscribe To Mailing List
Tweets by @GatestoneInst
Subscribe To Mailing List
Latest Articles
by Pierre Rehov
For terrorists, the death of innocent children is irrelevant. In a society that promotes martyrdom as the ultimate sign of success, the death of innocent children can sometimes even be seen as a public relations blessing.
In every action, intent is paramount. There should never be a moral equivalence painted between the deliberate killing of civilians, and a retaliation that tragically leads to casualties among civilians.
There is, however, one small difference: in the Middle East, reporters are threatened, except in Israel. Their choice becomes a simple one: promote the Palestinian point of view or stop working in the West Bank. Keep the eye of the camera dirty or lose your job. This show should not go on.
by Khaled Abu Toameh
Since 1948, the Arab countries and government have been paying mostly lip service to the Palestinians.
"They have money and oil, but don't care about the Palestinians, even though we are Arabs and Muslims like them. What a Saudi or Qatari sheikh spends in one night in London, Paris or Las Vegas could solve the problem of tens of thousands of Palestinians." — Palestinian human rights activist.
"Some Arabs were hoping that Israel would rid them of Hamas." — Ashraf Salameh, Gaza City.
"Some of the Arab regimes are interested in getting rid of the resistance in order to remove the burden of the Palestinian cause, which threatens the stability of their regimes." — Mustafa al-Sawwaf, Palestinian political analyst.
"Most Arabs are busy these days with bloody battles waged by their leaders, who are struggling to survive. These battles are raging in Yemen, Syria, Iraq, Egypt, Libya and the Palestinian Authority." — Mohammed al-Musafer, columnist.
"The Arab leaders don't know what they want from the Gaza Strip. They don't even know what they want from Israel." — Yusef Rizka, Hamas official.
by Soeren Kern
European elites, who take pride in viewing the EU as a "postmodern" superpower, have long argued that military hard-power is illegitimate in the 21st century. Unfortunately for Europe, Russia (along with China and Iran) has not embraced the EU's fantastical soft-power worldview, in which "climate change" is now said to pose the greatest threat to European security.
For its part, the European Commission, the EU's administrative branch, which never misses an opportunity to boycott institutions in Israel, has issued only a standard statement on the shooting down of MH17 in Ukraine, which reads: "The European Union will continue to follow this issue very closely."
The EU has made only half-hearted attempts to develop alternatives to its dependency on Russian oil and gas.
by Shoshana Bryen
Proportionality in international law is not about equality of death or civilian suffering, or even about [equality of] firepower. Proportionality weighs the necessity of a military action against suffering that the action might cause to enemy civilians in the vicinity.
"Under international humanitarian law and the Rome Statute, the death of civilians during an armed conflict, no matter how grave and regrettable does not constitute a war crime.... even when it is known that some civilian deaths or injuries will occur. A crime occurs if there is an intentional attack directed against civilians (principle of distinction) or an attack is launched on a military objective in the knowledge that the incidental civilian injuries would be clearly excessive in relation to the anticipated military advantage (principle of proportionality)." — Luis Moreno-Ocampo, Chief Prosecutor, International Criminal Court.
"The greater the military advantage anticipated, the larger the amount of collateral damage -- often civilian casualties -- which will be "justified" and "necessary." — Dr. Françoise Hampton, University of Essex, UK.
by Irfan Al-Alawi
"Abu Bakr Al-Baghdadi" is Abu Du'a, a follower of the late Osama Bin Laden. By adding the name "Al-Qurayshi" in his current alias, he is also seeking to affirm descent from Muhammad.
The allegation of theological sovereignty over all Sunnis extends to Indonesia and Morocco. The idea that the borders between Syria and Iraq will be dissolved by the new "caliphate" defies all Islamic theology and history. As the Qur'an states, "Allah "made the nations and tribes different." (49:13) Syria and Iraq have been distinct for millennia.
The "Islamic State" seeks to obliterate these diverse identities by expelling or killing all Shias and Sunni Sufis. And it does not invoke the Ottoman caliphate in its propaganda, demonstrating decisively the fake nature of the "Islamic State."
A caliphate is obsolete and the "Islamic State" is totalitarian. All Sunnis need to repudiate them soundly, even by force of arms.
Most Shared
Most Viewed