Abbas, Hamas, Flirting With Syria's Assad
Palestinian Authority President Mahmoud Abbas's gestures toward Syria's President Bashar Assad will only bring him closer to Iran, Hizbullah and radical Palestinian groups that oppose any peace with Israel.
Recently, both the Palestinian Authority and Hamas seem to have changed their policy toward the Syrian conflict.
Neither Hamas nor the Palestinian Authority wants to be seen as siding with Al-Qaeda-affiliated groups, most likely out of fear that such support would cost the Palestinians Western sympathy and funding.
Since the beginning of the Syrian crisis, relations between the Syrian regime of Bashar Assad regime and the Palestinian Authority and Hamas have been tense.
Hamas's public support for the opposition forces led to the expulsion of its leaders from Syria; and the Palestinian Authority's failure to support publicly the Assad regime resulted in tensions between Damascus and Ramallah.
After losing faith in the Syrian opposition, the Palestinian Authority and Hamas are now trying to mend fences with the regime of Syria's President, Bashar Assad.
The two rival Palestinian parties are hoping that Assad will forgive them for failing to support his regime against the rebels – a move that has resulted, since the beginning of the civil war, in the displacement and death of tens of thousands of Palestinians living in Syria.
More than 200,000 Palestinians have been forced to flee their homes in several refugee camps in Syria, while another 2,000 have been killed in the fighting between the Syrian army and the opposition forces.
The shift in the Palestinian Authority's stance became evident during Mahmoud Abbas's recent speech at the United Nations General Assembly.
Referring to the Syrian crisis, Abbas said, "While we condemn the crime of the use of chemical weapons in Syria, we have affirmed our rejection of a military solution and the need to find a peaceful political solution to fulfill the aspirations of the Syrian people."
The Assad regime did not conceal its satisfaction with Abbas's comments, especially his opposition to a "military solution." That Abbas refrained from holding the Assad regime responsible for the use of chemical weapons was also received with a sigh of relief in Damascus.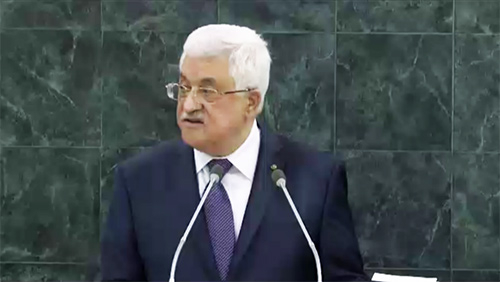 In his September 26, 2013 address to the UN General Assembly, PA President Mahmoud Abbas tried to improve damaged relations with Bashar Assad's regime, stating "while we condemn the crime of the use of chemical weapons in Syria, we have affirmed our rejection of a military solution and the need to find a peaceful political solution to fulfill the aspirations of the Syrian people." (Photo credit: UN video)
After Abbas's speech, Assad agreed to meet with senior PLO official Abbas Zaki, who relayed to him a letter from the Palestinian Authority president.
The Syrian news agency Sana quoted the PLO envoy as telling Assad that the Palestinians support Syria in the face of "aggression." This statement means that the PLO has decided to support Assad against the various opposition groups fighting against his regime.
Meanwhile, Hamas's efforts to patch up its differences with the Assad regime have thus far been less successful.
In the context of these efforts, Hamas leaders and spokesmen have stopped their rhetorical attacks on the Assad regime. In addition, Hamas has been working hard to distance itself from the Syrian "rebels," particularly those affiliated with Al-Qaeda.
In a speech in Gaza City last weekend, Hamas Prime Minister Ismail Haniyeh assured Syria and other Arab countries that his movement does not meddle in their internal affairs. "We never sided with [Arab] country against the other," Haniyeh declared. "We are keen on a unified Arab and Islamic position toward the Palestinian cause."
Like Abbas, Haniyeh also called for a "political solution and national understandings" in solving Arab disputes.
But while a rapprochement between Hamas and the Assad regime would only serve the Islamist movement's interests and help it rid itself of its growing state of isolation, especially in the aftermath of the downfall of the Muslim Brotherhood regime in Egypt, the renewal of ties between the Palestinian Authority and Damascus does not bode well for the future of the peace process.
The Assad regime is not going to change its position toward peace with Israel to appease Abbas and the Palestinian Authority. Abbas's gestures toward Assad will only bring him closer to Iran, Hizbullah and radical Palestinian groups that oppose any peace process with Israel.
Related Topics: Syria | Khaled Abu Toameh receive the latest by email: subscribe to the free gatestone institute mailing list
Reader comments on this item
Comment on this item
Tweets by @GatestoneInst
Subscribe To Mailing List
Latest Articles
by Samuel Westrop
In the West, the Arabization of Muslim communities has occurred with government assistance, which, through imposed policies of multiculturalism in the name of diversity, has effected the destruction of South Asian culture.
by Soeren Kern
The problem of Islam in public schools has been allowed to snowball to vast proportions... not hundreds but thousands of British schools have come under the influence of Muslim radicals.
Bains was also instructed to stop teaching citizenship classes because they were deemed to be "un-Islamic," and to introduce Islamic studies into the curriculum, even though Saltley is a non-faith school.
Schools should not be allowed to become "silos of segregation." — Nick Clegg, Deputy Prime Minister
by Peter Martino
Europe's biggest failure vis-à-vis Turkey is another example of its unwillingness to face unwelcome truths: that whenever Islamists go into politics, they never turn out to be moderates.
EU leaders are now, belatedly, coming to realize that Erdogan is not their friend.
by Timon Dias
"Both materially, and in essence, sovereignty unconditionally and always belongs to Allah." — Recep Tayyip Erdogan, Prime Minister, Turkey.
What is surprising is that so many Western politicians, including EU-minded ones, apparently still ignore what the consequences could be of such an ideology. Do they really assume it could never happen to them?
by Gordon G. Chang
The second thing we get wrong about China is that it is safe to ignore periodic Chinese threats to incinerate our cities and wage war on us. They employ salami-slicing tactics, as with Scarborough Shoal... so that they do not invite retaliation.
If we cannot say these things clearly and publicly, the Chinese will think we are afraid of them. If they think we are afraid of them, they will act accordingly.
Chinese leaders do not distrust us because they have insufficient contact with us. They distrust us because they see themselves as protectors of an ideology threatened by free societies.
Most Shared
Most Viewed