Palestinians: The War between Mahmoud and Mohamed
Translations of this item:
Dahlan was quoted as saying that Abbas and his team were not negotiating with Israel about the restoration of Palestinian rights, but in order to win American and Israeli backing.

Abbas's aides are accusing Dahlan of being part of a "conspiracy" to topple the Palestinian Authority President.

A weak and divided Fatah could further boost Hamas's popularity among Palestinians.
After a prolonged lull, the ongoing war between Palestinian Authority President Mahmoud Abbas and ousted Fatah operative Mohamed Dahlan erupted once again over the past few days.
The two men are now accusing each other of treason, corruption and conspiracy, prompting some Palestinians to wonder whether the time has come for U.S. Secretary of State John Kerry to make an effort to hold "peace talks" between Abbas and Dahlan.
The Abbas-Dahlan rivalry reflects growing tensions in the ruling Fatah faction, which dominates the Palestinian Authority in the West Bank.
But the war is not only between two figures. Rather, it is between two camps in Fatah representing the old guard and new guard.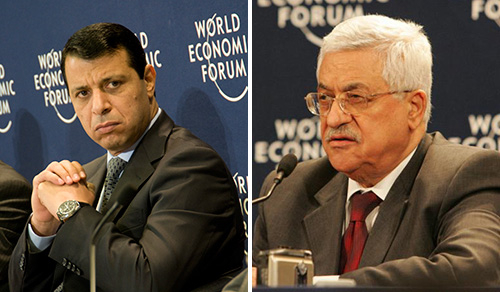 Mohamed Dahlan (left) and PA President Mahmoud Abbas (right). [Image source: World Economic Forum]
There were days when Abbas and Dahlan were considered close allies and friends. When Abbas served as prime minister under Yasser Arafat, in 2003, he appointed Dahlan as Minister of Security.
Back then, Abbas and Dahlan were forced to work together to face Arafat's autocratic regime, which sought to undermine the power of the two men.
However, tensions between Abbas and Dahlan first surfaced after Hamas seized control over the Gaza Strip and drove the Palestinian Authority out of the area in the summer of 2007.
Abbas and his loyalists then held Dahlan and his forces responsible for the Hamas "coup," saying they had not done enough to prevent the defeat of the Palestinian Authority. Dahlan was a former commander of the Palestinian Preventive Security Force in the Gaza Strip.
The tensions between the two reached their peak four years ago when Abbas learned that Dahlan had been bad-mouthing the president's sons, Yasser and Tareq Abbas.
In response, Abbas ordered the Palestinian Authority security forces to raid Dahlan's residence in Ramallah and confiscate documents and various types of equipment. Some of Dahlan's friends and aides were arrested during the raid.
Dahlan was forced to flee Ramallah and has since found refuge in the United Arab Emirates.
Abbas escalated his campaign against Dahlan by persuading Fatah's Central Committee to expel him from the faction.
Abbas aides have since accused Dahlan of involvement in various crimes, including the "poisoning" of Arafat, who died in November 2004, the assassination of a number of Fatah officials in the Gaza Strip, and embezzlement of public funds.
In recent weeks, the United Arab Emirates and other Arab countries have been trying to negotiate an end to the war between Abbas and Dahlan, but to no avail.
Palestinian sources claimed that the Arab mediators had even asked the 78-year-old Abbas to appoint Dahlan, 53, as his deputy. Abbas, according to the sources, turned down the proposal, saying he would never forgive Dahlan for betraying him and Fatah.
The failure of the mediation efforts prompted Dahlan last week to launch a scathing attack on Abbas and his close aides in Ramallah, reigniting the war between the two men.
Dahlan was quoted as saying that Abbas and his team were not negotiating with Israel about the restoration of Palestinian rights, but in order to win American and Israeli backing. "The leadership of the Palestinian Authority is so weak that it can't turn down any Israeli request," Dahlan was quoted as saying.
Dahlan was also quoted as accusing unnamed Palestinian Authority officials of providing logistical aid to construction work in Jewish settlements.
Dahlan's statements have drawn strong condemnations from Abbas and his top aides. They are now referring to the ousted Fatah operative as "Lieberman Dahlan" – a reference to Israeli right-wing politician and former Foreign Minister Avigdor Lieberman, who is a strong critic of the Palestinian Authority and its leaders.
Abbas's aides are also accusing Dahlan of being part of a "conspiracy" to topple the Palestinian Authority president. They claim that Dahlan is wanted by the Palestinian Authority for his role in the assassination of Fatah activists and financial corruption.
Dahlan does not seem to be standing alone in his battle against Abbas. Several Fatah-affiliated groups and figures in the Gaza Strip and Palestinian refugee camps in Lebanon have come out in support of Dahlan, deepening divisions inside Fatah.
The war between Dahlan and Abbas has seriously undermined Fatah's credibility among Palestinians. Fatah has already lost much of its credibility as a result of its failure to reform and come up with new leaders.
This war, a weak and divided Fatah, plays into the hands of Hamas and could further boost its popularity among Palestinians. Before pursuing its efforts to achieve peace with Israel, Fatah needs to solve its internal problems. A weak and divided Fatah would never be able to sell any peace agreement with Israel to its people.
Related Topics: Palestinian Authority | Khaled Abu Toameh receive the latest by email: subscribe to the free gatestone institute mailing list
Reader comments on this item
Comment on this item
Subscribe To Mailing List
Tweets by @GatestoneInst
Latest Articles
by Burak Bekdil
Where Turkey stands today is a perfect example of how, when Islamists -- mild or otherwise -- rule a county, even the most basic liberties are systematically suppressed.
"A climate of fear has emerged in Turkey." — Hasam Kilic, President, Turkey's Constitutional Court.
The prosecutor demanded a heavier penalty for the victim than for her torturers.
The European Commission identified government interference in the judiciary and bans imposed on social media as the major sources of concern regarding Turkey's candidacy for full membership.
by Khaled Abu Toameh
To understand what drives a young Palestinian to carry out such a deadly attack, one needs to look at the statements of Palestinian Authority leaders during the past few weeks.
The anti-Israel campaign of incitement reached its peak with Abbas's speech at the UN a few weeks ago, when he accused Israel of waging a "war of genocide" in the Gaza Strip. Abbas made no reference to Hamas's crimes against both Israelis and Palestinians.
Whatever his motives, it is clear that the man who carried out the most recent attack, was influenced by the messages that Abbas and the Palestinian Authority leadership have been sending their people.
by Richard Kemp
Would General Allen -- or any other general today -- recommend contracting out his country's defenses if it were his country at stake? Of course not.
The Iranian regime remains dedicated to undermining and ultimately destroying the State of Israel. The Islamic State also has Israel in its sights and would certainly use the West Bank as a point from which to attack, if it were open to them.
There can be no two-state solution and no sovereign Palestinian Arab state west of the Jordan, however desirable those things might be. The stark military reality is that Israel cannot withdraw its forces from the West Bank.
Fatah leaders ally themselves with the terrorists of Hamas, and, like Hamas, they continue to reject the every existence of the State of Israel.
If Western leaders actually want to help, they should use all diplomatic and economic means to make it clear to the Palestinians that they will never achieve an independent and sovereign state while they remain set on the destruction of the State of Israel.
by Louis René Beres
The Palestine Liberation Organization [PLO], forerunner of today's Palestinian Authority, was founded in 1964, three years before Israel came into the unintended control of the West Bank and Gaza. What therefore was the PLO planning to "liberate"?
Why does no one expect the Palestinians to cease all deliberate and random violence against Israeli civilians before being considered for admission to statehood?
On June 30, 1922, a joint resolution of both Houses of Congress of the United States endorsed a "Mandate for Palestine," confirming the right of Jews to settle anywhere they chose between the Jordan River and the Mediterranean Sea. This is the core American legacy of support for a Jewish State that President Obama now somehow fails to recall.
A sovereign state of Palestine, as identified by the Arabs -- a Muslim land occupied by "Palestinian" Arabs -- has never existed; not before 1948, and not before 1967. From the start, it was, and continues to be, the Arab states -- not Israel -- that became the core impediment to Palestinian sovereignty.
by Timon Dias
It looks as if this new law is meant to serve as a severe roadblock to parties that would like to dismantle the EU in a democratic and peaceful way from within.
A rather dull semantic trick pro-EU figures usually apply, is calling their opponents "anti-Europe."
Most Shared
Most Viewed