Iran: Letter from Ward 350 of Evin Prison
This treatment [in the hospital] is so unspeakable that most choose to suffer from their sickness instead of demanding to be sent to one.

We ask for your support.
Translator's Note: A group of prisoners managed to smuggle a letter, signed by 47 of them, out of Evin Prison concerning the unimaginable conditions there. Even though the prisoners know that serious punishment may well follow, they all signed their names. The prison has a small infirmary, ill equipped and substandard. So many prisoners ask to be transferred to a city hospital for adequate care. The prison doctors are cruel to the prisoners, and apparently chosen for that quality. When prisoners ask to go to a hospital, they are mocked, humiliated, and treated so brutally by the prison authorities that they do not dare ask and just give up asking.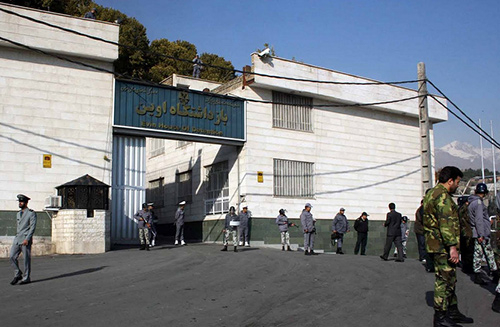 One of the entrances to Evin Prison, in Tehran, Iran. (Image source: Flickr/sabzphoto)
---
We political prisoners, due to problems created by the Islamic regime, are suffering greatly, both with and without ailments, from lack of medical attention.
Many of us are dying and many of us have developed further ailments from lack of medicine.
Aside from the countless pressures and difficulties prisoners face every day, many prisoners have also acquired ailments due to the lack of hygiene and improper medical care in prison. The medical aid here is minimal, substandard and ineffective. In many instances, prisoners have to wait weeks or even months before a medical professional comes to see even them or they are sent somewhere outside prison which, for some reason, worsens their condition.
Sometimes the prison doctors declare the patient fit and healthy in order to punish the prisoner, and the authorities look the other way. Getting involved in the paperwork and red tape to insist on going to a hospital is always met with humiliation, insults, and harassment by prison doctors and guards.
Usually in the [city] hospital, the sick patient is chained to the bed, mocked and treated inhumanely. This treatment is so unspeakable that most choose to suffer from their sickness instead of demanding to go to a hospital. Although some have very severe illnesses, they refuse to be shackled in humiliating prison garb and as such they are refused a visit to the hospital. Every day, medical aid, proper nutrition and a hygienic environment are being made worse for prisoners.
We the undersigned declare our greatest appreciation for your sincere and unwavering humanitarian support and would like to bring to your immediate attention the dire situation of the lack of medical care for political prisoners and ask for your support.
Signed,
Amir Dorosti, Reza Shahabi, Behnam Ebrahimzade, Saeed Mohammad Ebrahimi, Omid Shah-Moradi, Majid Mohamadi Maen, Mohammad Mehdi Sajedfar, Gholamreza Khosravi, Majid Assadi, Mohammad Sayemi, Hati Yazloo, Saeed Mohammad Hadiri, Reza Akbari Monfared, Ali Maghzi, Hamid Moradi, Amir Eslati, Mostafa Daneshjoo, Afshin Kermpour, Farshid Yadollahi, Mohammad Daroie, Sina Azimi, Shahin Dadkhah, Esmael Azizi, Alireza Sayedian, Saeed Abedini, Gholamreza Hosseini, Reza Entesary, Rasol Etesami, Alireza Ahmadi, Omid Behroozi, Davood Assadi, Ali Allai, Pajman Abdol Hosseinzade, Payman Casnejad, Yaghob Maleki, Mehdi Khodai, Rasool Esmailzade, Esmael Barzagar, Hamid Horaband, Ali- Rezai Ghasabzade, Vahid Asghari, Omid Zarenejad, Mohammad Haddi Bardbar, Farshid Fatehi, Salar Sotodeh, Hasan Siskhati, Kamron Eyazi
Ward 350, Evin Prison, Tehran, Iran
October 2013
Courtesy of CFPPI (Campaign to Free Political Prisoners in Iran)
Related Topics: Iran receive the latest by email: subscribe to the free gatestone institute mailing list
Reader comments on this item
Comment on this item
Subscribe To Mailing List
Tweets by @GatestoneInst
Latest Articles
by Burak Bekdil
The Turkish government "frankly worked" with the al-Nusrah Front, the al-Qaeda affiliate in Syria, along with other terrorist groups.
The Financial Task Force, an international body setting the standards for combating terrorist financing, ruled that Turkey should remain in its "gray list."
While NATO wishes to reinforce its outreach to democracies such as Australia and Japan, Turkey is trying to forge wider partnerships with the Arab world, Russia, China, Central Asia, China, Africa and -- and with a bunch of terrorist organizations, including Hamas, Muslim Brotherhood, Ahrar al-Sham and the al-Nusrah Front.
Being NATO's only Muslim member was fine. Being NATO's only Islamist member ideologically attached to the Muslim Brotherhood is quite another thing.
by Samuel Westrop
British politicians seem to be trapped in an endless debate over how to curb both violent and non-violent extremism within the Muslim community.
A truly useful measure might be to end the provision of state funding and legitimacy to terror-linked extremist charities.
by Soeren Kern
"My son and I love life with the beheaders." — British jihadist Sally Jones.
Mujahidah Bint Usama published pictures of herself on Twitter holding a severed head while wearing a white doctor's jacket; alongside it, the message: "Dream job, a terrorist doc."
British female jihadists are now in charge of guarding as many as 3,000 non-Muslim Iraqi women and girls held captive as sex slaves.
"The British women are some of the most zealous in imposing the IS laws in the region. I believe that's why at least four of them have been chosen to join the women police force." — British terrorism analyst Melanie Smith.
by Khaled Abu Toameh
"Armed robbery in broad daylight." — Palestinians, after Hamas "seized" $750,000 from Gaza bank.
Fatah accused Hamas of "squandering" $700 million of financial aid earmarked for the Palestinian victims of war. Fatah wants to ensure that the millions of dollars intended for the Gaza Strip will pass through its hands and not end up in Hamas's bank accounts. Relying on Fatah in this regard is like asking a cat to guard the milk.
The head of the Palestinian Authority's Anti-Corruption Commission revealed that his group has retrieved $70 million of public funds fund embezzled by Palestinian officials. Arab and Western donors need to make sure that their money does not end up (once again) in the wrong hands. Without a proper mechanism of accountability and transparency, hundreds of millions of dollars are likely to find their way into the bank accounts of both Hamas and Fatah leaders.
by Mudar Zahran
"If Hamas does not like you for any reason all they have to do now is say you are a Mossad agent and kill you." — A., a Fatah member in Gaza.
"Hamas wanted us butchered so it could win the media war against Israel showing our dead children on TV and then get money from Qatar." — T., former Hamas Ministry officer.
"They would fire rockets and then run away quickly, leaving us to face Israeli bombs for what they did." — D., Gazan journalist.
"Hamas imposed a curfew: anyone walking out in the street was shot. That way people had to stay in their homes, even if they were about to get bombed. Hamas held the whole Gazan population as a human shield." — K., graduate student
"The Israeli army allows supplies to come in and Hamas steals them. It seems even the Israelis care for us more than Hamas." — E., first-aid volunteer.
"We are under Hamas occupation, and if you ask most of us, we would rather be under Israeli occupation… We miss the days when we were able to work inside Israel and make good money. We miss the security and calm Israel provided when it was here." — S., graduate of an American university, former Hamas sympathizer.
Most Shared
Most Viewed