European Elections a Turning Point for Europe?
In Britain as in France, voters have evidently become disillusioned with a political establishment responsible for open-borders policies, Islamization and the transfer of national sovereignty to supranational organizations such as the European Union. Soon these voices will be heard in national parliaments, too.
The municipal elections in France resulted in a huge victory for the Front National of Marine Le Pen. For the first time since 1995, France will again have FN mayors. Marine Le Pen also succeeded in maneuvering her party into pole position for the European elections on May 25th. France has 74 seats in the European Parliament. FN is expected to win up to 20 or more.
Marine Le Pen is one of Europe's greatest political talents. Her strategy to rid the party, which she inherited from her anti-Semitic father, from most of its extreme-right elements is paying off. While Le Pen's international policies are dangerously flawed and her economic proposals border on socialist protectionism, she has succeeded in turning the FN into an acceptable alternative for millions of ordinary Frenchmen from the Left as well as the Right.
Le Pen has also cleverly avoided making any political mistakes. She did not give in to provocations of political opponents and she did not fall into the trap of giving her enemies opportunities to reinforce hostile perceptions about her party.
The result is that France's political system is no longer a two-party system dominated by the Socialist PS of current president François Hollande and the Conservative UMP of former president Nicolas Sarkozy. With the Front National, a third player of equal status has emerged. Moreover, as the anger of the voters at the two established parties is growing, Le Pen's momentum is far from over.
An almost similar situation is occurring in Britain. Nigel Farage's United Kingdom Independence Party (UKIP) has established itself as a strong contender for power in a country whose political system was long dominated by only two parties, Labour and the Conservatives. In Britain, as in France, voters have evidently become disillusioned with a political establishment responsible for open-borders policies that have led to mass immigration, Islamization and the transfer of national sovereignty to supranational organizations such as the European Union in Brussels. UKIP, too, is expected to do extremely well in May, winning up to 20 or more of the 73 British seats in Brussels.
While UKIP and the FN are entirely different parties, with UKIP deeply rooted in an economically libertarian tradition and with Nigel Farage opposing any alliance with Marine Le Pen's party as long as anti-Semites (read: Marine's father, FN founder Jean-Marie Le Pen and his friend Bruno Gollnisch) still have a place in the FN, both parties owe their current electoral success to the growing opposition of a large segment of their countries' indigenous population to immigration, Islamization and the loss of national identity and sovereignty.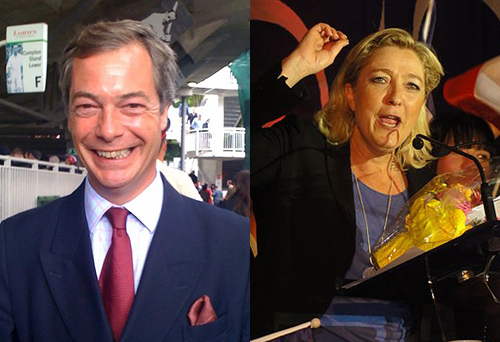 Nigel Farage and Marine Le Pen. (Image source: Wikimedia Commons)
There are also similarities between Mr. Farage and Ms. Le Pen. They are both members of the European Parliament, the EU parliament based in Brussels. And they are both using their position in Brussels as a platform from which to launch themselves into national politics.
The electoral systems in France and Britain make it extremely difficult for new parties to establish themselves in the national legislative bodies. The European Parliament, however, is elected according to proportional representation, which allows relatively easy access to political newcomers. The same is true in Germany, where a newly established party, Alternative for Germany (AfD), did not manage to win any seats in the national parliament during last September's general elections, despite gaining 4.7% of the national vote. Only parties that receive 5% of the votes are eligible for seats in the German Bundestag. For the European elections, however, this 5% hurdle does not exist. It suffices that a party win slightly over 1% of the national vote for it to gain one of the 96 German seats in the European Parliament in Brussels. AfD is currently polling over 7% of the vote and is expected to send at least six members to the European Parliament.
Marine Le Pen's political ambitions are clearly national. There is no doubt that she would rather exchange her seat in the European Parliament for one in the French Assemblée Nationale. She was her party's candidate in the French presidential elections in 2012 and apparently wants to run again in 2017. She also hopes to become the group leader of a substantial number of FN parliamentarians in the Assemblée Nationale after the next general elections. The FN currently holds only two of the 577 seats in the French parliament, despite having won 14% of the votes. If the FN were to double its votes, as some polls now predict, a landslide might occur in the National Assembly, with up to 100 FN members entering the French parliament.
So, ironically, while Brussels tries to usurp ever more power from the national parliaments, it offers opportunities for politicians standing for the defense of national sovereignty, to force their way into national parliaments where they can oppose the Brussels' power grab.
Nigel Farage, too, would like to swap Brussels for the House of Commons in Westminster. He has already announced that he will stand as a candidate in next year's general elections, which, he hopes, would mark the national breakthrough of UKIP. "Just imagine how much difference we could make with MPs in Westminster!" he wrote in a column about the need to control immigration. AfD leader Bernd Lucke will also use the Brussels platform as a launching pad to a Bundestag seat at the next German general elections.
It looks as if the Europeans have finally had enough of mass immigration, Islamization and transferring national sovereignty to Brussels. In May, they will make their voices heard. And soon, these voices will be heard in the national parliaments, too.
Related Topics: France, United Kingdom | Peter Martino receive the latest by email: subscribe to the free gatestone institute mailing list
Reader comments on this item
Comment on this item
Subscribe To Mailing List
Tweets by @GatestoneInst
Latest Articles
by Soeren Kern
Austria has emerged as a major base for radical Islam and as a central hub for European jihadists to fight in Syria.
The proposed revisions would, among other changes, regulate the training and hiring of Muslim clerics, prohibit the foreign funding of mosques, and establish an official German-language version of the Koran to prevent its "misinterpretation" by Islamic extremists.
Muslims would be prohibited from citing Islamic sharia law as legal justification for ignoring or disobeying Austrian civil laws.
Leaders of Austria's Muslim community counter that the contemplated new law amounts to "institutionalized Islamophobia."
Official statistics show that nearly 60% of the inhabitants of Vienna are immigrants or foreigners. The massive demographic and religious shift underway in Austria, traditionally a Roman Catholic country, appears irreversible.
by Samuel Westrop
Over 800 Iranians were executed during President Rouhani's first year in office.
Leading politicians, British government officials and businessmen nevertheless seemed happy to attend and speak at the Europe-Iran Forum.
by Khaled Abu Toameh
The "Arab Spring" did not erupt as a result of the Israeli-Palestinian conflict. Rather, it was the outcome of decades of tyranny and corruption in the Arab world. The Tunisians, Egyptians, Libyans and Yemenis who removed their dictators from power did not do so because of the lack of a "two-state solution." This is the last thing they had in mind.
The thousands of Muslims who are volunteering to join the Islamic State [IS] are not doing so because they are frustrated with the lack of progress in the Israeli-Palestinian peace talks.
The only solution the Islamic State believes in is a Sunni Islamic Caliphate where the surviving non-Muslims who are not massacred would be subject to sharia law.
What Kerry perhaps does not know is that the Islamic State is not interested in the Israeli-Palestinian conflict at all. Unlike Kerry, Sunni scholars fully understand that the Islamic State has more to do with Islam and terrorism than with any other conflict.
by Steven J. Rosen
Palestinian officials have generally been silent about security cooperation with Israel. They are loath to acknowledge how important it is for the survival of the Palestinian Authority [PA], and fear that critics, especially Hamas, will consider it "collaboration with the enemy."
"You smuggle weapons, explosives and cash to the West Bank, not for the fight with Israel, but for a coup against the Palestinian Authority. The Israeli intelligence chief visited me two weeks ago and told me about the [Hamas] group they arrested that was planning for a coup... We have a national unity government and you are thinking about a coup against me." — Mahmoud Abbas, PA President, to Khaled Mashaal, Hamas leader.
According to Israeli Defense Minister Moshe Ya'alon, if the IDF leaves the West Bank, Hamas will take over, and other terrorists groups such as the Islamic Jihad, Al-Qaeda and Islamic State would operate there.
In recent months, Abbas has been making a series of threats against Israel. If Abbas becomes another Arafat, it could be the Israeli side that loses interest in security cooperation.
Most Shared
Most Viewed