France Submits to Islam
Polls show that more than 70% of the French... expect that France will become a country under submission to Islam.
Last month, between April 18-21, the Union of Islamic Organizations of France [UOIF], the French branch of the European Council for Fatwa and Research (presided over by Yusuf al Qaradawi) held its thirty-first annual conference in Le Bourget, north of Paris. As usual, jihadist and anti-Semitic books, which are banned in French bookstores but tolerated there, were offered in several booths.
As usual also, speakers were invited to deliver fiery speeches. In 2012, the keynote speaker was supposed to be Qaradawi himself, but faced with protests from the Jewish community, France denied Qaradawi a visa to enter French territory, and he was replaced by Tariq Ramadan, a Muslim Brotherhood operative who works with Qaradawi in Doha, Qatar, at the Center for Islamic Legislation and Ethics.
Tariq Ramadan was again the keynote speaker in 2013. This year, Tariq gave way to his brother, Hani, Director of the Islamic Center of Geneva, founded in 1961 by their father, Said Ramadan, son-in-law and senior disciple of Hassan al Banna, who founded the Muslim Brotherhood.
If Tariq Ramadan knows how to hide his extremism, his brother is more explicit and direct. His speech was devoted to "global threats" facing Islam; he described them as having a single source: "the Jews and Zionist barbarism," an octopus "hiding in the shadows," a "power that holds the global finance and the media." He called on young French Muslims to "fight for Islam" and to go to Syria, where several hundred French youths have already joined jihadist groups.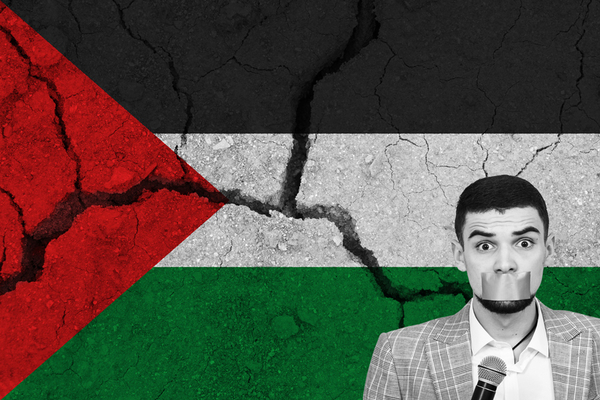 Hani Ramadan, Director of the Islamic Center of Geneva, identified "the Jews and Zionist barbarism" as the source of threats facing Islam, during his keynote speech at this year's conference of the Union of Islamic Organizations of France. (Image source: Screenshot of video by Mosquée Al Imane de Lille)
If UOIF had only a marginal influence, such statements would be already worrying. But UOIF is the leading French Muslim organization, and Hani Ramadan's speech, like Tariq Ramadan's speeches in 2012 and 2013, was listened to by an audience of 150,000 enthusiastic people, and viewed by hundred of thousands of others on UOIF-TV, the digital television channel established by the UOIF.
More than 8,000,000 Muslims live in France, most of whom are French citizens, and the Muslim population in France continues to grow. France is now the main Muslim country in Europe. Successive French governments can decide to expel a Muslim preacher or a recruiter of jihadist fighters; they can deny visas, but they seem unable to do more.
Although the French government denies it, it seems clear that substantial ransoms were paid to Islamist groups for the release of French hostages: $28,000,000 to al Qaeda in Niger in October 2013 and $18,000,000 to Islamic State in Iraq and the Levant in Syria, on April 19.
The creation, on April 25, by French Interior Minister Bernard Cazeneuve, of a counseling center, website and telephone hotline to "advise" parents whose children are in the process of radicalization seems almost ridiculous. Entire neighborhoods are controlled by Islamist preachers and Bernard Cazeneuve knows it: officially, administrative authorities call these neighborhoods "Sensitive Urban Zones," presumably because at any time they can explode. Unofficially, the police call them "Sharia Zones", and have been ordered by the Department of the Interior to keep out.
Political leaders of all parties know that most elections cannot be won if the Muslim vote is neglected, and the leaders of the National Front are no exception: Marine Le Pen has long ceased to incriminate Islam and now attacks "crime" and "immigration" without providing details. Sometimes she may denounce "calls to jihad" and "fundamentalism", but takes care not to go beyond that. Although she criticizes Qatar or Saudi Arabia, she says that France should become an "ally" of the Islamic Republic of Iran, and asks her "fellow Muslims" to join her fight against "American globalism and its Islamist allies".
A "Collective Against Islamophobia in France" is gaining ground: it handles complaints against any critical remarks about Islam, and it can rely on the courts to punish offenders. A "League of Judicial Defense of Muslims" was also created in 2013 by Karim Achoui, a lawyer disbarred because of his links with organized crime. No anti-racist organization dares denounce Muslim anti-Semitism, and none of them criticizes speeches such as the one given by Hani Ramadan in Le Bourget.
Jewish institutions do not denounce Muslim anti-Semitism, either: they speak of an "unhealthy climate". When, on April 28, during a tribute ceremony to the Jews deported from France to Auschwitz, Arno Klarsfeld, a member of the Council of State and son of Nazi hunters Serge and Beate Klarsfeld, said that "some of the suburban youth are anti-Semitic," he was immediately summoned to appear before a judge.
NGOs fighting the Islamization of France are now marginalized. Their leaders are persecuted by the justice system and severely punished. The mainstream media demonize them. The main one, Riposte Laique, organized a demonstration on March 9. About four hundred people came. Three or four years ago, Riposte Laique could gather several thousand people.
The anti-Semitic and pro-Islamic standup comedian Dieudonné continues to give performances to packed theaters. On June 21, he will host a ceremony to honor people who posed with the best "quenelles" -- the inverted Nazi salute he invented. More than ten thousand tickets have already been sold. On his website, Dieudosphere.com, pictures of "quenelles" are still present. Dieudosphere.com sells a comic book called Yacht People. The cover shows a fat rich man with a hooked nose rubbing his hands together and flashing a greedy smile. The resemblance to the caricatures of Jews published during the Nazi era is evident. Manuel Valls fought Dieudonné when he was Interior minister. Since he became Prime Minister, fighting Dieudonné is no longer one of his priorities.
During an interview with Alexandre Arcady, the director of Twenty Four Days, a film about the assassination seven years ago of Ilan Halimi, a young French Jew who was taken hostage and killed by young Muslims from Paris suburbs, TV journalist Aymeric Caron tried to explain that the growth of anti-Jewish hatred in France was logical because "Israeli soldiers kill Palestinian children." These remarks did not offend anyone except a few Jewish journalists, so they were cut from the edited version of the show. Aymeric Caron explained that he was not an anti-Semite, but only "anti-Zionist." He has recently published a book called, Incorrect: in which almost all his targets have one thing in common: They are Jews. He is invited onto many talk shows to speak about his book. Whoever looks for books about Israel will easily find books called Israel, the New Apartheid or The Invention of the Land of Israel, by Shlomo Sand. Books offering less-biased viewpoints are unavailable. Dozens of books by Tariq Ramadan are on the shelves of all main bookstores.
The number of Jews leaving France is steadily increasing. French people who have the financial means also leave the country. Most others expect the worst. Polls show that the French are now the most pessimistic people in Europe. They also show that more than 70% of the French are afraid of the rise of Islam in France: they expect that France will become a country under submission to Islam.
Related Topics: France | Guy Millière receive the latest by email: subscribe to the free gatestone institute mailing list
Reader comments on this item
| | | |
| --- | --- | --- |
| Title | By | Date |
| Culture [43 words] | Debbie | Aug 27, 2014 07:52 |
| Convinced [43 words] | Michael | Jun 12, 2014 01:12 |
| France [36 words] | Umish Katani | Jun 5, 2014 13:34 |
| He must reap what he sows [8 words] | Gilad | Jun 1, 2014 16:03 |
| Viva L'Arabia [5 words] | KarolG | May 30, 2014 14:16 |
| Good [18 words] | Gaskon | May 30, 2014 05:29 |
| Re: France Submits to Islam [124 words] | Sally DeCapite | May 17, 2014 11:45 |
| The fire next time [107 words] | Beatrix139 | May 16, 2014 22:39 |
| ↔ Once a great Country [28 words] | Rita Clark | Jul 15, 2014 20:15 |
| Islam [74 words] | Fwdinsight | May 15, 2014 13:15 |
| ↔ Islamists are doing a great job at Public Relations [77 words] | HM | Aug 27, 2014 17:46 |
| My thoughts [42 words] | M.C Henrie | May 15, 2014 13:00 |
| No wonder Jews are making aliyah in droves to Israel! [23 words] | Philip Blom | May 15, 2014 05:43 |
| Muslim France [91 words] | Sidney Sands | May 15, 2014 02:46 |
| ↔ The same fate as North Africa and the middle east states [82 words] | Mike | Jun 5, 2014 00:46 |
| Islam anti democratic usurpation of civilisation etc [28 words] | Lutz Barz | May 13, 2014 05:14 |
| Why do our leaders refuse to read the book ? [190 words] | Jay G. Olsen | May 12, 2014 18:11 |
| Further proof [133 words] | Frumious Falafel | May 12, 2014 15:47 |
| ↔ France retaining its culture [7 words] | Glenn Harbison | May 16, 2014 13:03 |
Comment on this item
Subscribe To Mailing List
Tweets by @GatestoneInst
Latest Articles
by Burak Bekdil
Where Turkey stands today is a perfect example of how, when Islamists -- mild or otherwise -- rule a county, even the most basic liberties are systematically suppressed.
"A climate of fear has emerged in Turkey." — Hasam Kilic, President, Turkey's Constitutional Court.
The prosecutor demanded a heavier penalty for the victim than for her torturers.
The European Commission identified government interference in the judiciary and bans imposed on social media as the major sources of concern regarding Turkey's candidacy for full membership.
by Khaled Abu Toameh
To understand what drives a young Palestinian to carry out such a deadly attack, one needs to look at the statements of Palestinian Authority leaders during the past few weeks.
The anti-Israel campaign of incitement reached its peak with Abbas's speech at the UN a few weeks ago, when he accused Israel of waging a "war of genocide" in the Gaza Strip. Abbas made no reference to Hamas's crimes against both Israelis and Palestinians.
Whatever his motives, it is clear that the man who carried out the most recent attack, was influenced by the messages that Abbas and the Palestinian Authority leadership have been sending their people.
by Richard Kemp
Would General Allen -- or any other general today -- recommend contracting out his country's defenses if it were his country at stake? Of course not.
The Iranian regime remains dedicated to undermining and ultimately destroying the State of Israel. The Islamic State also has Israel in its sights and would certainly use the West Bank as a point from which to attack, if it were open to them.
There can be no two-state solution and no sovereign Palestinian Arab state west of the Jordan, however desirable those things might be. The stark military reality is that Israel cannot withdraw its forces from the West Bank.
Fatah leaders ally themselves with the terrorists of Hamas, and, like Hamas, they continue to reject the every existence of the State of Israel.
If Western leaders actually want to help, they should use all diplomatic and economic means to make it clear to the Palestinians that they will never achieve an independent and sovereign state while they remain set on the destruction of the State of Israel.
by Louis René Beres
The Palestine Liberation Organization [PLO], forerunner of today's Palestinian Authority, was founded in 1964, three years before Israel came into the unintended control of the West Bank and Gaza. What therefore was the PLO planning to "liberate"?
Why does no one expect the Palestinians to cease all deliberate and random violence against Israeli civilians before being considered for admission to statehood?
On June 30, 1922, a joint resolution of both Houses of Congress of the United States endorsed a "Mandate for Palestine," confirming the right of Jews to settle anywhere they chose between the Jordan River and the Mediterranean Sea. This is the core American legacy of support for a Jewish State that President Obama now somehow fails to recall.
A sovereign state of Palestine, as identified by the Arabs -- a Muslim land occupied by "Palestinian" Arabs -- has never existed; not before 1948, and not before 1967. From the start, it was, and continues to be, the Arab states -- not Israel -- that became the core impediment to Palestinian sovereignty.
by Timon Dias
It looks as if this new law is meant to serve as a severe roadblock to parties that would like to dismantle the EU in a democratic and peaceful way from within.
A rather dull semantic trick pro-EU figures usually apply, is calling their opponents "anti-Europe."
Most Shared
Most Viewed