Palestinian Authority: Combatants Against Peace
By disbanding the Palestinian branch of Combatants for Peace, the Palestinian Authority leadership is encouraging radicals to fight against any Palestinian who works toward peace and tolerance with Israel.

Once again, the actions and words of the Palestinian Authority demonstrate that it has done anything but prepare its people for peace with Israel.
Palestinian peace activists have come under fire for attending a Memorial Day Ceremony in Tel Aviv for Palestinian and Israeli victims of violence. The ceremony was attended by some 2700 people.
The event was organized last week by Combatants For Peace, a movement that (according to its website) "was started jointly by Palestinians and Israelis who have taken an active part in the cycle of violence; Israelis as soldiers and Palestinians as part of the violent struggle for Palestinian freedom."
Founded in 2005, Combatants For Peace states that it has three main goals:
To raise the consciousness in both publics regarding the hopes and suffering of the other side, and to create partners in dialogue.
To educate towards reconciliation and non-violent struggle in both the Israeli and Palestinian societies.
To create political pressure on both Governments to stop the cycle of violence, end the occupation and resume a constructive dialog.
Organizers have hailed the ceremony as a great success and "another positive step toward peace and reconciliation" between Israelis and Palestinians.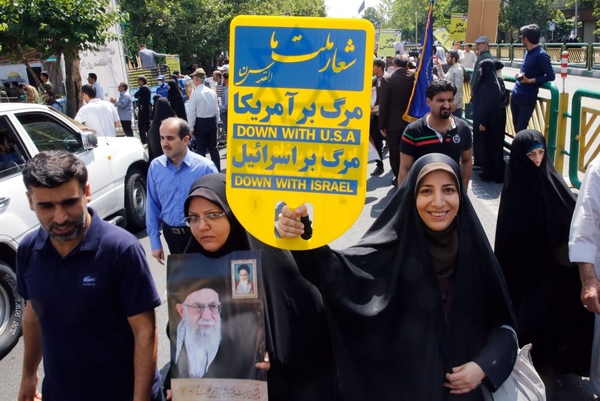 An Israeli and a Palestinian participant at the 2014 "Combatants For Peace" Memorial Day Ceremony in Tel Aviv. (Image source: Facebook page of Combatants For Peace)
But the Palestinian Authority [PA] leadership and many Palestinians obviously don't share this view. In fact, they see the participation of Palestinians in an event commemorating Israeli victims of violence as an act of treason.
The PA government in the West Bank -- who do not miss any opportunity to tell Westerners that they remain committed to peace and coexistence with Israel -- even went as far as disbanding the Palestinian branch of Combatants For Peace in June 2013.
PA Interior Minister Saeed Abu Ali signed the order to disband the movement after Palestinians accused it of "bias in favor of Israel" and promoting normalization with Israelis.
The protests prompted some Palestinian activists to resign and accuse the movement of "promoting the views of the occupation and lacking a clear agenda in support of the Palestinians, especially with regards to the right of return of refugees and the status of Jerusalem as the capital of a Palestinian state."
Undoubtedly, the activists who quit did so because they were afraid of being targeted by Palestinian extremists, particularly those belonging to the Boycott, Divestment and Sanctions [BDS] and "Anti-Normalization" movements.
Last week, a Palestinian professor at Al-Quds University who led a group of Palestinian students on an unprecedented trip to the Auschwitz death camp was expelled from a union at the university.
The union said in a letter that Professor Mohammed Dajani's membership had been suspended for "behavior that contravenes the policies and norms" of the group.
Now the Palestinian coordinator for Combatants For Peace, Yussre Slameen, is facing a smear campaign and threats for attending the ceremony in Tel Aviv together with other Palestinians, including bereaved families.
Even Slameen's having spent time in an Israeli prison for security-related offenses has not helped him escape a barrage of scathing attacks and condemnations.
Comments published in the Palestinian daily Al-Quds have accused Slameen of being a "traitor" and an "advocate of normalization with the occupation."
One reader denounced the peace activist as "trash," while another described him as being "morally and nationally corrupt."
Another reader, Samar Shyoukhi, saluted those Palestinians who refused to take part in an event honoring Israeli victims. She urged the Palestinian Authority security forces to severely punish Slameen and his friends. Others called on the PA to fire Slameen from his job at the Ministry of Social Welfare.
By disbanding the Palestinian branch of Combatants For Peace, the Palestinian Authority leadership is encouraging radicals to fight against any Palestinian who works toward peace and tolerance with Israel.
The message that the PA is sending to its people is that it has become a crime to sympathize with the grief of Israeli families over the loss of their loved ones. With such an attitude, it is hard to see how the Palestinian Authority will ever be able to convince Palestinians to make peace with Israel.
Once again, the actions and words of the Palestinian Authority leadership demonstrate that it has done anything but prepare its people for peace with Israel.
Related Topics: Palestinian Authority | Khaled Abu Toameh receive the latest by email: subscribe to the free gatestone institute mailing list
Reader comments on this item
Comment on this item
Subscribe To Mailing List
Tweets by @GatestoneInst
Subscribe To Mailing List
Latest Articles
by Peter Huessy
The Washington Post's Glenn Kessler not only invents points the Cheneys did not make, he then casually dismisses "uncomfortable points" they did make. How many Pinocchios is that worth?
Kessler evidently assumes that when intelligence assessments differ, the correct version is only that which differs from the points made by the Cheneys but not by their critics.
Most senior Democratic members of the Senate at the time voted -- twice -- for giving the President the authority to take down Saddam Hussein. How else can Democrats say they made a mistake voting for the war if they cannot now make the case that they were "fooled"?
The U.S. took down Saddam Hussein's regime because on balance the threat-intelligence could not be ignored.
by Soeren Kern
The Vatican failed in an attempt to cover up the contents of a prayer by a Muslim cleric at an interfaith "Prayer for Peace" service held in the Vatican garden on June 8. Departing from a pre-approved script, the imam recited verses 284-286 of Sura 2 from the Koran, the latter part of which calls on Allah to grant Muslims victory over non-Muslims.
Danish police raided a mosque in the Vibevej district of Copenhagen after a passerby allegedly saw weapons being carried into the complex.
"We now have hundreds of jihadists and thousands of sympathizers. This naïve Cabinet's inaction is inviting an attack in the Netherlands." — Geert Wilders, Dutch Freedom Party.
Conference attendees called on the Spanish government to sponsor an official study aimed at finding ways to bring European food standards into compliance with Islamic Sharia law.
by Douglas Murray
They carried banners saying, "Stop Israeli State Terror," but some went off-message, deciding, apparently, that it did not matter if their targets were Israelis or not.
In the Netherlands, fresh from a pro-ISIS rally in Amsterdam, the home of the Chief Rabbi -- not Israeli, just Jewish -- was attacked twice in one week.
We live in a rightful disgust for racism of any kind. And yet here we see -- and nowhere more clearly than in Germany -- the new racist nightmare for Europe.
by Samuel Westrop
"These boys were groomed [at the Al Manar Centre] ... so that they are satisfied that what they go to do is right ... once they're groomed, all it takes is someone to say come and I'll take you." — Source close to the Yemeni Community, Cardiff, U.K., as reported in The Telegraph.
All these preachers share one thing in common: they are favorites of the two leading government-subsidized Salafi charities in Britain.
by Bassam Tawil
"We know that Hamas uses human shields. But why would you report this when you are sitting in the middle of the Gaza Strip, surrounded by Hamas gunmen?" — Reporter covering the war, who asked not to be identified.
Besides the human shields story there is another item that the international media choose to ignore: the extrajudicial execution of Palestinian "collaborators" during the last two weeks. The executions were reportedly carried out in the most brutal manner. Hamas has also been shooting suspected "collaborators" in the legs to prevent them from moving around.
It is the media that is helping Hamas get away with war crimes.
Most Shared
Most Viewed