Palestinian Authority: Combatants Against Peace
By disbanding the Palestinian branch of Combatants for Peace, the Palestinian Authority leadership is encouraging radicals to fight against any Palestinian who works toward peace and tolerance with Israel.

Once again, the actions and words of the Palestinian Authority demonstrate that it has done anything but prepare its people for peace with Israel.
Palestinian peace activists have come under fire for attending a Memorial Day Ceremony in Tel Aviv for Palestinian and Israeli victims of violence. The ceremony was attended by some 2700 people.
The event was organized last week by Combatants For Peace, a movement that (according to its website) "was started jointly by Palestinians and Israelis who have taken an active part in the cycle of violence; Israelis as soldiers and Palestinians as part of the violent struggle for Palestinian freedom."
Founded in 2005, Combatants For Peace states that it has three main goals:
To raise the consciousness in both publics regarding the hopes and suffering of the other side, and to create partners in dialogue.
To educate towards reconciliation and non-violent struggle in both the Israeli and Palestinian societies.
To create political pressure on both Governments to stop the cycle of violence, end the occupation and resume a constructive dialog.
Organizers have hailed the ceremony as a great success and "another positive step toward peace and reconciliation" between Israelis and Palestinians.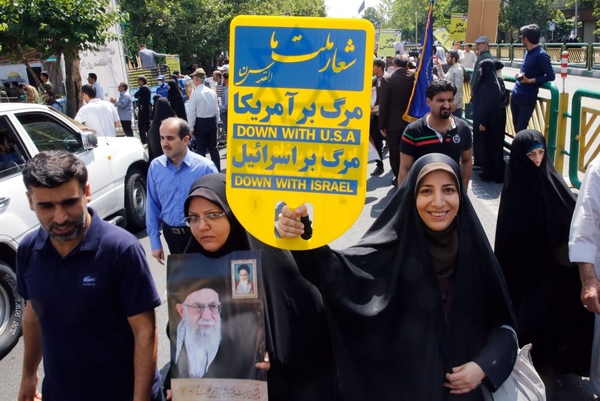 An Israeli and a Palestinian participant at the 2014 "Combatants For Peace" Memorial Day Ceremony in Tel Aviv. (Image source: Facebook page of Combatants For Peace)
But the Palestinian Authority [PA] leadership and many Palestinians obviously don't share this view. In fact, they see the participation of Palestinians in an event commemorating Israeli victims of violence as an act of treason.
The PA government in the West Bank -- who do not miss any opportunity to tell Westerners that they remain committed to peace and coexistence with Israel -- even went as far as disbanding the Palestinian branch of Combatants For Peace in June 2013.
PA Interior Minister Saeed Abu Ali signed the order to disband the movement after Palestinians accused it of "bias in favor of Israel" and promoting normalization with Israelis.
The protests prompted some Palestinian activists to resign and accuse the movement of "promoting the views of the occupation and lacking a clear agenda in support of the Palestinians, especially with regards to the right of return of refugees and the status of Jerusalem as the capital of a Palestinian state."
Undoubtedly, the activists who quit did so because they were afraid of being targeted by Palestinian extremists, particularly those belonging to the Boycott, Divestment and Sanctions [BDS] and "Anti-Normalization" movements.
Last week, a Palestinian professor at Al-Quds University who led a group of Palestinian students on an unprecedented trip to the Auschwitz death camp was expelled from a union at the university.
The union said in a letter that Professor Mohammed Dajani's membership had been suspended for "behavior that contravenes the policies and norms" of the group.
Now the Palestinian coordinator for Combatants For Peace, Yussre Slameen, is facing a smear campaign and threats for attending the ceremony in Tel Aviv together with other Palestinians, including bereaved families.
Even Slameen's having spent time in an Israeli prison for security-related offenses has not helped him escape a barrage of scathing attacks and condemnations.
Comments published in the Palestinian daily Al-Quds have accused Slameen of being a "traitor" and an "advocate of normalization with the occupation."
One reader denounced the peace activist as "trash," while another described him as being "morally and nationally corrupt."
Another reader, Samar Shyoukhi, saluted those Palestinians who refused to take part in an event honoring Israeli victims. She urged the Palestinian Authority security forces to severely punish Slameen and his friends. Others called on the PA to fire Slameen from his job at the Ministry of Social Welfare.
By disbanding the Palestinian branch of Combatants For Peace, the Palestinian Authority leadership is encouraging radicals to fight against any Palestinian who works toward peace and tolerance with Israel.
The message that the PA is sending to its people is that it has become a crime to sympathize with the grief of Israeli families over the loss of their loved ones. With such an attitude, it is hard to see how the Palestinian Authority will ever be able to convince Palestinians to make peace with Israel.
Once again, the actions and words of the Palestinian Authority leadership demonstrate that it has done anything but prepare its people for peace with Israel.
Related Topics: Palestinian Authority | Khaled Abu Toameh receive the latest by email: subscribe to the free gatestone institute mailing list
Reader comments on this item
Comment on this item
Subscribe To Mailing List
Tweets by @GatestoneInst
Latest Articles
by Burak Bekdil
Where Turkey stands today is a perfect example of how, when Islamists -- mild or otherwise -- rule a county, even the most basic liberties are systematically suppressed.
"A climate of fear has emerged in Turkey." — Hasam Kilic, President, Turkey's Constitutional Court.
The prosecutor demanded a heavier penalty for the victim than for her torturers.
The European Commission identified government interference in the judiciary and bans imposed on social media as the major sources of concern regarding Turkey's candidacy for full membership.
by Khaled Abu Toameh
To understand what drives a young Palestinian to carry out such a deadly attack, one needs to look at the statements of Palestinian Authority leaders during the past few weeks.
The anti-Israel campaign of incitement reached its peak with Abbas's speech at the UN a few weeks ago, when he accused Israel of waging a "war of genocide" in the Gaza Strip. Abbas made no reference to Hamas's crimes against both Israelis and Palestinians.
Whatever his motives, it is clear that the man who carried out the most recent attack, was influenced by the messages that Abbas and the Palestinian Authority leadership have been sending their people.
by Richard Kemp
Would General Allen -- or any other general today -- recommend contracting out his country's defenses if it were his country at stake? Of course not.
The Iranian regime remains dedicated to undermining and ultimately destroying the State of Israel. The Islamic State also has Israel in its sights and would certainly use the West Bank as a point from which to attack, if it were open to them.
There can be no two-state solution and no sovereign Palestinian Arab state west of the Jordan, however desirable those things might be. The stark military reality is that Israel cannot withdraw its forces from the West Bank.
Fatah leaders ally themselves with the terrorists of Hamas, and, like Hamas, they continue to reject the every existence of the State of Israel.
If Western leaders actually want to help, they should use all diplomatic and economic means to make it clear to the Palestinians that they will never achieve an independent and sovereign state while they remain set on the destruction of the State of Israel.
by Louis René Beres
The Palestine Liberation Organization [PLO], forerunner of today's Palestinian Authority, was founded in 1964, three years before Israel came into the unintended control of the West Bank and Gaza. What therefore was the PLO planning to "liberate"?
Why does no one expect the Palestinians to cease all deliberate and random violence against Israeli civilians before being considered for admission to statehood?
On June 30, 1922, a joint resolution of both Houses of Congress of the United States endorsed a "Mandate for Palestine," confirming the right of Jews to settle anywhere they chose between the Jordan River and the Mediterranean Sea. This is the core American legacy of support for a Jewish State that President Obama now somehow fails to recall.
A sovereign state of Palestine, as identified by the Arabs -- a Muslim land occupied by "Palestinian" Arabs -- has never existed; not before 1948, and not before 1967. From the start, it was, and continues to be, the Arab states -- not Israel -- that became the core impediment to Palestinian sovereignty.
by Timon Dias
It looks as if this new law is meant to serve as a severe roadblock to parties that would like to dismantle the EU in a democratic and peaceful way from within.
A rather dull semantic trick pro-EU figures usually apply, is calling their opponents "anti-Europe."
Most Shared
Most Viewed