Fatah Leaders: Abbas Is A Dictator
Hamas's chances of winning elections do not seem to be bad at all. Eight years after the last parliamentary election, Fatah is likely to be defeated at the ballot box once again.
Palestinian Authority President Mahmoud Abbas has finally made peace with Hamas. But will he able to extinguish the fire that has erupted in his own backyard?
Earlier this week, Abbas decided to expel five "unruly" officials from Fatah, plunging the faction into turmoil and triggering calls for a revolt against the Palestinian Authority [PA] president.
The five men - Majed Abu Shamala, Sufyan Abu Zaida, Rashid Abu Shbak, Nasser Juma'a and Abdel Hamid Masri - were expelled because of their close links to ousted Fatah strongman Mohammed Dahlan.
Dahlan was expelled from Fatah three years ago after falling out with Abbas and his two sons, Yasser and Tarek. Since then, Dahlan, a former security commander of the Gaza Strip and an elected member of the Palestinian Legislative Council, has been living in the United Arab Emirates.
In the context of the ugly dispute between the two, Abbas has accused Dahlan of being responsible for the murder of six Palestinians and involvement in the "poisoning" of former PLO leader Yasser Arafat.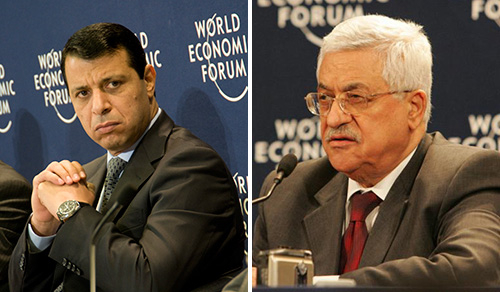 Mohamed Dahlan (left) and PA President Mahmoud Abbas (right). [Image source: World Economic Forum]
Abbas's decision to expel the five Fatah officials came on the eve of the inauguration of the new Palestinian unity government with Hamas. Some Palestinians believe the decision is aimed at sending a message of warning to Fatah members against opposing the unity government with Hamas.
Others, however, believe that the expulsion of the five men is connected to preparations for holding Fatah's seventh general conference, where the faction's leaders are selected. The conference is expected to take place in August.
Abbas's move is seen in the context of his efforts to "cleanse" Fatah of "unruly" officials who pose a direct challenge to his autocratic leadership. Obviously, the 79-year-old Palestinian Authority president has no plans to retire or pave the way for the emergence of new and younger leaders.
But judging from the strong reactions of the ousted Fatah officials and their supporters, it's clear that Fatah is facing one of its worst crises in years - one that is likely to lead to a split in the faction. This, of course, will play into the hands of Hamas and improve its chances of winning the presidential and parliamentary elections, when and if they are held in the West Bank and Gaza Strip.
The expulsion of the five officials saw Fatah activists take to the streets in some parts of the Gaza Strip, where they condemned Abbas as a "dictator."
Responding to Abbas's move, Dahlan told the PA president that he can "go to hell," adding: "Fatah will never become the private fiefdom of Abbas and his sons, Yasser and Tarek." Dahlan went on to accuse Abbas and his sons of steering Fatah toward "national and moral deviation."
Referring to the ousted officials, Dahlan said: "These leaders did not come to Fatah from five-star hotels; rather, they come from the school of struggle and Israeli prisons. These are men who put their lives at stake while Abbas and his family were enjoying the money of Fatah and the people in Syria, Lebanon and Tunisia. We won't allow Mahmoud [Abbas] and Tarek and Yasser to steal Fatah from us."
Sami Mashharawi, a Fatah leader closely associated with Dahlan, also lashed out at Abbas. "Mahmoud Abbas has decided, in his capacity as Chief Executive Officer, to fire those who he believes work for his royal family. Abbas's trivial decision shows that the man is full of hatred."
Mashharawi also denounced Abbas for having brought "disgrace" to Fatah and all Palestinians.
Commenting on his expulsion from Fatah, Abu Zaida denounced the decision as illegal. "My relationship with Fatah and its members and cadres cannot be canceled through an illegal decision," he said. "Apparently, this is the fate of anyone who dares to express his opinion or believes that we live in a democratic society that respects freedom of expression."
The unprecedented verbal attacks on Abbas reflect the deepening crisis in Fatah. Dahlan and the five senior Fatah officials who were expelled by Abbas enjoy widespread support among Palestinians, particularly in the Gaza Strip. And it is obvious that Dahlan and his loyalists do not intend this time to let Abbas get away with his controversial decision.
The renewed tensions in Fatah came as Abbas announced that he has instructed the new unity government to prepare for long overdue presidential and parliamentary elections. He said he is hoping that the elections will be held within six months and that he wants Hamas to participate in the vote, as was the situation in January 2006.
In the wake of the infighting in Fatah, Hamas's chances of winning the elections, when and if they are held, do not seem to be bad at all. In 2006, Fatah lost the parliamentary election due to internal squabbling and tensions, as well as financial and administrative corruption. Eight years later, Fatah appears to be suffering from the same problems and is likely to be defeated once again at the ballot box.
Related Topics: Palestinian Authority | Khaled Abu Toameh receive the latest by email: subscribe to the free gatestone institute mailing list
Reader comments on this item
Comment on this item
Subscribe To Mailing List
Tweets by @GatestoneInst
Latest Articles
by Soeren Kern
"In the Quran it is not allowed for you to feel sorry for non-Muslims. I don't feel sorry for him." — Anjem Choudary.
"Eventually the whole world will be governed by Shari'ah & Muslims will have authority over China Russia USA etc This is the promise of Allah." — Anjem Choudary.
"Under the Koran the sale of alcohol is prohibited and if one were to also drink alcohol, that would be 40 lashes." — Anjem Choudary.
"We [Muslims] take the Jizya, which is ours anyway. The normal situation is to take money from the kuffar [non-Muslim]. They give us the money. You work, give us the money, Allahu Akhbar. We take the money." — Anjem Choudary.
by Steven J. Rosen
The U.S. State Department has chosen to act as UNRWA's patron and the protector of its mission, perpetuating and expanding the refugee issue as a source of conflict against Israel.
Apparently more Israeli houses hurt peace, but multiplying the number of refugees is fine.
by Mina Ahadi, Nazanin AfshinJam, Shabnam Assadollahi and Shadi Paveh
Reyhaneh Jabbari has been transferred to Rajai-Shahr Prison to be hanged — while the world parties at the UN and gets ready to permit Iran nuclear capability.
by Salim Mansur
Broadly speaking, the struggle within Islam is between Muslims who embrace the values of the modern world in terms of freedom, individual rights, gender equality and democracy on the one side, and Muslims opposing these values and insisting on a Sharia-based legal system on the other. Any Muslim who even questions this version of Islam they refer to as a heretic or, worse, an apostate to be killed.
For Muslims who embrace modernity, Islam is a matter of personal belief, not a political system.
A reformed Islam -- greatly desired and sought after by swelling numbers of Muslims -- cannot succeed without the support of non-Muslims.
by Guy Millière
Many Europeans who would laugh at the idea of negotiating with ISIS or al-Qaeda say that Israel should negotiate with Hamas.
Almost nobody sees that the invention of the "Palestinian people" has transformed millions of Arabs into a genocidal weapon to be used against the Israelis, and even, as in Europe recently, the Jews. Transforming people into a genocidal weapon is a barbaric act.
Israel was urged to find ways to coexist peacefully with people who did not want to co-exist with it. Terrorism against Israel fast became acceptable: a "good" terrorism.
Hamas's stated aim is the destruction of Israel. Its stated way to achieve this aim is terror attacks, called "armed struggle" by Hamas leaders. To this day the Palestinian Authority has not ceased praising and promoting terrorism.
If hatred of Israel is increasing in the U.S., it is largely confined to academics and other extreme radical circles, many of which are funding or receiving funding from Soviet-style agitprop organizations. Journalists are recruited to disseminate descriptions of "facts" as if they were real facts. Pseudo-historians rewrote the history of the Middle East. The falsified version of history replaced history.
Most Shared
Most Viewed