New Palestinian Intifada - Against Abbas
There already is an intifada against Israel. The Palestinians are close to declaring another intifada, this time against their president, Mahmoud Abbas, thus paving the way for a further escalation of the anti-Israeli Intifada.

Abbas has been diverting Palestinian anger toward Israel. The rhetorical attacks on Israel embolden Hamas and Palestinian extremists and drive more Palestinians into their open arms.
What happened in the center of Ramallah on the morning of June 22 could signal the beginning of an uprising, or intifada, against the Palestinian Authority [PA].
The incident began when hundreds of angry Palestinian youths attacked the headquarters of the Palestinian police in the city in protest against ongoing security coordination between the PA security forces and Israel.
At least three Palestinians were injured when Palestinian policemen used live ammunition to stop the attackers from storming the police station. Seven police vehicles parked outside the police station were badly damaged.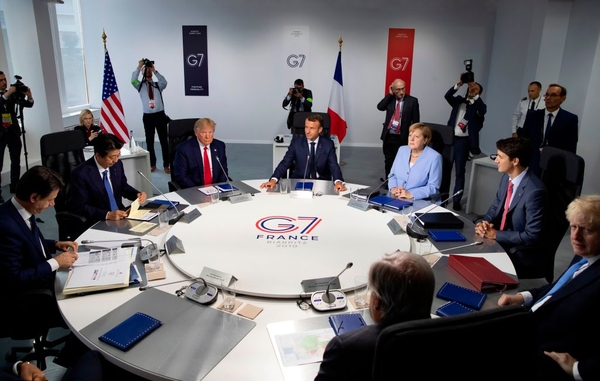 Palestinian youths hurl stones at the Palestinian police headquarters in Ramallah, on June 22. (Image source: Rayafm YouTube video)
The attackers were particularly furious with the Palestinian policemen who stayed inside their offices as Israel Defense Forces soldiers entered Ramallah in the context of a manhunt to find three kidnapped Israeli youths, believed to have been taken by Hamas.
The attack on the Palestinian police station came amid growing Palestinian discontent with PA President Mahmoud Abbas over his opposition to the kidnapping of the three Israeli youths.
Palestinians representing various Palestinian factions, including Abbas's own Fatah, have resorted to social media to denounce Abbas and his security forces as "traitors" for helping Israel in its efforts to locate the three youths.
One campaign on Facebook entitled, "I'm Palestinian and Abbas doesn't represent me" has drawn hundreds of supporters.
Palestinian protests against Abbas and security coordination with Israel have recently become a daily occurrence in the West Bank, where Palestinian protesters are no longer afraid to express their views in public.
The Palestinian Authority has begun to feel the heat and that is why its security forces have been instructed to use an iron-fist policy not only against its critics, but also against Palestinian and Western journalists in the West Bank.
On June 20, Palestinian policemen broke up a protest in Hebron by families of Palestinian prisoners held by Israel, and beat a number of journalists, including a CNN reporter who had his camera smashed.
Hamas and other Palestinian groups are now talking about preparations for a third intifada against Israel. "We are headed toward a third intifada and a direct confrontation with the Israeli occupation," said Hamas spokesman Hussam Badran.
But the truth is that in the West Bank there already is an intifada against Israel. Palestinians call it a popular intifada, which they have been waging since long before the abduction of the three teenagers. This is an intifada that consists of daily confrontations between Israeli soldiers and Palestinians, who have also been targeting Jewish settlers in several parts of the West Bank.
The incident in Ramallah and increased criticism of Abbas and the PA leadership show that the Palestinians are also close to declaring another intifada, this time against their president and his "treacherous" security forces.
To avoid such an uprising against his regime, Abbas will most likely try to divert the anger on the Palestinian street toward Israel, thus paving the way for a further escalation of the anti-Israeli intifada.
This explains the strong condemnations in recent days, from Abbas and his senior officials, of the ongoing Israeli security crackdown in the West Bank. The rhetorical attacks on Israel embolden Hamas and Palestinian extremists and drive more Palestinians into their open arms.
Related Topics: Palestinian Authority | Khaled Abu Toameh receive the latest by email: subscribe to the free gatestone institute mailing list
Reader comments on this item
Comment on this item
Subscribe To Mailing List
Tweets by @GatestoneInst
Subscribe To Mailing List
Latest Articles
by Bassam Tawil
What is sad is that the Gazans have not yet been able to free themselves from the yoke of Hamas.
The world seems not to understand that Hamas, like ISIS and the Muslim Brotherhood, does not exist in a vacuum. It is one cog in the radical Islamist wheel that threatens the Arab and Muslim world and the major cities of Europe.
The Western world also seems not to understand that it has to incapacitate or totally neutralize the countries funding terrorism, such as Iran, Qatar and Turkey, for whom the Palestinian problem is only a pretext on the way to destroying the Western world as we know it and replacing it with only Islam.
by Burak Bekdil
Hamas spokesman Sami Abu-Zuhri said: "All Israelis are legitimate targets." What would the Palestinian death toll have been if Mr. Netanyahu's spokesman declared all Palestinians as legitimate targets?
Underdog-nation romanticism tells us Israel should not respond when under rocket attack because it is capable of intercepting the rockets.
That there are fewer Israeli casualties does not mean Hamas does not want to kill; it just means, for the moment, Hamas cannot kill.
by Soeren Kern
Austria figures prominently in a map produced by the IS that outlines the group's five-year plan for expanding its caliphate into Europe, and has emerged as a central hub for jihadists seeking to fight in Syria.
"The spectrum of recruits for the conflict in Syria is ethnically diverse. The motivation, however, appears to be uniformly jihadist." — Austrian intelligence agency BVT.
"Allah also gives you the opportunity to wage jihad in Austria." — Austrian jihadist Firas Houidi.
"We are proud that Allah has chosen us. We feel like lions." — Austrian jihadist Abu Hamza al-Austria.
by Khaled Abu Toameh
What Khaled Mashaal forgot to mention was that Hamas and the Islamic State do have at least one thing in common: they both carry out extrajudicial executions as a means of terrorizing and intimidating those who stand in their way or who dare to challenge their terrorism.
According to Hamas's logic, all members of the Palestinian Authority government are "traitors" who should be dragged to public squares to be shot by firing squads. According to the same logic, Mahmoud Abbas himself should be executed for maintaining security coordination with and talking to Israelis.
As for the two executed women, the sources said that their only fault was that they had been observed asking too many questions about Palestinians who were killed in airstrikes.
by Stephen Blank and Peter Huessy
It now appears that the plan was for these terrorists to shoot down a Russian passenger flight over the Ukraine in order to create a casus belli [cause for war].
Putin repeatedly claims that Russia reserves the right to use nuclear weapons as a "de-escalatory measure" even against non-nuclear states.
The evidence that this war was preplanned is overwhelming. The planning for this Ukrainian operation started in 2006, when Putin offered to "guarantee Crimea's territory."
The forces fighting in Kiev consist not mainly of "separatists" or rebels, but of trained Russian army, intelligence and paramilitary officers, as well as Russian and some Ukrainian "volunteers" recruited by Moscow.
Putin would incite disturbances in Crimea, then graciously offer to take over Crimea to solve the problems.
For the Russians, and particularly for Putin, Ukraine can have no future other than as a Russian colony. This is indeed a phased invasion of Ukraine. The U.S. did not accept Russian aggression before; it should not accept it now.
Most Shared
Most Viewed