New Palestinian Intifada - Against Abbas
There already is an intifada against Israel. The Palestinians are close to declaring another intifada, this time against their president, Mahmoud Abbas, thus paving the way for a further escalation of the anti-Israeli Intifada.

Abbas has been diverting Palestinian anger toward Israel. The rhetorical attacks on Israel embolden Hamas and Palestinian extremists and drive more Palestinians into their open arms.
What happened in the center of Ramallah on the morning of June 22 could signal the beginning of an uprising, or intifada, against the Palestinian Authority [PA].
The incident began when hundreds of angry Palestinian youths attacked the headquarters of the Palestinian police in the city in protest against ongoing security coordination between the PA security forces and Israel.
At least three Palestinians were injured when Palestinian policemen used live ammunition to stop the attackers from storming the police station. Seven police vehicles parked outside the police station were badly damaged.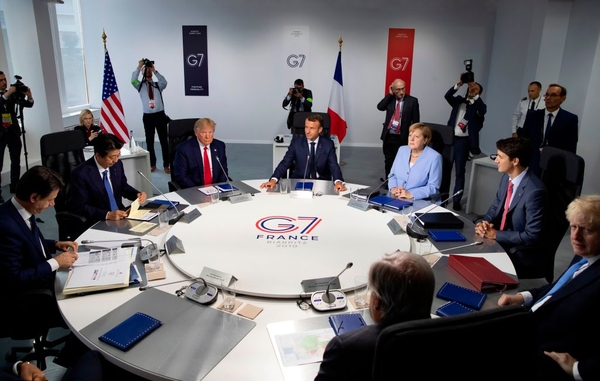 Palestinian youths hurl stones at the Palestinian police headquarters in Ramallah, on June 22. (Image source: Rayafm YouTube video)
The attackers were particularly furious with the Palestinian policemen who stayed inside their offices as Israel Defense Forces soldiers entered Ramallah in the context of a manhunt to find three kidnapped Israeli youths, believed to have been taken by Hamas.
The attack on the Palestinian police station came amid growing Palestinian discontent with PA President Mahmoud Abbas over his opposition to the kidnapping of the three Israeli youths.
Palestinians representing various Palestinian factions, including Abbas's own Fatah, have resorted to social media to denounce Abbas and his security forces as "traitors" for helping Israel in its efforts to locate the three youths.
One campaign on Facebook entitled, "I'm Palestinian and Abbas doesn't represent me" has drawn hundreds of supporters.
Palestinian protests against Abbas and security coordination with Israel have recently become a daily occurrence in the West Bank, where Palestinian protesters are no longer afraid to express their views in public.
The Palestinian Authority has begun to feel the heat and that is why its security forces have been instructed to use an iron-fist policy not only against its critics, but also against Palestinian and Western journalists in the West Bank.
On June 20, Palestinian policemen broke up a protest in Hebron by families of Palestinian prisoners held by Israel, and beat a number of journalists, including a CNN reporter who had his camera smashed.
Hamas and other Palestinian groups are now talking about preparations for a third intifada against Israel. "We are headed toward a third intifada and a direct confrontation with the Israeli occupation," said Hamas spokesman Hussam Badran.
But the truth is that in the West Bank there already is an intifada against Israel. Palestinians call it a popular intifada, which they have been waging since long before the abduction of the three teenagers. This is an intifada that consists of daily confrontations between Israeli soldiers and Palestinians, who have also been targeting Jewish settlers in several parts of the West Bank.
The incident in Ramallah and increased criticism of Abbas and the PA leadership show that the Palestinians are also close to declaring another intifada, this time against their president and his "treacherous" security forces.
To avoid such an uprising against his regime, Abbas will most likely try to divert the anger on the Palestinian street toward Israel, thus paving the way for a further escalation of the anti-Israeli intifada.
This explains the strong condemnations in recent days, from Abbas and his senior officials, of the ongoing Israeli security crackdown in the West Bank. The rhetorical attacks on Israel embolden Hamas and Palestinian extremists and drive more Palestinians into their open arms.
Related Topics: Palestinian Authority | Khaled Abu Toameh receive the latest by email: subscribe to the free gatestone institute mailing list
Reader comments on this item
Comment on this item
Subscribe To Mailing List
Tweets by @GatestoneInst
Subscribe To Mailing List
Latest Articles
by Salim Mansur
What we are witnessing is Israel engaged in a struggle against Hamas, against Palestinians, against Arabs, against Muslims, and against an expanding body of opinion in the West that is less and less inhibited from displaying the rancid anti-Semitism behind its support for those who openly call for another Holocaust for the Jews.
Gaza was returned to the Palestinians in 2005 as a test for building trust.
This verse [31:27 ] means that no one Muslim should claim that he has a monopoly over the reading of the Quran, for that would amount to reducing the majesty of God to the smallness of man.
The sound of battle is louder than the call to prayer.
by Khaled Abu Toameh
Evidently Abbas has reached the conclusion that unless he hurries up and declares his support for the Palestinian "resistance" in the Gaza Strip, his people will march on his office and force him to quit. Abbas's fear of a revolt has driven him into the open arms of Hamas and Islamic Jihad.
Another reason for the unexpected change in Abbas's policy might be the promise of financial aid he received from Qatar -- an enemy of Egypt's al-Sisi, but the largest funder of the Muslim Brotherhood and Hamas.
Abbas know that if he wants to survive, he will have to be on the side of the radicals.
by Lawrence A. Franklin
There is no change in U.S policy toward Israel that will win any true allies in the Middle East, despite what Arab leaders claim. They often assert that if only we would solve the Palestinian-Israeli problem first, relations would improve. This is a tactic. These leaders employ it simply to divert Western officials from making demands on them, instead of on Israel. The reality is that most Arabs view the U.S., its European allies and Israel with ineradicable contempt.
Most Shared
Most Viewed