Why Jordan Doesn't Want More Palestinians
Translations of this item:
By mistreating the Palestinians and depriving them of their basic rights, Jordan and other Arab countries are driving them into the open arms of extremists, especially Islamist groups such as the Muslim Brotherhood and Hamas.

Jordan, Lebanon and Syria can continue their practices against Palestinians without having to worry about the responses of the international community or the media. No one is going to take to the streets of European and American cities to condemn Arabs for mistreating Arabs.
It is no secret that many Arab countries despise Palestinians and subject them to apartheid laws and strict security measures that deny them most basic rights.
The mistreatment of Palestinians at the hands of their Arab brothers is an issue that is rarely mentioned in the mainstream media in the West. Most journalists prefer to look the other way when a story lacks an anti-Israel perspective.
A story is big only when it is Israel that arrests, kills, or deports.
When Arab countries such as Jordan, Syria and Lebanon move against Palestinians, however, foreign journalists choose to bury their heads in the sand. Such has been the case with Jordan and its mistreatment of the kingdom's Palestinian majority.
Jordan's dilemma is that if it allows more Palestinians into the country, the kingdom, which already has a Palestinian majority, would be transformed into a Palestinian state. But by mistreating the Palestinians and depriving them of basic rights, Jordan and other Arab countries are driving them into the open arms of extremists, especially Islamist groups such as the Muslim Brotherhood and Hamas.
The Jordanians have clearly chosen to follow the second option, which means keeping as many Palestinians as possible out of the kingdom. As far as King Abdullah is concerned, it is better to have radicalized Palestinians outside the kingdom than to let them into the kingdom, where they would cause him more trouble.
The Jordanians see the Palestinians as a "demographic threat" and are constantly searching for a solution to this problem. Jordan's biggest fear is that its kingdom will one day become a Palestinian state. Jordanian authorities seem determined to do their utmost to avoid such a scenario, even if that means being condemned by human rights groups.
The Jordanians know that UN agencies are not going to denounce them if they deport Palestinians or revoke their citizenship.
Jordan wants to solve its Palestinian problem quietly and far from the spotlight.
A series of measures taken by the Jordanian authorities over the past three years serve as an indicator of Amman's increased concern over the Palestinian "threat." These measures include revoking the citizenship of many Palestinians and forcibly deporting others who are fleeing from Syria.
Ironically, the Jordanians say that these measures are designed to help the Palestinians. Jordan wants the Palestinians to believe that depriving them of basic rights and deporting them from the kingdom is something good for the Palestinian cause. The Jordanians say they do not even understand why the affected Palestinians are not welcoming the anti-Palestinian measures.
How do the Jordanians justify their anti-Palestinian policy? By arguing that if they aid the Palestinians and provide them with shelter and passports, this would serve Israeli interests.
"We don't want to be an Israeli tool for re-settling Palestinians who come to Jordan, by granting them citizenship," explained former Jordanian interior minister Nayef al-Qadi. "Otherwise, we would be telling the Palestinians to forget Palestine."
Al-Qadi, who played a key role in drafting the policy of withdrawing Jordanian citizenship from Palestinians, said he is also opposed to granting citizenship to the children of Jordanian women married to Palestinians and other non-Jordanian nationals.
"Why don't they call them the children of the men married to Jordanian women? Why aren't these children given the citizenship of their fathers? We have about 500,000 Jordanian women married to non-Jordanians. If we multiply that by 3-4, we will have to hand this country over to Israel and go away. We won't have anything left here."
The former Jordanian minister's attempt to justify the crackdown came shortly after Human Rights Watch released a report detailing Jordan's mistreatment of Palestinian refugees fleeing Syria. Entitled, "Not Welcome: Jordan's Treatment of Palestinians Escaping Syria," the report, which has won little attention in the international media, accuses the Jordanians of breaching their international obligations.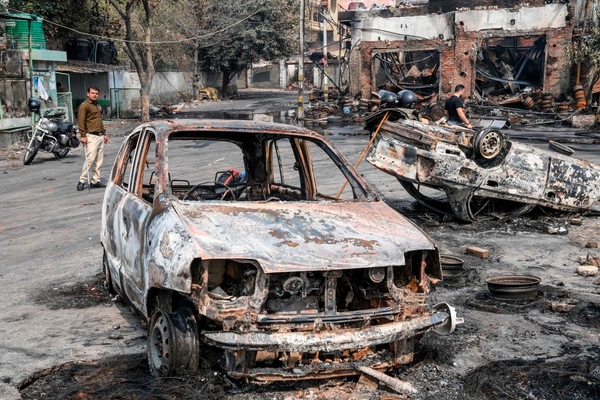 The "Cyber City" refugee camp in Jordan, where a number of Palestinians are being held. (Image source: ICRC)
Unfortunately for the Palestinians (but fortunately for the Jordanians), the damning report against Jordan was released on August 7, at a time when the world's attention was focused on the war between Hamas and Israel.
According to the report, Jordan, in a clear breach of its international obligations, refuses entry to, or forcibly deports, Palestinian refugees escaping Syria. "Jordan has officially banned entry to Palestinians from Syria since January 2013 and has forcibly deported over 100 who managed to enter the country since mid-2012, including women and children," the report revealed.
The report quotes Basma, a Palestinian woman from Yarmouk refugee camp in Syria, who describes how the Jordanians turned her and others back. "They told us, 'You are Palestinians, you aren't allowed to enter,'" she recounted. "They took us in a bus and dropped us on the Syrian side of the border at 2 a.m."
Another Palestinian refugee from Damascus, 47-year-old Abdullah, was quoted as saying: "As we were crossing, the Jordanian army started firing at us. We all laid down flat on the ground to avoid the gunfire. After some moments two trucks with army officers came to us, before we knew what was happening an army officer shot five of us in our legs. We weren't trying to flee."
During the past three years, Jordan has received millions of Syrian refugees. But when it comes to Palestinians, the story is different.
The Jordanians are not afraid of the Syrian refugees because they know that once the crisis is over in their country, they will return to their homes. Unlike the Palestinians, the Syrians are not seeking Jordanian citizenship or new lives in the kingdom. The Syrians see their presence in Jordan as a temporary situation.
There is also no talk about transforming Jordan into a "Syrian state," as opposed to calls for creating a homeland for the Palestinians in the kingdom. As such, the Jordanians' problem is with Palestinians, not Syrians or other Arabs.
Fayez Tarawneh, head of the royal court and former prime minister, defended the anti-Palestinian measures in a meeting with Human Rights Watch last year. He said that a large influx of Palestinians from Syria would alter the demographic balance of the kingdom and cause instability.
The human rights group said that as a result of the Jordanian government's policy, many Palestinians from Syria do not have proper residency papers in Jordan, "making them vulnerable to exploitation, arrest, and deportation."
It continued that, "undocumented Palestinians from Syria dare not seek protection or redress from the Jordanian government against exploitation or other abuses."
Jordan, Lebanon and Syria can continue their abusive practices against Palestinians without having to worry about the response of the international community. No one is going to take to the streets of American and European cities to condemn Arabs for mistreating Arabs.
Related Topics: Khaled Abu Toameh receive the latest by email: subscribe to the free gatestone institute mailing list
Reader comments on this item
| | | |
| --- | --- | --- |
| Title | By | Date |
| 1948 annexations [305 words] | Anna | Aug 22, 2014 02:27 |
| National Autonomy [26 words] | LW | Aug 20, 2014 09:22 |
| Facts [39 words] | Agnes Montanari | Aug 20, 2014 01:58 |
| Jordan IS Palestine! [72 words] | A. Nonymous | Aug 19, 2014 16:48 |
| ↔ Yes, but not since the end of WWII [134 words] | Bart Benschop | Aug 26, 2014 22:34 |
| an inconvenient truth omitted [187 words] | American Israeli | Aug 19, 2014 11:20 |
| ↔ Palestinians are not Arab [45 words] | Bart Benschop | Aug 26, 2014 22:39 |
| I think Jordan is right. [181 words] | me | Aug 19, 2014 05:22 |
| What is a Palestinian? [314 words] | John Richmond | Aug 19, 2014 04:31 |
| Arab politics [106 words] | Robert Davis | Aug 19, 2014 04:13 |
| Jordan condemned for huamn rights violations? Fat chance! [48 words] | Gil | Aug 19, 2014 03:37 |
| Arab League instructs its members to deny citizenship to Palestinian Arab refugees [34 words] | Hepcat | Aug 18, 2014 19:53 |
| Palestinian State [52 words] | Eliyahu | Aug 18, 2014 18:25 |
| generations of refugees [94 words] | michele | Aug 18, 2014 18:01 |
| Long Memories [86 words] | Menahem Lester | Aug 18, 2014 14:01 |
| Someday all will be well [127 words] | Andrew H. | Aug 18, 2014 13:50 |
| The Dispossessed [142 words] | Victor Salkowitz | Aug 18, 2014 10:42 |
| Unfair to Jordan [169 words] | Nader Sahawneh | Aug 18, 2014 09:48 |
| ↔ You mean Jordan is unfair [116 words] | Yonatan Knickerbocker | Aug 21, 2014 02:24 |
| Black September [96 words] | David Walker | Aug 18, 2014 09:45 |
| Palestinian Behavior Also Plays a Role [71 words] | Carl Sontz | Aug 18, 2014 08:55 |
| where is justice? [57 words] | Leon Poddebsky | Aug 18, 2014 08:05 |
| ↔ The double standard of Europe [91 words] | Fiorella Massey | Aug 18, 2014 18:10 |
| The Palestinian State and Arabs versus Arabs [378 words] | Mark Rogers | Aug 18, 2014 05:47 |
| ↔ Mark forgot to mention the most important thing. [71 words] | Ciccio | Aug 18, 2014 15:03 |
| ↔ Non Arab, non refugees [92 words] | Bart Benschop | Aug 19, 2014 23:04 |
Comment on this item
Subscribe To Mailing List
Tweets by @GatestoneInst
Latest Articles
by Burak Bekdil
Where Turkey stands today is a perfect example of how, when Islamists -- mild or otherwise -- rule a county, even the most basic liberties are systematically suppressed.
"A climate of fear has emerged in Turkey." — Hasam Kilic, President, Turkey's Constitutional Court.
The prosecutor demanded a heavier penalty for the victim than for her torturers.
The European Commission identified government interference in the judiciary and bans imposed on social media as the major sources of concern regarding Turkey's candidacy for full membership.
by Khaled Abu Toameh
To understand what drives a young Palestinian to carry out such a deadly attack, one needs to look at the statements of Palestinian Authority leaders during the past few weeks.
The anti-Israel campaign of incitement reached its peak with Abbas's speech at the UN a few weeks ago, when he accused Israel of waging a "war of genocide" in the Gaza Strip. Abbas made no reference to Hamas's crimes against both Israelis and Palestinians.
Whatever his motives, it is clear that the man who carried out the most recent attack, was influenced by the messages that Abbas and the Palestinian Authority leadership have been sending their people.
by Richard Kemp
Would General Allen -- or any other general today -- recommend contracting out his country's defenses if it were his country at stake? Of course not.
The Iranian regime remains dedicated to undermining and ultimately destroying the State of Israel. The Islamic State also has Israel in its sights and would certainly use the West Bank as a point from which to attack, if it were open to them.
There can be no two-state solution and no sovereign Palestinian Arab state west of the Jordan, however desirable those things might be. The stark military reality is that Israel cannot withdraw its forces from the West Bank.
Fatah leaders ally themselves with the terrorists of Hamas, and, like Hamas, they continue to reject the every existence of the State of Israel.
If Western leaders actually want to help, they should use all diplomatic and economic means to make it clear to the Palestinians that they will never achieve an independent and sovereign state while they remain set on the destruction of the State of Israel.
by Louis René Beres
The Palestine Liberation Organization [PLO], forerunner of today's Palestinian Authority, was founded in 1964, three years before Israel came into the unintended control of the West Bank and Gaza. What therefore was the PLO planning to "liberate"?
Why does no one expect the Palestinians to cease all deliberate and random violence against Israeli civilians before being considered for admission to statehood?
On June 30, 1922, a joint resolution of both Houses of Congress of the United States endorsed a "Mandate for Palestine," confirming the right of Jews to settle anywhere they chose between the Jordan River and the Mediterranean Sea. This is the core American legacy of support for a Jewish State that President Obama now somehow fails to recall.
A sovereign state of Palestine, as identified by the Arabs -- a Muslim land occupied by "Palestinian" Arabs -- has never existed; not before 1948, and not before 1967. From the start, it was, and continues to be, the Arab states -- not Israel -- that became the core impediment to Palestinian sovereignty.
by Timon Dias
It looks as if this new law is meant to serve as a severe roadblock to parties that would like to dismantle the EU in a democratic and peaceful way from within.
A rather dull semantic trick pro-EU figures usually apply, is calling their opponents "anti-Europe."
Most Shared
Most Viewed