Why Jordan Doesn't Want More Palestinians
Translations of this item:
By mistreating the Palestinians and depriving them of their basic rights, Jordan and other Arab countries are driving them into the open arms of extremists, especially Islamist groups such as the Muslim Brotherhood and Hamas.

Jordan, Lebanon and Syria can continue their practices against Palestinians without having to worry about the responses of the international community or the media. No one is going to take to the streets of European and American cities to condemn Arabs for mistreating Arabs.
It is no secret that many Arab countries despise Palestinians and subject them to apartheid laws and strict security measures that deny them most basic rights.
The mistreatment of Palestinians at the hands of their Arab brothers is an issue that is rarely mentioned in the mainstream media in the West. Most journalists prefer to look the other way when a story lacks an anti-Israel perspective.
A story is big only when it is Israel that arrests, kills, or deports.
When Arab countries such as Jordan, Syria and Lebanon move against Palestinians, however, foreign journalists choose to bury their heads in the sand. Such has been the case with Jordan and its mistreatment of the kingdom's Palestinian majority.
Jordan's dilemma is that if it allows more Palestinians into the country, the kingdom, which already has a Palestinian majority, would be transformed into a Palestinian state. But by mistreating the Palestinians and depriving them of basic rights, Jordan and other Arab countries are driving them into the open arms of extremists, especially Islamist groups such as the Muslim Brotherhood and Hamas.
The Jordanians have clearly chosen to follow the second option, which means keeping as many Palestinians as possible out of the kingdom. As far as King Abdullah is concerned, it is better to have radicalized Palestinians outside the kingdom than to let them into the kingdom, where they would cause him more trouble.
The Jordanians see the Palestinians as a "demographic threat" and are constantly searching for a solution to this problem. Jordan's biggest fear is that its kingdom will one day become a Palestinian state. Jordanian authorities seem determined to do their utmost to avoid such a scenario, even if that means being condemned by human rights groups.
The Jordanians know that UN agencies are not going to denounce them if they deport Palestinians or revoke their citizenship.
Jordan wants to solve its Palestinian problem quietly and far from the spotlight.
A series of measures taken by the Jordanian authorities over the past three years serve as an indicator of Amman's increased concern over the Palestinian "threat." These measures include revoking the citizenship of many Palestinians and forcibly deporting others who are fleeing from Syria.
Ironically, the Jordanians say that these measures are designed to help the Palestinians. Jordan wants the Palestinians to believe that depriving them of basic rights and deporting them from the kingdom is something good for the Palestinian cause. The Jordanians say they do not even understand why the affected Palestinians are not welcoming the anti-Palestinian measures.
How do the Jordanians justify their anti-Palestinian policy? By arguing that if they aid the Palestinians and provide them with shelter and passports, this would serve Israeli interests.
"We don't want to be an Israeli tool for re-settling Palestinians who come to Jordan, by granting them citizenship," explained former Jordanian interior minister Nayef al-Qadi. "Otherwise, we would be telling the Palestinians to forget Palestine."
Al-Qadi, who played a key role in drafting the policy of withdrawing Jordanian citizenship from Palestinians, said he is also opposed to granting citizenship to the children of Jordanian women married to Palestinians and other non-Jordanian nationals.
"Why don't they call them the children of the men married to Jordanian women? Why aren't these children given the citizenship of their fathers? We have about 500,000 Jordanian women married to non-Jordanians. If we multiply that by 3-4, we will have to hand this country over to Israel and go away. We won't have anything left here."
The former Jordanian minister's attempt to justify the crackdown came shortly after Human Rights Watch released a report detailing Jordan's mistreatment of Palestinian refugees fleeing Syria. Entitled, "Not Welcome: Jordan's Treatment of Palestinians Escaping Syria," the report, which has won little attention in the international media, accuses the Jordanians of breaching their international obligations.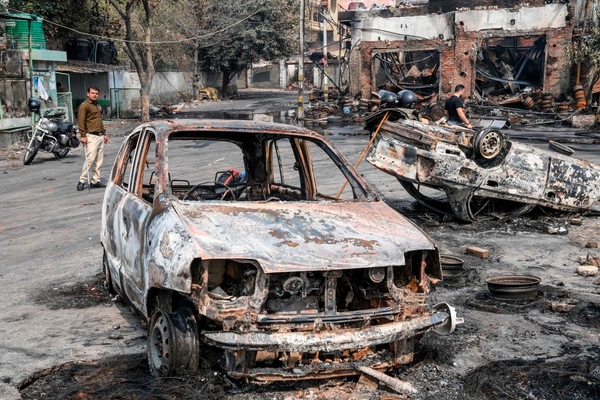 The "Cyber City" refugee camp in Jordan, where a number of Palestinians are being held. (Image source: ICRC)
Unfortunately for the Palestinians (but fortunately for the Jordanians), the damning report against Jordan was released on August 7, at a time when the world's attention was focused on the war between Hamas and Israel.
According to the report, Jordan, in a clear breach of its international obligations, refuses entry to, or forcibly deports, Palestinian refugees escaping Syria. "Jordan has officially banned entry to Palestinians from Syria since January 2013 and has forcibly deported over 100 who managed to enter the country since mid-2012, including women and children," the report revealed.
The report quotes Basma, a Palestinian woman from Yarmouk refugee camp in Syria, who describes how the Jordanians turned her and others back. "They told us, 'You are Palestinians, you aren't allowed to enter,'" she recounted. "They took us in a bus and dropped us on the Syrian side of the border at 2 a.m."
Another Palestinian refugee from Damascus, 47-year-old Abdullah, was quoted as saying: "As we were crossing, the Jordanian army started firing at us. We all laid down flat on the ground to avoid the gunfire. After some moments two trucks with army officers came to us, before we knew what was happening an army officer shot five of us in our legs. We weren't trying to flee."
During the past three years, Jordan has received millions of Syrian refugees. But when it comes to Palestinians, the story is different.
The Jordanians are not afraid of the Syrian refugees because they know that once the crisis is over in their country, they will return to their homes. Unlike the Palestinians, the Syrians are not seeking Jordanian citizenship or new lives in the kingdom. The Syrians see their presence in Jordan as a temporary situation.
There is also no talk about transforming Jordan into a "Syrian state," as opposed to calls for creating a homeland for the Palestinians in the kingdom. As such, the Jordanians' problem is with Palestinians, not Syrians or other Arabs.
Fayez Tarawneh, head of the royal court and former prime minister, defended the anti-Palestinian measures in a meeting with Human Rights Watch last year. He said that a large influx of Palestinians from Syria would alter the demographic balance of the kingdom and cause instability.
The human rights group said that as a result of the Jordanian government's policy, many Palestinians from Syria do not have proper residency papers in Jordan, "making them vulnerable to exploitation, arrest, and deportation."
It continued that, "undocumented Palestinians from Syria dare not seek protection or redress from the Jordanian government against exploitation or other abuses."
Jordan, Lebanon and Syria can continue their abusive practices against Palestinians without having to worry about the response of the international community. No one is going to take to the streets of American and European cities to condemn Arabs for mistreating Arabs.
Related Topics: Khaled Abu Toameh receive the latest by email: subscribe to the free gatestone institute mailing list
Reader comments on this item
| | | |
| --- | --- | --- |
| Title | By | Date |
| 1948 annexations [305 words] | Anna | Aug 22, 2014 02:27 |
| National Autonomy [26 words] | LW | Aug 20, 2014 09:22 |
| Facts [39 words] | Agnes Montanari | Aug 20, 2014 01:58 |
| Jordan IS Palestine! [72 words] | A. Nonymous | Aug 19, 2014 16:48 |
| ↔ Yes, but not since the end of WWII [134 words] | Bart Benschop | Aug 26, 2014 22:34 |
| an inconvenient truth omitted [187 words] | American Israeli | Aug 19, 2014 11:20 |
| ↔ Palestinians are not Arab [45 words] | Bart Benschop | Aug 26, 2014 22:39 |
| I think Jordan is right. [181 words] | me | Aug 19, 2014 05:22 |
| What is a Palestinian? [314 words] | John Richmond | Aug 19, 2014 04:31 |
| Arab politics [106 words] | Robert Davis | Aug 19, 2014 04:13 |
| Jordan condemned for huamn rights violations? Fat chance! [48 words] | Gil | Aug 19, 2014 03:37 |
| Arab League instructs its members to deny citizenship to Palestinian Arab refugees [34 words] | Hepcat | Aug 18, 2014 19:53 |
| Palestinian State [52 words] | Eliyahu | Aug 18, 2014 18:25 |
| generations of refugees [94 words] | michele | Aug 18, 2014 18:01 |
| Long Memories [86 words] | Menahem Lester | Aug 18, 2014 14:01 |
| Someday all will be well [127 words] | Andrew H. | Aug 18, 2014 13:50 |
| The Dispossessed [142 words] | Victor Salkowitz | Aug 18, 2014 10:42 |
| Unfair to Jordan [169 words] | Nader Sahawneh | Aug 18, 2014 09:48 |
| ↔ You mean Jordan is unfair [116 words] | Yonatan Knickerbocker | Aug 21, 2014 02:24 |
| Black September [96 words] | David Walker | Aug 18, 2014 09:45 |
| Palestinian Behavior Also Plays a Role [71 words] | Carl Sontz | Aug 18, 2014 08:55 |
| where is justice? [57 words] | Leon Poddebsky | Aug 18, 2014 08:05 |
| ↔ The double standard of Europe [91 words] | Fiorella Massey | Aug 18, 2014 18:10 |
| The Palestinian State and Arabs versus Arabs [378 words] | Mark Rogers | Aug 18, 2014 05:47 |
| ↔ Mark forgot to mention the most important thing. [71 words] | Ciccio | Aug 18, 2014 15:03 |
| ↔ Non Arab, non refugees [92 words] | Bart Benschop | Aug 19, 2014 23:04 |
Comment on this item
Subscribe To Mailing List
Tweets by @GatestoneInst
Latest Articles
by Samuel Westrop
Over 800 Iranians were executed during President Rouhani's first year in office.
Leading politicians, British government officials and businessmen nevertheless seemed happy to attend and speak at the Europe-Iran Forum.
by Khaled Abu Toameh
The "Arab Spring" did not erupt as a result of the Israeli-Palestinian conflict. Rather, it was the outcome of decades of tyranny and corruption in the Arab world. The Tunisians, Egyptians, Libyans and Yemenis who removed their dictators from power did not do so because of the lack of a "two-state solution." This is the last thing they had in mind.
The thousands of Muslims who are volunteering to join the Islamic State [IS] are not doing so because they are frustrated with the lack of progress in the Israeli-Palestinian peace talks.
The only solution the Islamic State believes in is a Sunni Islamic Caliphate where the surviving non-Muslims who are not massacred would be subject to sharia law.
What Kerry perhaps does not know is that the Islamic State is not interested in the Israeli-Palestinian conflict at all. Unlike Kerry, Sunni scholars fully understand that the Islamic State has more to do with Islam and terrorism than with any other conflict.
by Steven J. Rosen
Palestinian officials have generally been silent about security cooperation with Israel. They are loath to acknowledge how important it is for the survival of the Palestinian Authority [PA], and fear that critics, especially Hamas, will consider it "collaboration with the enemy."
"You smuggle weapons, explosives and cash to the West Bank, not for the fight with Israel, but for a coup against the Palestinian Authority. The Israeli intelligence chief visited me two weeks ago and told me about the [Hamas] group they arrested that was planning for a coup... We have a national unity government and you are thinking about a coup against me." — Mahmoud Abbas, PA President, to Khaled Mashaal, Hamas leader.
According to Israeli Defense Minister Moshe Ya'alon, if the IDF leaves the West Bank, Hamas will take over, and other terrorists groups such as the Islamic Jihad, Al-Qaeda and Islamic State would operate there.
In recent months, Abbas has been making a series of threats against Israel. If Abbas becomes another Arafat, it could be the Israeli side that loses interest in security cooperation.
by Burak Bekdil
It was the Islamists who, since they came to power in the 2000s, have reaped the biggest political gains from the "Palestine-fetish."
But the Turkish rhetoric on "solidarity" with our Palestinian brothers often seems askew to how solidarity should be.
by Raheel Raza
One blogger writes that Malala hates Pakistan's military. I believe it is the other way around.
I would so like to see the day when Malala is welcomed back in Pakistan, with the whole country cheering.
Most Shared
Most Viewed