Part of the Plan
Reader comment on: Palestinians: The Third Intifada Has Begun
Submitted by Michelle, Dec 17, 2012 13:48
I think this was part of the plan all along. If the world sees and feels their narrative of victimhood, they will not be forced to negotiate, and will get everything they want. The Third Intifada is phase two of the plan, after UN recognition. Next, things on the ground will get ugly, and eventually Israel's legitimacy will be challenged before the UN and around the world. The Arab plan remains the same, unfortunately.
---
Note: Reader comments are screened, and in some cases edited, before posting. Gatestone Institute reserves the right to reject anything found to be objectionable. Reader comments, including the one above, represent solely the opinion or viewpoint of the readers that submitted them and do not represent the opinion or viewpoint of Gatestone Institute. Gatestone Institute takes no responsibility for the content of reader comments.
Submit a comment on this article
Other reader comments on this item
Comment on this item
Get Free Exclusive Gatestone Content:
KHALED AL-ASAAD, BEAHEADED BY THE ISLAMIC STATE
Khaled al-Asaad, 81, a renowned Syrian antiquities scholar, was publicly beheaded on August 18, 2015 by the Islamic State in the ancient city of Palmyra, apparently after he refused to reveal where valuable artifacts were hidden.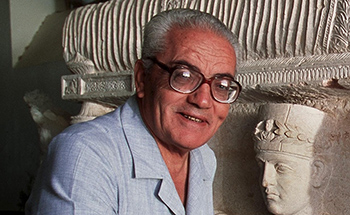 FIRST TRANSLATION OF AYATOLLAH KHAMENEI'S BOOK ON HOW TO DESTROY AMERICA