Western absence
Reader comment on: Freedom of Expression? Not for Palestinians
Submitted by Balakrishnan, Feb 15, 2013 23:48
It is highly regrettable to note that the funds that civilized Western countries send to the Palestinians is not to used to civilize and democratize the people, but is utilized against Israel, which seeks to maintain peace in that holy land. Besides, it is the duty of the donor countries to raise their voices against the authoritarian way of gaging the free speech of journalists who criticise against Palestine and Hamas' misrule. When Western countries advocate both free speech and human rights to world, keeping silent is open discrimination.
---
Note: Reader comments are screened, and in some cases edited, before posting. Gatestone Institute reserves the right to reject anything found to be objectionable. Reader comments, including the one above, represent solely the opinion or viewpoint of the readers that submitted them and do not represent the opinion or viewpoint of Gatestone Institute. Gatestone Institute takes no responsibility for the content of reader comments.
Other reader comments on this item
Comment on this item
Get Free Exclusive Gatestone Content:
KHALED AL-ASAAD, BEAHEADED BY THE ISLAMIC STATE
Khaled al-Asaad, 81, a renowned Syrian antiquities scholar, was publicly beheaded on August 18, 2015 by the Islamic State in the ancient city of Palmyra, apparently after he refused to reveal where valuable artifacts were hidden.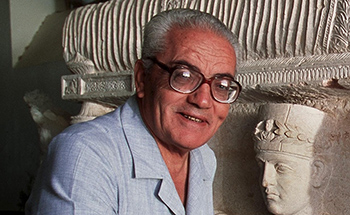 FIRST TRANSLATION OF AYATOLLAH KHAMENEI'S BOOK ON HOW TO DESTROY AMERICA