When U.S. Vice President Mike Pence arrived in Indonesia on the night of April 19 for his first state visit abroad, he clearly did not intend for his positive gestures and kind words to be construed as controversial by the very people at whom they were aimed.
"In your nation, as in mine, religion unifies, it doesn't divide," Pence said to Indonesian President Joko Widodo the following morning at the Jakarta Palace. Pence lauded Indonesia, the largest Muslim-majority country, for "its tradition of moderate Islam," which he called "an inspiration to the world."
He also toured the Istiqlal Mosque, designed by North Sumatran Christian architect Frederich Silaban for Indonesia's first president, Sukarno, who insisted it be built near the Jakarta Cathedral and Immanuel Church as a symbol of religious harmony.
Ironically, Pence was delivering his message of harmony -- to allay concerns in Indonesia over what was perceived as the Trump administration's anti-Muslim rhetoric and stress strategic, political and economic ties -- on the day that the Christian governor of Jakarta was ousted in a heated election marked by violent Islamist demonstrations. While millions of supporters of Governor Basuki Tjahaja Purnama, familiarly known as Ahok, were mourning the defeat of their candidate -- tried for blasphemy against Islam and found guilty on May 10 -- Pence was pointing to the "common values [of] freedom, rule of law, human rights and religious diversity" shared by the United States and Indonesia.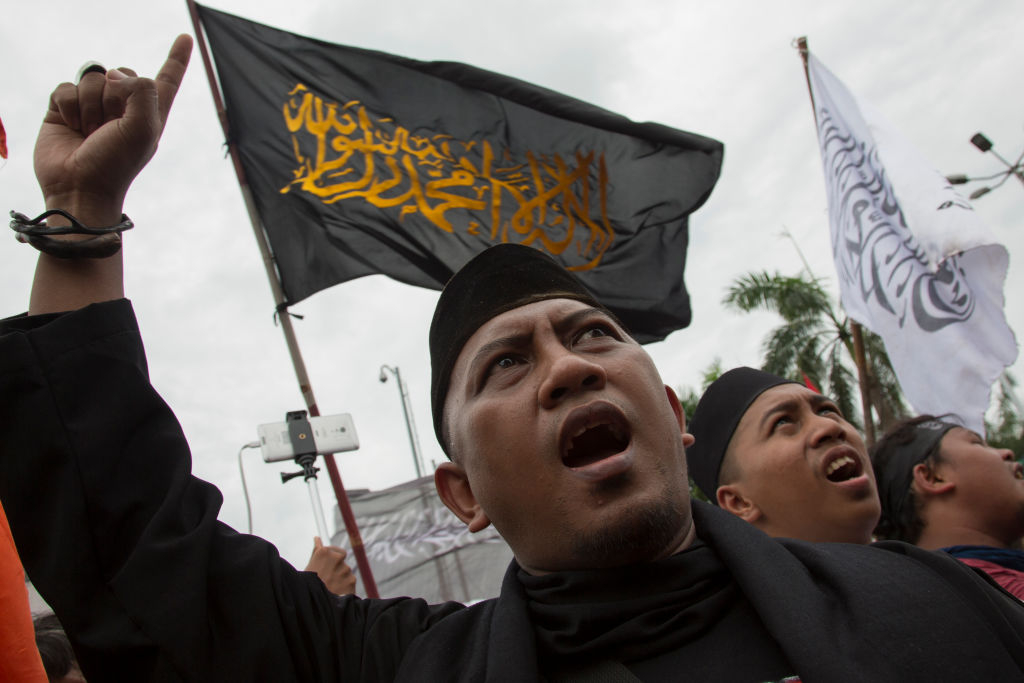 Indonesian Islamists in Jakarta, Indonesia chant 'Allahu Akbar' during a February 21 demonstration demanding that Ahok, who was then governor of Jakarta, be suspended for blasphemy. (Image source: Ed Wray/Getty Images)
Under other circumstances, such a statement from the U.S. vice president might have been uplifting to the moderates behind Ahok, who is not only a Christian, but ethnically Chinese. However, due to the victory of the radical Muslims decrying the incumbency of a Christian on the grounds that the Quran forbids it, Pence's timing was problematic. His assertion that "religion unifies" might, in fact, have been interpreted by those who voted for former Education Minister Anies Baswedan, the candidate favored by militant Muslims to replace Ahok, to mean that the Trump administration was giving a stamp of approval for Islam to serve that role exclusively.
"That Pence should be saying this after the most divisive and sectarian election in Indonesian history is flabbergasting," Australian National University associate professor Greg Fealy said.
The outcome of the Jakarta gubernatorial election that day was the result of a hate-campaign waged against the very pluralistic ideals that Pence was praising.
The Trump administration and the rest of the West needs to pay closer attention to what is going on in Indonesia: its future as a tolerant democracy is being rapidly threatened by a strengthening Islamist presence.
As a paternalistic society, Indonesia has a public that can be easily manipulated by its leaders. When Indonesia's leaders include hardline clerics backed by scholars who insist that Muslims, by virtue of Quranic decree, must have all the power, unity is elusive, both in theory and in practice.
Jacobus E. Lato is a writer based in Surabaya, Indonesia.