Accompanied by a 1,500-strong entourage, Saudi King Salman bin Abdul Aziz arrived in Indonesia on March 1 for a nine-day gala tour. He was welcomed warmly not only as the monarch of one of the world's richest countries, but as the custodian of Islam's two holiest cities, Mecca and Medina.
While appearing to be taking a holiday rather than embarking on an official state visit -- the 81-year-old sovereign spent six days at a resort in Bali -- the king had some serious business to attend to. In what was advertised as an effort to promote "social interaction" between Saudi Arabia and Indonesia -- with His Majesty announcing a billion-dollar aid package, unlimited flights between the two countries and the allotment of 50,000 extra spots per year for Indonesian pilgrims to make the hajj to Mecca and Medina – it seems as if the real purpose of the trip was to promote and enhance Salafism, an extremist Sunni strain, in the world's largest Muslim country, frequently hailed in the West as an example of a moderate Islamic society.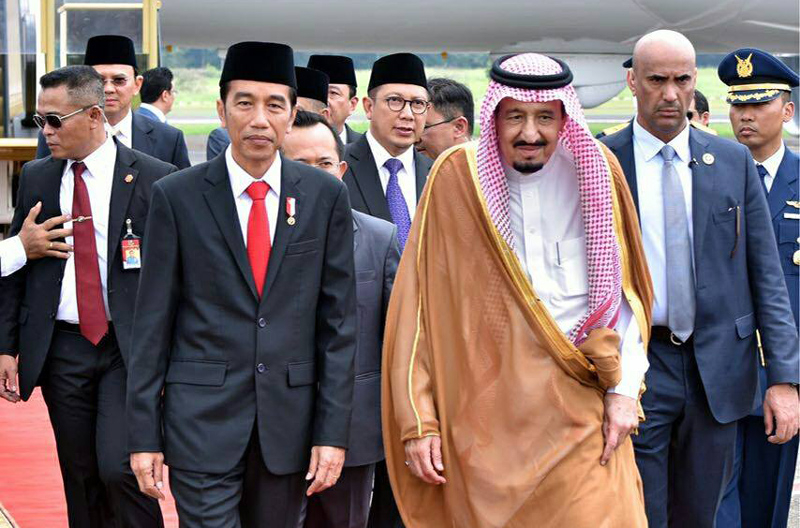 President Joko Widodo of Indonesia (foreground, left) meets with King Salman of Saudi Arabia (foreground, right), at Halim Perdanakusuma Airport in Indonesia. (Image source: Indonesian Presidential Palace)
Jakarta-based journalist Krithika Varagur, writing in The Atlantic on the second day of the king's visit, describes Saudi efforts in Indonesia:
"Since 1980, Saudi Arabia has devoted millions of dollars to exporting its strict brand of Islam, Salafism, to historically tolerant and diverse Indonesia. It has built more than 150 mosques (albeit in a country that has about 800,000), a huge free university in Jakarta, and several Arabic language institutes; supplied more than 100 boarding schools with books and teachers (albeit in a country estimated to have between 13,000 and 30,000 boarding schools); brought in preachers and teachers; and disbursed thousands of scholarships for graduate study in Saudi Arabia."
This Saudi influence has taken a serious toll on Indonesia, 90% of whose 250 million people are Sunnis. Despite its pluralistic constitution, which says, "The state guarantees each and every citizen the freedom of religion and of worship in accordance with his religion and belief," Indonesia -- which declared independence in 1945 -- has grown increasingly intolerant towards Christians, Hindus and Shiite Muslims.
Prior to Saudi Arabia's attempts to spread Salafism across the Muslim world, Indonesia did not have terrorist organizations such as Hamas Indonesia, Laskar Jihad, Hizbut Tahrir, Islamic Defenders Front and Jemmah Islamiyah, to name just a few.
Today, it is rife with these groups, which adhere strictly to Islamic sharia law, Saudi Arabia's binding legal system, and which promote it in educational institutions. Like al-Qaeda and ISIS, they deny women equal rights, believe in death by stoning for adulterers and hand amputation for thieves, and in executing homosexuals and "apostate" Muslims.
The most recent example of the way in which this extremism has swept Indonesia took place a mere three weeks after the Saudi king wrapped up his trip. On March 31, at least 15,000 hard-line Islamist protesters took to the streets of Jakarta after Friday prayers, calling for the imprisonment of the capital city's Christian governor, who is on trial for "blaspheming the Quran."
This paled in comparison to the crowds -- numbering about 200,000 at each violent rally -- which flooded the city last November, December and February. The crowds were demanding that Basuki Tjahaja Purnama (known familiarly as Ashok) be jailed for telling a group of fishermen that, as they are fed lies about how the Quran forbids Muslims from being governed by a kafir, an infidel, he could understand why some of them might not have voted for him. If convicted, Ashok stands to serve up to five years in prison.
Sadly, such a jail term is nothing, when one considers the Islamist prison that the country as a whole has become -- courtesy of King Salman and his lavish "gifts."