Whenever Islamic radicalism has been defeated after its reign of horror and fear, what follows among ordinary citizens are scenes of hope and liberation.
Syrian women burned the burqas the Islamic State forced them to wear, after the militants were being driven out from the city of Manbij. "Damn this stupid invention that they made us wear," one woman said as she set fire to the garment. "We're humans, we have our freedom".
When the Taliban tyranny in Afghanistan ended, women's faces also began to reappear on the streets; and men, forced by the Taliban to grow beards, flocked to buy razors.
Why hasn't the West raised the question of gay rights under Islam? Go ask the LGBT establishment.
"Fight the nationalism that invokes walls and borders". This was the platform in 2017 of Rome Pride, the annual event of Italy's LGBT movement; it called for "resistance" against "populism" and yelled slogans such as "Make Italy Gay Again". But as the English magazine The Spectator noted, "the battle for gay rights stops at the borders of Islam". The Islamic State knows this well and, borrowing the slogan used by President Obama after the Supreme Court declared same-gender marriage legal, ISIS took to using the hashtag #LoveWins. Islamic supremacists laugh at our weakness.
During the summer, in cities across the West, the LGBT movement celebrated two weeks of marches and parades for "Rainbow Pride." At Chicago's "Dyke March," the organizers ejected marchers who carried rainbow flags with the Jewish Star of David. They were labelled "offensive" for this "inclusive" event, despite the fact that hundreds of gay Palestinians have found refuge in Israel.
The big New York Pride March last year became just another protest against President Trump, in favor of Obamacare and gun control (tell it to the 49 homosexuals murdered by ISIS jihadist Omar Mateen at the Pulse Club in Orlando), and against the Trump Administration's immigration policy. In Toronto, the Pride parade was dominated by the militants of Black Lives Matter. In Minneapolis, the LGBT marchers asked the police chief, Janee Harteau, to avoid the event.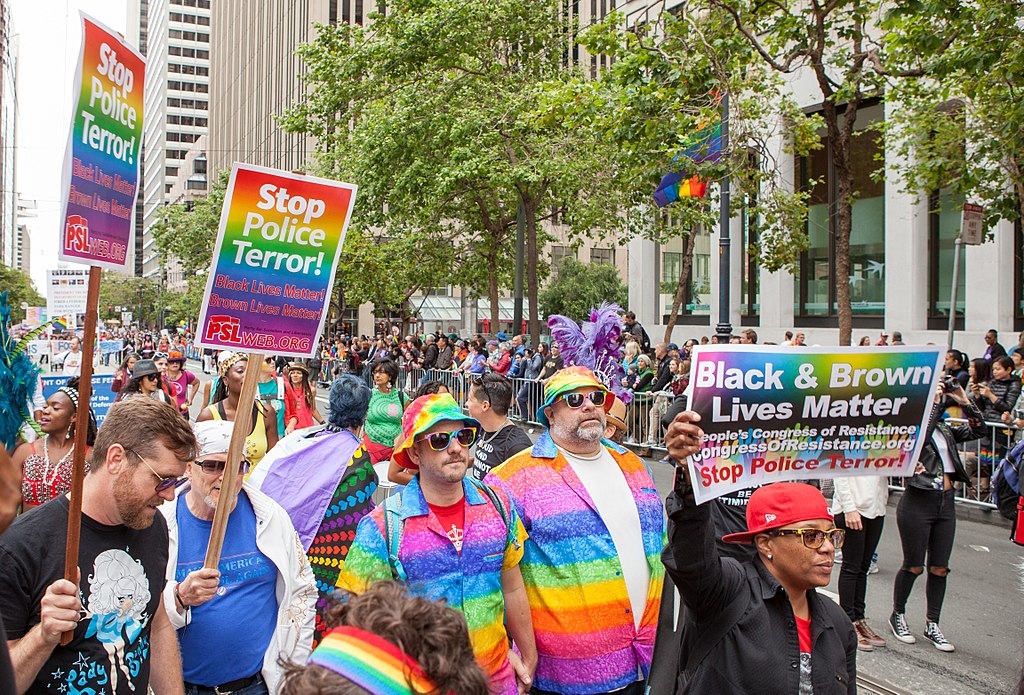 Marchers at the 2017 San Francisco Pride Parade. (Image source: Pax Ahimsa Gethen/Wikimedia Commons)
That was just two ordinary weeks of "LGBT resistance" in the liberal and free West. What, however, was happening beyond its borders, in the lands of Islam?
In Erdogan's Turkey, Islamists attacked gays in Istanbul. Chechnya jailed and tortured gays. In Gaza, Hamas executed civilians and even fellow terrorists suspected of being gay.
Western LGBT marches did not raise a single flag against Chechnya, or advance slogans against the treatment of gays by the Venezuelan socialists, or protests against the murders of gays in the Islamic State. There were no chants against Indonesia, which has recently flogged homosexuals in the streets; no strikes to protest against the murders of gay Bangladeshi bloggers and LGBT activists, and no flash mobs against Iran, which had recently arrested 30 homosexuals in a night raid and submitted them to a "sodomy test".
But in the West, marchers shouted many useful slogans such as, "No cops! No banks". The marchers did not condemn the hacking to death of the editor of an LGBT magazine in Bangladesh.
At these LGBT parades, not a single slogan was heard against ISIS Caliph Abu Bakr al-Baghdadi, who declared a "war on gays" and whose henchmen, in a single day, executed nine men and one boy for being homosexuals. ISIS fighters are "tracking down every gay man". But at New York's gay pride parade, Secretary of State Rex Tillerson and Jared Kushner were called "queer-bashers", while Chelsea Manning, the idol of "fluid identity", thundered against America, evidently forgetting that Obama had graciously pardoned her.
The LGBT establishment has, it seems, been hijacked by a politicized elite that cares little about the rights of their brethren in the Islamic world. As Mark Steyn wrote, after ISIS jihadist Omar Mateen murdered 49 gays in an Orlando nightclub:
"the biggest mound of gay corpses ever piled up in American history and the worst terror attack on American soil since 9/11, all the usual noisy LGBTQWERTY activists fell suddenly silent, as if they'd all gone back in the closet and curled up in the fetal position".
It is now time for the LGBT activists to abandon this fetal position and fight for the freedom of their brothers and sisters in the Islamic world. For that, they would also find supporters among those who, in the West, oppose same-gender marriages. That battle would be gays' right to life, something conquered in the West long time ago but still questioned in many other parts of the world.
It is important to understand the death trap of the classic liberal position of Canada's Prime Minister Justin Trudeau, who, at Toronto's Pride Parade wore rainbow-colored socks printed with the Arabic words "Eid Mubarak" (a traditional Muslim holiday greeting). Trudeau just wished "happy pride to Allah", while many Muslim countries today condemn, if not murder, homosexuals.
"no fewer than 40 out of 57 Muslim-majority countries or territories have laws that criminalize homosexuality, prescribing punishments ranging from fines and short jail sentences to whippings and more than 10 years in prison or death".
We need to understand that, as Milo Yiannopulous said, "as a gay person, the scariest words you will ever hear are "Allahu Akbar".
Gay fashion legends Domenico Dolce and Stefano Gabbana faced a boycott and a backlash of controversy when they said they opposed gay "marriage" and adoption, find in vitro fertilization unnatural, and believe procreation "must be an act of love". The Italian pasta-maker Barilla caused outrage when its chairman Guido Barilla said he would only portray the "classic family" in his advertisements. But LGBT activists and celebrities have never once promoted a boycott of the Islamic regimes which stone, execute and jail their homosexual citizens. Why do they not orchestrate a campaign to boycott Iranian, Indonesian, Palestinian and Turkish goods?
The "LGBT resistance" need get out from under its "safe space" of Western "rights", complacency, moral relativism and security. They need to fight for their fellow persecuted "immorals" languishing in the Islamic world, beyond the borders of Western freedom. Their silence only encourages the intolerance aimed against them and others. It is not liberalism, permissiveness or tolerance. It is merely blindness, relativism and cowardice.
Giulio Meotti, Cultural Editor for Il Foglio, is an Italian journalist and author.