President United States of America
1600 Pennsylvania Ave NW
Washington DC 20500
Dear President Donald J. Trump,
As a former Sudanese slave, human rights activist, and American citizen deeply grateful for your public stand against all forms of public violence, I humbly ask that you allow me to provide some counsel on the grave situation in South Sudan, the land of my birth. It is not only the world's newest nation, but also the only country in Africa that is currently blocking Islamic extremism from flooding southward to overtake the entire continent. I hope that we will be able to meet in person to discuss the ongoing war and humanitarian disaster there.
The people of South Sudan achieved their independence thanks to George W. Bush's personal leadership, which resulted in millions of people being saved from more slavery, Islamization and Arabization. In the eyes of so many, this is one of the greatest legacies of the United States as a whole in Africa. Without US engagement, there would be no South Sudan today, and without its leadership again, and yours, Mr. President, there may not be a South Sudan in the near future.
The US under President Barack Obama has allowed it to happen.
Mr. President, the Intergovernmental Authority on Development (IGAD) has failed completely to bring peace to the people of Southern Sudan. The only hope that Southern Sudanese have now is your leadership as a man of moral conscience when it comes to preventing the further spread of extremist Islam from overrunning all of Africa. The situation is still salvageable, with America's help.
On behalf of all of the South Sudanese community in the United States, we beseech you as our new leader. We humbly request a meeting with you or with your staff in which we can discuss the situation in South Sudan, and hopefully discover some ways forward toward an end to the country's crisis and South Africa's future. We would appreciate your insight and your help.
I look forward to this opportunity, and stand ready and willing to visit you or your staff, at your earliest convenience. Thank you for your consideration.
Most Sincerely,
Simon Deng
Human Rights Activist
2011 UN Watch Freedom Award Winner
1235 Grand Concourse #609 Bronx, NY 104502
(917) 698-5440 sdengkak@yahoo.com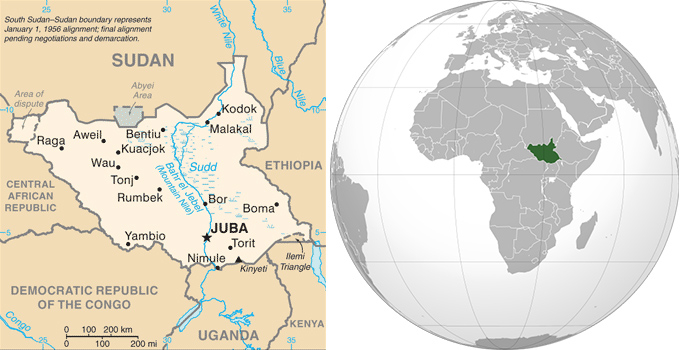 (Image sources: Wikimedia Commons, CIA)