The ceremony in 2003 was announced with bombastic headlines: "After a wait of more than 500 years, Spanish Muslims, have finally succeeded in building a mosque of their own in the shadow of the Alhambra, once the symbol of Islamic power in Europe". A troupe from al Jazeera was sent to follow the event: a muezzin climbed to the minaret of the Great Mosque of Granada to call the faithful to prayer for the first time in five centuries.
From Osama bin Laden to the self-proclaimed Caliph, Abu Bakr Al Baghdadi, all the leaders of the global jihad -- including the terror cell that killed 17 people in Barcelona -- have mentioned Spain among the lands to be conquered by Islam. There is, however, not only jihad. There is also "the quiet conquest", as it has been dubbed by the French magazine, Valeurs Actuelles. The quiet conquest is a sinuous attempt to re-Islamize Spain through cultural centers, mega-mosques, proselytizing, conversions and financial investments. This pacific attempt to elicit submission has been underway for some time and has been backed by a flow of money from countries such as Qatar and Saudi Arabia. According to a former commander of British forces in Iraq, General Jonathan Shaw, these two countries in particular have ignited a "time bomb" by funding the global spread of radical Islam.
The New York Times first detailed in 1981 that, "evicted five centuries ago by crusading Christians, the Arabs are back in Spain, using their oil dollars to buy land that was seized from their ancestors by the sword". Spain back then did not even recognize the State of Israel, and the Spanish monarchy regularly visited Saudi Prince Fahd while he was relaxing in the south of Spain. After that, it was Kuwait's turn: "During the late 1980's, when Spain was booming, Kuwait came shopping for corporations and investments".
Since then, the Arab monarchies have targeted Spain with huge investments. Some emblematic buildings in Madrid and Barcelona, ​​not to mention the Costa del Sol, are now owned by Arab investment groups, from the Santiago Bernabeu stadium in Madrid to the W Hotel in Barcelona. In Marbella, just a few meters away from the King Fahd Mosque, there is the Alanda Hotel, which offers halal food and services to meet the demands of the Muslim clients. In 2011, the International Petroleum Investment Company, controlled by the Emirate of Abu Dhabi, purchased Cepsa, the second-largest Spanish company in the oil sector.
Last January, Spain's King Felipe VI visited Saudi Arabia and announced that Spain would boost economic, trade and investment relations with the Islamic kingdom. Before that, in 2012, Saudi Aramco awarded Spanish companies projects worth $700 million. Spain and Qatar are now discussing the formation a $1 billion joint investment fund that would help the Gulf state invest in Latin America. The Arab Emirates' media called Spain "a hotspot for investment from the Arab world". After Qatar, it was the Oman's turn to invest in the Spanish market: Oman just agreed to invest up to $120 million in a uranium mine in Spain, to be used for Omani nuclear energy plants.
Demographically, Muslims are witnessing a shocking population increase in Spain. In 1990, Muslims in the country numbered 100,000. By 2010, the number had increased to 1.5 million. In 2017, the number was nearly two million. It is a growth of 1,900% in 27 years.
Today there are 1,400 mosques in Spain. According to the Observatory of Religious Pluralism in Spain (an initiative of the Ministry of Justice), "this figure represents 21% of all places of worship for all religions present in Spain".
The most prolific funder of mosques in Spain is Saudi Arabia. In 1985, using only its own money, the Saudi kingdom opened the Islamic Cultural Center in Madrid, Europe's largest mosque, followed by the Islamic Center of Malaga, which the Saudis financed with 22 million euros (today the ​​Madrid area has 112 mosques and Islamic cultural centers). As Gatestone's Soeren Kern detailed, the Saudis have built mosques everywhere, from Marbella to Fuengirola.
Islamic rogue regimes, such as Iran, have also been able to infiltrate Spanish political parties. According to an investigation, Tehran gave money to Podemos, the leftist party which emerged as a new contender in the Spanish political arena.
The Madrid daily ABC wrote that 800 mosques in Spain are out of control. The Spanish daily La Razon charged that Gulf donors, such as Qatar, were a source of Spain's Islamization. The Saudis also launched a new Spanish television channel, Córdoba TV, as did Iran.
The details of this religious proliferation are detailed The Spain of Allah, a book by Ignacio Cembrero. While the number of Catholic churches in Spain has not undergone much variation for many years, Muslim mosques have been growing at a rate of 20% percent annually. Qatar's Sheikh Tamim bin Hamad al Thani has also offered to buy La Monumental Arena in Barcelona to turn it into Europe's biggest mosque. The United Arab Emirates funded the construction of the Great Mosque of Granada.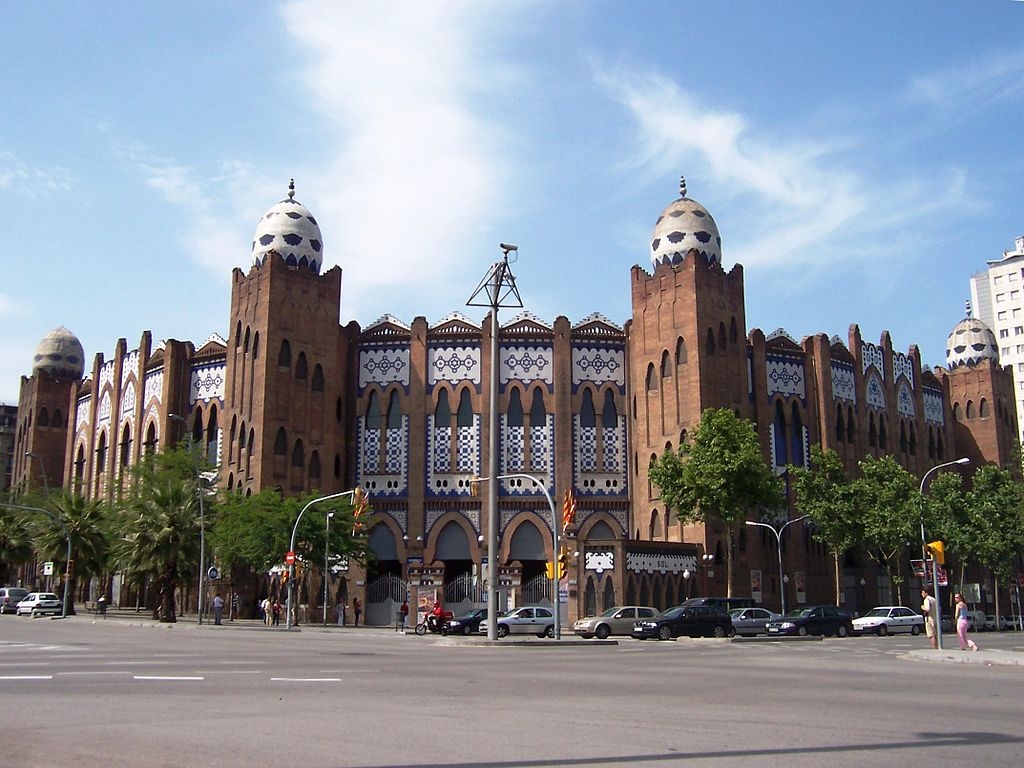 Qatar's Sheikh Tamim bin Hamad al Thani has offered to buy La Monumental Arena in Barcelona, with its nearly 20,000 seats, to turn it into Europe's biggest mosque. (Image source: Sergi Larripa/Wikimedia Commons)
They dream of, and work to, regain the "lost Caliphate" of Spain. Some Islamists do it with bombs and car-ramming attacks. Others, more surreptitiously, do it with money and dawa, Islamic propaganda. The second way may be even more effective than the first.
Giulio Meotti, Cultural Editor for Il Foglio, is an Italian journalist and author.