End of August, Madrid: At the Turkish government's request through Interpol, Spanish police arrested a famous Turkish writer, Dogan Akhanli, who was on vacation in Spain. A few days earlier, in Barcelona, Spanish authorities had arrested the Turkish writer, Hamza Yalcin, a reporter for the left-wing newspaper Odak. Meanwhile, in Turkey, another writer, Ahmet Altan was on trial. Turkish authorities prevented yet another Turkish novelist, Asli Erdogan, from flying to Europe to receive the Erich Maria Remarque Peace Prize in the German city of Osnabrück.
Recep Tayyip Erdogan's Turkey has already made headlines for jailing dozens of journalists in a round-up that has transformed Turkey into "the world's biggest prison for reporters". Perhaps even more objectionable is Turkey's persecution of novelists who do not even take part in the political debate. They are hated by Erdogan's Islamist government simply for conveying Western ideas and fighting for freedom of speech. What is happening in Turkey is even more urgent than what is happening in Iran and Saudi Arabia, two other Islamic countries that persecute and jail writers: Turkey is, at least rhetorically, a democracy as well as the Islamic world's purported bridge to Europe.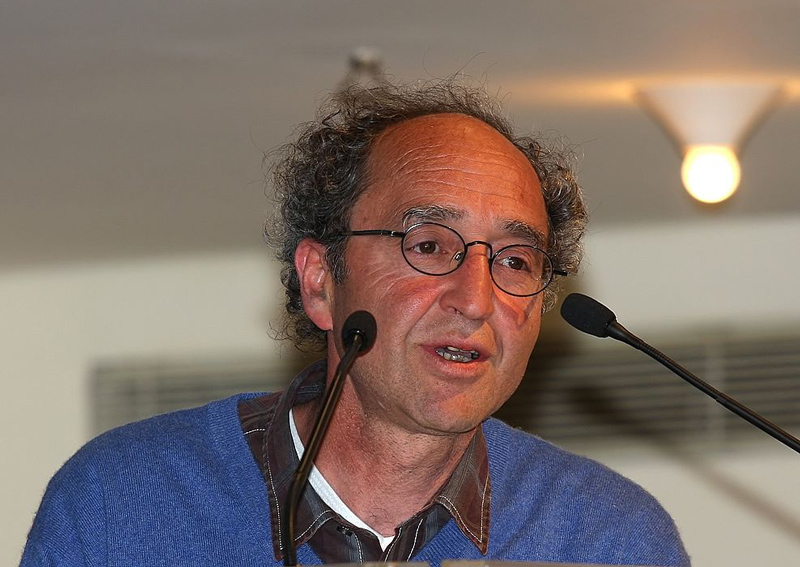 In August, at the Turkish government's request through Interpol, Spanish police arrested a famous Turkish writer, Dogan Akhanli (pictured), who was on vacation in Spain. (Image source: © Raimond Spekking / CC BY-SA 4.0 via Wikimedia Commons)
Nazis used to burn books; Turkey's Erdogan is following the Soviet Stalinist method of burying the books, often along with their authors.
In the last month alone, four great Turkish writers made headlines not for their novels, but for their arrests, trials and persecution. Erdogan's plan, however, goes beyond these writers' fate. Turkey is purging culture. The purge has been called an "intellectual massacre" that "has hit faculties from physics and biology to drama and politics at some of Turkey's best universities, chilling teachers and students alike". After a failed coup, last year, Erdogan fired "21,000 teachers" and "1,577 university deans". It is the beheading of Turkey's academic culture. Shamefully, Europe has kept silent about this ideological massacre.
In an unprecedented move, Erdogan is now promoting a plan to review the school textbooks, with the announced deletion of Darwin's theory of evolution and the insertion of Islamic holy war. At the same time, Erdogan is also asking to remove from the Turkish vocabulary words with a "Western" influence. The word "arena" will therefore be removed from sports stadiums. It is a typical totalitarian maneuver to change the language to control the population. Turkish authorities this week also removed Chopin's music from funeral marches and replaced it with an Ottoman era composition based on Koranic verses.
"In the past, Kemalists or leftists were merely suspicious of the political intentions of Western powers against Turkey", wrote the journalist Mustafa Akyol. "In the latter-day AKP narrative, however... Western civilization, with all its values, institutions, culture and even science, became something that must be doubted, if not outright rejected."
Fazil Say, a famous Turkish pianist, has been put on trial for "blasphemy". In one message he retweeted a verse from a poem by Omar Khayyám in which the 11th-century Persian poet attacks pious hypocrisy:
"You say rivers of wine flow in heaven, is heaven a tavern to you? You say two huris [companions] await each believer there, is heaven a brothel to you?"

Nedim Gursel, a professor of literature at the Sorbonne in Paris, was persecuted for his novel, The Daughters of Allah. The publisher Irfan Sanci was put on trial for "obscenity" for publishing The Exploits of a Young Don Juan, an erotic novel by Guillaume Apollinaire. In today's Turkey, everything that culturally conveys social and sexual freedom is seen as suspect.
A few months ago, Turkey decided to replace plays by foreign authors, such as Shakespeare and Bertolt Brecht, with those of Turkish authors. Turkey also censored The Soft Machine, a novel by an American, William S. Burroughs, whose books had always been translated into Turkish. Of Mice and Men, an American classic by John Steinbeck, was also threatened with censorship.
Sevan Nisanyan, an Armenian, just escaped from jail a few days ago and fled. "Turkey has turned into a veritable madhouse," he said.
He had been sentenced to 16 years and seven months for having made ironic comments about the Prophet Muhammad.
Two verses of "Table" poetry, written by the Turkish poet Edip Cansever were omitted from high school textbooks because they included the word "beer". Songs written by the poets Yunus Emre and Kaygusuz Abdal -- hundreds of years ago -- have also suffered the heavy hand of censorship. The novel Samarkand by Amin Maalouf, a Lebanese laureate of the Nobel Prize for Literature now living in France, was investigated for being "vulgar and insulting Islam".
Erdogan's Turkey today looks like Maalouf's East, where the rulers tell the population: "If you want to keep your eyes, ears, and tongue, forget that you have eyes, ears, and a tongue".
Giulio Meotti, Cultural Editor for Il Foglio, is an Italian journalist and author.